NBA Playoffs Shootaround: My Man, My Melo
So much amazing is happening, and the Shootaround crew is here to help you keep track of it all. You'll find takes on moments you might've missed from the previous night, along with ones you will remember forever.
Ride the Carmelocoaster
In roughly only a year and a half with the Knicks, Carmelo Anthony has vacillated between two polar roles — franchise-morphing savior and cancerous villain — with the abruptness of a character on prospective TBS program The Adventures of LaLa, International Spy Hunter.
Here's a quick recap of the various roles Melo has played since becoming a Knick.

Last season, after the Knicks wedged half their roster in the back of a Denver-bound Wagoneer and brought Melo back to his (nominal) hometown? SON OF RED HOOK, DROUGHT-ENDING DIVINER OF SWEET VICTORY JUICE!
Earlier this year, after he throttled Linsanity, defended with ambivalence, and eased the air out of former coach Mike D'Antoni's tires? CRAVEN BALL HOG, FLESHY ASSASSIN OF COMMUNIST COACH!
When the Knicks surged toward the playoffs under Mike Woodson and Melo's field-goal percentage rose, dizzyingly, over 40 percent? ALPHA DOG UNTETHERED!
After setting an NBA record for postseason futility and shooting miserably in three playoff games against the Heat? PEA-SHOOTING STOOGE, DECADE OF KNICKERBOCKER POSTSEASON FAILURE INCARNATE!
Sunday, following the dumping of 41 points on the noggins of the Heat in a hard-fought win? RESTORER OF PRIDE, FRANCHISE CORNERSTONE!
And what should be said after Anthony goes 9-for-26 in their forthcoming season-ending loss? GUY WHO SCORES LOTS OF POINTS WHEN HE TAKES A LOT OF SHOTS! —Ben Detrick
All Rondo Everything
It's been only four games, but everything that Rajon Rondo is has been on display this postseason. He gets suspended a game for chest-bumping a ref, and another round of "Rondo is a brooding loner" chatter is unleashed. (Apparently the only person he trusts on the team is …Keyon Dooling?! Right. OK. Got it.) On Friday he comes back with a strangely ugly triple-double performance, nicely summed up by the game-clinching play: Rondo pulling off a sick Dream Shake move to get wide open — and then blowing the layup. KG salvages the situation with a putback and follows it up with an apt, dismissive head pat.
And then, Sunday's romp, Rondo at his best: 16 assists, one turnover, and stuff like this.
Rajon Rondo is large. He contains multitudes. —Amos Barshad
Shine Blocker
Tyson Chandler had such a Tyson Chandler game Sunday. His line should be bronzed: one point, six fouls, nine boards. He only notched one block (the above kick-punch to the face of a Dwyane Wade shot), but watching him stomping around the court, banging his head as if he were listening to a screwed and chopped version of Master of Puppets, was a thing of beauty. I defy you, despite the Melo, Bron, and Wade wattage on the court, to tell me there was a more charismatic, imposing player at the Garden than the Defensive Player of the Year. —Chris Ryan
Five Joe Johnson–related Game 4 Stats That Make Rembert Want to Jump in the Deep End with Ankle Weights On
1. Shots taken on Sunday night: Kobe, 25; LeBron, 21; Granger, 20. Joe took eight.
2. Pierce had 24 points in 17 minutes. Joe had nine points. In 31 minutes.
3. Joe had nine points. Keyon Dooling had 10.
4. Only five Celtics who played 10 or more minutes had fewer points than Joe (Bradley, Stiemsma, Pietrus, Daniels, Hollins).
5. KEYON DOOLING HAD MORE POINTS THAN JOE JOHNSON. THEY PAY KEYON IN CHICKEN WRAPS.
I can't do this anymore. It's too painful. —Rembert Browne
Avengers Assemble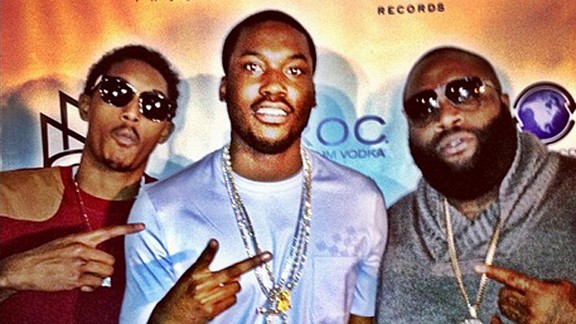 I really have no idea whether or not this picture was taken Sunday, after the Sixers beat the Bulls, or at the MGM Grand on Saturday night (is it possible that Lou Williams went to Mayweather-Cotta and then flew back to Philly?) (let it be possible), or at Club Liv in December. (Club Liv is really nice at Christmas.) Meek Mill tweeted it Sunday. I feel pretty good about it. I feel even better about the suede (?) shoulder pads on LouWill's sweater. —Ryan
Scenes From the Atlanta Bench
There are so many things to see in this picture. Sure, there's that horrific thing in the bottom right corner, but there's so much more. There are three different ways to utilize a towel (scratch nose, wipe cheek, make ascot) and three slightly different hairlines to study. I see three different types of arm tattoos, and then there's the Boston fan/employee about to put his hand down his pants. Oh, and then the emotions.
Oh, the emotions.
One could derive a lot from this freeze frame to make assumptions on what's going through these guys' heads. But after staring at this for about seven hours, I think I've narrowed it down to two possible options:
Option 1:
Teague: Ew, man, that stanks.
Joe: Whatever, Jeff. I'll fart on Marvin whenever I want. Is this game over yet?
Marvin: I made all my free throws today. I'm hungry. Nachos. What's that smell? Smells great.
Option 2:
Teague: I got a booger.
Joe: I wonder if this pout conveys true sadness/emotional investment to the television viewer.
Marvin: I'm on TV! —Browne
Charles-ism Presented Without Comment
"No disrespect to Mr. Couscous."
We Could Have Been Contenders
As the clock ran out Sunday in Philadelphia and the Bulls left the floor one game from elimination, I thought back to the only game I'd seen in Chicago this season. It was New Year's Day, the fifth game of the year, and the Grizzlies were in town. With the team back in contention, the United Center was again one of the best buildings in sports, and despite a collective hangover, the crowd brought it from the moment the lights went down and The Alan Parsons Project kicked in. The intros ended like they do, with a 6-foot-3 guard "from Chicago!," and when they did, I thought about how great it was for this city to love basketball like this again.
That day, as the Bulls cruised to a 40-point win, it felt like everything was in front of them. The youngest MVP in league history was back with no signs of slowing down. The defense that defined Tom Thibodeau's first season somehow looked more relentless (they gave up 64 points). One year later, they were ready to give Miami everything it could stand. Instead, they'll be heading home before Mother's Day.
There were plenty of detractors last year when Rose was handed the MVP trophy in what some considered a punishment for LeBron James's decision to join the Heat. The argument was that it was the Bulls' defensive improvement that allowed them to make the jump, and Derrick Rose was far from a major factor in that. This postseason has shown just how much Rose touches every bit of the Bulls. When he's slashing to the rim, playing with no regard for his body, scoring at will, Joakim Noah is a better defender. I can't tell you why, but I can tell you I've seen it enough to know. They looked to him, and without him there's nowhere to look.
Windows are never guaranteed. The most famous team in the history of Chicago sports is a would-be dynasty that instead managed just one trip to a championship game. With Luol Deng's wrist surgery looming and Rose not expected to be at full strength until midway through next season (even then, he won't be), 2013 may be lost as well. What looked to be a stretch where the Bulls and Heat would have a yearly battle for the Eastern Conference is looking more and more like a reign of dominance. My hope is that by this time next year the stretch of bad luck is replaced with enough breaks to give this team a shot. Because Chicago deserves what I saw that Sunday in January. —Robert Mays
Filed Under: Carmelo Anthony, NBA, NBA Playoffs, New York Knicks, The Shootaround