NBA Playoffs Shootaround: King's Landing
So much amazing is happening, and the Shootaround crew is here to help you keep track of it all. You'll find takes on moments you might've missed from the previous night, along with ones you will remember forever.
LeBron James Field Goal Power Rankings
LeBron James scored 45 points and grabbed 15 rebounds Thursday night in Miami's Game 6 Eastern Conference finals victory over the Celtics. Below is a video of all of James's field goals. I ranked the top 10.


1. 1:30 in the second, Kevin Garnett's elevator goes to the 10th floor. LeBron's goes to the 11th.
2. 3:56 and 2:30 left in the third, two cutthroat jumpers on Mickael Pietrus. The basketball version of Brad Pitt pouring lye on Ed Norton's hand and saying, "This is chemical burn."
3. Buries jumper over extended KG, 9:48 left in fourth, gives Garnett a stare that looks like this sounds …
4. Paul Pierce or Kevin Garnett audibly grunting, "Shit," after his spin-move baseline jumper. Bonus points for hearty Mike Breen chuckle. 7:15, second quarter.
5. Starts a wind farm on Paul Pierce's soul, 9:03, first quarter.
6. :38 left in the second, scores his 30th point OF THE HALF on Pietrus, looks back at Pietrus, asks him who is executing his last will and testament.
7. Fall-away bank shot on Garnett, just to piss him off (more than normal), 10:13, third quarter.
8. Gives Greg Stiemsma a 15-foot head start, almost beats him down court, layup, and one, 3:13, first.
9. The 9:24, 9:03, 7:52 second-quarter left elbow jumpers. Congratulations, LeBron. You had triplets.
10. 7:15 left in the fourth. Blur of a layup, cut to Pierce and Garnett on the bench being old and sweaty.
— Chris Ryan
Inspirational Celtics Whiteboard Messages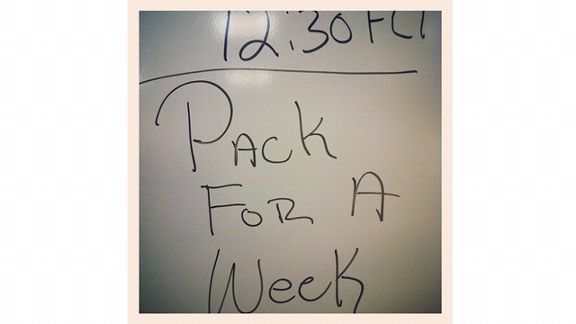 Via the Celtics' director of interactive media, Pete Stringer.
— Ryan
Why LeBron's Reaction to Getting a Drink Thrown at Him Should Scare Everyone in Boston
If I was a Boston fan, I would be very, very afraid of LeBron James right now, and that's not even because of his 45-point performance. It's because of what happened after the game.
After LeBron's potentially Decision-saving performance Thursday night, he walked off the court and, as he hit the tunnel, he looked up and smiled at something up in the stands. Heat fan? Celtics fan? Who knows? But his smile shows a level of postgame relaxation that isn't normal for King James. And then, a second after the smile, a fan throws a drink on him. (Everyone keeps saying it's a beer, but do we know that? Are we just assuming it was a S'Madms because it was Boston, when it really could have been what was left of an Icee?) Anyway, after getting something liquid thrown on him, he turns around, acknowledges the situation, and then faces forward and keeps walking, doing this shoulder shrug move very reminiscent of a boxer walking toward the ring.
He wasn't outwardly phased one bit. It's hard not to react when something that disrespectful happens to you, which suggests that he's scary-focused right now. I feel as if I could have jumped into the tunnel, yanked his beard, and proceeded to say something about Mama 'Bron, and he would have simply Zimmered me and kept it moving.
Boston, this is bad. The once-dependable headcase seems to have exorcised one of his many demons Thursday night. Does he have 500 more demons to fight through? Absolutely. But those might not rear their ugly heads until the Finals. Uh-oh.
— Rembert Browne
Postgame Interview of the Night: Rajon Rondo
I know it's really cliché to ask athletes what was going through their minds at any given point. But seriously, what is going through Rajon Rondo's mind at any given point? "Well … I wasn't angry." I appreciate his dedication to accuracy.
— Ryan
Goodbye to the Jungle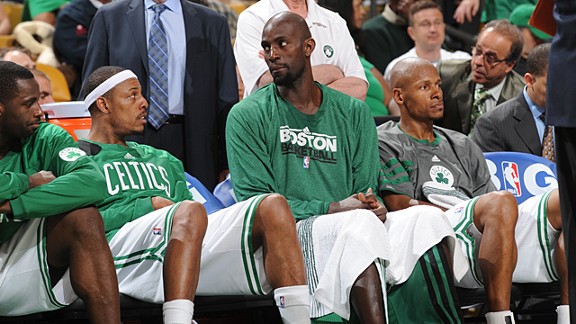 Late in the fourth quarter on Thursday night, as LeBron James was just about finished with his masterpiece, there was a shot of the Celtics' Big 3 on the Boston bench. Paul Pierce and Ray Allen sat to either side of Kevin Garnett, elbows on knees. Garnett tugged at the tuft of hair dangling from his chin. The hope was that when the clock ran out on Game 6, Boston would be finished with the most improbable of its three runs to the Finals. Instead, all that remained was a walk back into the bowels of the Garden and the chance that it might be the last these three would take together.
There is still a Game 7 to be played, and rest assured, there is no team in recent (or even distant) memory less likely to be intimidated or affected by the thought of rolling into LeBron's house with everything at stake. Garnett will likely be frenzied Saturday night, and if there's anyone who understands how to rise to moments like these, Pierce has shown time and again that it's him. The reality is that they are rolling into LeBron's house, two nights after the King's reclamation of his standing as the most dominant force in basketball (and just about anything else).
Both Garnett and Allen have contracts set to expire at season's end, and if this is the end for the Celtics, there are decisions left to be made. The talk is that when Boston's season ends, Allen's time as a Celtic will likely end with it. For Garnett, the second half of the season has provided an interesting problem. The move to center has rejuvenated KG to the point that a team desperate for veteran leadership, defense, and a big name might be willing to overpay for a 17-year veteran who will turn 37 next year. If Danny Ainge were to pay Garnett, it would be one more barrier to a rebuilding effort centered on Rajon Rondo and a suddenly flush free-agent budget.
It's hard not to lament the possibility that Thursday night might have been their last in the Garden. What's happened over the past four seasons seemed to right the basketball universe in its own way. The Jungle, as Garnett says, was supposed to sound like it did during the Finals in '08 and again two years ago. Teams in green and teams in purple are supposed to play each other to the point of exhaustion to lift just one more banner. This stretch has lifted both Pierce and Garnett to where they probably always deserved to be historically. It's let Allen shift into his role as the greatest 3-point shooter of all time. The Big 3 era simply has been great for everyone who loves the NBA, and Saturday night, when we watch them do everything they can to sustain it, it will be easy to remember why.
— Robert Mays
Filed Under: Boston Celtics, Chris Ryan, Kevin Garnett, LeBron James, Miami Heat, NBA, NBA Playoffs, Paul Pierce, Ray Allen, Rembert Browne, Robert Mays, Shootaround