NBA Playoffs Shootaround: CP3 OT OMG
So much amazing is happening, and the Shootaround crew is here to help you keep track of it all. You'll find takes on moments you might've missed from the previous night, along with ones you will remember forever.
Close to the Edge
This is something that Memphis coach Lionel Hollins said after the Grizzlies' Game 4 overtime loss to the Clippers on Monday night: "There's a lot of posturing and a lot of coaches whining on every call all the way up the sideline and on the court … That's the gamesmanship that goes on, and you can't let it bother you and you can't lose your poise."

You can't lose something you never had. And Memphis was never poised. Not Monday night. These guys seemed twitchy from the final bars of Everette Harp's sax national anthem (sounded a lot like the Lethal Weapon soundtrack … not bad, actually). The Grizzlies let everything get to them Monday: the flopping, the booing, the refs, the noise (it was booming at tip-off). Which is pretty ironic, because I think, despite Hollins's protests otherwise, their game plan involved getting under the Clippers' skin.
In Game 3 on Saturday afternoon and Game 4 on Monday night, the Grizzlies pretty clearly set out to rile up Blake Griffin. It might have worked a bit over the weekend, but it backfired Monday, and here's a thought on that: Zach Randolph is not the guy to do that job. First of all, even at his current limited physical capacity, he's too valuable. Second of all, he's not a good faux instigator, because there is nothing faux about his instigating.
In the second quarter, Randolph got a tech for the always-fun trifecta of hard foul/ice grill/bark. The idea here was probably to get Blake Griffin T'd up too and have him playing with his hand over his mouth for the rest of the game. Or maybe the idea was was to scare the shit out of Griffin. But it backfired; Randolph went too far and looked like a lunatic (even though Chris Paul, when asked what Z-Bo was saying to Blake, said, "They talked about going to dinner tomorrow night in Memphis.")
When the Clippers play with Blake Griffin, they play on an edge. Things can go very, very right or very wrong. Memphis tried to push him off the edge Monday, and he did one of the smartest things he's done in his young career: He side-stepped the shove and let Memphis fall right off themselves. —Chris Ryan
Have We Thought About Quadruple-Teaming Him?
Block Party of the Night: Devin Harris on Tony Parker
Charles-ism Presented Without Comment
"Mateen Cleaves was sitting at home and he's smart enough to know you gotta take that ball out of his hands."
Scenes From Staples Center
John Wall, sitting about 10 rows back from the court, in the stands with Sam Cassell, eating a FAMILY SIZE popcorn and not sharing. (Cassell didn't seem interested because he was too busy re-enacting Hamed Haddadi's free throw shooting stroke.) (Coach-in-the-making right there.) Wall was rocking a Billionaire Boys Club hoodie and two (2!) hip clips for his phone(s). At one point a guy in a trucker hat who looked like he had walked into a tattoo parlor in Las Vegas in 2007, fallen asleep, then woke up with a full-sleeve tat courtside at the Clippers game five years later, approached Wall and gave him dap. John Wall pretty much had the reaction you'd think John Wall would have. If you're reading this, Rip Van Bellagio, sorry just kidding. Psych: Get a new hat. —Ryan
Just Stare Intently at the Whiteboard While the Cameras Are on Us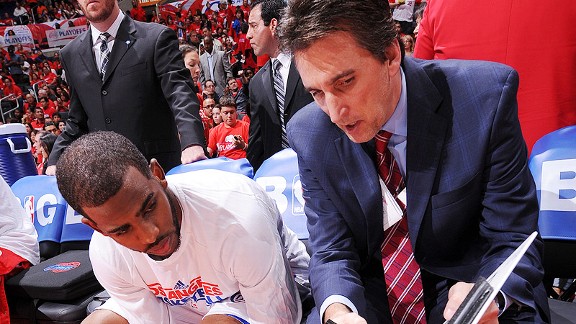 Thanks for Playing, Here's a Sparkler
There are nights on the NBA schedule when Al Jefferson looks like Tim Duncan 2.0. But throughout the Jazz's first-round series with the Spurs, when Big Al has been matched up with the genuine article, he's looked more like a bootleg version, and he hasn't even been a convincing knockoff. Jefferson employs a lot of finesse and shooting touch in his post-up game. He likes to catch the ball with his back to the basket, turn and face, get his defender off balance with ball fakes and jab steps, maybe take one dribble to the middle and then spin back to the baseline, and then shoot. It's usually pretty elegant, and Jefferson might spark a little nostalgia in NBA fans who remember when big men had moves beyond a basic half hook over each shoulder. Before the series began, there was a feeling that even though the Spurs would almost certainly win, Jefferson might play well and there might be something resembling a torch-passing moment between the two big men. Well, Jefferson is never getting that torch. Maybe someday he can hold a sparkler in that flame and write "Big Al" in the night sky with it before it burns out.
The funny thing is Jefferson played pretty well in Game 4. He scored 26 points on 13-19 shooting and pulled down 10 rebounds. But those points largely came against Tiago Splitter or by knocking down jumpers at the elbow when Duncan was forced to rotate off of Jefferson on defense. In his comfort zone on the low block, Big Al couldn't get anything going against Duncan. Jefferson's jukes and feints did nothing. Duncan half-fronted Jefferson on the block and poked a number of entry passes out of bounds. This didn't force any turnovers, but it forced the Jazz to reset their offense with less time on the shot clock and it reinforced the notion that nothing good awaited Jefferson whenever he tried to back Duncan down. When Jefferson did catch the ball on the block and went to pivot and face the basket, Duncan stepped right into Jefferson's space — my high school coach called it chesting up, and when he did it to me it really creeped me out. But there was Duncan, chest-to-chest with Jefferson, who couldn't find space to step through or jab step or do anything to make himself a scoring threat. Once it got to this point, his options were pass or reverse pivot and pass.
Jefferson deserves credit for finding another way to be effective. He found open space at the elbows and knocked down open shots. But Duncan took away Jefferson's bread and butter, the low post, just like the Spurs forced the Jazz to resort to Plan B at almost every step of the series. Even when Utah executed the backup plan well, as they did in Game 4, it should come as no surprise that a top seed playing exactly how it wants to play and an eighth seed scrambling to find something that would work ended in a sweep. —Rafe Bartholomew
LOLs
Filed Under: Chris Paul, Chris Ryan, Los Angeles Clippers, Memphis Grizzlies, NBA, NBA Playoffs, Rafe Bartholomew, San Antonio Spurs, Shootaround, Utah Jazz, Zach Randolph