NBA Playoffs Shootaround: Confidence Men
Rocky Widner/Getty Images
So much amazing is happening, and the Shootaround crew is here to help you keep track of it all. You'll find takes on moments you might've missed from the previous night, along with ones you will remember forever.
Warrior
(All GIFs by @HeyBelinda)
Chris Ryan: Maybe it's just the fraying of my emotional meniscus or something, but Stephen Curry makes me nervous. You can't blame me. After Rondo, Rose, Westbrook, Kobe, and Gallo, I can't help but have the feeling like it's only a matter of time before Curry is helped off the floor by Kent Bazemore and Richard Jefferson, and we go back into the dreaded "awaiting MRI results" zone again. It doesn't help that the kid has papier-mâché ankles, is built like a Big Bang Theory cast member, and gets a little slick with his responsibilities. Before Friday's Game 3 against Denver, Curry surreptitiously removed his ankle brace, prompting his coach, Mark Jackson, to remark after the game, "I've learned very early, he's very slick." In a playoffs that has been largely about loss or absence — about teams making do without some of their key players, or with some of their key players banged up — Golden State has given us all something. They're in the black. For a lot of fans, they are getting to see a star be born. A perfect Warriors star, too — a guy who seems to embody the delirious passion of the franchise and plays as part of a legacy of "this is so fun" players who came before him.

Curry's torrid performances are kind of a regular occurrence by now. "Torrid" is kind of an understatement when talking about Curry's third quarter against Denver on Sunday night.
Jackson said after Game 4, of Curry newcomers: "Those guys are just coming to the hospital … the baby has been born already." But for a majority of people watching these games — watching Curry be oblivious to defenders face-guarding him, testing the area where deep 3 becomes half-court shot, side-stepping, stutter-stepping, and stepping up — this is something new. Something special. What you're seeing is someone with total confidence in himself. Someone with absolute belief, even when playing under duress. When you hear things from Jackson like, "It was almost like [Curry] had been waiting for this for his entire career, and he wasn't going to allow his body to tell him it was too hurt to match the moment," well, you know there's only one thing for you to do …
You appreciate it.
Kent Bazemore Speaks for All of Us Here
Great Scott?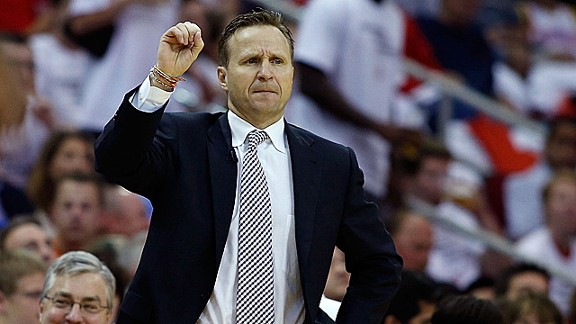 Brett Koremenos: When Russell Westbrook went down with an injury, it obviously made the Thunder's return trek to the Finals a much more difficult proposition. To do so, more would be needed from not only Kevin Durant, but Serge Ibaka, Kevin Martin, and Westbrook's understudy, Reggie Jackson. Yet there is one person in the organization who has a chance to really make a name for himself in the absence of the star guard — Scott Brooks.
For the past few seasons, it's been hard to tell exactly where the Thunder coach stands. Though his repertoire with his players has been solid, Brooks has faced criticism at times for his basketball acumen. Was he just manager of incredible young talent or a truly elite coach like his Western Conference colleagues Rick Carlisle and Gregg Popovich?
Stripped of James Harden before the season, Brooks now has to face life without Westbrook. In the span of just a year he went from three superstars to one. For the team to get back to the Finals and win, Brooks must maximize every asset at his disposal the way Carlisle did with his 2010-11 Dallas team. Carlisle's tactical brilliance and never-ending lineup manipulation were some of the key factors behind that team capturing the Larry O'Brien Trophy. The Mavericks wouldn't have gotten nearly as far with a lesser coach.
Without Westbrook at his disposal, Brooks faces the same uphill battle Carlisle did two years ago. Should the Thunder end up raising the trophy in June, Brooks has a chance to position himself in the same lofty stratosphere as Carlisle, Pop, and the rest of the elite coaches. But if the Thunder flame out early as Brooks is forced to adjust to life with just one transcendent talent, it will continue to cast doubt over his ability to lead a team to the top of the mountain.
Kevin Durant and Wings
God and Jason Terry: A Play in One Act
Amos Barshad: INT., SUBURBAN BOSTON KITCHEN — MORNING
JASON TERRY stands over a stove, whipping up an avocado omelette while his young daughters run betwixt his legs, making airplane noises. His phone rings. The caller ID reads: "GOD"
TERRY: GOD! What up?! We haven't talked since like —
GOD: Since The Sweet Angel LeBron James mercilessly dunked upon thee, temporarily sending thy soul to the Heavens.
TERRY: Yep! Yep! Wait, is Bron really an angel? That explains so much.
GOD: No, not literally. He's just a really nice guy.
TERRY: Major lolz. Anyway, what is up?
GOD: I call upon you, my son, to tell you one thing — fight on. You and your fellow men in green are yet quite far from crossing yonder past that River Styx.
TERRY: Tight! GOD is with us for Game 5, GOD is good! Hold on, I gotta text KG.
GOD: Yeah, sure, go ahead.
TERRY: One thing — why do you bother yourself with the outcomes of sporting events?
GOD: It's a marketing thing. Young demos look up to athletes, athletes praise the Lord — bang bang.
TERRY: Oh, word, makes sense. OK oooone more question — where were you all year? I've been, uh, less of a JET, more of a single-propeller Cessna, if ya know what I mean.
GOD: [Pause.] I mean, you know I'm a Heat fan.
[FIN]
Milwaukee's No Good, Very Bad Day
Danny Chau: Yesterday wasn't a good day for the Bucks. Milwaukee was eliminated from the playoffs hours earlier, but another nail in the season's coffin plunged at halftime of the Warriors-Nuggets game. The fans in Oakland had Oracle Arena rumbling with a frightening buzz, and Andrew Bogut, who had several missed connections with stardom in Milwaukee, was their conduit on the floor. It was a reciprocal flow of energy that made a four-point lead after the first quarter feel like the 14-point blowout the game would become. Bogut has feasted on this kind of energy for years, and don't the Bucks know it. Bogut was the architect of Squad 6, a section of extremely loud and incredibly devoted Bucks fans at the Bradley Center, which got media coverage for being the craziest in the league. But that was three years ago at the height of the "Fear the Deer" campaign, the last time the Bucks had a team worthy of being completely irrational about. That buzz was sorely missed in Milwaukee.
The Heat-Bucks series was terrible to follow because Milwaukee's inevitable defeat isn't a riveting story line. The universe knew the Bucks would lose in four, and there was nothing to do but sigh, resign oneself to that reality, and hope for a swift and painless end. And that all happened, which is a relief to us all. The Heat's greatness is a powerful numbing agent. But still, that's not really a story. The only thing to latch onto was Brandon Jennings's declaration that the Bucks would win in six. It wasn't really that interesting of a talking point, but we were all compelled to harbor strong feelings about Jennings's inconsequential statement. We had to; there was nothing else to talk about. It was the only way a mainstream conversation about these Bucks could be anything other than passionless.
Farewell, Bucks. We hardly knew ye in the playoffs, and when we did, we hardly cared. I wish the team well in the impending rebuilding process. I also wish that 2009-10 season never ended. Fear the Deer forever.
We Need a Word for the Sound Andrew Bogut Makes When He Dunks Here
Actually, "Bogut" is a pretty good one.
Kremlinology
netw3rk: Kremlinology is a term that comes to us from the Cold War, where, because of the dearth of accurate information from standard Western sources like newspapers and television, analysts interested in the internal power structures of the Soviet Union had to, in essence, read between the lines, building a picture from a mix of body language, who-stood-where, lipreading, and plain intuition. Kremlinology is essentially intellectual voyeurism: observing something from afar, not to fulfill some kind of base fetish, but as an intellectual exercise; what is going on in there anyway? No team in the NBA, and maybe all of sports, affords more opportunities for kremlinology than the Lakers, and it's for this reason that I'm going to miss them.
Remember this? That's what I mean; how fun was that to talk about? One moment, one dagger-filled gaze, and a whole world of color and meaning filled the spaces around the anodyne postgame quotes of PR-trained professionals and nebulously sourced shadow gripes. There it is, plain as day. Kobe hates Mike Brown. Two days later, Brown was fired.
The number of personalities that orbit Laker-land is unmatched, and trying to map out where those gravitational fields intersect is as close as the NBA gets to Game of Thrones in one team.
So many characters. There's the star of the future, Dwight Howard, who had already given us a great moment in NBA kremlinology before joining L.A. with his Girls-level Stan Van Gundy squirmfest. There's the aging czar, Kobe. Leaked stories about a heated exchange between the two during a players-only meeting turned every gesture between them into a window to their relationship. Kobe and Dwight even felt the need to release a Pravda-ready propaganda photo of sorts to quell speculation of a rift. Our perception of Steve Nash as a selfless giving tree of a teammate made his on-court spat with Dwight particularly jarring. It goes on and on. Mike D'Antoni struggle-grimaces. The irrepressibly optimistic dancing circus bear that is Robert Sacre. The eternal court jester, Chris Duhon. The bottomless well of sorrow that are the eyes of Mitch Kupchak. And, in a fitting end to an often disappointing and sometimes petulant season, Dwight's already-being-kremlinologized walking-past-Kupchak post-ejection video.
Does obsessing over and deconstructing these little moments give us any more of an understanding of the inner workings of the Lakers? Maybe, maybe not. But we feel like they do and, anyway, when's the last time an seventh-seed sweep victim was this fun to think about?
Kenneth Faried Fought the Wall
Ryan: And the wall lost. (h/t Sam Amick)
CourtVision: Nate Robinson's 4th Quarter
What Makes an Irrational Confidence Guy?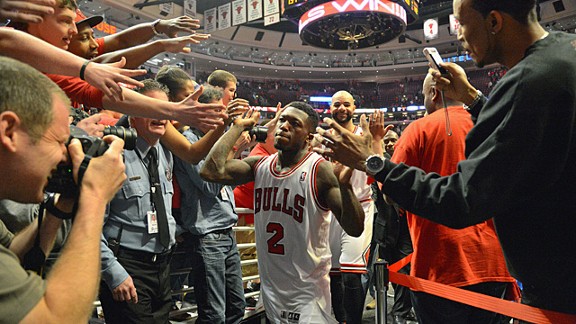 Jay Caspian Kang: This is a question I've been turning over in my head for the past decade or so: What are the attributes of the greatness for the Microwave Man a.k.a. Irrational Confidence Guy a.k.a. Super Saiyan Goku a.k.a. Father Guido Sarducci? Do we look at points per 36 minutes in playoff games (no), do we consider the regular season (not really), do we factor in the magnitude of the game in which the Microwave Man went Super Saiyan Goku (yes)? After some exhaustive research, here's my list.
Shortness
The shorter the player, the higher the Microwave Man rating. Part of the appeal of the Microwave Man is that dream we all have of somehow ending up on an NBA roster and being called off the bench when everyone is hobbled, injured, or committed to the asylum. (Every dude in Los Angeles had like 12 of those dreams this past week, by the way.) Because most people are short by NBA standards, and because the Microwave Man must, by definition, be an everyman, he can't be like 6-foot-7 and really good-looking. By this metric, Nate Robinson is the greatest Microwave Man of all time. Vernon Maxwell ranks second, followed by Earl Boykins in that season with the Nuggets when he came off the bench and shot every time he touched the ball.
Outrageous Celebrations and Postgame Interviews
This is the gold standard.
From Hoopsvibe:
Everything started with Miami Heat Damon Jones wearing sunglasses indoors at the post game press conference of Game 1 of the Eastern Conference first-round playoff series. Jones later declared in the interview "I feel like a movie star". "The basket looked really, really big," Jones said. "Like South Beach. It's a big beach over there, really big. Beautiful, too."
Jones was asked the next day by the NBA not to wear glasses anymore at postgame press conferences.
The Shrek and Donkey postgame conference gets an eight out of 10.
Listen, Nate. This could be so so so much better. I know you did say, "I'm kind of selfish," but this is your moment and I just don't see the point of copying every other NBA postgame conference meme by bringing your kid and wearing a dorky backpack.
Hitting at Least One Absurd Shot You Should Never Have Taken
Greivis Vasquez, who could be a Microwave Man if it wasn't for his current starting gig and his considerable height, did this in a playoff series when he was in Memphis.
Robinson's running leaner bank shot at the end of regulation Saturday night could have eclipsed that absurd Vasquez shot if he had taken off with his foot behind the line. Still, it was like a 9.9 out of 10 on this scale. In related news, Toney Douglas sits much higher on this list than you might expect. Early-era John Starks, however, is the King of All Time.
Short Leash
This is what ultimately hurts J.R. Smith's candidacy. He plays too many damn minutes to be a legit Microwave Man. When a real Microwave Man is put into a game, he should inspire the following thought in his coach's head: "Well, we're screwed anyway, so why not? If he misses two shots in a row or if he tries to punch Calvin Booth, I'll just yank him immediately and at least we'll lose with some dignity."
Sweet Name
Nate Robinson could use a little help in this category. So could J.R. Smith, honestly. Vernon Maxwell is no. 1. Nick Van Exel is no. 1.1. Honestly, I can't decide whose name is cooler and just defaulted to their nicknames: Mad Max is much better than Nick the Quick. I think we can all agree upon that.
Complete Lack of Respect for the Game Plan
One day, Monta Ellis will end up with a good team and a coach who hates him and the prophecy will be fulfilled.
T-Mac Will Tear Us Apart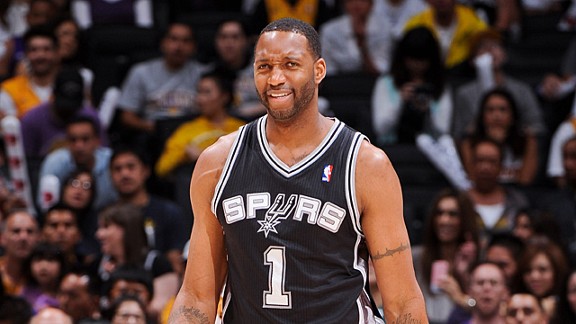 netw3rk: We live in a time of massive upheaval and uncertainty. Economies crumble, governments dither and obfuscate, and the very natural systems that govern the Earth we live on spin irrevocably out of balance. Our leaders are hopelessly divided; the bees are dying; the once plentiful bounty of the oceans is but a memory; the ancient polar ice caps melt; the gap between rich and poor widens by the second; and our faith in our institutions, some of them ancient beyond imagining, has never been lower. The social contract that has tied us together for generations is disintegrating. It is for these reasons that an essential part of our shared legacy must be safeguarded at all costs. For our children, and our children's children, Tracy McGrady must be waived immediately, before he can play in the second round of the playoffs.
McGrady was drafted in 1997, and since then, our country has become more divided than at any time in its history except the Civil War. I learned that from watching The Newsroom, and I'm pretty sure it's true. One thing unites us across the rancorous fault lines of modern life, one immutable, incontrovertible fact: McGrady has never gotten out of the first round. I can't count the number of arguments I've had — about gun control, gay marriage, the sequester — where, after the voices rise to shouts and the uncomfortable silence settles like a fog, someone breaks the impasse with "T-Mac, though … what a loser, right? No second round? Pshhh." And the divisions melt away. Heads nod, backs are slapped, and laugher overtakes silence. I want to hand that legacy down to my kids, to be able to look them in the eye, like a man, like an American, and say, "Here, child. Here is something that's been true since the time of your ancestors." Don't take that from us, Spurs. Waive T-Mac now, before it's too late.
Los Angeles and the Heartbreakers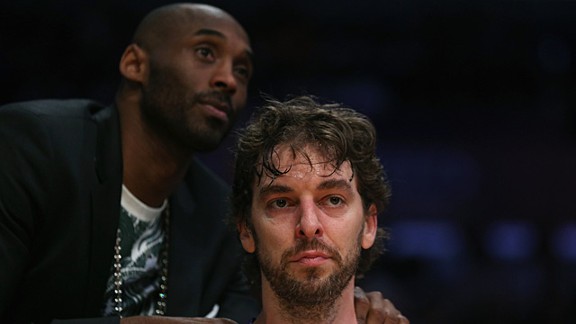 Patricia Lee: I have a confession: I stopped watching Game 4 a few minutes into halftime. The combination of watching an NBA team filled with All-Stars play against a (perhaps) slightly-better-than-my-cousin's NJB team and listening to the TNT announcers talk about the Spurs' dominance (which they had every right to do) was just too much for me. I felt physically ill during the broadcast and even opted to play Candy Crush during parts of the game (and I hate Candy Crush). Yeah, yeah, I should've known it would've been a bloodbath. I should've known that the Lakers had no real hope of advancing after Kobe went down. I should've known that even a lineup of two All-Stars (maybe one and a half) and this year's D-League MVP wouldn't do the trick. I should've known that even at Staples, the Lakers stood no chance of beating the Spurs.
And yet, I still hoped. Even if it was only one-billionth of a percent (or even one-billionth of a percentage point), I thought maybe — just maybe — the Lakers could steal this one.
But just over an hour in, I gave up. I gave up on Dwight Howard, I gave up on Mike D'Antoni, I gave up on this team. Heck, I even gave up on this season and started thinking toward rebuilding (something I never imagined I would think in my lifetime, especially with a lineup of Kobe, Nash, Dwight, MWP, and Pau).
So what exactly is heartbreak?
Is it the vision of Kobe Bryant, injured and helpless, limping toward the Laker bench? Is it the standing ovation echoing through Staples as Pau Gasol walks off the court in what might have been his last game as a Laker? Is it that image of Dwight Howard receiving his second technical and being ejected from the game?
Or maybe heartbreak is what Lakers fans have been experiencing all season. It wasn't a single shot, a single game, a single series that made us hurt — it was the cumulation of all of those things. As a fan base, we're not used to losing so unceremoniously. We're used to championships — to rings, to banners — not to 4-0 sweeps. We knew from the start that this wasn't going to work out. We knew it when we saw Howard shoot his first free throws. We knew it when we saw Gasol flailing around like the horseman without his head. We knew it when we lost every single game in the preseason. It was going to be a long journey ahead.
But I guess we really knew it when Howard said this in his postgame interview:
This is like a nightmare, like a bad dream, and we couldn't wake up out of it. That's what it felt like. It seemed like nothing could go right from the start.
Heartbreak, summed up in 13 seconds and a miserable, not-quite-seven-month season.
Filed Under: Brett Koremenos, Chris Ryan, Danny Chau, Dwight Howard, Golden State Warriors, Jay Caspian Kang, Los Angeles Lakers, NBA, Patricia Lee, Stephen Curry