NBA Overnight: Noah's Art
A quick look at the NBA action from the past weekend.
Chicago Fire
Chris Ryan: On Sunday, I finally "got" the Bulls. Before you do the Citizen Kane slow clap for me, let me explain. I just don't care that much about defense. I'm not particularly into hard work, and I often ignore the little things. That the Bulls were able to remain competitive despite losing their best player and trading away one of their team leaders and most effective offensive weapons … I just didn't care. Over the course of this season, I have often expressed, vocally, my dismay at the Bulls being on national television. Watching them was like watching an advertisement, paid for by the NBA, encouraging people to do anything other than watch basketball. Nobody seemed to be enjoying themselves during these contests, Thibs laugh Vines aside.
Then they lit up the Knicks, D.J. Augustin played like peak Steph Marbury, and Joakim Noah played one of the better all-around games I can remember seeing. High-post passes, rib-crunching screens, ugly, ugly, ugly jumpers, making Carmelo Anthony's life an even more vivid and uncomfortable living hell than it already was (after the game Melo said, "I can't see next year … I can't even see tomorrow at this point"), and even a little running the break …
Noah was MVP good on Sunday. He ended the game with a triple-double (13 points, 12 boards, 14 assists). He has the most triple-doubles of any Bulls player other than Michael and Scottie, and, according to Elias, he is the first center to have 14 dimes since Sam Lacey in the 1978-79 season. Over the last 10 games he is flirting with averaging a triple-double. He LEADS THE BULLS IN ASSISTS. He's already arguably the best defender in the league, and one of the most intimidating people to get tangled up with on the block. He is also the Lion King:
I apologize to Chicago, Thibs, Jo-No, Jimmer, and the tears rolling down Jeff Van Gundy's face as he rhapsodized about yet another staunch defensive stop by Chicago. I'm an idiot. I thought, after the Luol Deng trade, that Noah was due for a mysterious, not-all-that-convincing plantar fasciitis flare-up that would see him sit for 10 days that morphed into 20. Instead, Chicago is 21-8 in 2014. If I'm Miami and Indiana, I want nothing to do with these guys in May.
Kyrie Is Back From the Dead
Andrew Sharp: About a month ago, a season's worth of frustration with Kyrie Irving in Cleveland mushroomed into this scathing State of the Union between him and the Cavs. Sample: "Part of the problem was Irving being anointed the Big Man on Campus immediately upon arriving. He hasn't been held accountable much the last couple years. That has festered into what we've seen this year, which is too much dribbling, at times a lousy attitude and a 21-year-old who has shown his immaturity."
And: "He has the opportunity to sign a max contract this summer, and the Cavs will certainly offer it … has he actually earned it?"
But maybe that low point was also the turning point. Maybe that scathing takedown will look hilarious 10 years from now. For now this is just a PSA: For the past few weeks Irving has been everything everyone always wanted, and the redemption continued this weekend. He posted a triple-double (21 points, 12 assists, 10 rebounds) in a win over the Jazz on Friday night, and then added 28 points in a loss to Memphis on Saturday. The Cavs are still a massive disappointment this year, sure. But if Irving plays like this the rest of the way, maybe there's still hope?
Speaking of which …
Caring Is Creepy
[protected-iframe id="cb3461021102485e6b8ab6f19c41bb15-60203239-54997147″ info="https://vine.co/v/MKjX3qxFvOe/embed/postcard" width="600″ height="600″ frameborder="0″]
Sharp: Dear Cleveland, STOP DOING THIS.
It happened with LeBron last year, and it happened a few months ago with Irving. Uncle Drew was diplomatic this time: "He told me he loved me, I told him, 'I love you, too, bro.' … It goes back to the emotional and deep-rooted support the fans have for the team."
But no. No matter what Kyrie says, nobody likes to be attacked with love. It's not attractive. That kind of unique emotional and deep-rooted support is why people like Taylor Swift are still single.
Besides, Irving's not turning down max money this summer. If Cleveland's that worried about keeping him, it has at least four years to workshop the best stalking ideas.
MAMBA > MOZART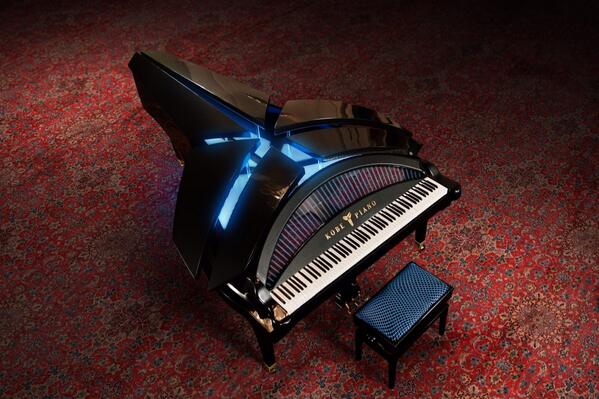 Sharp: That's a photo of the new Mamba-customized piano that Kobe Bryant tweeted to the masses on Sunday. It's notable because that's just an amazing sentence to type in real life.
Also, it reminds us all of the time Kobe responded to a rough loss last year by tweeting this to his followers:
And:
This is the first time all year I've truly missed having Kobe in our daily NBA lives. #OurJourney just isn't the same without him.
Truly Just Check the Suicide Doors
[protected-iframe id="9b870449e0578c6759c8e5c87e40ba6e-60203239-3376534″ info="https://vine.co/v/MZ9EDrTw2JD/embed/simple" width="600″ height="600″ frameborder="0″]
Ryan: This should finally answer the question about whether the Thunder are better off without Russell Westbrook.
The Boy in the Box
Ryan: Shout-out to the kid losing it inside the inner square on the backboard.
Where Were You When …
Sharp: Sadly, Evans made it out of the elevator in time for the Suns game, and we were all robbed of tanking history. But still. We'll always have those 20 minutes Friday night when everyone went, "Wait, what? Tyreke Evans is stuck in an elevator?"
Here's some exclusive hostage video of the situation from the Phoenix Ritz Carlton. "Smh #help," said the victim on Instagram.
2014 is great.
Iverson
Filed Under: NBA, Allen Iverson, Los Angeles Clippers, Chris Ryan, Andrew Sharp, Cleveland Cavaliers, Russell Westbrook