NBA Offseason Mergers and Acquisitions: Atlantic Division
With the 2012 NBA draft completed and free agency now under way, several teams have given us glimpses into the direction of their offseason strategy. Let's take a look at a few.
You! No, You! OK … You!
Similar to a desperate man prowling Lavo after last call, the Nets spent the beginning of the week searching frantically for someone willing to spend the night in their spanking-new Brooklyn industrial space (really, the yet-unfinished Barclays Center resembles an oxidized armadillo carcass). As other teams cuddled on banquettes with players already under contract, the Nets bought $16 vodka sodas, disingenuously complimented gladiator sandals, and negotiated cab-fare deals to convince a potential partner to ride over that bridge. Exactly like real life.
A quick rundown of players in whom the Nets were initially interested: Deron Williams, Dwight Howard, Joe Johnson, Jeremy Lin, Goran Dragic, Steve Nash, Ersan Ilyasova, Mirza Teletovic, Ray Allen, Nick Young, and Everybody Else. It all seemed comically futile. But, lo and behold, they've now agreed to give Gerald Wallace a four-year deal worth $40 million, acquired Johnson along with his $89 million throat anvil, signed Teletovic, and convinced Williams to remain a Net. The lesson? Even inept Billy King can seem like the raconteur with the fuzzy hat from VH1's The Pickup Artist if he's given license to fling around wads of cash.

One Size Fits All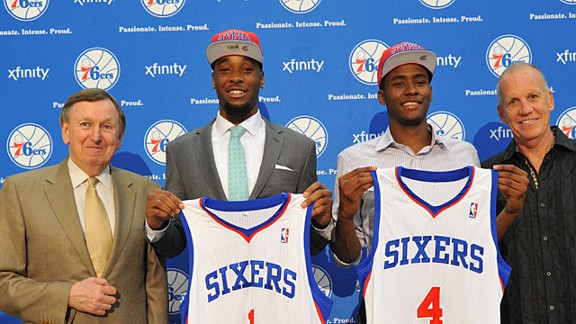 The combination of paltry attendance and a new ownership cabal determined to revamp an image that falls somewhere between "bland youth movement" and "doomed overachievers" presents the Sixers with a conundrum. How does an organization save ducats without skimping on talent? Easy. Hold an election for a new mascot and then neglect to hire one. SRSLY, WHERE IS PHIL E. MOOSE? WHY WON'T YOU LET B. FRANKLIN DOGG BE GREAT?
Another penny-saving technique: one-size-fits-all uniforms. That's the logical explanation for why the Sixers took Mo Harkless with the 15th pick. The 19-year-old from St. John's is a skinny, athletic, small forward with a janky-ass jumper — all adjectives that describe 80 percent of the Sixers' roster. Along with his stunt doubles Andre Iguodala, Thad Young, and Evan Turner, plus promising point guard Jrue Holiday and even earth-tethered Elton Brand [Editor's note: the possibly amnestied, earth-tethered Elton Brand], the team's best six players under contract for next season are all roughly 6-foot-6 to 6-foot-9. Hey, we love Lou Williams and his filigreed curls, but we can't have him swimming in the folds of his jersey like a peace dove within Justice Scalia's musky muumuu. This marks the dawn of a democratic new day, where positions are not dictated by the arbitrary tyranny of height but by, um, dribbling ability or weight or something.
In reality, the arrival of Harkless is a logical prelude to Iguodala being airmailed out of town. And now, just like the last two times Philly sent its best player into exile, the team has awkwardly maneuvered itself into dealing from a position of weakness. Sixers fans should pray that Iggy brings back a bundle of talent that includes Tim Perry, Andrew Lang, Andre Miller, and Joe Smith. On the bright side, they also re-signed Spencer Hawes, who transformed literally 20 solid games into $7 million a year.
And, of course, after re-signing taller Spencer Hawes, Philly made amends by immediately presenting an offer sheet to Nick "Technicolor Dress-Shirt" Young — who is, naturally, 6-foot-7.
College Dropouts
With a rich history of academia, the lingering scent of Bud Ice, and a civic culture that considers boomerang-brimmed Red Sox caps acceptable bridalwear, Boston is the prototypical college town. And the Celtics seem to believe bonds formed during the undergraduate experience are important for professional success. This year, they drafted a pair of colleagues from the Syracuse Orange: Fab Melo in the first round and Kris Joseph in the second.
This isn't the first time Boston has attempted to conjure the college spirit. Back around the turn of the century, they stocked the roster with University of Kentucky products like Tony Delk, Ron Mercer, Walter McCarty, and Antoine Walker. The team didn't win much, but it was a real hoot watching Divine Secrets of the Ya-Ya Sisterhood and other Ashley Judd movies in that Wildcat-larded locker room. So maybe all those nights when Fab Melo and Kris Joseph played beer pong, put a sock on the doorknob to indicate "company," and short-sheeted Scoop Jardine's bed will help the long-toothed Celtics remember what it was like to be young, hopeful, and not doomed to run into the Heat every postseason. Plus, things are sure to take a turn for the uproarious when grouchy R.A. Gerry McNamara is brought in to clamp down on Dorchester panty-raiding expeditions.
Tickets on Sale Now in Toronto!
Weary of being less regionally relevant than the Atheist Furriers' Union and the Ice Sculptors' Cooperative, the Raptors originally embarked on a boldly progressive offseason strategy that ignored even attempting to improve at basketball. Crafty! Since Toronto is a young, untalented team — leading scorers Andrea Bargnani, DeMar Derozan, and Jerryd Bayless collectively shot about 42 percent from the floor — the organization sagely went all in on wooing 38-year-old Steve Nash back to his frozen homeland.
First the Raptors sent a convoy of Canadians down to New York City to tearfully harangue Nash at his Chinatown soccer game, a mission that played out like Aguirre, Wrath of God, but with Bryan Colangelo floating in Lake Ontario aboard the leaky monkey-infested raft. Then, to thwart the Knicks from completing a sign-and-trade with the Suns, they offered Landry Fields, the paragon of mediocrity, a "poison pill" deal worth $7 million a year. Despite these efforts, Toronto was unable to persuade Nash that vats of Loonies were a suitable compensation for never, ever making it to the second round of the playoffs again.
Maybe Nash was just terrified of being forever entombed in Toronto's Fortress of Solitude — peep the fate of current token Canadian Jamaal Magloire, who actually played in 34 games for the Raptors last season. Can such shameless pandering be a surprise coming from a team whose name was inspired by Jurassic Park? If the Raptors were renamed today, they'd call it the Goslingtown YOLOs. Still, other than most likely being stuck with Fields, the Raptors are better off with new acquisition Kyle Lowry than a decrepit oldster who was just hanging around for the free health care.
Know When to Fold 'Em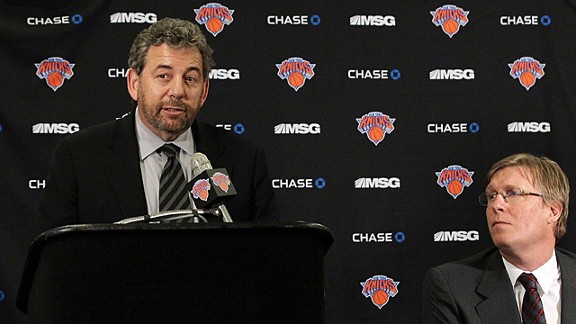 With most of their resources tied up in a luxuriant but flawed frontcourt, the Knicks spent the last week being muscled around by bottom-feeding teams with cap space. Attempting to improve their roster on sliver margins, they're like the sweaty guy at the poker table who has to grit his teeth and go all in on every $5 bet. The Raptors offer Fields $7 million a year? FOLD. The Suns want more than Iman Shumpert for Steve Nash? FOLD. The Rockets offer Jeremy Lin a Linsane $30 million offer sheet with hopes of recapturing market share in Guangzhou and Xi'an following the retirement of Yao Ming? UMMMM, UHHHHH, GAHHHH!
After spending a chaotic year governed at point guard by a platoon that was alternatively incompetent (Toney Douglas), injured (Baron Davis), and Lincidental, the Knicks could be headed into next season with the ancient Jason Kidd as their starter. He was drafted in 1994. That was the year Illmatic came out, Natural Born Killers was released, and Justin Beiber was freaking born. Fortunately, the Knicks are now being helmed by glowering defensive guru Mike Woodson, who was so impressive during his interim stint that the organization didn't even bother pinging Phil Jackson on BBM or anything.
Filed Under: Boston Celtics, NBA, NBA Draft, Philadelphia 76ers, Toronto Raptors