NBA Media Day Shootaround
Serge Ibaka/Facebook
It's baaaaaack. The NBA Shootaround crew is here to go over the best and brightest story lines coming out of media day and the opening days of NBA training camp. Basketball, basketball, basketball, basketball, basketball!!!
Kobe Clearly Still Mad About the Ellen Kid; Lying About Having the Ball in Hands; Wishes He Were a Transformer
Quick sidebar: Does Craig Sager make it through a day of his life on Earth without having a professional basketball player question his ability to dress himself or … ask questions? It's the FIRST DAY and Kobe is already treating him like an emotional speed bag. This dude's life is Groundhog Day and the day he is reliving is the first day of high school, with 6-foot-6 guys stuffing him in a locker. The humanity!
Anyway, Kobe's back. Despite the new constellation of supernovas in Lakers purple, no star burns brighter than no. 24. And don't you ever forget it. Somehow Bryant was able to spend media day at once shirking responsibility (on handling the ball less this season: "Thank God") and reasserting his dominance over his surroundings ("I get to be Megatron"). (Yes, he was referring to being able to "run routes," à la Calvin Johnson, while new point guard Steve Nash takes care of the ball … but let's just pretend he meant he gets to be the evil Transformer. It's much more on-brand.)
This made me giddy. Putting aside that I am willfully misinterpreting what he said, do you know how extra-Kobe Kobe Bryant is going to have to be this year to make sure we're all paying attention to him? In the face of the media-friendly Nash, the confounding Dwight Howard, and the downright weird Metta World Peace, Bryant is going to have to be in full Prince Joffrey mode. I can't wait to watch the throne this season.
— Chris Ryan

Re: Iman Shumpert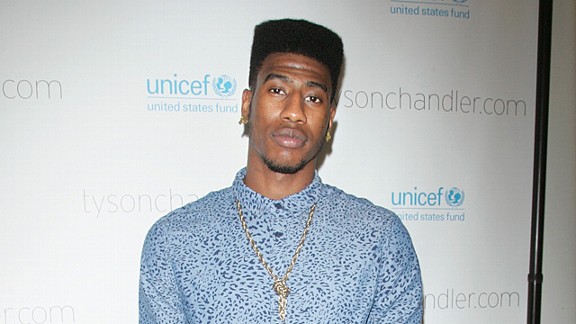 Just wanted to throw this out there because everyone needs to remember that it happened.
Based on the Jazzy Jeff scale, where J.R. Reid gets a 1 and Kenny Sky Walker gets a 10, I'm giving Iman a 3. He automatically gets docked three points for "bringing back the '90s," but didn't quite pull off a Brandon Jennings, where he started at 9 and got docked back down to a respectable 6.
Follow-up question asked by reader Kay Jang: "What would happen if Iman went with the high-top fade AND shaved the Anthony Mason Knicks logo into the side of his head? Does he recover those three points for bringing the '90s back TWICE in one haircut?"
I don't know, Kay Jang. Please stop asking me these stupid questions.
— Jay Caspian Kang
List of Things Tom Thibodeau Will Pay For With His $20 Million
Tom Thibodeau's contract extension was announced on Monday. Naturally, the Bulls coach immediately went on a shopping spree. Here's some of the stuff he picked up.
A 1991 burgundy Ford Tempo; a cassette adapter for his 1991 burgundy Ford Tempo's tape deck; a used Sony Discman; Fydor Dostoyevsky Devils CD audiobook as read by E.R.'s Goran Visnjic; a VCR; The Complete Hill Street Blues DVD box set; the transfer of The Complete Hill Street Blues from DVD to VHS; a really normal amount of drywall; a metal detector; the T-shirt Glenn Frey wore at the 1974 California Jam; the finishing touches on his jams and preserves cellar.
— Chris Ryan
Parenthood
The Atlanta Hawks couldn't have had a more positive media day, with big news coming out about two of team's most important members, Josh Smith and (recently re-signed, thank you deities of all color, shape, and size) Ivan Johnson.
1. Josh Smith, with regard to his tendency to think he's a mix between Dale Ellis and Reggie Miller from behind the arc:
"We've got Kyle Korver, Devin Harris, Louis Williams, Anthony Morrow, Anthony Tolliver. Am I missing anyone? Jeff Teague. … So there we go. That answers that question. I didn't even say my name, did I? Call me mid-range shawty."
And so it was done. Josh "Mid-Range Shawty" Smith. My custom jersey game is going to be so on point this fall. YOU'VE GOT COMPANY, no. 7 RON MEXICO.
2. This tweet:
#Hawks' Ivan Johnson will be a father for the second time.

— Chris Vivlamore (@ajchawks) October 1, 2012
While the wording of this childbirth announcement is super awkward (one step away from "Ivan Johnson has been given a second shot at fatherhood"), this undoubtedly means a happier, less-likely-to-get-removed-from-the-team Ivan Johnson. If you think another kid will turn Ivan all soft, however, don't forget the most important fact about Ivan Johnson: He's Ivan Johnson.
— Rembert Browne
The Celtics Are Going to Be a Lot of Fun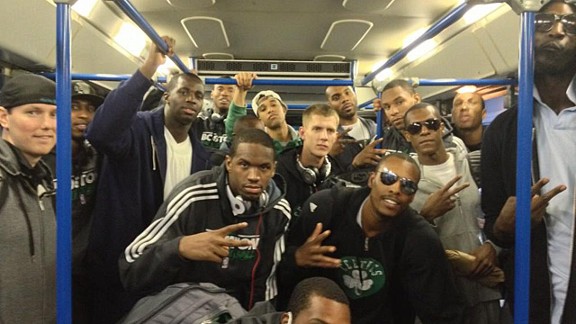 One day. It took one day of Kevin Garnett's Psycho Boot Camp to turn Darko Milicic from "pretty weird dude" to "probable person of interest." At Monday's media day, the newly signed Celtic said he's done trying to prove he was worth the no. 2 pick back in 2003. Now, it's all about the guys in green, and he'll "do whatever it takes, whatever I need to do to help this team. So now, if I have to go kill someone on the court, I'll kill someone on the court."
I want to think the conditioning is like that in A Clockwork Orange, only the exact opposite. Darko in a dark room, eyes held open, forced to watch video of KG slamming his head against stanchions and screaming "motherfucker" on loop, all while being fed cannoli from Mike's. I used to be impressed by how quickly KG turned around the culture in Boston when he got there in '07, but now that I know it was solely a product of modern brainwashing techniques, everything about the Big Three Celtics seems a little tainted. Luckily, that doesn't preclude Darko and Kevin from being the greatest buddy-cop movie in the history of the NBA. When does the season start, again?
— Robert Mays
Also?
From the Boston Herald: "Rajon Rondo, who said he wants to visit Istanbul's famous Spice Market, doesn't plan to push himself too hard in the cultural end."
Filed Under: Boston Celtics, Kobe Bryant, Los Angeles Lakers, NBA, New York Knicks, Rajon Rondo