NBA Free-Agency Shootaround: Independence Day
Andrew D. Bernstein/NBAE via Getty Images
So much amazing is happening, and the Shootaround crew is here to help you keep track of it all. Here, you'll find takes on all the big free-agency transactions of the last few days, along with some of the not-so-big ones.
It's Expected, I'm Gone

Chris Ryan: Of course it was going to be something like this (via The Houston Chronicle):
"It was on the Fourth of July," Howard said. "That's when I felt it was Houston. I was in Colorado. It seemed like every person that I met was from Houston. It was just so ironic. I'd walk around. Someone would ask for a picture. They'd give me a business card and it would say Houston on it. I was like, 'Is everybody in Colorado from Houston right now?' It was unbelievable. … I was like, 'You know what, this has to be from God.' You pray for things to happen. You pray for signs, for God to show you things. It just seemed like, this was it."
So this whole thing, this whole will-he-or-won't-he, and if and when he does, where-will-he … all of this got settled by one chance encounter, like something ripped from an unreleased Frank Capra movie about a giant moron who goes up a mountain to decide what to do with his life, and finds a moment of clarity with a complete stranger. Word is he had an eye patch, wore himself salty sea dog facial hair, and spoke with a lot of "ARGGHS" added to the end of his sentences. But, man, isn't it weird that there happened to be a guy walking around the streets of Aspen, just as Dwight Howard was taking his Independence Day constitutional, and these two wayward souls bumped into each other and found common ground?
"You're thinking about going to Houston? Aye! Arggh! I be from Houston, matey."
Makes you wonder: Who was that masked man?
Kobe in Memphis
Ryan: From Woj, who apparently was hiding in a laundry bin somewhere in the FedEx:
Within the Los Angeles Lakers, there had been a belief that a late January team meeting in Memphis could've been the beginning of Dwight Howard's future with the franchise, or merely the beginning of the end. No restraints, no mercy, no holding back. Kobe Bryant had climbed into Howard in a way that was startling, sobering, a moment of penetrating and unpleasant truths.

Every time you trash me to teammates, it gets back to me, witnesses said Bryant told Howard in the visiting locker room of the FedEx Forum. Every time you do one of your impersonations when I walk out of the room, I find out. Everything tumbled out of Bryant, one grievance after another, and the Lakers coaches and players sat watching the two biggest personas in the room push closer together, or irreconcilably apart.
Grantland has obtained exclusive footage of the rest of the Kobe rant. Eat your heart out, Woj.
Text Messages to Dwight Howard From a Houston Resident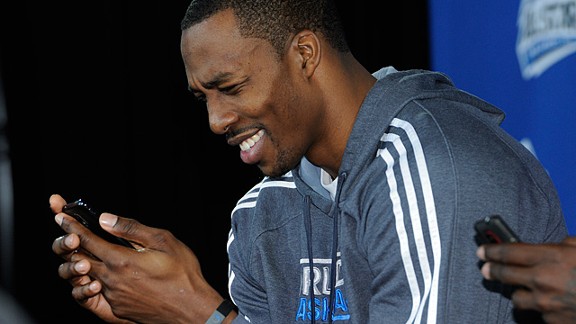 Shea Serrano: Dwight Howard is coming to Houston. I sent him some text messages the day he made his announcement.
Me: Yo!
Dwight: uh
Me: It's me! Shea. We met at the all star game
Dwight: oh right
Me: You're coming to Houston!?!?! I just saw it on Twitter!
Dwight: yes
Me: Mayne!
Dwight: ?
Me: Oh. Sorry. Yeah, that's how you express, like, happiness or excitement in houston. It's like "man," just better. The more excited you are, the longer it is. Maaaaaaayne.
[No response.]
Me: Anyway, welcome bro!
---
Me: Yo!
Dwight: come on
Me: But for real you're coming to Houston???
Dwight: yes. Definitely.
Me: like, DEFINITELY definitely?
Dwight: DEFINITELY definitely
Me: because they're saying on tv that you said now it's not FOR CERTAIN that youre coming.
[No response.]
Me: hello?
[No response.]
Me: HELLO?
Dwight: maybe definitely
Me: :/
---
Me: Dwight, they're saying now it's 50/50.
Dwight: yeah
Me: wtf? dude, you gotta chill. It's different here.
Dwight: different than la?
Me: bro, yes.
Dwight: they had sooooo many reporters in la tho.
Me: reporters? Dude, remember carl landry?
Dwight: no
Dwight: OH F, THE GUY THAT GOT SHOT?!?!
Me: yes
Dwight: he played for the rockets?
Me: yes
Dwight: he got shot at after an away game or something right?
Me: yes. The hornets
Dwight: so he got shot in new orleans? Big whoop. Everyone gets shot in new orleans. Didn't you watch The Wire.
Me: two things: 1. The Wire was shot in Baltimore. 2. BRO, HE GOT SHOT HERE.
Dwight: oh. dang. but so he must've lost the game for 'em or something.
Me: no, yo. he played great. And they won.
Dwight: so why'd they shoot him?
Me: I don't know, they just did. They just shot him. Right by his house. Like, AND PEOPLE IN HOUSTON FUCKING LOVED HIM.
Dwight: Jesus
Me: I know. you can't dick around, man
Dwight: maaaaayne
Me: almost
---
Me: so…
Dwight: Houston
Me: for sure?
Dwight: hey, does this look like a bird?
Dwight: (*v*)
Me: what? no. but so yes you're definitely coming to Houston???
Dwight: (8>)< Me: duuuuude, focus. Stop talking about goddamn birds.
Dwight:
(*)>
/ )
/"
Me: …okay, that's pretty great
---
Me: Boom! Just saw your twitter avatar! You in a Rockets jersey!!!!
Dwight: Houston
Me: <3 Dwight: that doesn't look like a bird
Me: jesus christ
CourtVision: A Thin Line Between Love and Hate and Josh Smith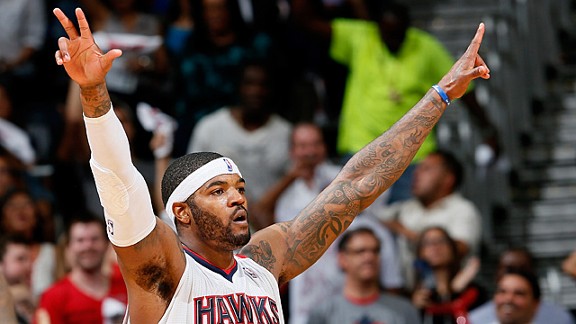 Kirk Goldsberry: I love Josh Smith; I hate Josh Smith. I am not alone. There's no doubt that he can be a great NBA player, but he's currently not realizing this potential. For years now, Smith has been right there, one obvious tweak away from significant improvement; but he has either been too stubborn or too poorly coached to make that adjustment. What's that adjustment? He needs to stop shooting jumpers. Every time Smith takes a jump shot, another League Pass groan gets its wings. Those groans are justified, and Smith's shot selection deserves the massive criticism it gets. Why does a player so capable of scoring so easily down low spend so much time pretending to be an adequate NBA jump shooter?
Smith is at his best near the basket. It's fair to say that very few NBA players are as effective as Smith close to the basket. Unfortunately for Hawks fans, Smith spent too much of his time and energy in Atlanta shooting those putrid jumpers. Last season, he shot 65 percent inside of 9 feet and 31 percent outside of 9 feet, yet almost half of his shots came from beyond 9 feet.
For years, many of us have wondered what would happen if Smith played within a different system that could more effectively align his talents with his shot selection. Well, now Smith gets a fresh start on the Detroit Pistons. Can Maurice Cheeks fix Josh Smith? Who knows? I hope so, but on a team that already features traditional bigs like Greg Monroe and Andre Drummond, I'm worried that he'll be used even more, not less, as a jump shooter.
Pop Quiz …
Ian Cohen: "I have showed I'm not just the black hole reputation I had years ago. … I showed people that I can do other things."
Who made the above statement? Is it …
1. Someone who got way too high listening to Modest Mouse's The Moon & Antarctica and can't even remember the lyrics to "Dark Center of the Universe." He who without sin, cast the first stone and all.
2. The greatest player in Bobcats franchise history.
The answer is no. 2, but now ask yourself … who does that narrow things down to? Gerald Wallace? Emeka Okafor? Adam Morrison? Alexis Ajinca?
The answer is Al Jefferson, after the former Timberwolf and Jaz (I imagine that's the singular form of "Jazz") signed a three-year, $41 million contract with the Bobcats last week and, as such, manifested Rod Higgins's claim that the team would be "ultra aggressive" in free agency. In other words, as much as Jefferson wanted to prove he's not the dark center of the Jazz's offense (that quote was from last April), the Bobcats also wanted to prove they're not a totally lifeless void.
It's a perfect marriage: Al Jefferson's going to almost certainly regain his 20-10 form because Michael Kidd-Gilchrist or Bismack Biyombo are only effective on the offensive end when treating the basketball like a hot potato topped with sizzling bacon and scalding Velveeta. And the Bobcats let the rest of the NBA know they're a destination now — in theory, it reminds me of the Phillies signing the similarly all-offense, no-defense Jim Thome back in 2003 after years of both losing and being a total non-factor on the free-agency front. It wasn't until Thome left that they started making their annual run to the playoffs, but nonetheless, it signified a culture change.
But it's a culture change at a time when the Bobcats' unyielding futility is starting to prove ahead of its time: Preemptive tanking is all the rage in 2013 and the Bobcats are doing the equivalent of buying a full-price Banana Republic shirt for the first day of school, knowing full well it'll be on sale like a week later. You'll be presentable, not "cool." And you'll just end up resenting how much came out of pocket.
The player opt-out in Year 2 helps, but as of now, Jefferson will do the following things: (1) help you win a few games against the Bucks and Sixers of the world, and (2) serve as a defensive enforcer only in the respect that he'll block Biyombo from meaningful playing time as he finishes his rookie contract. Just picture the Bobcats snagging yet another third or sixth or eighth pick in the lottery thanks to AJ's career year and having Andrew Wiggins posterize that Cody Zeller/Al Jefferson frontcourt on repeat. But then again, this is a franchise that also hired Mark Price and Patrick Ewing as assistant coaches to show "we're not playing around this year," and it just looked like Michael Jordan was trolling his former adversaries, asking if legitimate coaching experience is worth more than the championship ring His Airness so frequently denied them. Jefferson might help the Bobcats suck less, but it's just more proof that the Bobcats can't even suck correctly.
Dropping the Tint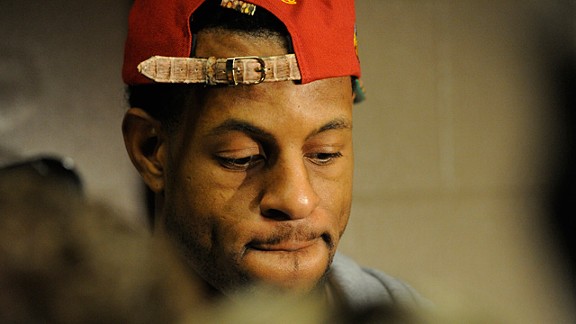 Ben Detrick: Despite an impressive 47-35 record and that heart-stopping playoff run, the Warriors were not an elite team last season. Sure, the offense may have looked incendiary with Stephen Curry and Klay Thompson hitting 3s from the freaking Mission District, but it barely cracked the league's top 10. And the defense was mediocre. Owning a losing record against opponents over .500, and possessing the lowest point differential of any playoff team in the Western Conference, they were more lucky than (very) good.
And yet, after signing Andre Iguodala — a process that funneled four draft picks to Utah as compensation for burying several bloated but well-paid corpses — it seems Golden State considers itself a real contender. Is it? Probably not! But in a lineup with Curry, Thompson, David Lee, and Andrew Bogut — a group long on useful talents, but short on identity — Iguodala is ideal connective tissue. He doesn't need many shots, thrives in transition, and gives the Warriors a defensive Rottweiler to sic on the league's rising population of dangerous small forwards. (As an aside, maybe his new Bay Area commune can burn bundles of sage to dispel whatever nefarious spirits caused a dude who shot 82 percent from the stripe in 2006-07 to clunk free throws at a 57 percent clip last year.)
While Iguodala will generally be asked to replicate his role in Denver, this acquisition marks the second time in three months that Golden State has pulled up and dropped the tint on Denver — the same team it obliterated in the first round of the playoffs.
For the Nuggets, the loss of Iguodala is just another crowbar to the gut in an offseason of clumsy deconstruction. With stunning speed, they fired the coach of the year, allowed their whiz GM to migrate north to Toronto, traded underrated center Kosta Koufos to Memphis for scraps, and have now seen a crucial contributor abducted by a rival. It's been an ugly regime change for a franchise that seemed poised to become a model ripe for emulation: the elite team without a true superstar. With the world crumbling, fledgling GM Tim Connelly is reportedly considering the last refuge of a man with cap space but without a plan. Signing Monta Ellis.
Long-Distance Wolves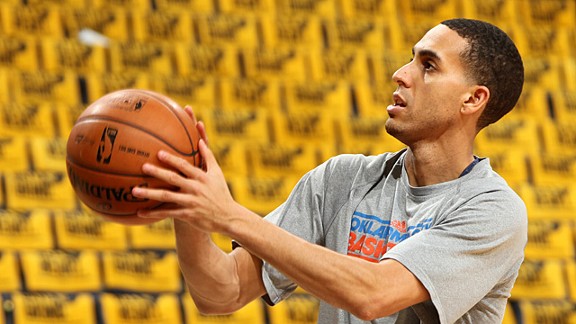 Steve McPherson: With the Timberwolves signing Rick Adelman favorite and not-lead-singer-of-Candlebox Kevin Martin to a four-year, $28 million deal, it appears that hopes for swingman Andrei Kirilenko's return to the team have been left, ahem, far behind. Whether you think that's a good thing depends largely on how you read the Wolves' near-legendary woefulness from the 3-point arc last season. At .305 it was easily the worst in the league, besting (worsting?) the Orlando Magic (.329) by more than two percentage points. But consider: They were missing Kevin Love (the previous season's 3-point contest champion) for nearly the whole season, they lost Chase Budinger just six games into the season (he made it back for 17 games at the end of the season), and Brandon Roy proved to be a wash after only five. By the time Ricky Rubio returned to the lineup in December, the depth chart was already stretched thinner than Alexey Shved's calves.
Long story short, if they just brought back the same roster it's likely the Wolves would be a better shooting team. But for as good a player as Kirilenko was for Minnesota — and make no mistake, he was indisputably their best player last year, a borderline All-Star — Martin's signing signaled that freshly inked (as in contract, not tattoos) GM Flip Saunders and the Wolves' brass felt that Adelman's vaunted corner system would be helped more by dedicated shooters like Martin (and the re-signed Budinger) than a small forward who can operate efficiently from the elbow and on baseline cuts. Kirilenko may be a genius at those two things, but Minnesota seems willing to bet it only needs players like Budinger and Martin, who are competent in those roles and much better shooters, to make the system hum.
And, man, should it hum on offense, especially if the Wolves match any offer for Nikola Pekovic. Defensively, though? A lineup of Rubio-Martin-Budinger-Love-Pekovic would make their point guard far and away their best defender. This is not precisely the path to the top-10 defensive rating they found themselves with at the start of last season. But let's remember that, Kirilenko aside, the chatter prior to 2011-12 was that the Wolves would be awful on defense as well. They lost some of their luster as an offensive team last year, but Martin's signing seems to be a clear signal that the Wolves are once again shooting to be League Pass darlings with a top-10 offense while hoping that their defense can be respectable enough.
The Dallas Point Guard Buyers Club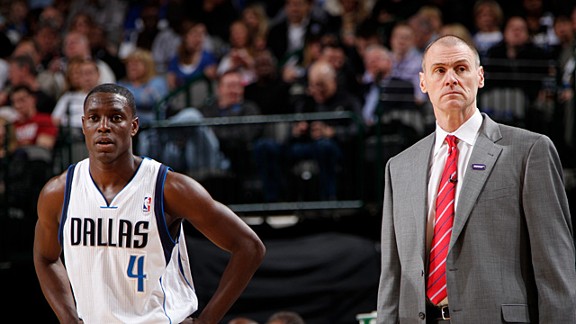 Jared Dubin: Nearly a year ago, the Mavericks sent Ian Mahinmi to the Pacers for Darren Collison, who they thought would be their point guard of the future. The thinking behind the deal was that Collison would make sweet pick-and-roll music with Dirk Nowitzki, using his speed and the threat of Nowitzki's jumper to get into the lane and make plays for himself and the rest of the Mavericks.
It should have worked out that way, only it didn't. Collison was underwhelming on both offense and defense, and coach Rick Carlisle eventually became so disenchanted with Collison's play that he inserted then-37-year-old journeyman Mike James into the starting lineup. James — who had a PER of 9.5 — started the final 23 games of the season.
Determined not to let the situation deteriorate to that point (pun very much intended) ever again, Mark Cuban and Donnie Nelson have apparently decided to get their collective KAHHHHHHHNN on. Dallas let Collison walk in free agency, and has brought in four new point guards since season's end.
A series of draft-day trade-downs resulted in the Mavs trading for former University of Miami point guard Shane Larkin, who was picked no. 18 by the Hawks. Had the Mavs decided on Larkin as the new point guard of the future? Maybe. Maybe not. It was barely a day before Rajon Rondo rumors started floating around.
Then, the Mavs agreed to terms with Israeli point guard Gal Mekel on a three-year, guaranteed contract on the first day of free agency. Five days later, the team promised to pay 32-year-old Jose Calderon $29 million over four years to start at point guard, then got Devin Harris to agree to a three-year, $9 million deal to be Calderon's backup the day after.
Why all four of these guys? Isn't this just a little bit overboard? And does this series of moves, even when taken together, move the needle at all for the Mavericks in an increasingly crowded Western Conference? What's the plan here?
It seems like Dallas is caught in that dreaded in-between state. The Mavs promised Nowitzki championship contention when he re-signed three years ago, and they want to give that to him, but they've struck out with Deron Williams and Dwight Howard the last two summers. So Calderon, Harris, and a run at a low playoff seed it is. The future will just have to wait.
ZAZA!
Brett Koremenos: Someone might want to hand Bucks GM John Hammond a copy of his team's depth chart. That was the first thought that crossed my mind when I saw the Zaza Pachulia signing late Saturday night. It wasn't so much the deal itself — reported to be three years and just a shade more than $15 million — as it was the idea that Milwaukee had just acquired yet another big man to a roster already top-heavy with tall people. At the time of the Pachulia signing, Ish Smith and O.J. Mayo, who can't officially sign his offer until Wednesday, were the only two guards on the Bucks roster. (They were joined Sunday by 30-year-old swingman Carlos Delfino, who hasn't played a full season since 2008. FEAR THE DEER.)
On the flip side, Milwaukee's big-man rotation now contains Pachulia, Larry Sanders, Ersan Ilyasova, Drew Gooden, John Henson, Ekpe Udoh, and Gustavo Ayon. (And let's squash the idea of playing any of those seven at small forward. It's not a realistic option and would be nothing short of comical.) Throw in the facts that Luc Richard Mbah a Moute has been primarily used as a power forward and their latest first-round pick, Giannis Adetokunbo, is a Lamar Odom–y type player, and the frontcourt looks even more crowded. The only defensible logic behind the deal, if there is one, is that perhaps management wanted a more physical presence to play behind and with the sinewy Sanders. Udoh, Ayon, and Gooden can all be productive in the right role, but physical presences they are not.
Yet this type of signing is one that makes sense for a team trying to climb from "good" to "great," not one waging its annual campaign for the eighth seed in the East. Using its financial wiggle room to ink a backup center who doesn't move the needle much, if any, seems shortsighted, no matter how much value the team thinks it is getting from this deal. Milwaukee's management has now committed to paying Ilyasova, Gooden, and Pachulia a shade less than $20 million in combined salary this upcoming year while its backcourt is currently occupied by three players with only one more — restricted free agent Brandon Jennings — capable of being courted with a somewhat substantial offer.
Even more baffling is that Udoh and Ayon are criminally undervalued plus/minus darlings more than capable of locking down the 5 in Sanders's absence. In all likelihood, one or both of those players will now be moved to another team, only to shine in a reserve role. Pachulia will do Pachulia things in Milwaukee, but the same overall production could have been had for much cheaper and without totally depressing poor Ekpe.
Fun times for Bucks fans these are not.
The Italian Job
Danny Chau: A day after Manu Ginobili agreed to a two-year extension with San Antonio, the Spurs struck a deal with Marco Belinelli for two years, bolstering their wing rotation and making their team that much more fun/infuriating to watch. It was met with approval, largely reflexive at this point, given the front office's track record. It came at the right time. Manu turns 36 in about three weeks, which means his contract will take him all the way to 38. His unique brand of unconscious basketball, which has dazzled and confounded us for so long, has started to regress into a kind of basketball senility. The $14 million over two seasons is a salute to his legacy as a Spur, which will most be remembered as blissful insubordination within one of the league's most enduring institutions. But given how puzzling — and at times, downright heartbreaking — he was in the playoffs, maybe it's time for a new torchbearer to continue the legacy of driving Gregg Popovich insane and getting away with it. Maybe (but probably, definitely not) Marco Belinelli is that torchbearer.
This isn't the first time I've tried to align Belinelli's career with Ginobili's, and at one point, not that long ago, doing so didn't feel like the stupidest thing ever. In the preliminary stage of the 2006 FIBA World Championships, a 20-year-old Marco Belinelli torched Team USA for 25 points in a U.S. victory that probably had no business being as close as it was. It reminded me of Manu Ginobili's 29-point barrage in Argentina's semifinal victory over Team USA in the 2004 Olympics. Belinelli was drafted 18th overall in the 2007 draft and promptly dropped 37 points in his first summer league appearance, 24 of those points coming in the first 17 minutes of play. How was I to know that it wasn't getting any better than that?
My expectations for Belinelli have obviously come way down since 2007. While he's not quite the god he proved to be in summer league, nor could he ever hope to succeed Ginobili as a freelancing creator (though the spot minutes he played at point in Don Nelson's system were intriguing!), he adds a J.R. Smith–esque offensive volatility to a team that has the luxury of not living and dying by his contributions. At the very least, he'll be a scapegoat deflecting attention away from the inevitably sad moments of Manu's final (?) two years.
A Very Philadelphia Welcome for Royce White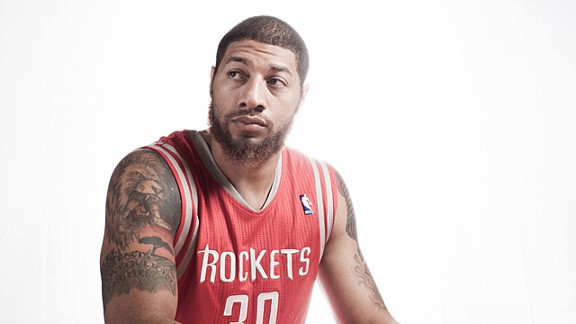 Cohen: The going theory is that NBA players want to be rappers and vice versa, but as usual, Jay-Z completely upended that dynamic. Regardless of what the actual percentage was, the guy owned more of the Nets than you ever will, and now he's on to the next one in the rare racket shadier than the rap game: NBA agenting. He's already snagged Kevin Durant as a client, and on his new album, Magna Carta … Holy Grail, he awkwardly licks shots at Scott Boras.
Rappers are already starting to have office envy. Last Monday, Slim Thug memorably acted in a quasi-GM/agent/Worldwide Wes mode to explain in great detail why Dwight Howard would love living in Houston, even if he didn't end up on the Rockets. By the end of the week, it was a done deal. While we can't prove that Slim Thug was solely responsible for the Rockets' free-agent coup, we can't prove he wasn't.
Of course, everything Thugga put forth as a selling point — the superiority of H-town's gentlemen's clubs and the price of alcohol therein, the bizarre leniency toward phone usage in your car — probably wouldn't have appealed much to erstwhile Rocket Royce White, a moody and troubled soul whose well-documented anxiety issues have overshadowed his obvious skills.
White ended up getting traded to the Sixers, along with second-rounder Furkan Aldemir in exchange for a future choice that's protected within the top 55 — meaning that unless the NBA expands to something like 40 teams, this pick will likely never change hands.
Whether he's looking to get back into Jay-Z's good graces with a show of initiative or doing the opposite by aligning himself with someone who had beef with Kevin Durant and is thus separated by one degree from Jigga himself, Beanie Sigel — a.k.a. the Broad Street Bully and the most "Philly" rapper imaginable — has taken after Slim Thug and tried to give the new Sixers property a State Property welcome.
@BeanieSigelSP @Highway_30 WHAT YA LIFE LIKE IN HOUSTON? LOOK FAMILIAR?
@BeanieSigelSP @Highway_30 PRESSURE BUST PIPES. I feel none in the Philly air right now.
@BeanieSigelSP @Highway_30 None of that fashion show shit. Hoodies and timbs, grow out your beard for three months. #thesolution
@BeanieSigelSP @Highway_30 Eat Wawa Shorti and Butterscotch Krimpets for a week straight. PRESSURE BUST PIPES.
@BeanieSigelSP @Highway_30 Highway + Freeway collab!
RT @PhillyFreezer EARLLLLY!!!! RT @BeanieSigelSP @Highway_30 Highway + Freeway collab!
@BeanieSigelSP @Highway_30 Just take SEPTA once, youll wish u were on a plane.
@BeanieSigelSP @Highway_30 U talk to KD? Tell him to tell Jay-Z I need a word with him.
I Love L.A.
Robert Mays: What makes the Chris Paul signing most notable is that when it happened, it wasn't notable at all. As the likes of Daryl Morey, Hakeem Olajuwon, Kobe Bryant, and Mitch Kupchak filed into the various hotel conference rooms in Beverly Hills, the Clippers quietly signed one of the league's five best players to a deal that will keep him in Los Angeles for a long time. It was only one of a handful of shrewd moves the Clippers have made in the past two weeks.
Since June 24, the Clips have brought in one of the most well-respected (and the most well-compensated) coaches in the league, turned a promising but unproven backup point guard and an unwanted contract into a pair of excellent shooters who play capable defense, re-signed a valuable wing defender, and brought in a new backup point guard for a remarkably cheap price. As the Rockets and Warriors improved loudly and all at once, the Clippers have bulked up their contender status a little at a time (discounting the seemingly inevitable Paul signing, obviously).
In terms of money, the biggest non-Paul acquisition was J.J. Redick, who should slide into the starting lineup next to Paul and get the type of looks he wasn't afforded for the past couple seasons in Orlando. But all the other moves give Doc Rivers plenty to play around with. There's a small-ball lineup with Paul, Redick, Matt Barnes, and Jared Dudley that can really shoot it; there's a second team with Darren Collision and Jamal Crawford that's volatile in the perfect second team kind of way. Mostly, there are solutions to a lot of issues the Clippers faced last year offensively (more shooting and a backcourt mate opposite Paul capable of simultaneously providing his own offense and playing some form of defense).
The questions remain on the other end of the floor, where the Clips' offseason moves won't have nearly the same impact. Re-signing Barnes helps, but there are still issues in the frontcourt. That is, hopefully, where Rivers comes in. The Celtics have been one of the best defensive teams in the league for some time; they also had Kevin Garnett. Rivers said at his introductory press conference that he believes Blake Griffin and DeAndre Jordan can be a formidable tandem defensively, and if the Clippers actually do want to compete for a title, they'll have to be.
Filed Under: Andre Iguodala, Ben Detrick, Brett Koremenos, Chris Ryan, Danny Chau, Denver Nuggets, Dwight Howard, Houston Rockets, Jay Z, Kirk Goldsberry, Kobe Bryant, Los Angeles Lakers, Minnesota Timberwolves, NBA, Stephen Curry