NBA Finals Shootaround: Hi, Haters
Jesse D. Garrabant/NBAE via Getty Images
So much amazing is happening, and the Shootaround crew is here to help you keep track of it all. You'll find takes on moments you might've missed from the previous night, along with ones you will remember forever.
Pagan Rituals
netw3rk: In the Heat's pregame hype-huddle, Dwyane Wade, ringed by his teammates, screamed "How will we respond?!" To which I tweeted:
"HOW WE GONNA RESPOND?" – The guy whose fault it is.

— netw3rk (@netw3rk) June 14, 2013
For most of these playoffs, various pundits, tastemakers, and members of the roundball intelligentsia have been vigorously shoveling dirt onto Wade's head, face, neck, and chest area and tamping it down with some hard stomps of the loafer. And for good reason. He's averaging 15.1 points per game this playoffs, down nearly eight points from last year's 22.8; before Game 4, his PER for these playoffs was down to 17 from last year's 22; and he's shooting the second-lowest eFG of his playoff career, behind his injury-hit 2006-07 playoff campaign. The fall-down-seven-times-stand-up-eight Flash of the past was reduced to nothing more than the faint throb of a raver's day-old glow stick. People who get paid to be smart about basketball, and who are much smarter than I about basketball, have wondered aloud if it was time to bring Wade off the bench, à la one-shining-bald-spot Manu Ginobili. My contribution to this discussion was to make a Dwyane Wade Oregon Trail dysentery meme.
So, where the hell did this come from? Wade erupted last night in Krakatoa-ian fashion, scoring 32 points on 14-of-25 shooting. It's his first time ALL PLAYOFFS scoring more than 30 points and only the third time he's scored more than 20 (he scored 20 points or more 17 times last playoffs). And it's not just that he got hot from long range, as players will sometimes do, and just started randomly splashing jumpers like a gambler catching hot cards. He was driving HARD, like the Wade of a million YouTube mixes with his Euro-step set to "Ibiza," taking 12 shots in the paint, converting 10. It's even more startling considering Wade tweaked some portion of his lower extremities in the first quarter, causing him to need a trainer to stretch him in a manner usually befitting a safe word. Somewhere, Tim Grover is chanting ancient Aramaic demon spells while sacrificing a rare eagle and burning a human foot in a bonfire.

This Dude Is for Real Dressed Like Lucille Bluth
(via Instagram/Krissybri)
Are You Watching Closely?
Patricia Lee: It takes courage for Dwyane Wade to come out and play every night, not knowing if he'd be the man in the box … or the Prestige.
He might show up as 2006 Wade, the amazing athlete who successfully pulls off the Pledge (a casual layup), the Turn (a huge dunk that definitely beats the buzzer), and the Prestige (the odds-defying package of 40-plus points and 10-plus rebounds — yes, a double-double, but so much more than that).
He might show up as past-his-prime Wade, the guy who gets stuffed into the underwater tank with no escape, choking out a mere six points on 3-for-10 shooting — if even that.
Dwyane Wade doesn't know which Dwyane Wade is going to show up on any given day. The Heat have won the past 29 games in which Wade has put up 20 or more points. Twenty-nine! That's a longer win streak than Miami's already impressive regular-season streak. But when Wade's off, well, he's off. Which Wade will it be? The numbers might hold a clue.
Let's take a look at his past four games. (And eff you, small sample size!)
Here's Wade's stat line for the Heat-Spurs series:
• June 6 (Thursday): 36 minutes, 17 points, 2 rebounds, 2 assists, 1 steal, 7/15 (46.7 FG%)
• June 9 (Sunday): 30 minutes, 10 points, 2 rebounds, 6 assists, 0 steals, 5/13 (38.5 FG%)
• June 11 (Tuesday): 34 minutes, 16 points, 0 rebounds, 5 assists, 4 steals, 7/15 (46.7 FG%)
• June 13 (Thursday): 40 minutes, 32 points, 6 rebounds, 4 assists, 6 steals, 14/25 (56 FG%)
On Thursdays, Wade seemed to have a hotter hand and played more minutes. (Causation or correlation? You decide.) He clearly was the Prestige, and last night, he pulled off his biggest trick yet. Tuesday? Slightly below his season stats and slightly above this year's playoff stats. That's a toss-up, the one where you just might pull a Borden and find Wade swimming around after watching him pull off a grand trick. On Sunday, he was on the court for the least amount of time and shot horrendously, though he did seem to be more of a team player that day. Dwyane Wade (or shall we say Wyane Dade?) was the man in the box (and the one getting posterized) while the other Wade was off blocking Kevin Durant.
His bigger game seemed to be immediately followed by a less-than-stellar performance, a slow climb, then a huge showing. Wade came out to play last night, and given his past numbers, you probably shouldn't get your hopes too high for Miami's next game … because on Sundays, Dwyane Wade rests, and no one cares about the man in the box.
Exactly Like a Bosh
Andrew Sharp: God bless Chris Bosh. Things started slowly last night, but eventually he came up huge and put together a killer performance on both ends of the floor. But it happened on the same night Dwyane Wade turned into 2006 Dwyane Wade and LeBron James remembered how to be 2013 LeBron James, and all anyone will remember about Bosh are (a) this magical flop, and (b) the cruel sequence above.
"The drive! And finish …"
"I think, no …"
"They wave it off."
Cue the finger twirl, where he's either asking for a replay or he's Prince ordering pancakes after a pickup game.
(All GIFs by @HeyBelinda)
It was all incredibly Bosh.
It's always incredibly Bosh. No matter what happens to the Heat and how well he plays, he will be underappreciated, the subject of Instagram slander at least 40 nights during any given NBA season, and will remain more famous for GIFs than actual highlights. Everything he says or does is hilarious (like a Bosh). But also: He seems like one of the most sincere, thoughtful dudes in the NBA, and if you look closer, it's kinda hard not to love him. (But not like how Aubrey Plaza loves him, because that's some serial-killer shit.)
Thursday he had 20 points and grabbed 13 rebounds (nine in the second half), while holding down the interior defense and helping the Heat D bounce back from the bombed-out disaster 48 hours earlier. He was everything the Heat have needed from him all along. He was phenomenal. Just like he promised us on Wednesday:
Bosh on Game 3: "We just gotta accept it, man, gird up our loins, and get back on the horse." I swear, that's the quote.

— Zach Lowe (@ZachLowe_NBA) June 12, 2013
That's right, he got back on the horse, and rode it to glory. An occasionally hilarious, mostly overlooked, destined-to-be-forgotten-next-time-he-screws-up, very Chris Bosh kind of glory. He totally, 100 percent girded up his loins. I love Chris Bosh.
The Judge
Danny Chau: Watching LeBron James shoot 39 percent from the field in the first three games of the Finals, it was almost easy to forget that this was the same dude who set records for offensive efficiency during the regular season. That number was due in large part to LeBron's judiciousness. He eschewed the midrange jumpers for shots around the rim and shots behind the 3-point line (and it didn't hurt that he became deadly accurate from back there). As a result, less than 30 percent of LeBron's shots came from the area between the paint and the 3-point line this season, the lowest percentage of his career. The midrange game is a lost art, bowed to the punishing truths of efficiency. It died a slow, painful death, with LeBron (whose lazy, contested 2s once made him one of the biggest offenders) leading the campaign.
But old habits die hard. LeBron, who had promised to play with a greater intensity, fell back into a zone that he once called home in his young days as a Cavalier, as if the allusions to Cleveland haven't already been unavoidable over the last two series. He shot 7-for-10 from midrange, single-handedly bringing the Heat's percentage from that area up from 36 percent to more than 45 percent.
During the season, LeBron used the logic of analytics to take his game to new heights. Last night, in a harrowing do-or-die type of game, he bent that logic, as he is wont to do, to get back to where he needed to be. It's a sacred place, that midrange area. Michael Jordan's most iconic moments were created in that space, and Kobe Bryant has sculpted his entire legacy out of tempting fate within those confines. It may never have that same significance to LeBron — after all, he's always been a different kind of megastar — but maybe we'll look back to this Game 4 and see the midrange game as the well from which LeBron got his groove back.
All Very True
Wade stands for We Are defending Something

— Metta World Peace (@MettaWorldPeace) June 14, 2013
Shane stands for Sipping henny and nailing everything

— Metta World Peace (@MettaWorldPeace) June 14, 2013
Bosh stands for Boy OMG SHOOSH

— Metta World Peace (@MettaWorldPeace) June 14, 2013
Sharp: CRAZY UNCLE = BEST UNCLE
Attack the Block
Chris Ryan: When Chris Bosh started knocking Spurs shots out of the sky in the third quarter of Game 4, I thought the cat was in the bag. When Mike Miller blocked Kawhi Leonard, I figured the bag was in the river. The Heat blocked four shots in the third, using them as defensive daggers. Every time the Spurs tried to get something going, or stop the bleeding, a Miami player was there to twist it in. Gregg Popovich should just thank his stars that Miller and Leonard didn't experience any kind of Judge Reinhold/Fred Savage Vice Versa transference on that one block. Leonard does not look good in a back brace, I bet.
Spurs Pizza
Ryan: Sure. Whatever.
Text Messages to Pop From a Spurs Fan
Shea Serrano: I sent text messages to Gregg Popovich last night during the game.
Me: hey,
Pop: yes
Me: do you listen to music before the game?
Pop: yes
Me: like what?
Pop: mostly a lot of method man
Me: gtfoh
Pop: really.
Me: YOU like the wu-tang clan
Pop: the what?
Me: um, the group method man got famous in
Pop: oh. my fault. Typo. Not Method Man. I meant Metho Dman he's this Russian accordionist.
Me: that makes more sense
Pop: if I'm not listening to him, I also like to listen to Tygo
Me: you mean Tyga
Pop: no. TYGO. I hired him from craigslist. He's from Yugoslavia. he comes to my house and just throws a bunch of pots on the floor as hard as he can. Really progressive stuff
---
Me: 49-49
Pop: I have eyes
Me: nice little run there at the end of the half
Pop: I'm glad you found it enjoyable
Me: dude, I'm soooo nervous. How are you not nervous? I remember watching when you all played the pistons in 05. They did a side by side shot of you and larry brown towards the end of game seven and larry brown is vibrating from nervousness and youre just there like it's a game in November. My stomach felt like there's a small elephant in there and I was just watching from home.
Pop: I removed my stomach when I was thirteen
Me: dude
Pop: true story I got nervous and I didn't like it. Stomach removal. Look into it.
Me: but then where does your food go?
Pop: food?
Me: goddamnitihateyousometimes
---
Me: I think we should do some sort of prayer circle for tiago
[No response.]
---
Me: this game feels like its getting away from us. If we don't eat up this five point lead real quick the 4th is gonna be not that great
Pop: oh okay. Cool. Thanks. Because I was just gonna tell the guys that we should not try to catch up but now that you mention it yeah I think it might be better for us if we catch up to them and maybe even pass them
Me: man
---
Pop: tell me more about this catching up thing
Me: come on
Pop: am I supposed to send Spoelstra a handwritten note letting him know what we plan to do?
[No response.]
---
Pop: hello??? Please. Tell me more about catching up. I can't get my head around it.
Me: leave me alone pop
Pop: do you think it'll be easier if we play make it take it?
Me: …
Pop: what do we do after we catch up??? My mind is exploded. I can't keep track of all these crazy coaching strategies you have.
Me: you know you guys are down by 10 right now right? Shouldn't you be tending to that?
Pop: I'm gonna talk to david stern to see if we can put you in charge of coaching all of the nba teams next year CAN YOU EVEN IMAGINE WHAT IT'D LOOK LIKE IF EVERYONE KNEW ABOUT THIS "CATCHING UP WHEN YOU'RE LOSING" COACHING PHILOSOPHY OF YOURS?
The Victim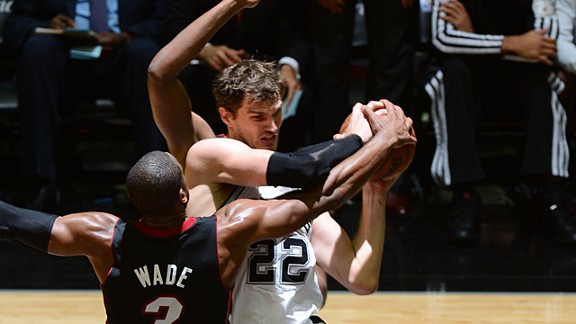 Ben Detrick: Over the regular season, Tiago Splitter arrived as an unheralded stat-nerd superstar. An efficient scorer and a stalwart presence in the paint, he averaged 15 points and nine rebounds per 36 minutes, while sneaking into the NBA's top 10 in offensive rating and top 15 in defensive rating. He was eighth in the league in win shares per 48 minutes, and the only gentleman in the top 15 who hasn't been named to an All-Star team. Splitter was that prototypical San Antonio role player: boring, anonymous, and secretly excellent.
This was tragic, because his name is frigging incredible. TIAGO. SPLITTER. Arguably the greatest handle in sports, it sounds like a comic-book hero who rides jaguars while protecting the Amazon against deforestation. He swings a golden machete and stars in classy pornographic films. But nah, he's just a towering, kind-of-oafish Brazilian who helps the Spurs win games.
In the Finals, Splitter has become a foil for dramatic blocks by LeBron James, Dwyane Wade, and even Shane Battier. Of course, the first of those was The Block, one of the finest soul-snatching moments in recent history. The other two took place last night, and were hallmarks of the heightened defensive intensity exhibited by the Heat in the face of a loss that would have been just short of terminal.
It's better for Splitter if his Game 4 performance is remembered through the narrow lens of snuffing victim — otherwise, we might talk about a stat line that included zero field goals and three turnovers in only 14 minutes. A 7-footer without the offensive arsenal to punish little guys, Splitter has been rendered impotent by Miami's insistence on sticking with undersize power forwards, a gambit it was hesitant to use against the Pacers and the burly-but-skillful David West. The series is tied, but Splitter's uselessness and diminished playing time are bad omens for the Spurs.
Variance Is a Bitch
Brett Koremenos: Sixty-two percent. That is what Gary Neal and Danny Green are shooting combined from 3-point territory through the first four games of this series on 50 attempts. That is a staggering hot streak. It's been a huge boost for the team, making up for the continued slide of Manu Ginobili and middling offensive performances from Tim Duncan, and (at least since Game 1) Tony Parker. This raises a question that nobody would have asked before the Finals began: What happens if Neal and Green stop making nearly everything they throw in the vicinity of the hoop?
With the way Duncan, Ginobili, and Parker have struggled to score at times, it's hard to picture the Spurs winning two more times if Green and Neal aren't knocking down shots like they have some kind of NBA Jam cheat code. The basic principles of statistics tell us that it's unlikely those two can keep things going like this for much longer, but that's the thing about variance, it's hard to tell when exactly it's going to strike. At some point in the future, Green and Neal will go back to shooting 3-pointers like normal human beings. Whether that happens in the next week or next season is anyone's guess, yet there's a good chance that whims of variance will decide San Antonio's fate in this series.
Starman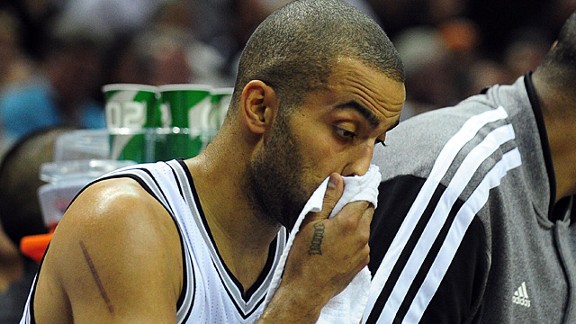 Robert Mays: There are times, such as Game 3, when the Spurs offense is so perfectly equal opportunity that it bends or breaks our understood rules for the playoffs. The best player in a series (and in any given game) tends to win, but with San Antonio, its lesser players are placed in positions so conducive to success that for stretches, Danny Green can be the best player.
Eventually, though, the rules win out. Green and Gary Neal continued to shoot well, but last night, it wasn't going to be enough, not with Dwyane Wade and LeBron James playing the way they did. It was fairly simple — in the second half, Miami had the two best players on the floor, and it won going away.
The only thing better than having great role players is having truly great players. As well as Green or Kawhi Leonard have played, for San Antonio, this series was likely going to come down to whether Tony Parker, and not James, could be the best player in any given game. What we saw in the first half, with Parker going for 15 points and six assists, is that when his play matches that of James, the Spurs can go step for step. Wade supplanted James as Miami's best option in the second half, but the point stands — when Parker doesn't play to the level of Miami's best, the Spurs are likely to lose. The Little Spurs That Could was a great story for a game, but if Parker puts together many more 0-point halves, this is going to be over quickly.
There's no way to know how healthy Parker actually is, and whether last night's second-half struggles were a product of tweaking his already-injured hamstring, getting tight during halftime, of just a bad half of basketball. Regardless, if Tony Parker is one of the five or six best players in the league — and he is — the Spurs are going to need him to play like it to have a chance.
Filed Under: Andrew Sharp, Ben Detrick, Brett Koremenos, Chris Bosh, Chris Ryan, Danny Chau, Dwyane Wade, Gregg Popovich, LeBron James, Miami Heat, NBA, NBA Finals, NBA Playoffs, Patricia Lee, Robert Mays, San Antonio Spurs, Tony Parker