MLB 6-Day Warning: An Airing of Grievances and Some #NATITUDE
AP Photo
What's that? You were wondering exactly how many days remain until the start of the MLB season? Well, you're in luck! We at the Triangle are set to spend spring training giving you a daily reason to get excited about baseball's return.
Guhhhhhhhhhhhhhhhhhhhhhhhhhhh.
OK.
It's baseball season again.
Grantland's Mallory Rubin asked me to contribute to the MLB Warning series — or maybe I offered, whatever — so let's talk about baseball. I was supposed to write about the Nats, but we need to get some things out in the open first. Baseball is horrible.
There are so many reasons baseball is horrible. I made a list.
♦♦♦
1. It's baseball.
2. Every game takes four hours and feels like it takes six.
3. At least two of those hours involve literally nothing happening.
4. Nobody in the stadium pays attention during those stretches, including some of the outfielders.
5. At least 30 percent of any baseball team is visibly fat.
6. Pitching changes take 20 minutes every single time, and happen four or five times per game.
7. If a hitter is on fire and threatens to do something truly memorable, he gets intentionally walked.
8. If you ask baseball fans about any of this, they'll say you just don't understand what the game is all about.
9. This season, "Opening Day" takes place on three different days on more than one continent.
10. Baseball took one of the five traditions that made it cool, and ruined it. Perfect.
11. Derek Jeter is still playing baseball.
12. Pedro Martinez and Manny Ramirez aren't.
13. Remember when Moneyball just straight-up ignored the existence of Miguel Tejada and all those pitchers Oakland had? But yeah, Scott Hatteberg. What a find!
14. It took baseball until 2014 to come up with a replay system that made any sense. If you'd like to complain about this, see no. 8.
15. But don't worry, even with replay, we'll still see managers charging out of the dugout twice a game to publicly register their disapproval for calls that can't possibly be changed.
16. The moral panic over Yasiel Puig.
17. The Cardinal Way.
18. The All-Star Game decides home-field advantage in the World Series.
19. Scott Boras. Imagine how crazy it would be if Drew Rosenhaus were the most powerful man in the NFL.
20. The infield fly rule. God I hate the infield fly rule.
21. After almost 20 years, we're still arguing about PEDs.
22. But hey, cheaters are getting prosecuted, and that's more than other sports can say. Baseball's war on drugs has succeeded!
23. Now, thanks to Bud Selig's vigilance and public shaming, it's impossible to watch a baseball game without suspecting at least three players of taking PEDs.
24. Meanwhile, baseball continues to openly ignore due process and/or evidence whenever there's a new villain who needs shaming.
25. Somehow baseball turned Alex Rodriguez into a sympathetic figure.
26. Whenever someone gets upset about the NFL's hypocritical fines and suspensions, remember that baseball is even worse, only nobody really cares enough to make a big deal about it.
27. Remember this when Bud Selig accepts the first annual Bud Selig Leadership Award this year.
28. Related to steroids: the fucking Hall of Fame.
29. Sure, definitely, let's just pretend the greatest players of an entire generation never existed.
30. The only organization more tone deaf and delusional than the Baseball Hall of Fame is the NCAA.
31. Other than the World Series, the Hall of Fame controversy and steroid scandals are the only times that baseball threatens to become relevant in the mainstream sports world.
32. When you tell a baseball fan that the sport's popularity is declining, he or she will tell you that more people attend MLB games than any other major sport.
33. It's true!
34. It's also a great way to distract everyone from TV ratings that have been plummeting for the past 10 years.
35. Last October's Vikings-Giants game was one of the worst Monday Night Football games I've ever seen, and it still outdrew Game 1 of the World Series.
36. People who love the DH, people who think the DH ruined baseball.
37. The Kansas City Royals. Why?
38. The shameless, completely transparent Miami Marlins scam.
39. Then there's UZR.
40. And WAR.
41. And BABIP.
42. And OPS, and PECOTA, and FIP, and xFIP, and LIPS, and EQA, and DRS, and TPR, and BFW, and WHIP.
43. And who could forget VORP?
44. If you have a baseball opinion in 2014, just know you are probably wrong, and you should really go back and run the numbers again.
45. At the same time, of course, this a sport in which Tim McCarver was considered an expert for at least the last 25 years.
46. Bob Costas, too. I actually kind of love Costas, but he turns into the most unbearable history professor in the world when someone asks him about baseball. Speaking of which …
47. "This little book is about a little space. It is, in a sense, about a frame around a picture."
48. Yeah.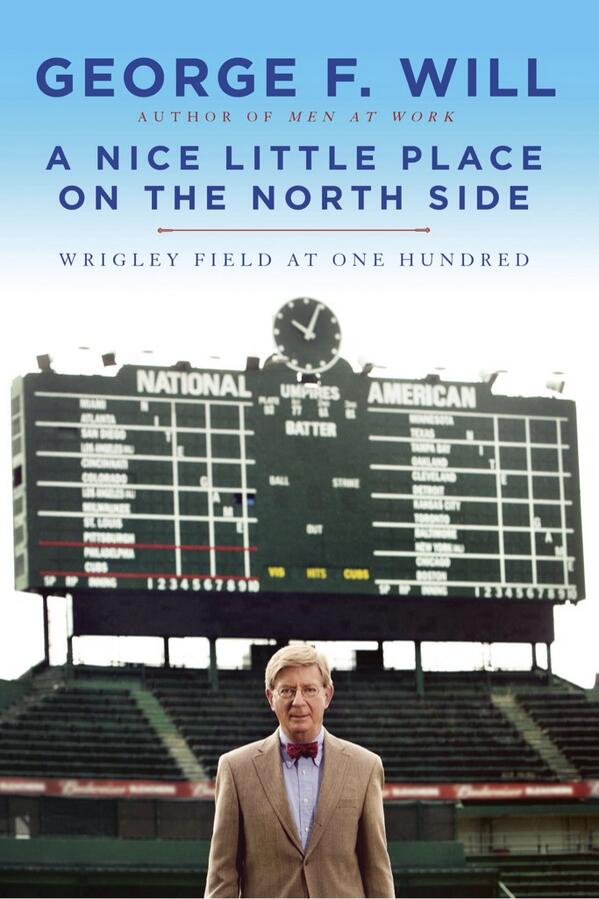 49. Baseball combines the nerdiest, most joyless way of understanding sports with some of the most pedantic, self-righteous ambassadors you'll find anywhere in America.
50. Baseball is, in a sense, the worst of both worlds.
♦♦♦
So, there you go. That's the list. My baseball theses. But before I go nail this column to George Will's forehead, there is one important caveat to all of this: Have you seen Bryce Harper this spring?
He might be taking PEDs.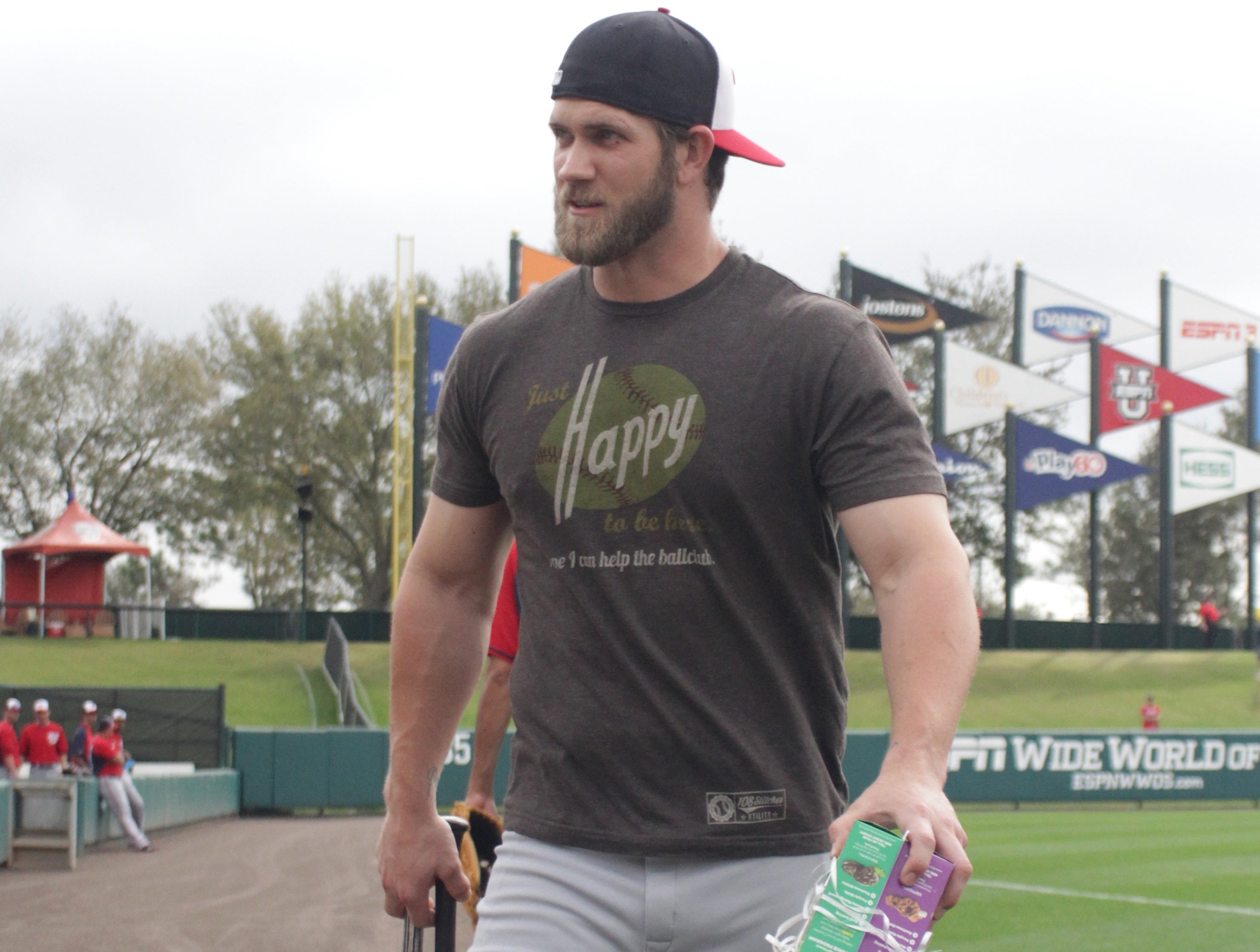 I hope he's taking PEDs.
Wait, he's not taking PEDs?
Either way.
This week, some players voted Harper the most overrated player in baseball, and now it's time for us to go prove the whole league wrong. It's time to bring #NATITUDE back to the cultural forefront. And when the Nats are in first place in August, headed for a pennant, I will freely disregard all the objections I raised above and hop on the bandwagon with the rest of Washington D.C.
How can you not root for these guys? These are some of the most brotastic bros in the history of the world.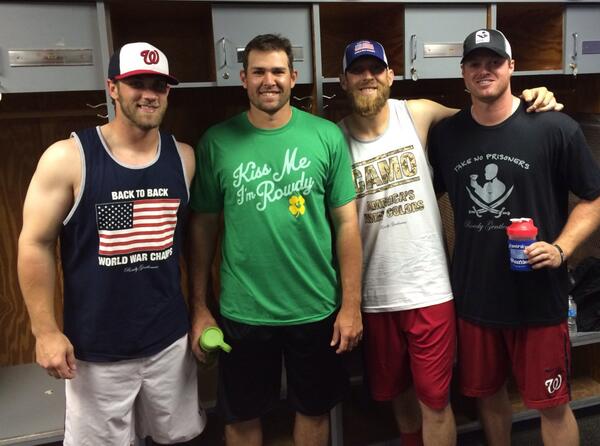 All four of them are ready to look the entirety of the universe in the face and scream back, "Just put me in the cage, bro! It's time to rake."
Broooooooooooooooooooooooooooooooooooo.
Let's do this, Bryce. Let's do this, Washington D.C.
Baseball totally sucks.
BUT LET'S DO THIS, NATS.
Filed Under: MLB, MLB Warning, MLB Preview, NATITUDE, Bryce Cold, Suns Out, Guns Out, Back To Back World War Champs, Camo: Americas Away Colors, Andrew Sharp