Miami and Texas, Bad Decisions, and Legends: Welcome to the NBA Finals
David Santiago/El Nuevo Herald/MCT via Getty Images
It's been six weeks, but after three rounds and 78 playoff games, we're here. The NBA Finals. We did it. This is our reward for sitting through the Bulls-Nets series.
And if you're a little bit exhausted after the past few rounds of hoops, that's totally understandable. But in a few weeks basketball will be over, and all we'll be left with for the summer is baseball. So savor this. Especially since we're getting one of the best Finals matchups of the past decade. With that in mind, let's get right to it with a breakdown of who's involved.

The Teams
The Heat. A monument to excess, empowered individuals, and outrageous alley-oops. They're a dynasty that was bought two years ago, and basically the sports equivalent to the Watch the Throne album in all the best and worst ways that analogy could work. They are occasionally unbearable, but are still the most talented team in the league, and when it works, it WORKS. It was working all year, but then Dwyane Wade and Chris Bosh got hurt, and gave us just enough room to talk ourselves into the possibility of an upset here. Plus …
The Spurs. San Antonio has been so good in the playoffs that we've all done a double take and remembered, Oh shit, that's right, this team can beat anyone. So here we are. The Spurs are the other side of the NBA coin. A monument to discipline, trust in a proven system, and really good screens. The Spurs are the sports equivalent of a grilled chicken breast for dinner, but they've added more spice in recent years, and I swear they're more exciting than I'm making it sound.
The Overlords
Pat Riley. With all due respect to Erik Spoelstra, this team belongs to the most accomplished vampire the NBA has ever seen. We don't know how he does it, or what kind of shady backroom dealing happened at that dinner with LeBron during the regular season in 2009, but at 68 years old, Pat Riley remains an evil genius who is not to be trusted under any circumstances. We mean all this in the most complimentary way possible, because he's one of the most brilliant basketball minds we've seen in the past 30 years.
Gregg Popovich. Meanwhile, there's Pop. He is possibly a former spy, a serious oenophile, a really good dancer …
… and this is his college yearbook entry.
(Via BDL and Spurs Nation)
He's also something like the LeBron of coaches, a terrifying old man who's turned this team into a fine-tuned weapon of death over the past decade. These Finals should be great, but I don't think anyone would be disappointed if they replaced Game 7 with a Pat vs. Pop Celebrity Deathmatch.
The Fans
Heat fans. If you're dealing with a Heat fan from somewhere other than Florida, there's a good chance you've encountered the worst kind of front-runner on earth, as well as the target demographic for Axe body spray. If you're dealing with a Heat fan from Miami, there's a decent chance that person has been party to some form of financial fraud in recent years, and is also the target demographic for Axe body spray. Neither group watched Heat games three years ago, and they all think that (a) LeBron James is better than Michael Jordan, and (b) Drake's new album is so swag. In general: A LOT of Heat fans are Justin Bieber, but only one of them is actually Justin Bieber.
Spurs fans. To the Spurs fan, if you don't like the Spurs, or if you think the Spurs are boring, you simply don't understand basketball. You must not really appreciate THE SPORT if you can't appreciate this team. Even Lakers fans aren't that obnoxious. Likewise, Tim Duncan is the most underappreciated player of his generation, says the Spurs fan, ignoring that every basketball fan on earth would call him the greatest power forward of all time. Finally, the Spurs fan knows deep down that his team is the only team really playing The Right Way. Everyone else? Just a bunch of me-firsters out there freelancing like it's an All-Star Game. If only they could all play like the Spurs …
The Cities
Yeah, two very different cities.
The only way Finals cities could be more different would be if the Finals featured Miami and Salt Lake City instead of San Antonio.
FUN FACT: Movies filmed in San Antonio include Miss Congeniality, Blank Check, and Selena. All great movies. And also Ace Ventura: When Nature Calls, the sequel to Miami's Ace Ventura: Pet Detective. So hey, WHICH CITY WINS THE BATTLE OF ACE VENTURA?
(If we're talking Ace Ventura movies, Miami. Definitely.)
The Celebrity Fans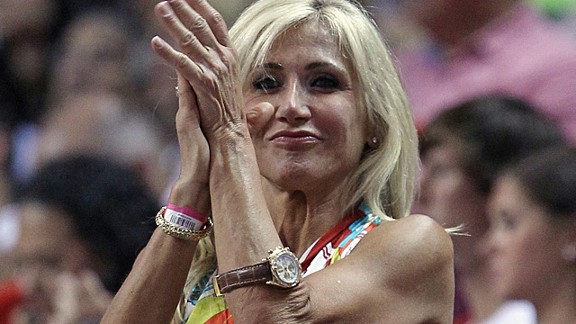 FAN UP, FILOMENA! This happened earlier in the playoffs, and you should read this lady's backstory, because seriously, it's so much better than any backstory we possibly could have imagined for a famous Heat fan from South Florida. Filomena's the Godmother of the Heat. The black widow. Play in the web and you might get stuck. Go Heat.
Meanwhile, in San Antonio, there's this lady, who's possibly more terrifying:
The Fight Songs
For the Heat, this is not actually a song, but this album cover is seared into my memory forever.
And then … this song is just the best. Go Spurs Go!
The Most Regrettable Decisions
Well, there was this Decision, which everyone can now agree was a full-on disaster. But for the team, the 2010 Victory Party/Concert wins out here.
Even three years later, everything about that video is incredible.
As for the Spurs …
I had to watch this three times to make sure it was real. But it is, right? I don't know what kind of weird role play this is, but it's definitely more regrettable than The Decision.
Poor Tony Parker.
On the one hand, that's the greatest blackmail of all time for teammates looking to harass Parker. On the other hand, it's almost too painful and too cruel to bring up that video on a regular basis. Like, that cuts too deep. It crosses a line. So, after thinking about this for too long, let's say it's best if his Spurs teammates don't know this exists.
The Role Players
Tracy McGrady, Matt Bonner, Tiago Splitter. Stephen Jackson had to die so McGrady could live and see the second round. Making it to the Finals and possibly winning a title? That is such a phenomenal bonus that you can't help but root for it to actually happen. There's also Bonner, the star of what was maybe the best web series in the history of professional team websites, and self-appointed Red Mamba. As Gregg Popovich said at All-Star Weekend, "He's the one guy on our team, I'm not sure he fits anymore. This social media thing has turned him into some sort of an icon and I'm not sure we can handle that." And then Splitter … I know nothing about Tiago Splitter, but isn't it great that there's a giant Brazilian enforcer named "Tiago Splitter"? Sports are the best.
Mike Miller, Chris Andersen, Udonis Haslem. Miller wobbles up and down the court on creaky joints and looks like he's been living on the streets for weeks, but he still might be capable of unleashing a cascade of 3s at some point during this series. Remember Game 5 of last year's Finals? As for the other two, it's important to look at this as an outsider. Haslem is generally recognized as one of the nicest guys in the NBA, but still. He's named "Udonis Haslem" and has this tattoo on his back. Do not mess with Haslem. That's one Heat enforcer. The other is nicknamed "Birdman" and looks like this: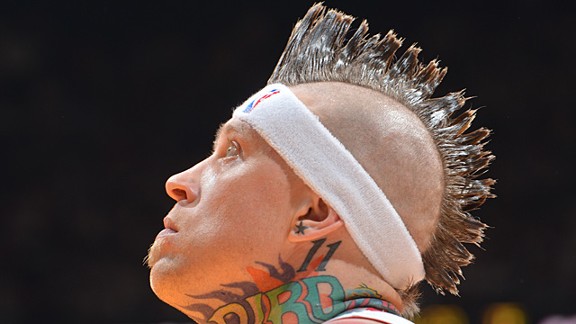 Again, sports are the best.
The Stars
We have seven or eight Hall of Famers directly involved in what's happening the next two weeks. There's Popovich, Ray Allen, and then …
Tony Parker, Tim Duncan, Manu Ginobili. Parker might be one of the five best players in the league depending on whom you ask. Duncan is the greatest power forward of all time and probably the best player of his generation. And Ginobili is one of the greatest sixth men in history. There are no three players in the league with better chemistry as superstars. Duncan knows exactly how to screen for Parker, Tony finds Manu and Duncan in the perfect spots, and it's all kinda baffling. This was supposed to end three years ago, but here we are.
LeBron James, Chris Bosh, Dwyane Wade. Bosh is hurt and has sort of disappeared for the past week, but when he's on, he's the best stretch 4 in basketball. Dwyane Wade is awful, Dwyane Wade is great, and more than anything, Dwyane Wade is inescapable. He's the difference-maker for the Heat; if he plays well all series, they should win. If not? There's always LeBron. Back in January, no less than Barack Obama met LeBron and said, "It's your world, man." And he's kind of right. (Related: #ILLUMINATI.)
The Questions
Will LeBron be superhuman and guard Parker in the fourth quarter? If the Spurs run Parker off five screens every possession, will it matter? How many good games can Miami get from Wade? How many good games can San Antonio get from Ginobili? The over/under is at three, and the answer could be the difference here.
Likewise: Will Miami get three-rebounds-a-game Bosh or power forward Bosh? Can Splitter and Duncan protect the rim as well as Indiana did? Can they get close? Can Kawhi Leonard and Danny Green slow down the Heat on the perimeter? How badly do Ginobili and Parker get exposed on D? Is it a problem that San Antonio doesn't really have a backup point guard?
How will the refs sabotage at least one of these games?
Can Erik Spoelstra hold his own against Popovich?
Are the Spurs boring? Is LeBron as good as Jordan? [Gets swallowed up by an avalanche of 800 columns.]
And hey, who wins? We really have no idea.
The Stakes
First of all: THE FINALS.
But yeah, beyond the obvious stakes …
If the Spurs win, they become a true dynasty: 16 years of sustained excellence, five titles, with a possible second championship bookending the era.
They should probably be in that conversation already, but a win in the next two weeks forces the issue. Likewise, on an individual level, a Spurs win solidifies Duncan as the greatest player of his generation, cements Popovich as one of the three greatest coaches of all time, and probably changes the way we view Parker's career.
Parker's been underrated for a while now, but a win here, and suddenly he becomes the best point guard in basketball, and one of the best players of the past 10 years. Right?
If the Heat win, Wade adds to his reputation as one of the most successful shooting guards of all time. Like Jay Kang wrote here, he's the ultimate deflater. Bosh adds to his résumé as well, earning even more credit for changing his game to fit the Heat model. And a win here forces just about everyone to admit that, OK, the Heat blueprint worked. But who are we kidding? It's all about LeBron. It's his world.
A win here makes him this generation's answer to Michael Jordan, and puts him one step closer to catching up with the ghosts he's been measured against since basically his rookie year. If he shuts down Parker on one end and dominates the Spurs on the other … What can anyone say?
A Spurs win forces us to appreciate one of the greatest teams of the past 30 years. A Heat win forces us to appreciate one of the greatest players basketball has ever seen. But for the record, both those things are probably true regardless of what happens the next two weeks. Appreciate them now. And then remember we get to watch these legends collide on the biggest stage possible starting Thursday night. Does it get any better than that?
Filed Under: Andrew Sharp, Chris Bosh, Dwyane Wade, Gregg Popovich, LeBron James, Manu Ginobili, Miami Heat, NBA, NBA Finals, NBA Playoffs, Rick Ross, San Antonio Spurs, Tim Duncan, Tony Parker