Lockdown: How the Heat Defense Redefined the Eastern Conference Finals
Issac Baldizon/NBAE/Getty Images
At halftime of Miami's Game 5 win, with the Pacers up 44-40 and shooting 51 percent, I tweeted that Miami was trying "some nice things defensively," but that Indiana kept manufacturing points.
Indiana came into last night's game having scored at an astonishing rate against Miami's very stout — and unique — blitzing defense. The Pacers had figured out how to exploit Miami's traps on the pick-and-roll, and how to pass over and around Miami's fronting of Roy Hibbert and David West in the post. The Heat needed to tweak things and clean up some mistakes here and there; the Pacers had proven themselves a mature, patient offensive team, and they were tearing Miami up.
Holy hell, did Miami perk up its defense last night. The Pacers in this series have leaned on a few pet pick-and-roll plays designed to either free the big man rolling to the rim and/or draw the Heat's defense toward that big man, freeing Indy to swing the ball to the other side, and toss a clean entry pass to the other Indy big posting up over there. (There's a useful photo illustration in this post on Game 4.)

Here's one such play from Game 5 — a Lance Stephenson–Hibbert pick-and-roll that should either free Hibbert up as he rolls to the basket or trigger a series of passes that ends in an entry pass to West on the left block:
Let's freeze things right after Hibbert sets his pick and rolls to the rim: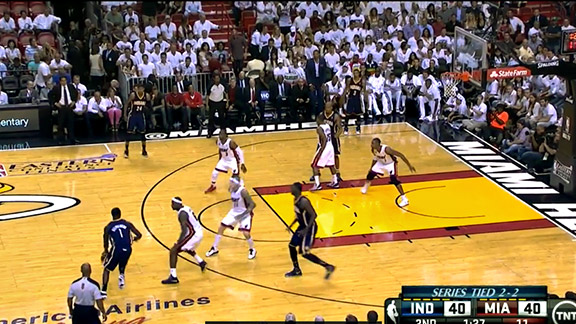 Three things to notice:
1. Chris Andersen, temper engaged and nostrils probably flaring, has decided not to trap Stephenson above the 3-point arc — a bit of a variation from Miami's typical defense. Andersen stays at about the level of the pick and then immediately retreats, and Hibbert thus never comes open.
2. Chris Bosh is in the middle of the lane. That's his job here within Miami's scheme. He's rotating there to protect the rim in case Hibbert does roll free and catch a pass from Stephenson. This is sort of a temporary one-man zone. The Pacers want Bosh there, because if he's there, he's not fronting West. And if he's not fronting West, that opens up option no. 2 here — a pass from Stephenson to Paul George, high on the left wing, who can then toss a quick-hitting entry pass to West before Bosh can front him again.
3. Mario Chalmers is not guarding George Hill in the left corner. He's actually fronting West, and he's there to prevent the instant George-to-West entry pass if Stephenson swings the ball to George, which he does. Chalmers lingers there as George makes the catch, and scampers back to Hill only when Bosh slides back over into something close to a front.
Boom. Everything is closed. The Pacers have to reset into an awkward George isolation against Dwyane Wade, which turns into an even more awkward George drop-off pass to West, who makes a very tough baseline floater. The Pacers had an answer here, but the Heat made them work extra hard for it, and it's not a sustainable answer.
This is what Miami wants on defense — to take away every preferred option with scrambling speed, and force teams to make impromptu pass-and-cut-and-drive plays late in the clock against Miami's hyperactive athleticism. That we didn't see more possessions like this in Games 1-4 is a credit to Indiana's gradual improvement on offense, and to Frank Vogel and his staff for slowly coaxing that improvement from its players.
Here's another Indiana variation, a pick-and-roll in which Hibbert sets the pick and then ducks into the post for a chance there — basically the same play, only Hibbert plays both roles as West gets out of the way along the baseline:
Again, let's freeze things mid-play: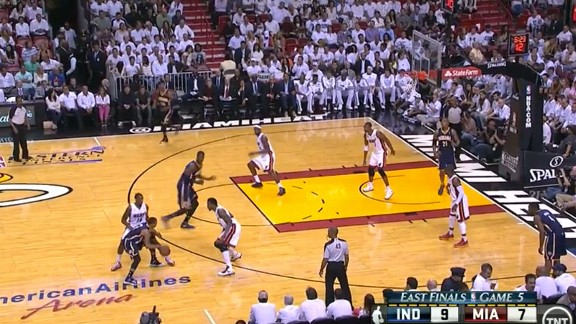 Haslem, like Andersen in the first clip, stops short of trapping Hill and quickly retreats to Hibbert, allowing him to trail Hibbert close in the passing lane as the big fella cuts diagonally toward the left block. James is near the middle of the free throw line very early, helping off George to prevent a pass to Hibbert on the initial roll. Bosh is zoning up again in the center of the paint, and just in case that leaves West open for a surprise duck-in, Wade has drifted away from Sam Young in the right corner to threaten West if need be.
As in the first example, Miami is aggressive where it needs to be — LeBron's help, Wade's approach to Young, Bosh in the paint — but not at the point of attack, where Indiana has often hurt the Heat by passing over and through traps.
The Pacers again score here, but it's a relatively difficult and very stagnant shot in the end — the kind of shot Indiana attempted much more often in the first two months of the season, when Hibbert was injured and its offense was terrible. The ball stops moving, the players stand still, and Hibbert has to dribble four times before finally launching a very pretty lefty hook. Miami will take that, even with Hibbert's height advantage and generally fantastic play, though they might consider sending more last-second help next time.
Young's presence and Stephenson's foul trouble obviously emboldened Miami to be even more aggressive than usual along the baseline and away from Young on the wing. Young can't shoot or dribble — it's almost Festus Ezeli–level terrifying when he touches the ball — and the Heat are treating him as they should.
But Miami kept this balance between aggression and steadiness throughout the game, even when Indiana had some of its A lineups on the floor:
It was a masterful performance, and one you could feel building even when Indiana had a first-half lead. The biggest question coming into this series, for me at least, was whether Indiana could score against Miami's defense. The Pacers are turnover-prone, without an ace passer at any position. Hibbert is slow, and he was candid late in the season about his limitations as a pick-and-roll threat. They are a so-so 3-point shooting team — not a great one, not a bad one, and on balance, not the sort that would really threaten Miami's defense.
Through four games, Indiana rose to the challenge with smarter and more sophisticated offense than we've ever seen from this bunch. They played Miami to the hilt. But the Heat in Game 5 played their best defense of the series, and the Pacers could not find enough answers before resorting to emergency late–shot clock plays. Was it just a bad game? Were they a bit flustered? Was it mostly the result of foul trouble that the thin Pacers simply cannot afford?
The Pacers tried out some new stuff in Game 5 — some back-cut plays for George, more pick-and-rolls with George as the screener, and some plays in which George started in the middle of the foul line, between two big men, before scooting unpredictably to one side of the floor for a fast-moving pick-and-roll.
The Pacers will need more tweaks to stay alive at home, because the Heat defense caught up to them on Thursday.
Filed Under: Indiana Pacers, LeBron James, Miami Heat, NBA, NBA Playoffs, Paul George, Roy Hibbert, Zach Lowe