Kobe's Latest Ailment Puts the Lakers in an Awkward Holding Pattern
Kevin C. Cox/Getty Images
Kobe Bryant's knee injury is a major NBA event, because he is a transcendent modern superstar, he plays for the Lakers, and it was wonderful to see him hit some big shots against Memphis — even after suffering the injury, it turned out. But it doesn't really change the short- or long-term picture of the Lakers franchise.
The Lakers weren't a playoff team regardless. They've hung in behind a game bench and against a tough schedule, but the Western Conference is loaded and these guys just aren't good enough. They're 12-13, but their point differential — minus-3.1 points per game, same as the Knicks — paints them as much worse than their record. They're 20th in points per possession and 22nd in points allowed, and they've been worse on both ends with a recovering Bryant on the floor. Injuries haven't helped, obviously. A wave of injuries at the point guard spot has decimated whatever offensive coherence the Lakers had built up, forcing them to rely on a combination of Kobe-centric stuff (a lot of two-man game with Pau Gasol) and very basic sets that involve a big man facilitating up top with a pair of guys screening and cutting on either side of the floor: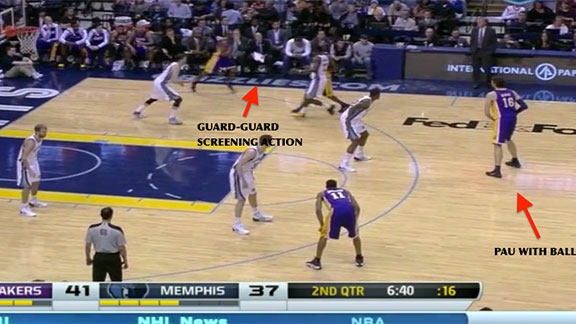 Kobe obviously hasn't been himself, though he remains a brilliant player in terms of footwork, passing vision, and the sheer variety of ways he can score. The Lakers have tried all of those ways, including using Kobe in both parts of the pick-and-roll. But he has no lift, and he has been insanely turnover-prone, forcing passes that have no chance of threading through all the arms and legs between him and his target. And Kobe, smart as he is, must know upon throwing those passes that they are long-shot bets.
Byrant's injury greatly slows his overall recovery process, likely eliminating the possibility of a fully recovered Bryant — whatever that looks like, post-Achilles — playing this season. That was the very slim hope for this L.A. team: The group hangs in as Kobe recovers, and then takes off when he finds his game. That is likely an impossibility now. A playoff berth would be massively shocking. This is a lottery team, and always has been.
What we don't know about injuries trumps what we know, by a considerable margin. It has been fashionable to say Bryant came back too soon, or that Mike D'Antoni overtaxed Kobe by playing him heavy minutes at point guard over a four-games-in-five-nights stretch. In this telling, the Achilles tear may have contributed to a subsequent injury in the same leg, especially since it can take months or even years for players to regain adequate strength and bone mass in the leg with the ruptured Achilles. Bryant's left calf appeared smaller than his right, a common thing after an Achilles rupture. Elton Brand once told me he and Mehmet Okur, both Achilles victims, once compared calf sizes at midcourt during warm-ups before a Jazz-Sixers game, chuckling at the huge difference in size between their healthy and injured legs.
But the truth is, we have no idea. Injury experts and trainers have both written and told me in the past 24 hours that there is really no way to know — that there is no obvious connection between an Achilles rupture and a traumatic bone breakage like this, but that the possibility of a connection certainly exists. The least sexy words a sportswriter can utter are: "I don't know." But anyone screaming with certainty on this issue is feeding you very loud B.S. It's weird the Lakers let Kobe keep playing after the injury, and folks with access to SportVU data-tracking cameras are combing them today to check for any evidence Bryant was visibly slowing down before the injury. That's a good step, but we still don't know much about this stuff. It made me uncomfortable watching Kobe play the point as ball-hawks like DeMarre Carroll almost cruelly pressured him for 94 feet, but no one can say whether that kind of load was damaging here.
The injury doesn't really affect L.A.'s long-term picture, since it had already gone all-in with Bryant on a two-year, $49 million extension that was, frankly, ridiculous. The Lakers voluntarily made Kobe the league's highest-paid player going forward, even though Bryant is 35 and coming off an injury that has devastated nearly every basketball player who has suffered it. They did so without having seen him participate in a single NBA basketball game, and at a time when there were literally zero other teams bidding for his services.
I have talked to dozens of GMs, assistant GMs, scouts, coaches, and other personnel types from all over the league since the Lakers inked that extension with Kobe. I have yet to find a single such person willing to say it was a good contract. They begrudgingly understand it in a business sense — Kobe is a draw, and the mere possibility of him playing basketball in L.A. excites the wealthy fan base there. There is some vague sense that rewarding Bryant in this way might have the effect of sending a message to future star-level free agents, including Kevin Love and Kevin Durant, that the Lakers take care of their own. But no one can put a value on that kind of amorphous thing. In the end, star players want to go where they think they can win, above all else.
The extension was just an objectively bad contract, and it puts the Lakers in a position in which they can sign only one max-level free agent this summer. Even getting to that point might require the use of the stretch provision on Steve Nash and the renouncing of Bird Rights on Pau Gasol, Jordan Hill, and other valuable bench players. Signing any of those guys to multiyear deals this summer would affect their cap room after next season, when Kevin Love (among others) could hit free agency. The Lakers' cap sheet is clean enough, even with the Kobe deal, that they could sign one max-level free agent during the life of his deal and then strike after its expiration on Kevin Durant or some other star who hits free agency in the summer of 2016. That sounds fanciful, and it probably is. The Lakers are facing unusual uncertainty for a team that always wins. But it is not an accident the Lakers timed the expiration of Kobe's deal for Durant's long-awaited entrance into unrestricted free agency.
Speaking of Pau … there will be calls now for the Lakers to trade him, even though they just announced they've removed him from the trade block. It would absolutely make sense for the Lakers to gauge the market on Gasol. The Lakers are poor on first-round picks, and they need to plan for the future.
But dealing Gasol brings two problems:
1. Finding a match is going to be difficult, depending on what the Lakers want. Gasol has pepped up a bit after his media clash with D'Antoni, but he's in the middle of the worst season of his career, and he's on a $19.3 million expiring contract. Teams are hoarding first-round picks like gold; only one changed hands at last year's trade deadline, the lowest number in eons, and the team most obviously positioned to deal a first-rounder on an all-in move for a big man already did so — the Wiz in the Marcin Gortat deal. Lots of teams are so close to the tax line that they'd have to send out almost exactly as much as Gasol earns to absorb his contract without going into the tax. Piling up $19 million in outgoing salary usually requires at least two or three players, meaning the Lakers would have to send out other guys and/or waive some of the guys they get for Gasol.
The ideal combination of expiring deal and a first-round pick is going to be difficult to find. Again, this is a guy on the decline who can bolt in free agency in five months, and whose Bird Rights don't mean quite as much as usual, since he's in line for a pay cut. It's much easier to build deals in which the Lakers take on money beyond this season, whether those deals involve Memphis (Zach Randolph), Chicago (Carlos Boozer), Golden State (David Lee and flotsam), or Houston (the Omer Asik–Jeremy Lin double bill). And even among those teams, Chicago is over the tax, and Golden State and Memphis are close enough that fitting Gasol's salary becomes tricky.
Even some of the teams that could provide the Lakers' dream package might try to offload long-term money on them. The Cavaliers have stabilized, they love Anderson Varejao, and Andrew Bynum shows flashes here and there of being a dangerous post-up player again. But they're a fragile, messy bunch with a cornucopia of extra first-round picks, and they could build a Gasol package around Bynum's non-guaranteed deal. The Lakers would certainly like a peek at Dion Waiters, but the Cavs might try to leverage L.A. into taking Jarrett Jack's four-year deal — potentially a no-go.
The Bobcats sniffed around Asik, but got cold feet when the Rockets asked for two first-round picks and swap rights in a third draft, as Grantland reported last week. Charlotte has Portland and Detroit first-rounders coming to them in future drafts, and could package one of those with expiring deals tied to Ben Gordon and Ramon Sessions. Phoenix stands as a fascinating candidate, with Emeka Okafor's expiring contract, some midsize salaries, and four (FOUR!) potential first-round picks in this draft. But the Suns are set to save some money via insurance payments if they keep Okafor, and it's unclear how much Gasol really moves the needle for them. (Note: The Lakers could save money via insurance on Kobe if he misses up to 41 games this season, but the savings stop the moment he returns.)
Never underestimate the frantic desperation of Brooklyn and New York, though neither has much of interest for the Lakers. Boston will surely kick around some predatory offers in which it dumps a bad contract on the Lakers. If the Raptors ever get serious about moving DeMar DeRozan — and I don't think they are at this point — a call to the Lakers might be worthwhile.
Other possible deals would require the Lakers to take on some bigger money. The Kings remain motivated to shake things up, and teams around the league expect them to look into moving Jason Thompson. But the cupboard is pretty much bare there, especially since the Kings owe a protected pick to the Cavaliers dating to the J.J. Hickson–Omir Casspi swap. (And yes, I take any chance I can get to remind people the Kings gave up a first-round pick for J.J. Freaking Hickson, even though the protections are such that it may morph into two second-rounders. Still: It's J.J. Hickson! Maybe just keep your pick!) The Nuggets have lots of movable salaries and a bloated long-term cap sheet, and D'Antoni still adores Danilo Gallinari. But now we're talking some rich stuff.
The Lakers should work the phones. Every team should, really. But finding the right deal is going to be hard.
2. If the Lakers do manage a Gasol deal that brings them no proven NBA talent under contract for 2014-15 and beyond, such a trade would bring the same risk as allowing Kobe to enter unrestricted free agency would have: What happens if you go into free agency with all that cap space and come up empty? Then you're bad, aimless, asset-poor, and banking on the market appeal of Los Angeles to swing one of those franchise-changing heists the Lakers always manage to pull off. If the Lakers can't find a workable Gasol trade, they may be better off re-signing him at an affordable two-year deal. He becomes tradable that way, provided his decline slows a bit, and his deal could expire at the same time as Bryant's. If it's cheap enough — in the $10 million range, perhaps — the Lakers could still have flexibility to sign a couple other veteran contributors. They could be this season's Mavericks, holding the fort with an entertaining team until they can deal themselves into something better.
Bottom line: Injury or no injury, the Lakers are in an awkward holding pattern. The Kobe contract made that holding pattern even trickier to exit. But he remains a creative force, and the league is a better place when he's around. Get well, Mamba.
Filed Under: NBA, Kobe Bryant, Los Angeles Lakers, Pau Gasol, Zach Lowe