NHL Grab Bag: #SeaofBoo
pensionplanpuppets.com
Welcome to a weekly grab bag of thoughts and observations from the past few days and/or decades of NHL hockey.
The Three Stars of Comedy
Recognizing the NHL personalities from around the league who produced the most comedic fodder for fans.
The third star: This kid
OK, this has nothing to do with the NHL, but it was a slow week for the pros so this kid is getting the call-up. Via Reddit, here's an adorable tyke goalie making a clutch breakaway stop and then pulling a Patrick Roy.
The second star: Sea of Blue
The Toronto Maple Leafs are enormously popular. Many of their fans are on social media. So why not let those social media–savvy fans take over the team's website for a night? What could possibly go wrong?
Oh, right, the Leafs could lose to the Florida Panthers. And then things like this could start happening: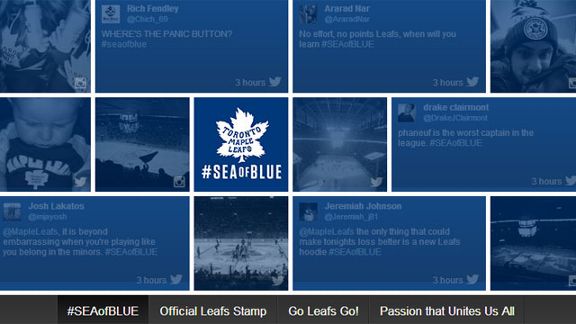 The tweets are good, but it's the sad baby who really seals it. Oh well. At least Leaf fans are keeping perspective.
The first star: Every NHL team made a funny holiday video
It's the Christmas season, which means it's the one time of year when every NHL team stops being a collection of stern-faced automatons, and instead transforms into improv comedy troupes. So far we've had the Penguins' holiday CD, the Blues' version of "The Twelve Days of Christmas," the Bruins' faux-sitcom, the Capitals' rendition of "Jingle Bells," and the Sharks' office party. No doubt there's more to come.
Basically, if your favorite team hasn't put out its own holiday-themed comedy clip yet, it's evil and humorless and hates you and your family. Just so you know.

Obscure Former Player of the Week
NHL history is filled with legendary players whose stories are passed down from generation to generation. This is not one of them.
Since this is the final grab bag before Christmas, I figured we should go with a holiday theme this week. But that was tougher than I thought, because it turns out NHL history is woefully short on yuletide names. The league has never had a Holly or a Kringle or a Santa (though this guy came close). We've never even had a Rudolph. Too much time hanging out with the Eugenes, I guess.
So could I interest you in a Christmas candy cane? Or, more specifically, a Cain — as in Herb Cain, the forward who starred in Montreal and Boston during the '30s and '40s, and who owns the distinction of being the NHL's all-time leading scorer among players born on Christmas Eve.
Cain was a left winger who spent 13 years in the NHL, racking up 400 career points. His best season was 1943-44, when he led the league with 82 points. He won two Stanley Cups and ranked in the top five for goal scoring three times. Here's a touching story about him getting clotheslined by a rope during a practice.
Today, Cain may best be remembered for sharing a dubious and somewhat amazing honor with Eric Lindros: In the nearly 100 years that the NHL has tracked point totals, they're the only two eligible players to have ever led the league in scoring but not been inducted into the Hall of Fame.
The Week's Most Depressing CapGeek Page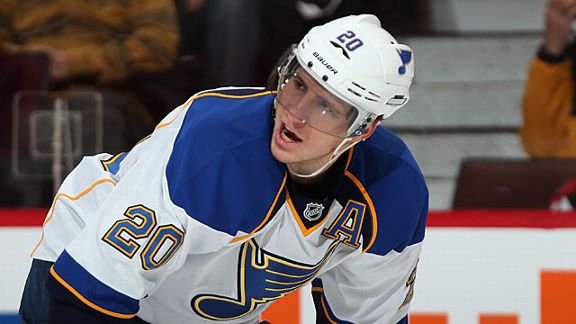 In which we select one page on capgeek.com and stare at it while a single tear rolls down our cheek.
Alexander Steen signed a three-year, $17.4 million extension with the Blues this week. Given his current stats and his career body of work, that's a reasonable contract that isn't in the least bit depressing.
But it does provide an excuse to make a midseason visit to a CapGeek page that is depressing: the site's UFA Finder, which gives us a list of every NHL player who could be available when free agency arrives this summer. Ah, there it is. Let's take a look through the list and see if we can start getting excited about July 1, 2014.
Right off the bat, we have two major names: San Jose's Joe Thornton and Patrick Marleau. If you scroll down a bit, you'll also find Sharks defenseman Dan Boyle. Those are three pretty decent players who would command plenty of bidding, so we're already looking like … oh, I'm sorry, I'm being told that all three are expected to re-sign before the offseason. Crap. OK, who else is available?
Well, there's a lot of old guys. That's pretty much par for the course, since veterans usually sign short-term deals. So there are plenty of future Hall of Famers, like Jaromir Jagr, Jarome Iginla, and Daniel Alfredsson. Of course, they'll also just sign with whichever Cup contender has cap space, so that rules out three-quarters of the league already. Moving on …
Then there are the handful of guys who got screwed last offseason and wound up stuck with cheap one-year deals. That would include Mason Raymond, Dustin Penner, Tom Gilbert, and Mikhail Grabovski. They're useful players, sure, but not exactly the most exciting free-agency targets.
And from there, we're left with … well, Thomas Vanek, Paul Stastny, and that's about it. And both those guys will probably sign before the season ends, because every good free agent signs before the season ends.
What I'm trying to say is this: The 2014 free-agency season is going to be awful. Just like last year's, and just like every year of the salary-cap era that didn't involve Zdeno Chara or the Minnesota Wild losing their minds. Remember when the 2005 CBA introduced the cap and lowered free-agency ages, and we all thought that in-their-prime superstars would start hitting the open market all the time? Oops. Guess not. July 1, 2014, is shaping up to be a bust.
But at least we can look on the bright side: It will probably still be more interesting than the trade deadline.
What Has Don Cherry Gone and Done Now?
Whether it's "Coach's Corner," his regular media appearances, or a Twitter account that's presumably meant to be performance art, Don Cherry is everywhere. What has he been up to this week?
This week, somebody at the CBC produced an infographic that captured every suit jacket Don Cherry has worn in 2013, because this is the sort of thing that Canadians do in their spare time.
The results are fascinating. They're both shocking (the dragon/goal light/daisy trio is my favorite) and scandalous (Cherry sometimes reuses jackets he has already worn). I'd also love to know how Ron MacLean feels about Cherry being referred to as the show's "brighter half."
But I think my favorite part of the whole thing is that Cherry is listed as having worn "approximately eight outfits adorned with plants." Approximately? You just know there was some big group discussion over what did or didn't count as a plant, before they just compromised and went with "approximately."
Compromising over Don Cherry's wardrobe is the most Canadian thing ever.
Canadian Olympic World Junior Panic Watch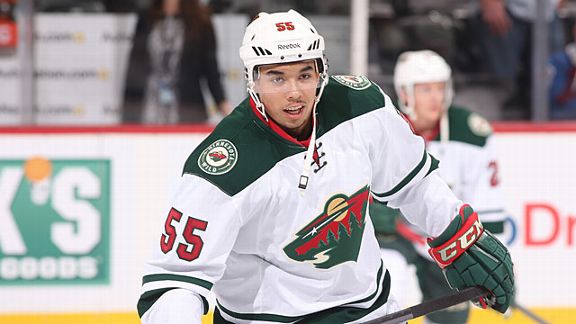 Canadians love three things: rolling up the rim, making terrible pop music, and freaking out about whether our teenage hockey players are better than yours.
We're just days away from the 2014 World Junior Championships, and teams have spent the week finalizing their rosters. That means it's the time of year when NHL teams have to decide whether to loan their teenagers to the national programs for a few weeks so they can participate in the tournament. And that means it's time for Canadians to freak out.
That's because, as you might suspect, teams generally don't make their players available. After all, if a young player is good enough to play at the NHL level, his team probably wants him to be in the lineup instead of playing in some tournament in Sweden. Sure, the WJC can be a great learning experience, but if you're a teenager in the NHL, then there's a good chance you're already learning plenty.
This issue affects Canada more than any other nation, because Canada still produces more good young players than anyone else. And every Canadian knows that if the junior tournament actually featured the very best teenagers in the world, we'd win every time. (Please ignore the fact that last year's NHL lockout meant the tournament did feature the best in the world, and Canada didn't win a medal.)
So every year, Canadians hope that NHL teams will release the top young talent. And every year, they end up disappointed. This time around has been no exception; out of a group of teenaged Canadian NHLers that includes names like Nathan MacKinnon, Sean Monahan, and Morgan Rielly, only Matt Dumba was made available.
So remember: If Canada doesn't win gold over the next two weeks, it's only because we didn't have our best players. The whole tournament isn't fair. The WJC is stupid.
And, uh, if we do win … disregard this entire section.
Awesome and/or Horrific Old YouTube Clip of the Week
In addition to being a great source of adorable pets and functionally illiterate commenters, YouTube is a gold mine for old hockey clips. In this section we find one, and break it down in way too much detail.
And we wrap up our kind of Christmas-themed grab bag with a poem. A horrible, horrible poem. Take it away, Doc Emrick …
• So this is from … actually, I have no earthly idea where this is from. If you do, please let us know in the comments. Based on some of the clips we'll see, we can assume it was done in 1990, but that's all I've got.
• We start with a shot of Santa Claus, followed by one of Mike Milbury. That seems like an odd juxtaposition, unless you're an NHL GM who ever negotiated a trade with Milbury, in which case it probably fits your perception of him perfectly.
• They couldn't find an arena shot in St. Louis where there were more than 80 people at the game?
• I spent way too much time trying to figure out which Leafs-Rangers game this program was from. Like a solid 20 minutes of squinting and cross-referencing box scores. No, really, I couldn't make myself stop. I think I may have a serious problem, you guys.
• Also, I think it was probably this game.
• "What people were keen on," with a shot of Mike Keenan. Yes, we've entered the name-based pun zone. Do you like those? If you don't, you need to close your browser right now because we're about to get roughly 7,000 of them over the remaining 95 seconds. You're up next, Mark Howe.
• Oh look, it's a picture of the queen. More specifically, it's the world's largest known portrait of Queen Elizabeth II. Where do you think you find such a priceless artifact? If you said "hanging in the rafters of the Winnipeg Jets' old arena for some reason," then you win. By the way, that portrait was eventually abandoned when the arena was torn down. I feel like that should be a metaphor for something, but I'm not sure what.
• Worlds colliding: That one-second clip of Bob Mason is from right after Pat LaFontaine's quadruple-overtime winner in the Easter Epic, which longtime readers may remember from a previous YouTube breakdown that featured the fevered ravings of Bill Clement and, yes, Doc Emerick.
• "The weather was Crisp-y / the weather was Errey / despite Coffey / Nick's nose glowed as red as a Cherry." Do you think the NHL.com headline guys watch this video every morning to get pumped up to go into work?
• And there's Mark Faucette, because good lord we're reduced to referee puns now.
• "And those who make Takko's down on the ground …" Who's making tacos on the ground? That doesn't even make sense, Doc. Former obscure player of the week Kari Takko deserves better than this.
• And we have a Helmut Balderis sighting because of course we do.
• I'm trying to think of what a modern version of this poem would sound like. I bet it would prominently feature a clip of Taylor Hall getting decked.
• "And Jimmy and Davey and Johnny and Mike …" Apparently the pun machine is running out of steam, because now we're just listing first names. Also, I have no recollection of anybody ever calling Dave Andreychuk "Davey." Let's just forget this stanza ever happened, because there's no reason to …
• OH GOOD GOD MIKE MODANO'S FACE!
• I don't … I can't … What is happening here? Did he just fall off a stretcher? Can we zoom in on that?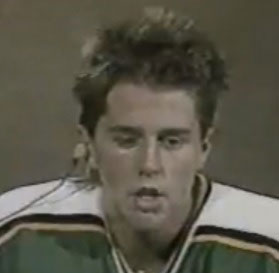 • Thoughts on that Modano face, Doc? Hmm. Yeah, I think that sums it up.
• Tippett does not rhyme with "flippant." They're not even trying anymore.
• Wait, Brad Marsh didn't get a pun? How much do you want to bet he had a pun, and they scrapped it at the last second? But why? Based on the rest of this poem we can already eliminate "didn't rhyme" or "made no sense."
• "Vladimir to Zarley" … so, less than 20 percent of the alphabet, then? That's how wide we're casting our net here?
• I remember my dad buying a newspaper on the way to a hockey game, then reading it during intermission. I wonder if anyone has done that since the invention of smartphones. Probably not. Buy a newspaper, I mean.
• If you had Ray Sheppard in the "last player to get a pun" pool, you win. Frankly, I'm stunned they made it through the entire thing without finding a way to use Brian Bellows or Zdeno Ciger.
And that's it for Doc's poetry corner, since the clip just suddenly ends. Although we do get one last scene of an adorable newborn baby sitting right behind a dude in a mustache who should absolutely not be anywhere near an infant. That was unnerving. I bet it's why the guy who recorded this cut it off early. Probably for the best.
It's just too bad they didn't do a new version of this poem 10 years later. They could have really ended on a Hinote.
Filed Under: NHL, Hockey, Toronto Maple Leafs, NHL Grab Bag