If It's Not Broke, Why Fix It? OKC's New Approach on Offense
Despite their strong season, the Oklahoma City Thunder have had trouble scoring in the the fourth quarter. Kevin Durant, in particular, has struggled when the defense ramps it up. They tended to stop running whatever had been working in that particular game and started running isolations for Durant and Russell Westbrook. Trailing the Spurs 2-1 in the Western Conference finals, the Thunder couldn't afford to stop scoring in the fourth. In Game 4, they were leading by just four points while San Antonio began to turn it on offensively. This time, Scott Brooks and the Thunder kept running simple yet effective sets that resulted in 34 points in the fourth quarter and a win.
We saw two distinct strategies from Oklahoma City in Game 4 depending on the lineup. When Derek Fisher was in for Westbrook and James Harden was the primary ball handler, the Thunder used Harden to create their offense. They ran wing pick-and-rolls for him. The key element was how Oklahoma City positioned it.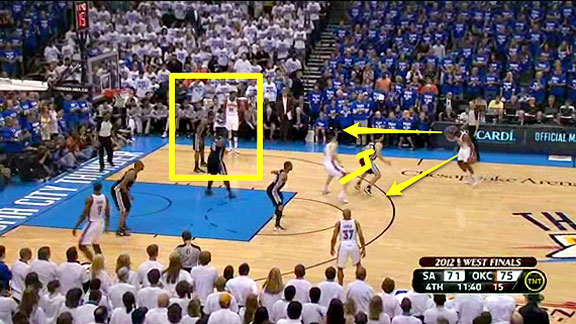 We pick up this possession with Harden dribbling the ball on the wing and Nick Collison running up to set a screen for him. Harden is a savvy ball handler, which means he may use a screen in a few different ways. He can play off of it, or he can move away from it to attack the paint. The essential piece of this set is that Durant is stationed in the corner, so his defender, Stephen Jackson, can't help on Harden when he drives.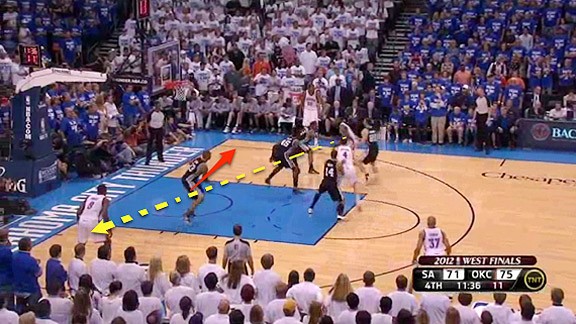 Where does the help come from if it can't come from the short corner? From the opposite corner, Boris Diaw. He comes over to help, leaving Serge Ibaka open. Harden recognizes this and throws a cross-court pass to the open Ibaka.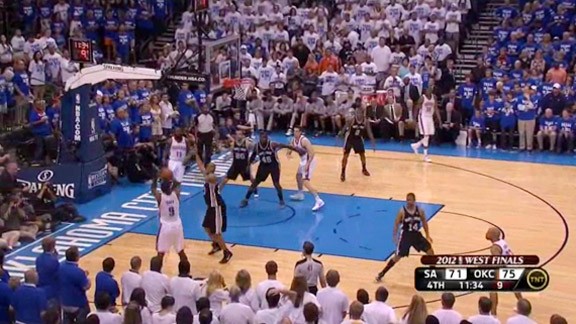 Ibaka makes the catch and knocks down the jumper, which he did all through Game 4. In a previous post, I talked about how even though Ibaka has not been shooting well, he is generally a good shooter. This was well within his range. Here is the play in real time:
Notice how hesitant Jackson is to leave Durant to help on the dribble penetration. As a result, Harden can go toward the paint, forcing Diaw to sink in, which opens up a passing lane. Contrary to their regular-season strategy, Oklahoma City continued running this effective set — even going back to it on the next possession.
Again, with Durant in the same corner as the basketball, his man can't leave him to help. Thus, Harden has the time and space to probe the defense and pull up for a jumper, knocking it down.
When Westbrook reentered the game for Fisher with 7:25 left, the Thunder went to a different offense. It was fairly simple, but still far more effective than an isolation.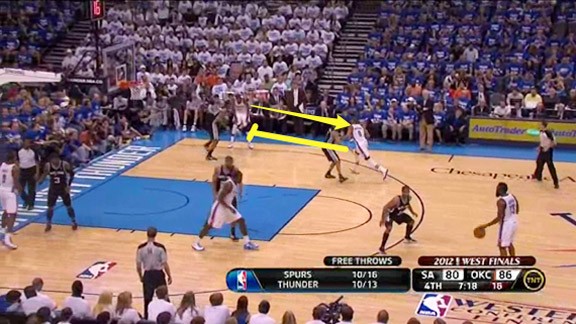 We pick up this possession with Harden handling the basketball on the left side of the court while Westbrook and Durant occupy the weak side. Westbrook sets a pin-down screen for Durant, who uses it to move toward the basketball.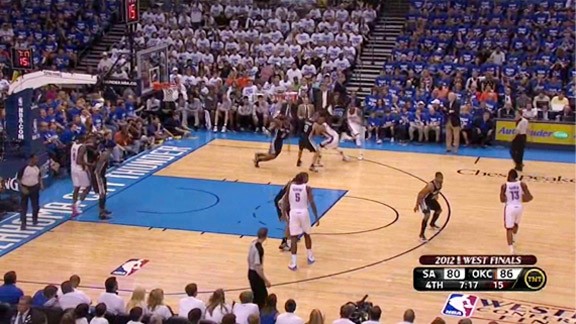 As Durant comes off that screen, he has enough space to catch the ball wherever he wants because his defender, Kawhi Leonard, got caught on the screen. This was a smart play because Durant usually has trouble getting free from physical defenders. Eventually, this possession led to a missed shot, but it was a good look for the team's best player. Here it is in real time:
Typically Brooks would abandon the play after a miss, but he didn't do that in Game 4. He saw the positive in it, and went back to it. The next time that the Thunder ran it, Durant easily created a shot for himself.
This time, Leonard stays attached to Durant when he sees the pin-down screen, but the play still created enough space for Durant to dictate where he caught the basketball. He got it right at the foul line. From there he could take one dribble and then go up for an easy jump shot. This pin-down play not only made it easier for Durant to go one-on-one against his man, but it also allowed him to catch and shoot.
This play worked so well that the Thunder had the Spurs scrambling. They were willing to try anything to get a stop, including a defensive switch. This failed, though, because a smaller guard ended up covering Durant.
These are the kinds of one-on-one matchups that Durant can win in the fourth quarter. No reason to move away from it if it's working.
After they had no luck with their switches, the Spurs tried to stop the pin-down screen altogether, but both Durant and Harden recognized what was happening and exploited it. As Durant cuts backdoor, Harden finds him for the and-1.
Eventually, to maintain their lead against the surging Spurs, the Thunder added a twist to their pin-down screen offense.
It looks like they are running their simple pin-down set again, with Durant making the catch at the free throw line. However, once Durant gets the basketball, he attacks, dribbling toward the left. But it is actually a play for Harden, with Perkins setting a flare screen for him. While everyone focuses on Durant, including Manu Ginobili, Harden's defender, Harden uses Perkins's screen to get open behind the 3-point line. He knocks down the shot and clinches the game for the Thunder.
With players as good as Harden, Westbrook, and Durant, you just have to make it easier for them. That's what Brooks did in the fourth quarter, which is really clear when you compare Durant's shot distribution chart from the fourth quarter during the regular season with that of Saturday night's game. First here is the regular-season chart: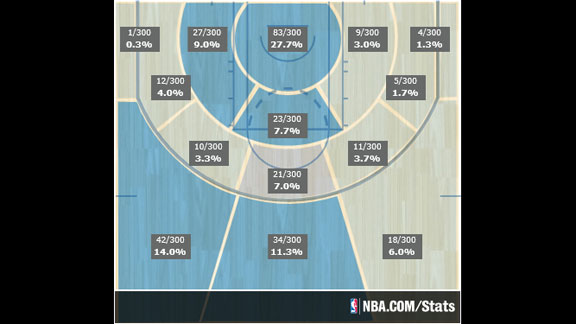 A lot of 3-point shots for someone who isn't a great 3-point shooter. Now let's look at the shot plot from Saturday night.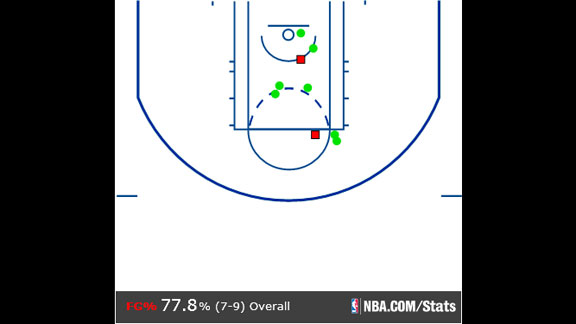 There wasn't a shot outside the free throw line extended area. That is what making things simple for your best player looks like.
Filed Under: NBA, NBA Playoffs, Oklahoma City Thunder, San Antonio Spurs, Sebastian Pruiti, Total Breakdown