Identity Problems: The Big Questions About Tonight's NBA Playoff Games
Kevin C. Cox/Getty Images
Tonight is a night for both rejoicing and sadness: Depending on the results of three crucial games, including two elimination games, this could be the last night featuring more than two games until next season opens. This is a bad thing for fans seeking a variety of entertainment options, especially on nights with one or two blowouts, but a good thing for the spouses and loved ones of us poor saps watching every single one of these first-round bad boys.
A lot is at stake in tonight's tripleheader, obviously. A game-by-game look at some key questions on this busy Wednesday, in order of Most Intriguing to Least Intriguing:
Indiana-Atlanta
That's right — I'm giving Most Intriguing status to this season's NBA TV/Illegal Streaming/Ratings Basement special. (It's a league rule, by the way, that the NBA TV Special first-round series must include either Indiana or Atlanta every season. Seriously — I think it's in the new collective bargaining agreement. Plenty of good seats still available on the cheap for tonight in Indy, by the way. Catch the fever!) After three boring blowouts, these two finally gave us a competitive contest in Game 4, albeit one in which the Hawks were in control after a blistering second-quarter run. Some key questions:
• Can Indiana figure out the Hawks' "big" lineups?

This series turned in Game 3, when the schizo Hawks went home, and Larry Drew swapped Kyle Korver out of the starting lineup in favor of Johan Petro — a move that was not about Petro, but rather about going big and shifting the ultra-schizo Josh Smith to small forward. That matched Smith up with the rangy Paul George, who had torched the Hawks' wing defenders during emphatic Indy blowouts in the first two games of this series.
Indiana hasn't been the same since. George has remained productive, but he shot just 10-of-27 from the floor in Atlanta and committed nine turnovers in those two games. Smith brutalized him in the post for much of Game 3, and when the Pacers sent extra help, Smith kicked out to shooters — including Korver and Anthony Tolliver, the latter of whom barely played in the first two games, but pumped in 16 crucial points on 5-of-6 shooting from deep over Games 3 and 4 combined. Tolliver is a key ingredient in Atlanta's ultra-big lineups, and such lineups including Tolliver or Ivan Johnson in Petro's place have performed like gangbusters in this series.
That Petro/non-Petro discrepancy might have less to do with Petro's flaws than with the fact that the Petro groups have naturally gone up against Indiana's starting five — one of the league's very best heavy-minutes lineups. (Only the Thunder's old starting five, with Russell Westbrook, logged more time this season, per NBA.com.) That Pacers unit usually blitzes people, but Atlanta's big lineups have managed to keep it under control, mostly by holding it to a scoring rate over Games 3 and 4 that would have ranked dead last in the league this season, per NBA.com.
George has gone through long stretches in which he just hasn't been as involved as usual in Indiana's inside-out attack, and he has looked a bit flustered facing Atlanta's collective size on pick-and-rolls:
Atlanta has also found some interesting matchup advantages with this group. The presence of a legit center in Petro shifts the great Al Horford to power forward, and he's been aggressive in attacking David West on the block. Horford has found points there, gotten West in foul trouble, and made life difficult for Indiana's leader in the post when the Pacers have had the ball. (As an aside, West hasn't quite looked himself in this series, and I wonder if there's a nagging injury we don't know about. He's also floated a bit on offense over long stretches of games, Horford has flat-out beaten him down the floor on several rim runs, and he committed a very bad — and dangerous — flagrant foul out of frustration in Game 3.) The Pacers tried Roy Hibbert on Horford for small chunks of Game 4.
Indiana has the tools on offense to solve this riddle, but they got stagnant in Atlanta, too often failing to go through third and fourth options in their offense. George can be better at sniffing out opportunities to attack Smith off the dribble in semi-transition, and in quick-hitting pick-and-rolls on which George rockets off one screen, catches the ball, and immediately dribbles right into a second screen.
We also haven't seen much of West slipping screens and getting into the teeth of Atlanta's defense, like this:
This has been a rock of Indiana's offense for two years; West can score on the move, and he's very good at finding shooters on the perimeter when defenses collapse on him in the paint. Indiana might also work Lance Stephenson in the post a bit against smaller Atlanta guards, an action the Pacers can use to create open 3-point looks, via strategic back screens, for both Paul George and George Hill:
• Can Frank Vogel find the right bench combinations?
Stop me if you've heard this before: Indiana is doing fine with its five starters on the floor, but has performed with wild unreliability when even just one or two bench guys set foot on the court. Gerald Green, who suddenly leapfrogged Orlando Johnson late in the regular season, has been a disaster on defense. Indiana is plus-11 in this series during the 124 minutes Green has sat, and minus-20.4 in the piddling 68 minutes he's played, per NBA.com. He could not track Korver at all, surrendering several open 3s by ducking under screens or simply losing Korver altogether, until Vogel angrily lifted him in Game 4 in favor of Hill. It would not shock me if Johnson took Green's minutes tonight, or if Vogel's hook on Green is even quicker. The Pacers have used D.J. Augustin a bit more with their starting guards and wings than they did in the regular season, and if Augustin hits a shot or two early tonight, we might see Vogel lean in that direction.
The Pacers' backup big-man rotation has been an issue for two seasons, and that remains the case today. Tyler Hansbrough has provided some energy, and Vogel has paired him with West much more than normal in this series, but the Pacers are losing when Hansbrough is on the floor. Jeff Pendergraph, a solid midrange shooter and legit tough guy, had replaced Ian Mahinmi in the rotation until Game 4, when Vogel went back to Mahinmi to get some size on the floor. And Vogel, as he indicated to me last month, began staggering the big-man minutes in Game 4 so that either West or Hibbert was on the floor at all times. Let's see how he balances things out tonight. Drew and the Hawks have found some things that work, but can they carry them on the road?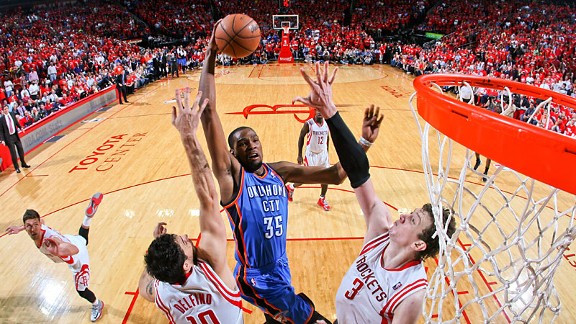 Thunder-Rockets
The Thunder will probably win tonight, but this series has been almost dead even since Oklahoma City's Game 1 blowout, mostly because the Rockets' small-ball offense has lit up the vaunted Thunder defense — at least mirroring what Oklahoma City has done on the other end. The Thunder had been killing it with their bigger lineups, a change-up from last season's Finals catastrophe against the small-ball Heat, but that trend has not sustained since Westbrook's season-ending knee injury; the Rockets have ripped apart Oklahoma City's new starting lineup over that tiny sample size of two games, and the Thunder spent most of Game 4 playing small ball right along with Houston. (Side note: That sample-size issue is real. The playoffs bring up a new degree of nitpicking over every coaching move, even tiny rotation tweaks that last only a few minutes and either work very well or fail horribly — leading critics to either demand more of said tweak or scream for its elimination altogether. Sometimes that screaming is legit; when a rotation tweak fails two or three times in a row, it almost becomes a trend, especially if it also failed in limited use during the regular season. But just as often, a tweak that fails for two games will be a raging success in the third game, provided a coach sticks with it, and often only because a couple of guys randomly sink a couple of jumpers. The Grizzlies have turned the tide on the Clippers, and some small rotation changes from Lionel Hollins, plus the re-emergence of the "real" Zach Randolph, have clearly had a ton to do with that. But so has Tayshaun Prince randomly knocking in a few of the jumpers he missed in the first two games. When the margin between teams is so slim, a few jumpers here and there by straggling players — Prince, Kirk Hinrich, Kris Humphries, Gerald Wallace, Tolliver — can be just as important as all the stuff we trumpet in the media. End side note!)
That brings us to question no. 1:
• Which team can at least plug some holes in the dam on defense?
Oklahoma City has been quietly sloppy since Game 1, botching some communication on off-ball screens/switches, and having their bigs over-help in ways that dredge up bad memories of last season's Finals.
The Thunder can be better, but Houston's offense is a real test. The Rockets don't have much of an answer here, other than to continue stretching Omer Asik's minutes until he just can't go anymore. We have a full season of evidence telling us Houston's D falls apart without Asik, regardless of whether Houston's backup big man Wheel of Mystery lands on Greg Smith, Terrence Jones, or Surprise Guest X. (Remember when Donatas Motiejunas was a big deal?) We know Houston's limitations, and we know how it'll play tonight on defense. Which brings us to:
• Can Oklahoma City continue to grind out artless points?
The Thunder introduced a few new sets, or at least new riffs on old sets, in Game 4, but this was still an offense that mostly oscillated between "give the ball to Durant and kindly move out of the way" and "stick Reggie Jackson in Westbrook's place in our old two-man sets and hope the Rockets don't notice."
Houston noticed, and they did all the things to bottle up those sets in Game 4 they had already done in Game 3. Again: Oklahoma City introduced some variety on Monday — more two-man stuff with Kevin Martin (somehow relegated to the bench in favor of both Jackson and Derek Fisher when the Thunder needed a game-tying hoop after a timeout on the last play of regulation) and both Serge Ibaka and Nick Collison. The Thunder used Martin (instead of the non-threatening Jackson) as a pin-down screener for Durant once or twice, and a couple of new flex-style sets for Durant — including this one, in which Durant first sets a cross screen for Fisher, and then has his choice of taking a cross screen from Fisher right away or popping up toward the foul line off a Collison pick:
And look at how the Rockets keep Chandler Parsons attached to Durant here, even as the Thunder run some stuff away from Durant that would normally draw at least a bit of help from Durant's defender:
The Thunder need more variety against good competition, and Houston is proving to be good competition. But we know the Thunder will mostly end up calling what amount to isolations for Durant, and that the Rockets will ignore all non-Durant misdirection to throw everything they have at the league's most efficient scorer — double-teams, an extra body in the paint, help on drives from all directions, etc. The Thunder either have to build in more offensive diversity, or hope that Durant can carry them again by scoring like a madman and involving his teammates at the right times in the right spots. And if the Thunder continue to play this predictably, those teammates will have to make shots when the Rockets give Durant no choice but to pass. That's what Fisher does here, after the Rockets respond to a Durant-Jackson pick-and-roll by essentially trapping Durant and then sending Asik into the center of the paint as a third defender when Durant finally drives:
I can't wait to see what happens.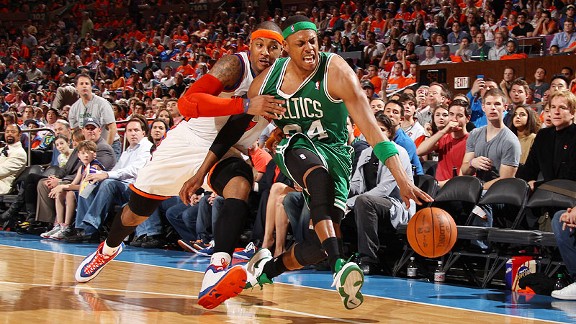 New York–Boston
• Can Boston score?
This is all that matters: Boston, for the series, has scored 89 points per 100 possessions, the worst mark of any postseason team. The Wizards sported the league's worst offense in the regular season, and they still managed 97.8 points per 100 possessions; the gap between Boston's scoring efficiency in the playoffs and Washington's in the first 82 is about equivalent to the gap between Washington's offense and a borderline top-five outfit. Even in Boston's lone win on Sunday, the Celtics still didn't surpass that Washington scoring number.
Boston at home got back to playing the way it did immediately after Rajon Rondo's ACL tear. It ditched the Paul Pierce post-ups that were going nowhere and returned to its spread-the-floor, five-out style, with pick-and-rolls on each side of the floor and heavy doses of Pierce catching the ball off a pin-down screen from Kevin Garnett. And the Celtics still scored at league-worst rate, barely enough to hold off a New York team whose offense devolved into ugly Carmelo Anthony isolations and a sudden hot streak of Raymond Felton jumpers when Anthony briefly rested. Basically, tonight feels like the end for Boston, especially with J.R. Smith back to provide some spice for the Knicks' offense.
• Will New York play its way?
Isolations for Anthony, and for Smith, have generally been very good for New York this season. They're not going away from those plays, regardless of how cruddy they look. But they've been effective in part because Melo has read aggressive help defenses well and struck the proper balance between passing, shooting, and attacking the rim to draw free throws. The Knicks and Mike Woodson have enabled him to strike that balance by putting him in good positions to both see the floor and attack — in the post against smaller defenders, and at the elbows against bigger guys, including Brandon Bass, who has done very well defending Anthony one-on-one in this series. (Anthony has shot just 39 percent with Bass on the floor in this series, and 44 percent when Bass has rested, and the trend was even starker during the regular season, per NBA.com. Bass obviously hasn't defended Anthony on all those shots, but he shifted in Game 4 to a role as something like Melo's primary guy, instead of splitting the assignment almost equally with Jeff Green and Pierce.)
And Anthony looked like a beast running the point on a string of crunch-time pick-and-rolls in Game 4. The Knicks get in a little bit of trouble when they stop mixing it up. If they do mix it up tonight, this series will end.
Filed Under: Atlanta Hawks, Carmelo Anthony, Houston Rockets, Indiana Pacers, Kevin Durant, NBA, New York Knicks, Oklahoma City Thunder, Paul George, Paul Pierce, Zach Lowe