How Much Would You Pay for Dream Team Styles?
NBA TV's Dream Team documentary, which aired Wednesday night, was beautiful. Between seeing actual practice footage, watching their dominant, uncontested march toward the gold medal, and witnessing Hall of Famers in all their glory, it was just a perfect 90 minutes of nostalgia goodness.
This nostalgia came in other forms, though, namely in the fashions that were alive and well in 1992. Yes, the Team USA pieces (from the jerseys, to the hats, to the T-shirts, and everything in between) are beautiful, but it was the off-the-court stylings that truly caught my attention.

5. Chuck Daly: Fila Track Jacket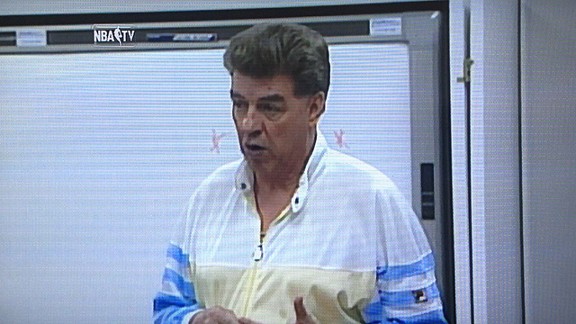 If you didn't know coach Chuck Daly was the flyest guy on Earth before the documentary, now you do. To quote Sir Charles, "His hair was beautiful, his suits were immaculate. He wanted to win, but he wanted to look good." Charles Barkley: not a liar.
What I would pay for this piece of clothing: $75
4. Random Guy with Magic Johnson: Compton Hat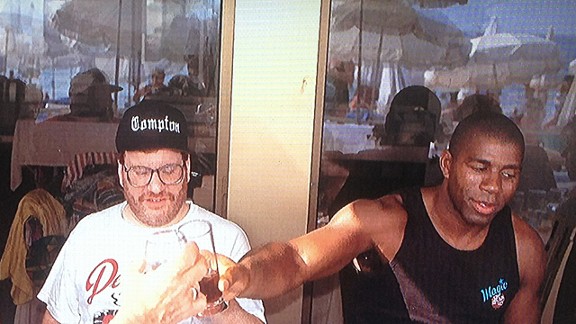 My fascination with this hat is less that it exists, and more that this Bruce Vilanch–ish character found a way to upstage Magic Johnson, who was wearing a tank top that said "Magic." You, sir, are a legend.
What I would pay for this piece of clothing: $80 (if it was actually from 1992)
3. Michael Jordan: Two-Piece Jordan Brand Short Set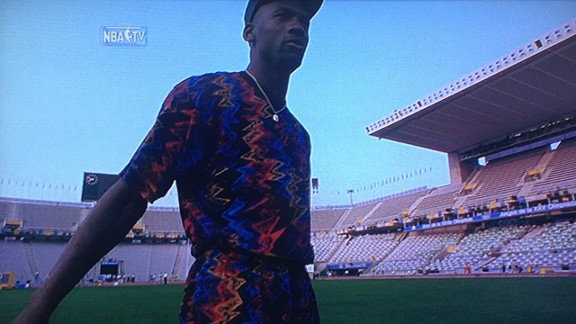 This is just a phenomenal work of art on Michael Jordan's body, something that makes you cry at the sight of 2012 Michael Jordan. Yes, it looks kind of tacky, but it is perfect on him. Would I wear them as a unit in this day and age? Probably not. But I would wear the shirt with some jeans and the next day the shorts with a tank top and continue that alternating pattern until the intervention. Oh, Michael.
What I would pay for this piece of clothing: $200 (for the set), $75 (if I could only get one piece)
2. Charles Barkley: Magenta Nike Force Jersey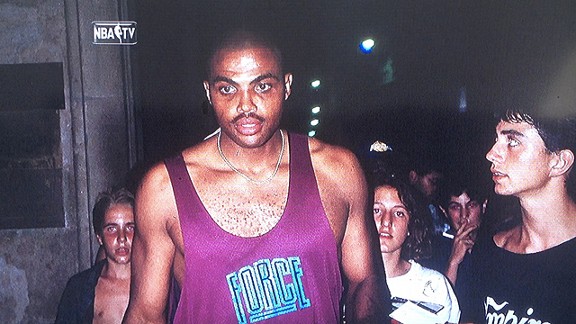 This is a truly perfect piece of clothing. From the color, to the fact that it's a jersey and not cotton, to the logo, to the 75 percent chance that it's reversible, I almost can't stand to look at it because I'm reminded that I don't own it. I'd wear it three times a week between March and October and lock it in a safe at night, just to be sure. Look at how those kids are looking at Charles. They love him, because they've never seen someone wear anything that majestic before.
What I would pay for this piece of clothing: $150
1. Ahmad Rashad: Inside Stuff T-shirt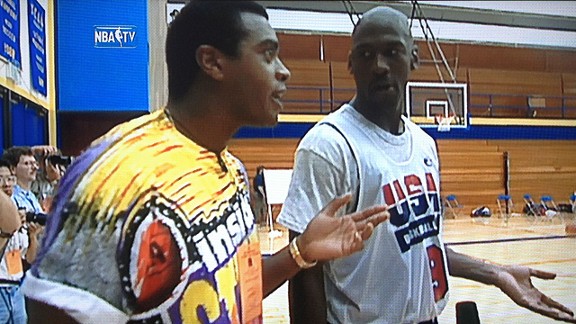 Let's cut to the chase. If you own this shirt, I will pay you everything for it. When I took this screenshot, I didn't even realize Michael Jordan was in the picture. That's how blindingly gorgeous it is. I can't believe it exists. And notice Ahmad's subtle roll-up of the sleeve. That's EXACTLY what I would have done were I interviewing Michael Jordan in Barcelona. Ugh. Just someone give it to me. Please.
What I would pay for this piece of clothing: $The Amount of Money I Lost In Vegas
Honorable Mention: Charles Barkley's Mustache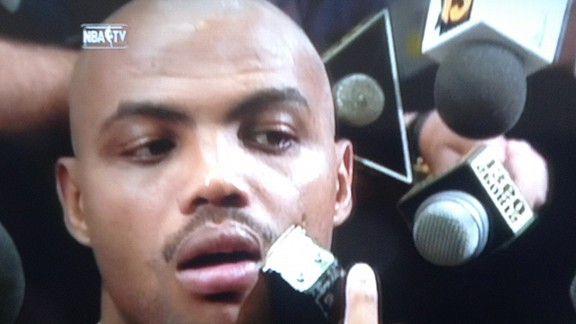 LOOK. AT. THE. SYMMETRY. If Denzel's face were a mustache, it would be Barkley's '92 'stache.
---
Not Related: This is the happiest photo ever.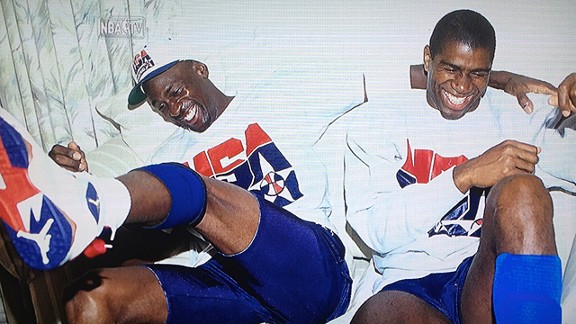 "We're brothers. We're happy and we're singing and …"
Oh, and Barkley's 1992 CD collection: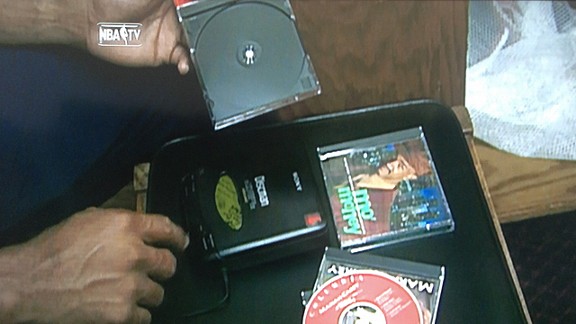 Yep, that's the Mo' Money soundtrack. What's that next to it? That partially covered-up word looks a lot like "Marky Mark." And on top of that? I see Mariah Carey, and without being sure, I'm going to guess Emotions. Well done, Charles. Well done.
Filed Under: NBA, Rembert Browne