How Can Team USA Use Blake Griffin Effectively?
Blake Griffin, Andre Iguodala, and James Harden secured the final three spots on the U.S. Olympic men's basketball team, beating out Eric Gordon, Rudy Gay, and no. 1 draft pick Anthony Davis. Griffin may be the most interesting selection, because, more than anyone else on the roster, it's not clear that his game will translate to the international style of play.
Griffin isn't the typical international big who can stretch the floor, knock down shots, and play the pick-and-pop game. If you look at Team USA's possessions from the World Championships of 2010 and compare them with Griffin's from this past NBA season (using data provided by Synergy Sports), you see a stark contrast.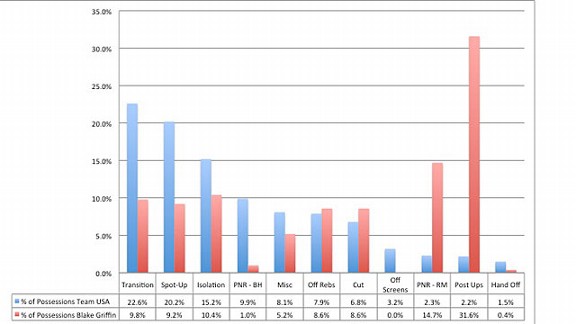 Griffin's two most common plays, posting up and functioning as the roll in pick-and-rolls, were two of the least-used play types for Team USA in 2010. Bigs were not as instrumental to the team's strategy, which used them as spot-up guys, creating a challenge for Griffin.
In 2010, Lamar Odom was the primary big, and he could do all the things we expect in international basketball. Griffin doesn't have the same 3-point range that Odom or Kevin Love have, and even inside the 3-point line, Griffin struggles in catch-and-shoot situations. In spot-up situations, as described by Synergy Sports, Griffin posted a PPP of 0.817 (37th percentile in the NBA) on 41.2 percent shooting.
Griffin needs to work on his shooting motion. He gets too low in his stance, bends his knees a little too much, and jumps too high on the shot, all of which lead to inconsistency on his release and many misses.
How can Team USA use him effectively? One option is to get him the ball in transition, but that's not easy to do. Rather, isolations will be how Griffin gets his touches. The team had a high rate of isolation possessions during their run in 2010, relying on talent and super-quick ball handlers to create scoring opportunities. While most of these isolation possessions were for Kevin Durant, Russell Westbrook, and Chauncey Billups, I can see Griffin getting some during the Olympics. He will be one of the most athletic power forwards in the Games. He can make a catch at the elbow and make a quick move to get by his man with his first step. It's something he had success with last season, posting a PPP of 0.832 in isolation situations (70th percentile in the NBA).
Griffin can make an impact, but only if he is used correctly. With the right game plan, he will be an asset, but the coaching staff shouldn't expect a Lamar Odom carbon copy.
Filed Under: Blake Griffin, Kevin Love, Olympics, Sebastian Pruiti, Team Usa, Total Breakdown