How Agents Influence the Draft
Former NFL agent Josh Luchs, whose new book, Illegal Procedure: A Sports Agent Comes Clean on the Dirty Business of College Football, comes clean on the dirty business of college football, offers his view on how agents influence the draft.
We all know that players' stock rises and falls up to, and even during, the NFL draft, which begins Thursday night in New York. But how does this happen? What looks like good or bad luck is often the work of the one person who can really influence a prospect's fate throughout the NFL combine, team workouts, and in the months leading up to the event — his agent.

Near the end of this past season, Arizona State linebacker and Butkus Award semifinalist Vontaze Burfict was considered a potential high-round draft choice. But lately, at crunch time, his draft stock has been in a free fall. There has been talk of character issues and locker room scuffles. But let's be honest — if that were enough to torpedo a guy in the draft, there would hardly be anybody drafted. A good agent should be able to chalk that stuff up to "boys being boys." The truth is, that's what teams want to hear, and they'll swallow it if you feed it to them the right way.
But it takes more work to cover a slow 40-yard dash time. Burfict had two sprints in the books, a 4.9 and a 5.10 — slow and slower. In fact, his workouts are no worse than Maurice Clarett's were when Steve Feldman and I represented him back in 2005, but Burfict's perception is a lot worse. His agent isn't spinning his client's story well enough.
Meanwhile, Ryan Tannehill, the quarterback out of Texas A&M, is rising as fast as Burfict is falling. Why — talent, a great arm, pocket presence? Sure, but he had those attributes when he was slated for the second round and now he'll likely to wind up in the high first round. His agent, Pat Dye, is doing a good job of playing the teams that need a quarterback — the Redskins, Dolphins, and Browns — against each other. When the hour comes, don't be surprised if Ryan (and Pat) are on national television shaking NFL Commissioner Roger Goodell's hand — in the first round.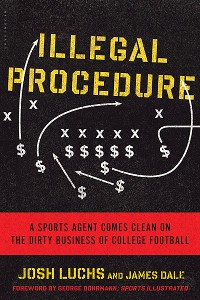 NFL agents' "packaging" of draft prospects is, at its best, an art form. It can't be too blatant because scouts, coaches, and GMs can see through it. It can't be too subtle because … well, because this is football, not international diplomacy. Done right, it works simply because teams want to believe it. It plays on the weakness every team has — they all have more needs than they have high draft picks … or money. They actually want to believe there's an overlooked player, a mid-rounder who could turn into a star, a player who is just coming into his own, a troubled kid who can change.
There are two ways teams judge a player: production — what actual game films show — and potential — what the player shows in workouts. An agent's job is to package and sell whichever part looks best. The best agents do it well enough to change a client's draft position.
So what could Burfict's agent have done to help him move up the board? What could other agents have done for their tumbling clients? Every case is different, but here's a couple from my career that might help illustrate how a good agent can work the draft.
Of all the players my partners and I represented — high draft picks, future NFL stars, bonus babies — probably the best examples of our packaging players were running backs Chris Henry of Arizona and Clarett, who came out of Ohio State. Based on their eventual NFL careers, it's pretty clear that they were drafted higher than they should have been. In both cases, Feldman and I did our job by getting teams to look at them and draft them despite the facts. Henry started a handful of games at Arizona but at his Pro Day and the Combine, he was a workout warrior — running a 4.3 40 at 230 pounds. We spread the stories of teams — scouts, GMs, and position coaches — salivating over his performances, telling just the right people, and let the rumor mill do the rest. In the end, Henry went from nowhere in the draft to the upper half of the second round.
Clarett was an even more impressive case. He'd been out of football for two years; and even when he was playing, his whole career was surrounded by controversy and doubt. But his game films from Ohio State were breathtaking … especially compared to his pre-draft workouts, which were crappy, to use the professional terminology.
We used a few tricks to massage his workouts from crappy to barely passable. Maurice hadn't performed well at the Combine, despite stories we'd been circulating about how hard he was working during his suspension from the NCAA. So, we scheduled a Pro Day at Ohio State — where he was still suspended — and predictably, they refused to let him work out there. I leaked the news to buy time for him to prepare, and for us to move the workout to a location close to his high school that had a faster surface. It worked like a charm — his time was more than a tenth of a second faster than what he'd done at the combine. From then on we sold Maurice based on his Ohio State film and interviews that gave off the impression that this was a new, more mature Maurice Clarett. We told one team that another franchise was going to draft him in the fourth round, then bounced back and forth again and again, telling each team what the other was considering. Maurice went as the final selection of the third round to the Broncos, higher than anyone ever thought. He never played one game, not one single snap.
Sports agents are not miracle workers. They can't turn a lousy player into a great one. They can't make a team draft a player. But they can make sure there's no money left on table. Where a player lands in the draft can make or cost him millions, literally. Consider the stats: In 2010, base salary and bonuses for the average first-round pick were $14,121,000. Average second-round pick: $2,203,600. Third round: $765,675. Fourth round: $471,585. Fifth round: $178,110. Sixth round: $100,230. Seventh round: $50,630. And if you don't think one spot, up or down, can make a difference, last year, the top pick in the second round signed a multi-year contract that would give him an average annual income of $1,027,500 but the last pick in the first round got more than $1.6 million. Over a five-year contract, that's a difference of $3 million for losing one spot.And the agent's cut of that is likely to be in the six figures.
In case you think that all the nefarious deeds that sports agents do are against the law or the NFLPA or NCAA rules, there's one thing they do that's perfectly legal, as it is in politics and on Madison Avenue — sell their clients. If they do it well enough — interviews, media hype, workout buzz, game films, rumors, pitting teams against each other — it can make their clients a lot richer. If they don't, they better brace themselves for a costly draft-day slide.