#HotSportsTakes: The Manning Family Doesn't Want It Bad Enough
Charles Eshelman/FilmMagic/Getty Images
Every now and then, we will attempt to write the worst sports column on earth. Today: Let's talk about the First Family of Football.
DENVER — Peyton Manning has impressed me this year, no question. He's made all the throws, he's put up all the gaudy stats that make the number crunchers drool, and he's as classy as they come in professional sports.
But when push comes to shove, he has got no knockout punch.
Peyton was out of his weight class in New England this weekend. We all saw it. And while I watched his Broncos on the ropes Sunday, I couldn't help but think back to a few hours earlier, when I watched his lightweight little brother get outclassed in the biggest game of the Giants' season.
Next to the greatest field generals, these guys look more like field colonels. And you know what happens to colonels? When the heat is on, they pop.
That was Peyton in the second half Sunday.
That's been Eli all season long.
But if we're being honest, doesn't it all come back to Archie? He had all the moves, made all the throws, said all the right things. Anyone who knows anything will tell you Archie Manning was a great quarterback. But what did he win?
At Ole Miss, he never won an SEC title. With the Saints, he never made the playoffs. All the highlights in the world weren't enough to make him into a winning quarterback.
Years later now, everyone in the media wants to rewrite the narrative and say that Archie spent his whole career on bad teams. Of course. Archie never got the help he deserved, Archie never had a chance. It's the same script we follow with Peyton and Eli every year.
How long do we have to keep up this song and dance before these guys face the music?
How long do their fans get burned before someone holds their feet to the fire?
We deal in facts here. Save the narratives for creative writing class.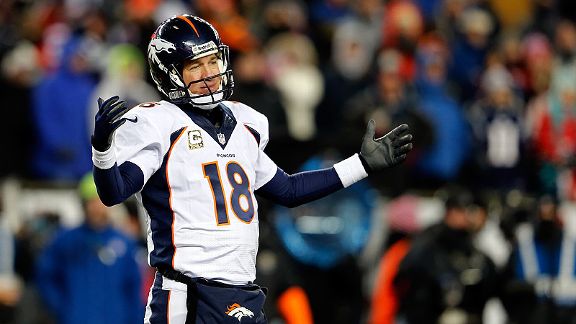 I don't mean to be negative, but the reason a culture of accountability is so important in this society is because it's our responsibility to celebrate our heroes for the right reasons so that future generations learn the right lessons. If we celebrate the wrong winners, we all lose. I'm no expert here; I'm just a regular guy who watches football every week.
Not zany MasterCard commercials. Not Saturday Night Live. Not inspiring ESPN documentaries. Football.
Isn't that why we love America's game? There's a lot of fame and fortune out there during the week, but the only gateway to glory is between those hashmarks on Sunday.
That's the proving ground. That's the battlefield.
Eli has thrown 17 interceptions this year, and the Giants are dead in the water at 4-7. Peyton has impressed me, but the Broncos just lost the biggest game of the season on Sunday, and Peyton was mostly invisible after halftime.
The tape never lies. The tape told the truth about Archie, and if anyone dares to pay attention, it's telling us the same thing about his sons. If this were The Godfather, both these brothers would be Fredo.
They just can't stop breaking your heart.
And it's a shame, too, because there's no classier family in football. They do things the right way. Peyton is the ultimate student of the game, and he's been on some great football teams that have helped him win big over the years. Eli and Archie always liked to improvise, and they're fun to watch. Eli won two Super Bowls flying by the seat of his pants while the Giants' defense tore apart bigger favorites. This family has had its fair share of success.
But look at the facts. Eli has thrown so many balls to the other team this year, sometimes you forget he plays for the New York Giants.
When you look at these three quarterbacks, each one had endless potential, and when we look back at their careers, each one has fallen short of what they could've been. You can't help but cringe for Olivia Manning every Sunday.
She has seen the game tapes, and she knows what's coming better than the rest of us. It happens over and over again with this family.
Disappointment is the family heirloom.
I'm sure Olivia loves the Manning Madness, but you have to think she'd be happier cheering for the Brady Bunch. It comes down to what you want in your quarterback. Do you want big names or big wins? Do you want stats or do you want guts? Call me old-fashioned, but I'll take an ugly underdog over a glass-jaw favorite any day of the week.
The tape doesn't lie.
If it walks like a duck and talks like a duck … it must be a Peyton pass in a playoff game.
Look, they've got wins that nobody can ever take away, but going forward, it's just something to think about. We talk a lot about the clutch genes inside true champions.
Maybe there's a disappointment gene, too.
Peyton can call a hundred audibles at the line, but he can't change his DNA.
Maybe the Mannings are better at being famous than leading fourth-quarter drives. Maybe they can't fight through the wind and the cold to win the big one. They can't go that extra inch to make bad teammates good enough. They don't want it badly enough.
I like this family, but I wonder if maybe we'd all be better off celebrating them as great entertainers and not-quite-great football players. If we adjust our expectations for Peyton and Eli, maybe one day we can all stop being disappointed.
For now, the only certainty we have is that gridiron and what happened out there this weekend. There's truth between those hashmarks.
The truth? If superstars in any sport don't want it bad enough, they may put together a few highlights and put up some big numbers, but they won't walk away with a win. In life or on the football field, if you're not elite, you get exposed. It's true every day of the week.
And twice on Sunday.