#HotSportsTakes: Is Andrew Wiggins Bad for College Basketball?
Jamie Squire/Getty Images
Every now and then, we will attempt to write the worst sports column on earth. Today: Let's talk about Andrew Wiggins and the new culture in America's gymnasiums.
CHICAGO — It's not that nobody's excited for college basketball this year. We have more talent than ever all across the country, and when things tip off in Chicago tonight, it will herald the dawn of one of college basketball's most anticipated seasons in years. From coast to coast, there's a wellspring of hope. So why do I keep seeing a wellspring of nope? Maybe it's not about what college basketball is.
Maybe it's about what college basketball should be.
Think back to someone like Tim Duncan.
He was one of the most talented players we've ever seen in the college game, but what was so magical about Duncan is that he came to a college campus and actually learned something. He was a star, but he was part of a program. And in the end, his Wake Forest teams prospered, Duncan developed into a no. 1 pick over four magical years, and the system worked for everyone. That's what college basketball used to be. Now?
College basketball is magazine covers — ESPN The Magazine and Sports Illustrated in the same month. College basketball is the NBA hype machine going full throttle before Game 1. College basketball is all a puppet show, and shoe companies pull the strings. College basketball is a sold-out crowd in an NBA arena tonight.
Haven't you heard? College basketball is Andrew Wiggins this year.
Forty thousand fans are in Chicago ready to go nuts over the latest supernova freshman, shooting across the college basketball sky for the next five months before he skips to the pros.
Am I the only one who's burned out by all this?
Wiggins, Jabari Parker at Duke, Aaron Gordon at Arizona. So many talented young players ready to dazzle us for the next four years. [Wink, wink.] So many exciting opportunities for these young student-athletes. [Wink, wink.] And let's not forget Kentucky basketball, with all the NBA talent John Calipari could bring to Lexington through entirely legal and innocent recruiting pitches. [Wink, wink.]
We spend so much time winking, we might as well have our eyes closed.
Wiggins personifies all of it. Half the NBA is "Riggin' for Wiggins," but in the meantime, college hoops might just go kaboom.
This one-and-doneism that has taken hold of the culture in basketball isn't necessarily a problem, you say. And sure, OK. Change isn't necessarily a crisis. And it's not my job to tell you what to think. I'm just here to write a sports column and ask questions.
Question: These flash-in-the-pan freshmen may sizzle, but can they handle the stakes?
For example, Wiggins has loads of potential, but isn't it a little premature for Sports Illustrated to put him on a magazine cover comparing him with Wilt Chamberlain and Danny Manning? Those were two of the best players this sport has ever seen. Comparing Wiggo to Wilt is like comparing Luke Walton to Bill Walton. It does a disservice to everyone involved.
Question: Can we put the Wiggins Hall of Fame induction on hold for a few weeks?
This happens every year these days. Last year it was Shabazz Muhammad, this year it's Wiggo, next year it'll be somebody else. There's always a new freshman to come in and overshadow everyone else in this sport.
Question: Have you heard of Doug McDermott?
The senior star scored 37 points for Creighton on Monday. It wasn't on national TV at United Center, but the Blue Jays were red hot in Omaha last night. And that's what this sport used to be all about. Small gyms, big hearts.
But in 2013, nobody has time for a four-year star like Dougie dazzling us all year long and giving the country a free PhD in McDermottology.
Where is he in the latest mock draft? Not no. 1? Who cares, man.
The problem with this superstar culture and guys like Wiggins is that it all teaches fans to love this sport for the wrong reasons. Think of the young Kansas fan. He has watched Xavier Henry, Darrell Arthur, Ben McLemore, now Wiggins. He must think college basketball is all about which stars you can get for one year at a time.
That's not college basketball. That's Calipari basketball.
It's a crazy concept, I know, but college used to be where great basketball players went to learn. The biggest stars in this sport used to be the coaches, the ones who ran programs and gave us great teams every year. Lately, we have great players for a year at a time, and the name on the front of the jersey is just detail. Learning is an afterthought.
Four years? Try three letters: L-O-L.
There's plenty of dunking, but not many Duncans.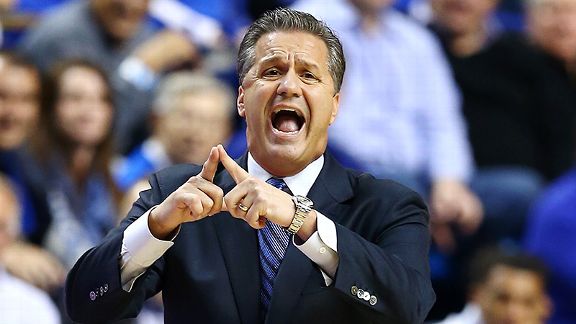 Teaching doesn't matter anymore, and college hoops is just a showcase for the pros. For the best players, it's just one big tryout. It's all about guys like Calipari, the two-bit hustler selling dreams while the game goes bankrupt. Go Kentucky, I guess.
Nobody's telling you to boycott Kentucky and Kansas and the rest of college basketball until this mess gets cleaned up, but it was on my mind as we get set to tip things off in Chicago tonight. Someone once asked the great Bobby Knight about watching pro basketball, and he said, "If the NBA was on Channel 5 and a bunch of frogs making love were on Channel 4, I'd watch the frogs, even if they were coming in fuzzy."
Well, tonight's basketball happens in an NBA arena, on national TV, with corporate sponsors all over the floor and four games full of big-name superstars looking to impress NBA scouts. Is it college or pro? Who even knows anymore. Hopefully they play that new Robin Thicke song all month long at the Big Dance.
The lines are blurrier than ever.
But hey, I'll be in the stands tonight just like everyone else. That's my job.
I may laugh at the quality of play, chuckling at the way this generation tries to live up to the past, like the difference between Luke Walton and Big Bill. But I'll be there to see it all. And when the final buzzer sounds, I'll just take a moment to myself.
A moment to remember Duncan, remember Knight, and remember the days when mock drafts didn't rule the world. When college basketball players like Wiggins used to come to school to learn for four years and leave as full-grown adults.
Some young Kansas fan might call me old-fashioned, I guess.
But I remember when college basketball used to look something like college.
Filed Under: College Basketball, Andrew Wiggins