Holiday, Hinkie, Noel, and the Night That Changed the Sixers
Rob Carr/Getty Images
For the Sixers, last season was a seeping hell ship. Creaky-kneed center Andrew Bynum dedicated his year to dominating the international flamenco dancing circuit, trade-jettisoned young talent flourished in Orlando, and coach Doug Collins's proud pursuit of mediocrity ensured a charmless team landed late in the lottery. The lone pinhole of light in the darkness was Jrue Holiday. In his fourth season, the young point guard averaged nearly 18 points a game, was third in the league in assists per game, and made his first All-Star appearance. If Philadelphia entertained any dreams of rebuilding, Holiday was surely the keystone.
Last night, the Sixers stunned both fans and the basketball cognoscenti by shipping Holiday to the New Orleans Pelicans for the sixth pick, Nerlens Noel, and a first-rounder in next year's draft. If anyone believed the Sixers' current roster could be redeemed, this was a bullet to the head, delivered execution-style in a boarded-up bando.
The dead-eyed triggerman was Sam Hinkie, the Sixers' new general manager. For those unfamiliar with his résumé, he spent the last eight years in Daryl Morey's laboratory cooking up metrics for the Rockets. And by trading Holiday in his first move, he made it clear that his tenure in Philly will be governed by the same bold, coldblooded dedication to asset collection that characterizes the regime in Houston. Sixers fans should be happy about this.
When Hinkie took the reins, some thought he could help transform Holiday into the Sixers' version of James Harden. Both are big guards with lightning-quick first steps, equally capable of dumping in buckets and creating opportunities for teammates. Last season, they both took about 17 shots a game, both shot 36.8 percent from 3-point range, and both turned the rock over 3.6 times per 36 minutes. If the Sixers' putrid, midrange-jumper-centric offense was rejiggered into something spread and fluid, Holiday might make the leap into an elite category.
Where others saw potential, Hinkie saw trade value. While the safe assumption was that Holiday's youth, impressive numbers and reasonable contract guaranteed he would stay in Philly, those same qualities made dealing him the Sixers' best option for rebooting an organization that had been stripped barren by the Bynum trade. Despite Holiday's gaudy stats, a closer look reveals the logic behind selling high. Unlike Harden, Holiday has always been an inefficient volume scorer who rarely gets to the foul line. His assist-to-turnover ratios, rebounding rates, and steal rates haven't improved since his rookie year, and his soaring numbers from last season were more reflective of greater responsibility than elevated play. He's a fine player, but Jrue had too many deal breakers for Hinkie to fall in love with.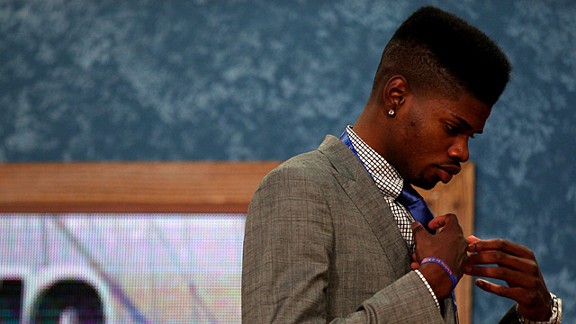 In Noel and Syracuse's Michael Carter-Williams, whom the team selected with the 11th pick, the Sixers now have lovable players. They're young and unpolished creatures with elongated appendages and tremendous upside. One of them even has excellent hair. The 2014 first-round pick from the Pelicans will come in a draft stacked with foundational talent. Hinkie also flipped the Sixers' second-round pick into rebounding machine Arsalan Kazemi, a 2014 second-round pick, and future considerations from the Mavericks. The whole damn building is getting pulled down. The reconstruction starts now, and Evan Turner should probably start packing.
What's next here? Other than taking an axe to the rest of the Sixers' godforsaken roster, Hinkie has plenty of cap space to blow. Bynum's return appears increasingly unlikely, but young free agents such as Tyreke Evans (restricted) and J.J. Hickson might fit a revamped unit in Philadelphia. Hey, Kawhi Leonard, there's a max deal waiting for you in two years!
Filed Under: NBA, NBA Draft, Philadelphia 76ers