Here's What Can Happen When a 21-Foot Stanley Cup Water Fountain Is Unveiled in Times Square
On Wednesday, at 11 a.m. ET, a ceremony took place to celebrate so many things:
The beginning of the 2012 NHL playoffs
The unveiling of a 21-foot, 6,600-pound Stanley Cup replica, which happens to double as a drinking fountain
Former NHL players Clark Gillies (Islanders), Grant Marshall (Devils), and Adam Graves (GO RANGERSSSS)
The city of New York's fantastic drinking water
Sixteen youth hockey players, each wearing a jersey of a team in the 2012 playoffs
The actual Stanley Cup

The symbolism behind the fountain and the Cup was to let the average non-champion have the opportunity to "drink from the Cup." I can't lie; that's pretty clever.
While the program was pretty simple (short speeches by NHL Commissioner Gary Bettman, NBC Sports Chairman Mark Lazarus, and Carter Strickland, commissioner of the NYC Department of Environmental Protection), the 45 minutes I was in attendance could not have been more eventful.
1. The walk-in music for the esteemed guests was "Levels" by Avicii.

You just can't predict that. I easily had my money on a three-song Nicki Minaj set.
2. Every third sentence had to drip with hyperbole.
Things I learned:
Stanley Cup — "Greatest trophy in the world"
Hockey — "Greatest sport in the world"
Hockey — "Most fast-paced sport in the world"
NHL Playoffs — "Two greatest months in sports"
Stanley Cup — "Hardest trophy to win"
Times Square — "Crossroads of the world"
New York City — "Greatest water in the world"
3. New York City's tap water has zero calories.
Good to know. I've got a September wedding coming up and have a suit that I best be able to squeeze into.
4. Rangers fans have no control over when, where, or how loudly they scream "GO RANGERS."
It's a pretty amazing thing, seeing as I'm on Year 25 of mumbling "Go Hawks?" under my breath.
5. Hockey fans have no problem with booing the NHL commissioner.
It was like that "YOU LIE" Obama State-of-the-Union moment, but no one was upset.
6. It's very hard to stay focused on the program when there are 194 shiny, moving advertisements in the background.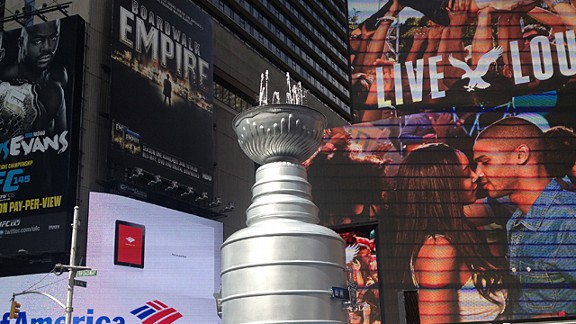 I zoned out for five minutes and made up a whole story about that couple in the American Eagle ad. It had a very cute ending.
7. KIDS LOVE WATER.
I'm serious. Look: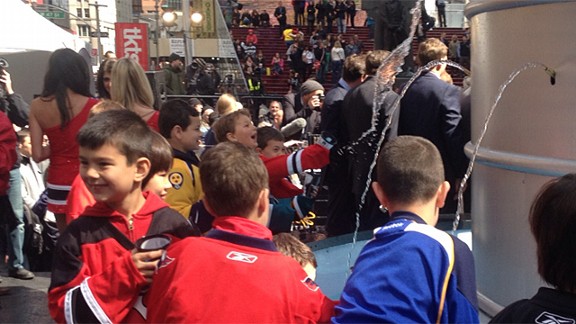 8. Girls have always and will always be more mature than boys.
I'm serious. Look: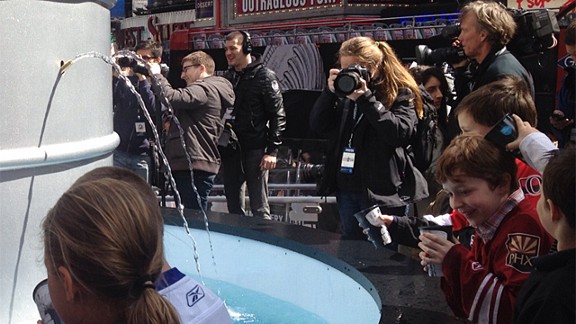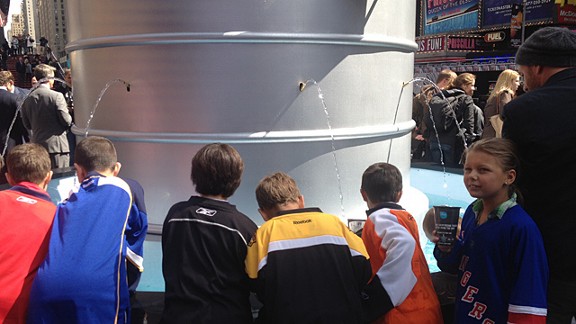 9. The water was really good.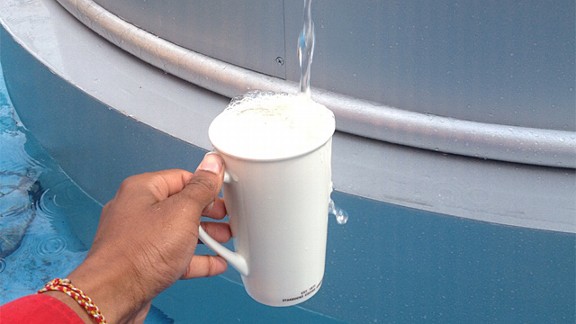 My man Carter Strickland is a lot of things, but a liar is not one of them.
10. It's all fun and games until you're scolded for considering whether to put your mouth under the spout.
Just don't do it. The public humiliation (with children running around) just isn't worth it.
11. It's also all fun and games until the wind picks up and turns the fun platform into Splash Mountain.
The quote, "Girl, I knew I should have worn my rain boots to this," pretty much made my day.
12. You can forget to take a picture of the actual Stanley Cup.
Fail. Massive fail. But at this point, if it doesn't dispense zero-calorie water, I'm really not impressed.
Filed Under: NHL, Rembert Browne, Stanley Cup