From Game 1 to the Groupie Apocalypse: Remembering the NBA Finals
Jesse D. Garrabrant/NBAE/Getty Images
We just watched one of the greatest NBA Finals of all time. We also live in an era where pretty much everything is instantly forgotten. So, for posterity's sake and because remembering it all at once is way too much fun, let's put together some memories and thoughts so we can remember this properly. Without further ado … Here's some of what we should never forget about the 2013 NBA Finals.
1. "If we gonna go down," LeBron James said on the ESPN set after the game last night, "I'm gonna give everything I got. Everything. I'm gonna shoot all the bullets, and I'ma throw the holster and the gun." He's talking about the fourth quarter of Game 6, but, really, he shot all the bullets over the past two games, threw the holster and the gun, too, and holy shit it was fun to watch. When LeBron goes nuclear like he did in Game 6 and Game 7, he's as unstoppable as any player ever.

After the 2007 Finals, Tim Duncan told LeBron, "This is gonna be your league in a little while. I appreciate you giving us this year."
It's his league now. The Finals were just more proof.
2. This was the best Finals since at least 2008, and probably dating back to Michael Jordan's years and the early '90s. To keep the explanation simple: You almost never see a series where there's doubt about who should win. Or who deserves it. Usually one team makes enough mistakes so that saying they "deserve" to win is completely ridiculous. Like the Thunder last year, or the Heat in 2011. Or when it's close, it's ugly — like Spurs-Pistons in 2005, or Celtics-Lakers in 2010's Game 7. With this series, it felt like both teams were great enough to win. And the basketball was awesome, never ugly. It started in Game 1 with LeBron's perfect defense and Tony Parker's miracle jumper, and just continued from there. They traded outrageous nights for the first five games, and then in the last two, they both came up huge over and over again, from possession to possession. It was like basketball crack.
In no particular order, other random stuff that made this series great:
• Mike Miller hitting a 3 with one shoe on.
• LeBron destroying Tiago Splitter's soul on national TV.
• Chris Bosh girding his loins for Game 4, and this incredible flop.
• Bosh being the hero, like, three different times in Game 6. (Example.)
• When we all had the same response to someone named "Jesse Williams."
• Spurs fans expertly trolling the city of Miami.
• Heat fans being Heat fans. And then some.
• Pop's press conference before Game 5. YOUR QUESTION DEMANDS MY TRITENESS.
• And speaking of triteness, Shea Serrano somehow sent text messages to Gregg Popovich during every game.
It was all awesome.
Also: Mario Chalmers was either great or terrible basically every other night, and then somehow hit this shot in Game 7, which was actually kinda huge.
It was the perfect Mario Chalmers series.
And it all ended with the groupie apocalypse, as every NBA Finals should.
3. Danny Green. DANNY GREEN.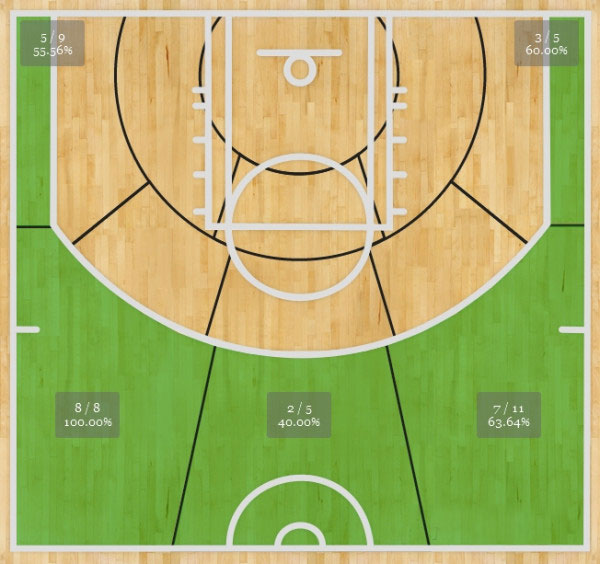 That was his shot chart after five games. If someone reads this five years from now, there's a good chance they will have no idea who Danny Green is, and I'm telling you, THAT'S WHY IT WAS SO AMAZING.
4. I swear, there were really about four or five quarters where Boris Diaw was guarding LeBron and not just holding his own, but kind of shutting him down.
LeBron James is now 1-8 FG, 4 pts versus Boris Diaw tonight. He's 6-12 FG, 18 pts versus all other defenders.

— ESPN Stats & Info (@ESPNStatsInfo) June 17, 2013
I'm as baffled as you are.
5. "Hey remember when LeBron James had that one commercial where he was just practicing sick post moves by himself in an empty gym, and then he paused that random Imagine Dragons song to take Dr. Dre's phone call, then put Dre on hold so he could go dunk?"
YEP.
It made no sense during every Finals commercial break, and it'll only get better when somebody finds it 10 years from now. Shout-out to Imagine Dragons.
6. Not to bring the party down, but Manu Ginobili had one of the worst Finals we've ever seen from a superstar. He's aging, and it showed, and it was painful to watch him self-destruct. "I'm very disappointed, very upset," he said afterward. "I really can't say anything." He was brilliant in Game 5, and this pass will live forever, but if this is how Ginobili ends his career, it totally sucks. As great as the entire series was, it just was awful that it had to play out like that for Manu.
7. On the other end of the spectrum, Ray Allen. To recap: The Spurs were up three in the closing seconds of Game 6, and NBA security brought out yellow ropes to control the crowd and prepare for the trophy presentation. LeBron took the shot to tie it, but it rimmed off. The rebound went to Bosh, who shoveled it to Allen. Then Allen somehow found the 3-point line while backpedaling, set his feet, hit the shot to tie it, and then yelled, "Get those motherfucking ropes out of here!" Because sports are awesome.
Because Ray Allen is awesome.
(Did you know he eats an entire cheese pizza after every game? Ray Allen is awesome.)
8. Chris Bosh is an NBA champion again. Yes.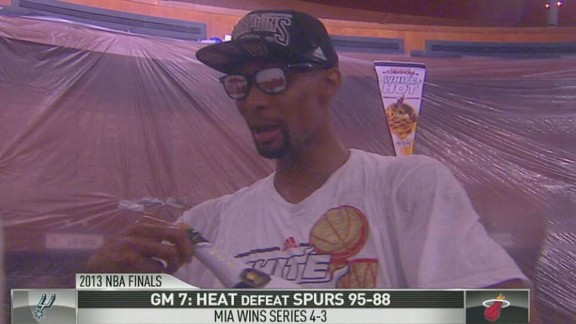 Birdman is an NBA champion for the first time. YESSSSSSSSSSSSSSSS.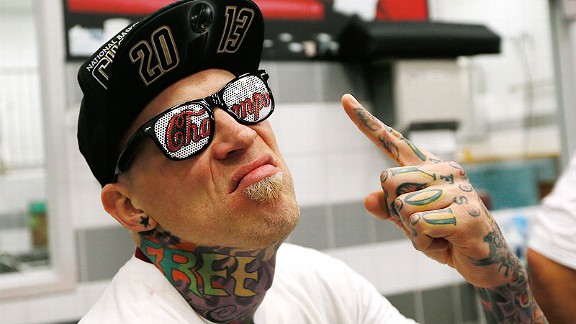 9. "I have so much respect for them," Dwyane Wade said last night when he was asked about the Spurs. "We went through that whole series and a couple of those guys, I ain't heard their voices yet. They don't say nothing to ya, they just kick your butt. No trash-talking. Kawhi Leonard, I don't even know how he sounds. But he's a bad boy."
Yes, Kawhi. It'll be interesting to see where his career goes from here. He can't necessarily create for himself on offense, but he's enough of a freak to dominate on both ends regardless. Does that change if you take away the Spurs' other stars? Or does Leonard develop more skills and turn into a full-fledged superstar somewhere in the near future? Because he's athletic enough to do anything, and still just 21 years old. We'll see. In this series, at least, Leonard was unreal. Every time you thought he couldn't possibly come through again, he did. On both ends of the floor, over and over again.
So he was the Spurs, basically.
The best way to explain the Spurs is that I've never seen a team have to earn a title as much as the Heat did in this series. The San Antonio role players and superstars each took turns stepping up, they fought back all series and especially in Game 7, and in general, they scared the shit out of Miami for the entire two weeks, and the Heat needed everything to go right to steal this from San Antonio.
As LeBron said of Game 6 on ESPN last night, "You need a little luck."
On the other side, the Spurs got unlucky, so one day people will look back at this series and talk about LeBron, not the Spurs. That's fair. But it should be noted: Even if they lost, pretty much everyone has more respect for this Spurs team than ever before. For what they've done over the past decade, for what Duncan and Popovich just did over the past two weeks, and especially for Leonard, and what might happen from here.
10. Someone on NBA TV asked LeBron about getting ready for a Game 7. "Coming into Game 7," he said, "you're nervous, you're excited, you got anxiety. You can't sleep! I couldn't sleep last night or today. Couldn't get nothing, I was just so excited about the opportunity. But I'm blessed. We're all blessed to just be a part of this game."
There's this video of Kobe Bryant on YouTube. It's something like a mini-biopic that looks at his entire career through highlights, one of those random things you find on YouTube that blows your mind. You should check it out if you have 10 minutes to kill today, because (a) it's pretty awesome, and (b) looking back on Kobe's career shows you just how much he's packed into his 17 years in the spotlight. It's a good reminder of how surreal the journey can get when we're dealing with the greatest players of all time. The real transcendent guys just become part of our lives, and we watch their careers unfold without realizing how crazy it all is.
It feels normal in the moment, until one day we find a video on YouTube and remember how insane it's all been.
Anyway, in this moment: LeBron is 28 years old, he's got four MVPs, two titles, two Finals MVPs, and if we're talking about entire careers, he's barely at the halfway mark.
There's never been anyone like him, for 100 different reasons we don't have to rehash here. He struggled at the start of these Finals in a baffling, self-conscious way that we've only ever seen from LeBron, and then when his team needed him in Game 6 and Game 7, he came back and destroyed everyone in a way that we've only ever seen from LeBron.
Thirty-seven points and 12 rebounds in an NBA Finals Game 7, plus passing that turns a defense inside out all by itself, and defense that basically ended Parker's offense after Game 5.
He'll never stop being fascinating, and polarizing, and sometimes frustrating, and everything else he's been for 10-plus years. But he's also getting better. And we just watched him get better over the course of seven games, against the best team he's ever played, on the biggest stage basketball has.
With these Finals, when the series got great at the end, I couldn't totally believe what was happening, and I just felt lucky to be watching. That's pretty much the best thing you can say about any sporting event, right?
And in 2013, I'm pretty sure that's how I feel about LeBron James, too.
Filed Under: Andrew Sharp, Dwyane Wade, Gregg Popovich, LeBron James, Miami Heat, NBA Finals, San Antonio Spurs, Tony Parker