Everything We Always Wanted: 7 Finals Questions Before Game 7
Garrett Ellwood/NBAE/Getty Images
It's been 36 hours, and if you're still hyperventilating after Game 6, that's completely understandable. Tuesday night had me (a) screaming alone in my apartment, (b) jumping out of my seat and doing a lap around my living room and kitchen, and (c) buying a pack of cigarettes at 1 a.m. as I tried to process things afterward.
Everything we've ever wanted from the NBA Finals was right there in one, 60-minute sequence in the second half and overtime. It was batshit insane. It was perfect.
And hey, good news! Now it's time for Game 7.
[Breathes into paper bag.]
To help set the mood, let's run down some of the major story lines in Miami tonight.
1. Can Erik Spoelstra sit Dwyane Wade?
People may not realize this, because Spo wasn't a head coach until four or five years ago, but he and Wade are probably the closest thing the NBA has to Tim Duncan and Gregg Popovich. Read this Kevin Arnovitz feature on Spoelstra. He was a nobody assistant when Wade got to Miami in 2003, but he worked with Wade constantly, broke down video for him, helped refine his jump shot, and the two have been linked for their entire careers. Just like Pop and Duncan.
The difference: Popovich can sit Duncan at any point in any game, and Duncan would understand. He won't take it personally. Wade? We're not so sure.
We only mention this because the numbers are kinda unbelievable.
In Game 6:
Heat O-Rtg with LeBron + Wade on court: 92.0. Heat O-Rtg with LeBron + no Wade: 143.3

— Jared Dubin (@JADubin5) June 19, 2013
In the series:
Let's go for the full series now. O-Rtg/D-Rtg with LBJ/Wade: 100.8/112.7 … O-Rtg/D-Rtg with LBJ/NO Wade: 131.7/89.5

— Jared Dubin (@JADubin5) June 19, 2013
Anecdotally: Bringing Wade back in the fourth quarter of Game 6 seemed to disrupt LeBron and the Heat's rhythm, and it nearly cost them the game. His final possession in overtime was classic "New D-Wade" — he dominated the ball for an entire possession, then settled for an 18-foot pull-up jumper that clanked off the rim and gave the Spurs a chance at a game winner. It didn't cost them, but still.
For his part, Spo has seen the stats and says, "I don't really give a whole lot to those numbers. We're going as far as they take us, along with the other guys. You can't win this series or the last game with a statistic."
But you can definitely lose a series by ignoring a statistic. I'm still convinced the Thunder blew last year's Finals by refusing to bench Kendrick Perkins. Maybe Wade comes out with one of his evil closeout games and renders all this irrelevant. But it's more fun to wonder about the opposite scenario. If things aren't clicking with Wade on the floor, and Game 7's slipping away, how long does Spo stick with the superstar he's coached for the past decade?
On the other sideline: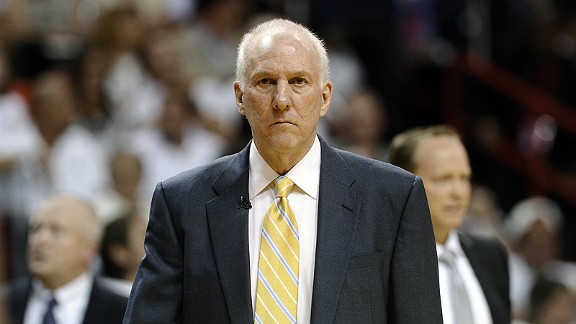 2. What about Pop?
The Spurs dynasty is no stranger to heartbreak, whether it's the Derek Fisher shot or Manu's inexplicable foul on Dirk in Game 7 in 2006. Either of those would drive other fan bases crazy for decades, to say nothing of one or two injuries that have changed their seasons in recent years.
And now this.
Is Pop kicking himself? He's spent all these years with Duncan and has him on the bench for the clinching moment of his career? #ouch

— Roland Lazenby (@lazenby) June 19, 2013
Gregg Popovich is the best coach alive. We know this. But Tuesday … taking Duncan out looked bad, sure, but not fouling the Heat when they were up three is what looks borderline unforgivable in hindsight. I have no doubt Pop will bounce back with all kinds of evil mind tricks tonight — Boris Diaw becomes the best point guard ever, probably — but it's still hard to shake Game 6.
The one thing we can say about this Spurs dynasty is that they've had some truly horrible luck, and so this question is already pretty painful: Did the Spurs miss out on one more title when the best coach alive somehow got outcoached?
Related: Can Tony Parker get it going?
Like Popovich, Parker was getting a lot of love as the best point guard alive as recently as a week ago. So far in these Finals, he's had two great games — 9-of-18 for 21 points and six assists in Game 1, and 10-of-14 for 26 points and and five assists in Game 5 — and four games where he was … not so great. In those four clunkers, he's shooting 20-of-58 from the field, and the Spurs are 1-3. He hit two huge shots in Game 6, but otherwise, he was smothered by LeBron for long stretches. In Game 7, the Spurs are not getting another 25-point first half from Tim Duncan or the 24-and-10 that Manu Ginobili gave them in Game 5.
If the Spurs are going to win tonight, they need Tony Parker.
3. FAN UP, MIAMI
Not actually a question, but still. From Dan Le Batard late in the fourth quarter Tuesday:
So many people have left that I'm honestly embarrassed for this city.

— Dan Le Batard Show (@LeBatardShow) June 19, 2013
Then the Heat came back, and fans were banging on the doors to get back in. It's all amazing. Even if their team was going to lose, they should've stayed and cheered them off, right? It seems like the Internet has decided to be mature and levelheaded about this, and the only possible explanation is that the Game 6 display from Heat fans was just too perfect, and twisting the knife would be too cruel. Whatever, though. FAN UP.
Related: Who is Jesse Williams? WHO IS JESSE WILLIAMS?
Related: Will Filomena celebrate a Heat title by hosting an all-night orgy at LIV in a black-lit VIP-room as Yeezus plays on repeat?
Related: Will Jay-Z have a 24-minute Illuminati infomercial starring Barack Obama that blacks out most of the third quarter to promote his new album?
4. Will the role players be superstars again?
Corollary to the Tony Parker section above: The Spurs need at least one outrageous performance from their role players. Whether that means Kawhi Leonard, Danny Green, Boris Diaw, or Gary Neal, I don't know. They haven't even been role players in these Finals. Leonard and Green have been stars more often than anyone in the Spurs Big Three. The question now is whether the Spurs have enough left for one more holy shit performance from players we never expected to be talking about in the NBA Finals.
No road team has won a Finals Game 7 since 1978, and if the Spurs are gonna pull this off, they need every last bit of role player brilliance. Likewise …
Related: Which Mario Chalmers shows up?
Especially with Zombie D-Wade running around for Miami and slowly decomposing on national television, Chalmers has been huge for Miami. Of course, he is still Mario Chalmers. He was 7-of-11 for 20 points in the Game 6 win, but just 2-of-10 for seven points in the Game 5 loss. The Heat don't necessarily need him to show up tonight, but if Chalmers plays huge, it's hard to imagine the Heat losing. (Note: This section applies to Mike Miller, too.)
5. Will Chris Bosh save Miami (again)?
Look back at Game 6. Chris Bosh was as crucial as anyone over those final few minutes in the fourth, and again in overtime. He had the rebound off LeBron's missed 3, he found Ray Allen in the corner to tie it, and then in overtime, he beat the entire Spurs team down the floor for a layup, and had two crucial blocks in the final 30 seconds to cement the win. He also bounced back after a first half wherein Tim Duncan torched him on every other possession, and in the second half he held Duncan to five points, and none in the fourth quarter or overtime. He will be overlooked no matter what happens, but I'm just just saying, what happens with Chris Bosh tonight will go a long way toward deciding what happens with the Miami Heat. And then, of course, there's also …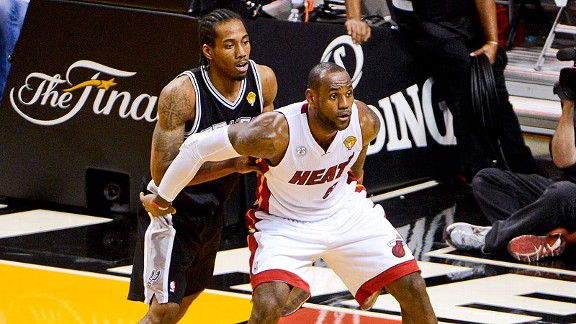 6. Is LeBron James a true wizard, or a muggle who has been lying to everyone at Hogwarts all along?
GUESS WE'LL FIND OUT TONIGHT.
Related: Will LeBron wear a headband? Apparently, yes. But if the Heat start slow, you have to think LeBron will take off the headband at center court and start breathing fire, and then score 40 points in the second half.
But really — LeBron.
I know. We have no idea whether we're getting the Weapon of Mass Destruction LeBron from the Game 6 fourth quarter, or Self-Conscious LeBron from the first three quarters. I know. It's all part of what makes him the most fascinating player we've seen in decades, and as usual, what happens next will only make it all even crazier.
7. Does it get any better than this?
We had to include that promo because the NBA is the greatest.
In 12 hours, we're either getting blurry cell phone photos of Boris Diaw, Tim Duncan, and Tracy McGrady celebrating at LIV, or we're getting blurry cell phone photos of Mike Miller, Mario Chalmers, and Chris Andersen celebrating at LIV.
Before that, we're getting the best player on earth, the most successful team of the past decade, and the best NBA Finals Game 7 in 20 years.
No, it does not get any better than this. SAVOR IT.
Filed Under: Andrew Sharp, Gregg Popovich, LeBron James, Miami, NBA Finals, San Antonio Spurs, Tim Duncan