Cousin Sal's Week 1 NFL Prop Bets!
"Are you ready to lose your 401KKKK??!!" I may hire Hank Williams Jr. to work on that one a little.
We can all breathe a little easier. Football is back. And I figured it went so well last year (just play along) I would again offer up my keen insights as to which weekly NFL gambling propositions are worthy of taking a chance on.
And because I'm in such a good mood after the Cowboys big but sloppy win against the loathsome Giants, this season I'm offering you unlimited *jermajesties!! What the hell do I care? It's all pretend anyway.
Let's begin …

Bears-Colts, longest TD of the game is over 40.5 yards
This prop has a lot going for it. The potential pick-six by a rookie QB; long punt return capabilities with Devin Hester; flukey, forced fumble return for TD possibilities by a strong pass rush against a shaky Bears O-line. Only one major strike against this prop — I'm going heavy on it. 15,000 jermajesties
Lions to score over 28 points
Get used to this one. Especially when Detroit is at home playing against a defense whose members didn't know each other when Snooki was juicehead-gorilla-baby-less. 5,000 jermajesties
Will either team score in the first seven minutes of the Jets-Bills game? NO. (+105)
No — neither team will. In fact there's a chance we'll be seven minutes into their second encounter this season before we see either side put up points. Both squads boast strong defenses — specifically the Bills in their pass rush and the Jets in pass coverage. Look for a chess match early on in which one of the pawns tries to stay under the radar, running shirtless in the rain then praying to Jesus when he senses the cameras are on him. 15,000 jermajesties
Seahawks, under 21 points scored
Wow. Twenty-one? Three touchdowns (or their equivalent) is asking a lot for a rookie quarterback to score on the road in his debut game. I seem to be of the minority opinion in thinking that for his first few games before Russell mania sweeps the nation, the Iron Sheik is playing linebacker with a loaded boot pointed at his head. 15,000 jermajesties
First players to score a TD in Ravens-Bengals game: A.J. Green and Torrey Smith 6/1
I like both these guys to pay big dividends in 2012. "Sophomore slump, schmophomore schmump," I always say. Always. 3,000 jermajesties each
Reasons Queen Latifah inexplicably wore a No. 18 Giants jersey while singing the National Anthem Wednesday night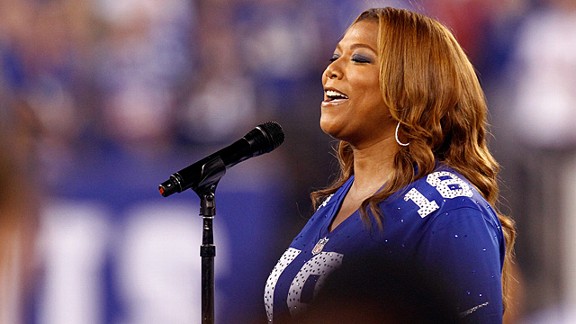 1. She asked her manager for a Manning jersey for the game and, knowing nothing about sports, he brought her a Peyton jersey instead. (2/1)
2. It's an homage to Sage Rosenfels, with whom Latifah had a fling with in the early 2000s. (37,500/1)
3. She's royalty and can therefore wear whatever the f%@& she wants without explanation. (-750)
Over/under $375,000: Amount I will lose gambling on football this year, now that the late afternoon games are pushed to 4:25 p.m. EST
Can I bet $375,001 on the over? The NFL's claim to want nothing to do with sports gambling has hit its pinnacle of balderdash. (I'm going to try to use a new three-syllable word/popular '80s board game every week.) There's no question this time, the change was set up to create less overlap in games, giving degenerate gamblers like us a better chance to double up on their losses. All that said — thank you, Roger Goodell. I'll FedEx you my drink tickets.
Over/under 213.5: Michael Vick dog references the print media makes with regard to the Eagles game in Cleveland this week
Yes — this blurb counts as one. An additional 75/1 odds that the Browns blow out the Eagles, yielding this gem in the Monday's Cleveland Sun News accompanied by a picture of a dejected Vick … "DOG POUNDED!"
Over/under 2017: When Floyd Money Mayweather files for bankruptcy
You probably heard by now that Money was rumored to have wagered $3 million on Michigan over Alabama last week. That lost. I'm going to miss those adorable homemade videos of Floyd stacking $1,000 bills while waiting to depart on his private jet, which he'd shoot on his cell phone. And he's going to miss owning a cell phone.
Over/under 12.5: Hours Chris "Mad Dog" Russo spends this week complaining about the 10:10 EST start for the second Monday night game between the Raiders and the Chargers
I don't blame you this time, Doggy. If I were an East Coaster, I'd be hard-pressed to stay up until 1:30 a.m. just to find out that a Nate Kaeding missed field goal cost me my Week 1 fantasy game.
Over/under 2.5: steps into the 3-step drop of Mark Sanchez's first pass before Jets fans start chanting for Tim Tebow to replace him.
No wager if in the very likely event he fails to handle the first snap. Actually, who are we kidding? No way the Sanchize makes it out of the tunnel for warmups before Fireman Ed and his pals give him a verbal hose down.
3/1 odds this fake replacement ref seen on Jimmy Kimmel Live actually ends up getting hired by the NFL
I haven't seen such officiating incompetence since the late great Leslie Nielsen, playing Enrico Palazzo, dusted off home plate in The Naked Gun.
That's that. Enjoy Week One.
Cousin Sal
(Obligatory weekly explanation: A "jermajesty" represents the fake name given for a dollar amount. It is also the unfortunate name of one of Jermaine Jackson's sons.)
Filed Under: Cleveland Browns, Cousin Sal, Michael Vick, NFL, Philadelphia Eagles, Russell Wilson, Sal Iacono