Cousin Sal's Week 5 Prop Bets
AP Photo/Patric Schneider
+47,500 jermajesties last week
+133,000 jermajesties overall for the season
Hello, degenerates! As you can see, life is good again. Week 4 proved to be profitable. Now all there's left to do this weekend is to put our heads together and amass a bundle of tax-free jermajesties.* Yes — that's right — any amount won while our inept government is on strike is untouchable. Don't believe me? Check the NFL Propositions of Independence. Here's my plan to free ourselves from our bookie's stranglehold in Week 5.

(*Obligatory weekly explanation: A "jermajesty" represents the fake name given for a dollar amount in this series. It's also the unfortunate name of one of Jermaine Jackson's sons.)
Falcons (-6.5 ) in the first half over the Jets
It's only the first week of October and this is already the 17th must-win game of the season for Atlanta. The Jets have been outscored 13-3 and 24-6 in the first half of their road games this year. In the battle of the Mr. Smiths, my money's on Coach Mike over QB Geno. 20,000 jermajesties
Chiefs will score under 21 points vs. the Titans
So risky, considering Tennessee backup (now starting) quarterback Ryan Fitzpatrick can pick-six his way to a blowout loss by himself. I'm still going to bank on Alterraun Verner (tied for the league lead with four INTs) and the top-tier Titans defense to keep this game in the teens. 25,000 jermajesties
Three-team teaser I would love if years ago I hadn't sworn off three-team teasers because they are evil, money-sucking turd wagers that never, ever win and make little sense otherwise, since you can go five out of six on two teasers and still lose vig money, which is absolutely insane when you think about it
(Three teams — 10 points subtracted from each favorite spread/added to each underdog spread selected — all must win to cash)
Eagles (+12.5) over Giants
Getting over a dozen points in a coin-flip game is ideal. Especially when it's played between two teams trying desperately NOT to win the division. Michael Vick's offense puts up a few scores versus the Giants' bend-and-break defense — should be plenty to cover.
Broncos (+1) over Cowboys
If it ain't broke, you ain't going broke. I wish I could think of one Broncos receiver who Morris Claiborne could stay with for four quarters. Fifty-year-old Vance Johnson? Nah.
Texans (+16) over 49ers
Let's not get too crazy about the 49ers being in a groove. Giving up 356 rushing yards to the Seahawks and Colts does not bode well for San Francisco's front seven this week. Sixteen is too many points. And if it isn't, I'll be hosting a midnight Matt Schaub jersey–burning party at my place. Three-team teaser: 25,000 jermajesties
Bonus season-long prop:
Jags under 2.5 wins (-150)
I can't believe this is on the board. If you go to a website that sounds a lot like a place in Vegas where you can legally wager (and then add ".com"), you will see this. Home against Buffalo and Arizona. Those are Jacksonville's best chances to earn a win. And it'll likely be a seven-point underdog in each of those games. The question is do the Jaguars risk losing the no. 1 pick in the 2014 draft just to screw me out of a winning wager? Yeah, probably. I'm going for it anyway. 50,000 jermajesties
---
Fun but fake …
Over/under 10.5 of Terrell Suggs's paychecks that get "lost" in the mail after the Ravens star linebacker recently suggested that NFL commissioner Roger Goodell had a hand in the blackout of last year's Super Bowl, presumably to halt the Ravens' momentum
If this doesn't prove to Roger Goodell once and for all that head injuries in the NFL are a more serious problem than he thinks, then nothing will.
Over/under $2.5 million that former Bucs quarterback and Bill Simmons dreamboat, Josh Freeman, will successfully retain in a lawsuit against his former team after someone in the organization leaked that Freeman was currently in Stage 1 of the league's substance-abuse program
Simmons and I joke about the romantic role he played in Freeman's downfall. But it's really not a joke. The Sports Guy ruined poor Josh Freeman's life. He loved too much and then not at all. Ironically the 30 for 30 I'm working on, Bill and Jaaash's Excellent Adventure, will provide the truth.
Over/under Week 12.5 when I start getting excited about being in second place out of 1,034 in the Las Vegas Hilton SuperContest
Fellow glutton Joe House and I went 4-1 again last week on our shared entry (HOUSEATSAL). Again, I caution you — this could fall apart anytime now. Here are our Week 5 selections:
Bears PK
Broncos -7.5
Panthers -2
Raiders +4.5
Falcons -9.5
Odds for actors to play Browns GM Mike Lombardi in the NFL version of Moneyball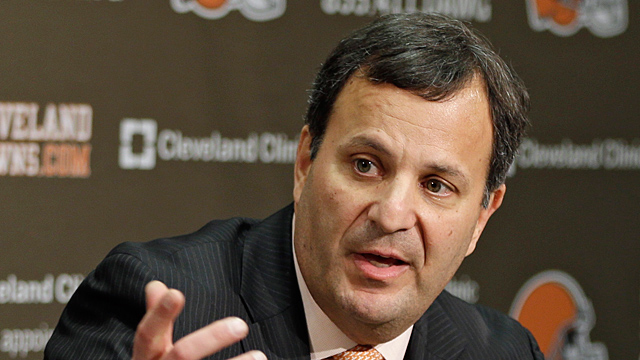 5/2 Steve Schirripa
5/1 Colin Firth
12/1 Fred Savage
1,500/1 Ken Jeong
2,500/1 Denzel Washington
Knowing Lombardi, he'd jump through hoops to make sure Tony Soprano himself was cast for the roll. Normally, I would say he couldn't make that happen — but at this point, I'm starting to believe he can accomplish anything.
7/1 odds these unfortunate fans who were smashed about the head with beer bottles in the Qualcomm parking lot last week will be cleared by the league to tailgate this Sunday
I remember being perturbed Sunday when I had to walk a full mile from my car as a result of being denied access to the Qualcomm parking lot after arriving too late to get a spot. (I cut it close arriving only 140 minutes before kickoff — so I guess I deserve it.) I now know at least two guys who wish they could've traded places with me. Further proof that the best NFL venue in the country is your living room.
Over/under 350,000 views this parody video of WFAN's Mike Francesa, if Mike were a talk show host in 1776, will have received by Monday at 10 a.m. ET
The data will surely be skewed as I've enjoyed this gem more than 200,000 times myself. Good job by you, Mike Zaun!
BREAKING BAD SPOILER ALERT!! (On the other hand … screw you for not catching up.)
2/1 odds the next coworker who theorizes that Walter White died in his car and the rest played out as a fantasy of how he would've wanted the series to have ended suffers mysterious ricin poisoning
I've had enough. Finally a concrete, sewn-up ending to a classic drama and now people think it was too tidy to be true? Let me remind everyone — this series focused on a chemistry teacher who became the most ruthless and powerful drug lord in the United States and NOW fans decide things are happening too smoothly for Walter White?!?! Here are my reasons as to why it couldn't be a dream sequence:
1. In the dozen or so interviews he's done since the finale, Vince Gilligan clearly stated the ending was NOT A FANTASY. That should really be enough — but here are more.
2. If this is the ideal conclusion, wouldn't Walt have ended things with Walt Jr. not hating his guts?
3. If this is the ideal ending to Walt's life, why would he have included Badger and Skinny Pete in his fairy-tale conclusion? I mean, I know they were close, but …
4. If this was Walt's ideal ending, why would he have included that Cialis-esque ad showing Jesse's sensuous woodworking prowess?
5. If this was Walt's ideal ending, wouldn't he have copped a feel off Gretchen Schwartz while terrorizing her at her mansion?
6. If this was Walt's ideal ending, would he have made himself die as a result of a gunshot wound from his own firearm rig? Ideally, this is not how most would finish out their own legacies.
Also … how about the fact that retrieving the ricin and the Denny's scenes were flashbacks offered up earlier in the season? How does that fit in with this fantasy theory? OK, I'm done. Now that that's off my chest I can go on and have an A1 day.
Tweet War of the Week
@TheCousinSal please talk me out of taking the Rams in my survivor pool this week

— Adam De Luca (@spewluca) October 1, 2013
(The way I see it, only two things can happen in this game. Either the Rams blow out the Jags or Jacksonville wins outright. Or the Rams or Jags win a close one — or either wins by seven to 14 points. OK, six things could happen. Seriously, I've gone back and forth with this one all week long, and finally decided that while it would be nice to use the Rams, a team I shan't consider again, as my Week 5 eliminator pick, it's just not worth banking on a team that was outscored 66-18 in its last two games. If you still have them, fly with the Falcons.)
(-165) over
@TheCousinSal @BillSimmons not to spoil next weeks podcast but how are you guys going to avoid the rumored Jax/Den line?

— Antonio Esquivel (@HoneyBucketHero) September 30, 2013
(Easy. We guessed ahead of time. Me: Denver -66.5; Simmons: Denver -68.5. I'll be happy with the push at -67.5.)
9/2 odds I will someday be involved in a competitive eating contest featuring Chicken Chuggables, which were introduced last night in this comedy piece on Jimmy Kimmel Live!
Weird note: There are upward of 50 Kenny Rogers impersonators in Hollywood who look more like Kenny Rogers than Kenny Rogers.
That's that. Enjoy Week 5. And if we're lucky — come Sunday night — there'll be time enough for counting when the dealin's done.
— Cousin Sal
Filed Under: Cousin Sal, Cousin Sal On Gambling, Gambling, NFL, Sal Iacono