Catching Up With Derrick Favors
Melissa Majchrzak/NBAE/Getty Images
It has been a whirlwind first few years in the NBA for Derrick Favors, who was barely 19 years old when he made his on-court debut. His short career has included being drafted no. 3 overall by the New Joisey Nets; spending his entire rookie year as a key piece in the Carmelo Anthony trade talks; Anthony's trade to the Knicks; the Nets responding with an out-of-nowhere deal sending Favors and several other assets to Utah for Deron Williams; the subsequent NBA lockout; and a recently inked four-year contract extension that will pay Favors about $12 million per season.
Favors is now set as a long-term member of Utah's so-called "core four" of Favors, Enes Kanter, Gordon Hayward, and Alec Burks. During Utah's visit to Brooklyn this week, Favors sat down for a one-on-one with Grantland on his new deal, life in Utah, and the future of the Jazz.
How involved were you in the extension talks? Did you meet with GM Dennis Lindsey and Kevin O'Connor at the end of last season and indicate a salary number you thought was fair?
That's more of an agent thing. They talked all summer and had conversations. But that's more for the agent and the front office. But I didn't have that much word in it. My agent really just asked me questions and stuff.
Did you independently have a number in mind? Did you feel you deserved the max?
I didn't get involved to that level. I left that to the agent and the front office.
Free agency at such an early stage is an interesting dilemma. Some guys prioritize security. Some guys like to play it out, hoping they can earn an even larger deal than might be available via an early extension. How did you balance those things?
Yeah, security was very important to me. I just wanted to be somewhere where I know I'm going to be for a long time, and just be comfortable.
Any celebratory purchases, even though the new deal doesn't kick in till next season?
Umm, no. I haven't bought anything yet.
Nothing planned?
Not right now. I bought everything I needed with my rookie deal. So I'm good right now.
Let's talk on-court stuff. You're a defense-first guy, and defending the pick-and-roll is job one on that end in the NBA. You've defended it here in Utah in lots of different styles. Sometimes you jump out far to attack point guards above the 3-point line. Sometimes you drop back to meet them near the foul line. Which way do you prefer?
I'm comfortable with both styles. I can do both really well. I can hedge out on the screen-and-roll, I can fall back, and I can switch. I'm pretty good with everything on the pick-and-roll.
So no preference, then? You're cool with whatever?
Whatever coach tells me to do, that's what I do.
It does seem to vary game-by-game for you guys, depending on the opponent — the skills of the particular point guard, the screeners, the offensive system. Right?
Yeah, yeah, it does vary. There are some guys, you have to hedge hard on them. Some guys you can fall back on. It just depends on the opponent.
You're fast enough to chase a point guard 25 feet from the rim, and then run all the way back to stuff someone's shot at the basket. You ever get anyone like that and have them say, "Oh, come on, man. Where'd you come from?"
There was one guy who asked me that. And I forgot what team he was on. But he asked me how I do it, and I said, "It's just God-given."
You don't remember him? I'd remember something like that. But you do block a lot of shots, so …
I can't remember, man. It was, like, my second year in the league. I can't remember who said it, but I remember telling him it was God-given.
What's one part of your defensive game you need to improve?
Just defense overall. In the past years, I got in a lot of foul trouble because I was out of position, or because I was just too aggressive. I was trying to block too many shots. It's really just learning when to take a chance at blocking shots, and to get to spots early.
I asked LARRY SANDERS! this last week, because he's had foul issues, too: How do you learn NOT to foul?
It's kinda hard. When you first come in the league as a big man, they tell you to be physical down there. No layups, all that kind of stuff. So you have to buy into it, because you think it's going to get you more playing time. But it really just gets you more foul trouble. I had to learn how to not foul so much, and not try to be too aggressive early in the game.
Any kind of foul you saw on film a lot and said to yourself, "I have to wipe that one out"?
It's just bumping guys when they come to the basket. It's getting into position late, or reaching on pick-and-rolls or in the post. Just doing silly fouls 20 feet away from the basket. I had to learn how to back away from those.
Who wins a midrange-shooting contest: you or Enes Kanter?
Me. Yeah, all the time.
Wow. Strong.
But he's a good shooter though.
You can't back off now!
Nah, nah. But I will give him credit though. He's a good shooter. But during practice, whenever we have our competitions, I usually win.
How will you guys work together on offense, now that the front line is yours? He's a back-to-the-basket force, and while you've posted up now and then, you're a pick-and-roll guy, too. I remember last season, you'd roll to the hoop down one side of the paint, and he'd seal his guy for a post-up on the other side. Is that an example of one way you guys can maximize your skill sets? Is that going to be a challenge?
It's just that we're still learning how to play with each other — how to feed off each other, kind of like how Zach Randolph and Marc Gasol do in Memphis. They know each other's strengths and how to play with each other, and we're still learning.
You guys run a lot of side pick-and-rolls, and last season you'd roll down the right side, catch the ball open, see a third help defender coming toward you, and stop for a little 12-foot jumper. But those are hard shots, right?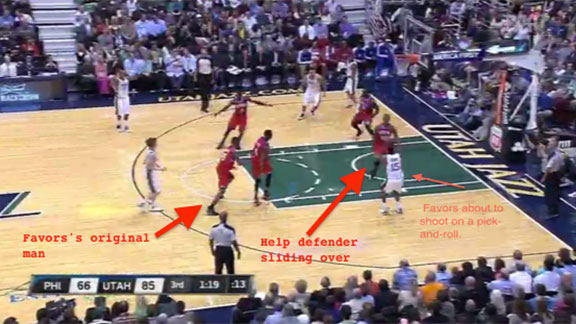 Oh, man. They are. I've been working on them — me and the coaching staff, they've talked to me about it. If you roll all the time, there's gonna be a defender there waiting for you, so you gotta develop that little midrange push shot right there.
What's more important: getting better at that little jumper, or working for better shots — by driving to the rim on one dribble or passing to the open man as the defense rotates around?
It's sort of both, you know? I want to be able to make that shot, so the defense has to respect it. And also, so that I can suck in the defense toward me, and I can go right past them — instead of having them just waiting there for me, to take a charge or an offensive foul.
Reading the defense and passing on the move — that's a hard skill for a lot of young big men.
Yeah, I worked on that since my rookie year, actually. Coming off pick-and-rolls, dudes are rotating over. And I've gotten a lot of offensive foul calls, because I was just catching the ball and running those dudes over.
I noticed that. You are a vicious charge machine sometimes.
And it wasn't because I was being stupid. It's just that I really wasn't comfortable passing the ball. I had to work on that over the summer. I watched a lot of film with the coaches.
Do you work on one or two specific passes out of the pick-and-roll? Like, dumping it to Enes on the opposite side of the lane? Or kicking it to an open shooter way across the floor?
It's whoever's man comes to help. Because I know where my teammates are going to be. I know Enes is going to be down there in the post. And I know there are going to be players up top, on the wing, and in the corner. So it's really just, whoever's man I see coming, that's the pass I make.
Tell me something about Utah, and Salt Lake City, a lot of people might not know.
It's not as bad as you might think it is. And that surprised me, because when I first got traded, I was like, "Oh, man. Utah? Where is Utah?" But when I got there, I fell in love with it. It's a great city. It may not have a nightlife like New York has, or whatever, but I love it, it's a great city.
Do you spend your offseason there now?
Yeah, this offseason, I did stay there a lot more, just so I could get my work in. And to get used to it.
In the huddles, when the coach is talking, do you ever get distracted watching Jazz Bear do his crazy stunts?
My second year, when I wasn't playing that much, I definitely did. But now that I'm playing a lot, I don't have time. I can't be doing that.
Ah. You have to pay attention now.
Yeah. I remember one time, he walked into the stands and got my girlfriend with the Silly String.
Wait: Did he know she was your girlfriend?
I didn't even know what happened! She told me after the game. And she was hot.
Really?
Oh, yeah. She was hot about it.
Did you confront him? This is great.
I didn't say nothing to him.
Maybe he didn't know.
I don't think he knew, but I didn't say anything to him, because I didn't think it was a big deal. But she was hot about that.
Are you still with the same girl?
Still with her.
Whew. So Jazz Bear didn't contribute to the end of any relationship.
Oh, no. We're fine.
What's the worst thing you've ever heard a Jazz fan say to an opposing player? You know Utah fans are legendary for getting on the other team.
To tell you the truth, I've never anything.
Come on.
I'm serious! They probably are saying all that down by [the opponent] bench.
What's the state of your post-up game, in your opinion? You've got a lot of moves down there — spins, drop steps, other stuff. Is there one thing you want to make your go-to move?
I just have to learn how to put it all together. I have so much stuff, sometimes it gets out of control.
That jumps off the film. You'll spin one way, then the other, then a drop step. It's complicated.
Yeah. I just gotta learn how to take my time with it.
Any other individual goals for the season?
I don't really pay attention to it. I just go out there and play. But I'd love to be able to lead the league in rebounding.
That's doable, though Kevin Love and Dwight Howard will be in there. What about making an All-Defense team? Do you set specific goals that way?
I'd love that. But I don't have it my head. I just go out and play.
Everyone has you guys losing a ton of games this season, and the front office obviously opted to let two key guys walk and fill cap space with reserve-type players. The T-word [tanking] has been thrown around. Do you guys use that as motivation? I mean, do players actually discuss it among themselves, explicitly: "Let's prove everyone wrong"?
That's our whole motivation. Everybody says we're not gonna win a lot of games, and whatever. But that's motivation for us. That's why we come out and play as hard as we can, and get wins every night.