Boogie Gets Busy, Bargs Goes Airborne: A Quick Check-in With the Triangle All-Stars
Thearon W. Henderson/Getty Images
We won't do a full update and make Tri-Stars roster changes — a.k.a. the Viking funeral for Bargs — until the beginning of next month, but because sports news is a little heavy this week, it feels like the right time to look to the People's Dream Team to brighten the spirits. A few highlights from the first full of week of regular-season hoops.
1. BOOGIE.
The best part? After Boogie tossed Al Horford to the ground, Horford got up and did that NBA thing where players shove each other and threaten to fight, but the whole time, Boogie acted like nothing happened. Like Horford had just hallucinated getting thrown to the ground. This is the only way to make guys 10 times more infuriated than hitting them with a cheap shot. Just play completely oblivious to the whole thing.
Only Metta World Peace does this better than DeMarcus Cousins.
Anyway, Boogie opened the year with a magical 30 and 14 in a win over the Nuggets, followed that with 24 and 10 against the Clippers, but then crashed back to earth with eight points (Warriors) and 11 points (Hawks) in his next two games. But he did get hit with a nasty cheap shot in the groin against Atlanta while also starting the Horford scuffle.
Good or bad, life with Boogie is always an adventure.
2. LAAAAAAAAAAAAAANCE. The Pacers are blowing people's doors off, he's playing the best basketball of his life, and it's all totally awesome.
Yeah, just another Wednesday night game in November here at IND Fieldhouse. With Lance Stephenson baying at moon after statement dunk.

— Steve Aschburner (@AschNBA) November 7, 2013
3. The New Kobe. J.J. Redick is setting fire to the earth with the Clippers, and coupled with Lob City he makes the Clips offense about twice as terrifying. He's about to take over the whole city. He's an animal. He repeats all of the Dame Dash ad libs in "Champions" in the locker room before every game, then goes out and lives that shit for real. Lob City sets 'em up, J.J. lays 'em down. He's about to put the whole city on his back and end your life. Really shut you down. Assassinate you. Lyrically. But the Internet doesn't GIF midrange jumpers off of curls, so you'll just have to take our word for it.
4. Two All-Stars in one highlight. KILLA KELLY.

(via)
5. GIANNIS. Averaging only 2.7 points in 11 minutes, but let's keep things in perspective.
Caron Butler on Giannis Antetokounmpo: "He's 18. I have got a daughter who's 18."

— Sean Deveney (@SeanDeveney) November 2, 2013
Meanwhile, his brother Thanasis just got selected by the Delaware 87ers in the first round of the D-League draft, because this family's story will never stop getting better. Here's a YouTube video of Thanasis dunking over Giannis, and remember, this video will be 10 times more amazing when both these guys are ruling the NBA a decade from now.
6. And, of course. BARGSWAGON GOES AIRBORNE.
[protected-iframe id="3989059c824ab7bc78cdd796572e174e-60203239-57834720″ info="https://vine.co/v/hjdYZUOgKXb/embed/simple" width="600″ height="600″ frameborder="0″]
Bargs may not last with the Triangle All-Stars and/or the Knicks rotation, but life is about maximizing opportunity. Bargs has the spotlight right now, and goddammit, he's gonna shine.
Oh, also. Kobe might kill Nick Young in the next month. Have a great day!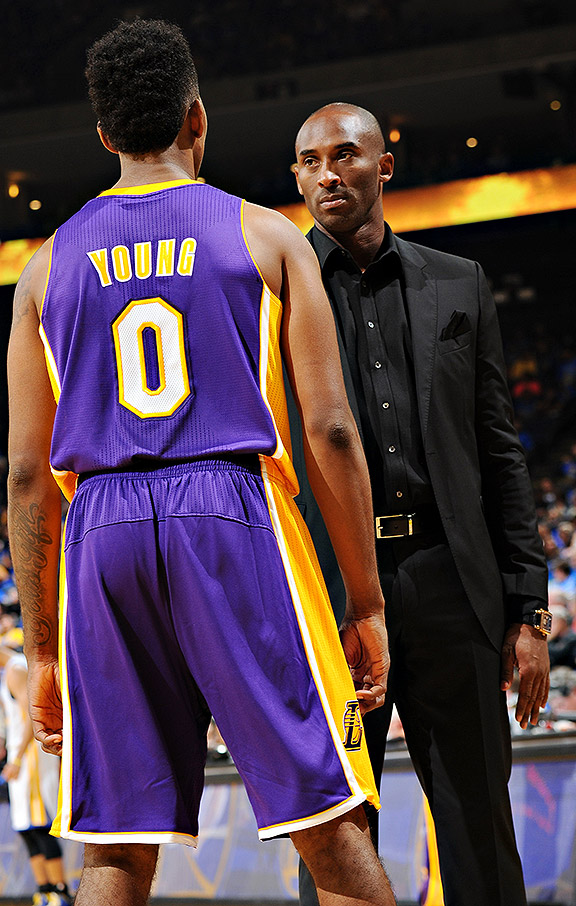 Filed Under: NBA, Kobe Bryant, Triangle All-Stars