Bad Quarterback League, Week 4: The King Back
Sam Greenwood/Getty Images
You said it was over, you gave up hope, you stopped looking at Jaguars box scores because you thought Chad Henne was just solid enough to steal the throne from the king and sputter along to a forgettable 4-12 this year. But you were wrong.
BLAINE GABBERT LIVES.
The Jaguars got destroyed against the Colts this week, but of course they did. That was happening regardless. What's important is that the Jaguars become 10 times more fun with Gabbert back in the saddle. Even Jags fans could agree with this. Nobody wants to watch another forgettable bad team. Better to be exceptionally terrible. That's what Gabbert brings to the table every week. The difference between the Henne Jaguars and the Gabbert Jaguars is the difference between a broken-down car sputtering along the highway (45-17, Seahawks) and a car that's driving down that same highway in flames (37-3, Colts).
The Bad QB numbers for Sunday:
• Pick-six (+35)
• Three turnovers (+12)
• 179 passing yards (+6)
• No touchdowns (+10)
And 10 more points for the vote of confidence from head coach Gus Bradley. "I'm standing strong with Blaine," he said after Sunday's debacle.
Monday he doubled down: "I would say [I'm standing] stronger now after watching the tape. I saw him scramble around and make a play to Clay Harbor. I saw him scramble around and throw it to Ace on an explosive play. I saw him do some things."
All of it gave him 73 points this week, nearly 30 more than second place. And, obviously, this isn't all Gabbert's fault. The Jags receivers are such a disaster right now that they were using ball boys and equipment managers to play receiver in practice last week. The offensive line continues to be an apocalypse, Maurice Jones-Drew doesn't exist anymore, and then on Sunday, all of Gabbert's picks bounced off the hands of receivers.
He may not be good, but he's probably not this bad. But that's what makes him the Bad QB King. Gabbert's the best at having the worst luck. Specifically, playing in Jacksonville. No young quarterback should have to start his career in Jacksonville. Always remember that when we make Blaine Gabbert jokes. He's sacrificing for all of us.
As for the rest of the field:
WAKA FLACCO FLAMEZ
Round of applause, Flacco make that ass clap.
BUST IT
[Throws pick.]
BUST IT
[Throws pick.]
BUST IT
[Throws pick.]
BUST IT
[Throws pick.]
BUST IT
[Throws pick.]
Joe Flacco had been enjoying a quietly underwhelming season thus far, but Sunday he really broke through and took things to another level. Five picks. FIVE.
I don't know whether it says more about the Ravens or the Bills that Baltimore still had a chance to win that game in the final minutes Sunday, but either way, whatever happened to Flacco in Buffalo was some remarkable suck. Reminder: The Ravens are paying him at least $52 million over the next few years.
Cutler Breaks Bad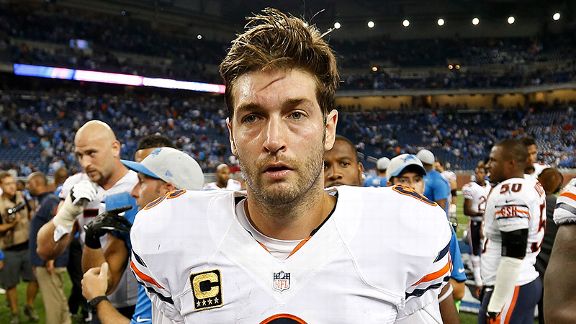 You knew it was coming, too. We all did. That's what made it great.
The numbers:
• Three picks (+15)
• One fumble returned for touchdown (+5)
• Four-turnover bonus (+16)
• 317 passing yards (-6)
The comments from the Bears Facebook page:
Shoot Cutler and put him our of misery, what a moron

— Bears Facebook (@FacebookBears) September 30, 2013
let sucklar go..bring in a real qb

— Bears Facebook (@FacebookBears) October 1, 2013
I would not start cutler on my masturbation line up

— Bears Facebook (@FacebookBears) September 30, 2013
Cutler, will you stop drinking and getting hammered the night before gameday? You look like an idiot."

— Bears Facebook (@FacebookBears) October 1, 2013
Fire Cuttler he didn't come to play, looks like hes all hungover

— Bears Facebook (@FacebookBears) September 30, 2013

Of course he looks hungover. He always does. It's part of his charm. Cutler may not be literally hungover all the time, but he's always hungover in spirit. That's what makes him so much fun all the time.
(And yes: @FacebookBears is the greatest thing on the Internet when the Bears lose.)
Honorable Mention

Matt Schaub played well enough in the first half to avoid huge Bad QB numbers this week, but this was leading NFL.com for most of Monday afternoon. Nice snapshot of where things stand with Schaub these days.
Other notes
1. I still can't figure out how we're supposed to feel about Ryan Tannehill.
2. Mike Glennon checked in with 43 points this week, but there's plenty of room to grow as that magical Bucs season unfolds in Tampa Bay. So much BQBL upside here.
4. Elsewhere in New York, the struggle continues.
Book of Manning: Peyton 16 TD's no picks, Denver is 4-0. Eli's NYG have 16 turnovers & are 0-4.

— Scott Van Pelt (@notthefakeSVP) September 30, 2013

But just for the record, if Peyton had to play with Eli's offensive line this year, every week would bring no less than 10 GIFs of America's Favorite Quarterback cursing out some helpless offensive guard. Put THAT in the documentary.
STATS: Thanks again to Danny Savitzky for tracking all the numbers here. He is superhuman. Click over to Week 4 on the spreadsheet to see all this week's stats.
Filed Under: Andrew Sharp, Bqbl, Eli Manning, Jay Cutler, NFL