Are the Celtics Really This Good Without Rajon Rondo?
Brian Babineau/Getty Images
The Celtics are 4-0 without Rajon Rondo and have scored 102.4 points per 100 possessions in that stretch, a mark that would rank 12th overall — about a dozen spots and 2.5 points better than what Boston's putrid offense has done for the season, per NBA.com. This has resulted in a predictable rush of instant analysis and debate about whether the Celtics, a below-average offensive team for nearly four seasons, might be "better without Rondo."

This is a reasonable question, and one Boston's front office has already thought about while watching the team's offense sink since 2008-09. But it's not the precise question the Celtics have contemplated, nor is it really the right one to ask. That question is: Just how good is Rondo, and in what sort of system — coaching, offensive philosophy, teammates — would his skills merit a max or near-max contract? Rondo is on a bargain deal now, one that will pay $11.9 million next season and about $12.9 million in 2014-15 — the final season on the contract. He'll be 29 when that deal expires, and if he recovers well from ACL surgery, he may want something close to the maximum. The Celtics are set up to have cap space at that time, and they will have long ago answered the question of whether Rondo will be worth that kind of deal as he approaches his 30s. If they conclude he isn't, you can bet the team will explore trading him well before the expiration of his current contract.
Rondo's absence for the remainder of this season marks a new phase in that evaluation process. And after four stirring wins, the debate has become predictably heated.
This, of course, is stupid. Four games is nothing. Making any conclusions, even proto-conclusions, based on a four-game sample size is like watching the opening credits of a movie, walking out and awarding it the Oscar for Best Picture. The 24/7 media landscape unfortunately demands instant takes and pre-crafted narratives, but both are basically meaningless in the way they are finally presented to the public.
In a four-game sample size, the single most important variable is probably the team's schedule. It might be possible to go even further: In a sample size so small, the schedule might be the only variable that really matters.
This is especially true in Boston's case. Its four wins have all come at home. The first came against a very good team (Miami) that has allowed a disturbing number of its opponents to hang in until the final buzzer. Then came the Kings, 5-21 on the road, and 29th in points allowed per possession. Then the Magic, 2-21 in the last 23 games, and missing Arron Afflalo, Glen Davis, and Jameer Nelson (for the second half). That is something close to a D-League team. The last win came against a Clippers team that had lost by 25 in Toronto two days earlier and has now lost six of eight without Chris Paul.
I'm not sure the results from that kind of stretch carry any meaning at all, especially since they follow three consecutive seasons — entire seasons, including playoffs — in which the Celtics' offense has been dramatically better with Rondo on the floor, per NBA.com. The Celtics in those seasons scored at something close to a top-five level when the Rondo-Paul Pierce-Kevin Garnett trio was on the floor, but their offense bottomed-out this season when those three shared the court. Those numbers combined suggest dozens of complicated intermingling variables have been at work during the last few years in determining Boston's scoring efficiency.
But while the results of a four-game blip might not matter, the process behind them does, because it tells us how Boston expects to survive offensively without its point guard — and that in turn allows us to make some guesses over whether it will manage to do so.
In a broad sense, Boston is doing two things without Rondo:
• Relying on some tried-and-true sets, mostly involving Pierce and Garnett.
• Constructing an egalitarian, side-to-side offense that involves multiple pick-and-rolls on the same possession, empowers secondary ball-handlers to drive-and-kick, and tries to leverage the elite midrange shooting of Boston's two healthy core bigs, Garnett and Brandon Bass.
Here's a set against the Clippers that begins with Bass sprinting across the court for a quick-hitting pick-and-roll with Pierce on the right side, which then morphs into an Avery Bradley-Jason Collins pick-and-roll on the left side, and then finally into an opportunity for Courtney Lee to drive against a close-out:
And here's a similar possession against the Kings, in which a Leandro Barbosa-Jeff Green pick-and-roll on the right side flows into a Jason Terry-Bass pick-and-pop on the left baseline:
Note how Bass (with his arm up in the photo below) sets a back screen on Terry's man in order to free Terry for a possible open 3-pointer as option no. 1 before the two shift into a pick-and-roll: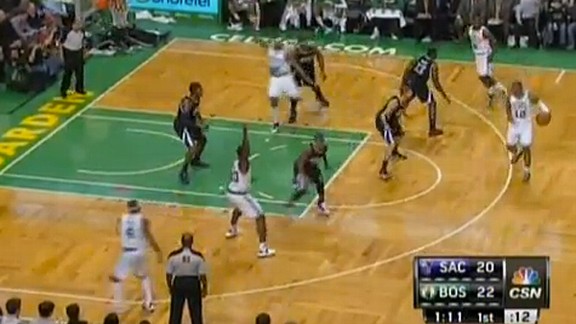 Boston has made really good use of these kinds of picks, especially when Pierce works as the screener on pick-and-rolls, makes a catch, and draws the defense's attention toward the middle. (Here's a nice example, which is also emblematic of how Boston is using Pierce in every pick-and-roll combination possible, as both screener and ball-handler).
It's no secret Boston's offense had grown very Rondo-dominant, especially this season. The Celtics are one of 15 teams that have invested in fancy data-tracking cameras from STATS LLC, and the information from those cameras, provided exclusively to Grantland, backs up that notion. Rondo has dribbled the ball about 486 times per tracked game this season, the fourth-highest figure in the league for players on those 15 camera teams, and about 90 more dribbles per game than he averaged last season, according to the data. A larger percentage of his touches — 41 percent this season, 35.5 percent last season — have involved at least six dribbles.
This has naturally resulted in fewer touches, and shorter touches, for some of Boston's secondary ball-handlers. Terry dribbles the ball twice on average every time he gets it, down from a three-dribble average last season, and a much higher percentage of his touches have lasted between zero and two seconds in Boston, the data show. Pierce's stats have shifted in a similar way, and Terry is still on pace for a career-low usage rate — a measure of the percentage of Boston possessions that end with a Terry shot, drawn foul or turnover.
To some degree, this is healthy. Pierce, Terry, and Barbosa are aging, and neither Lee nor Bradley have much experience as anything like lead ball-handlers. Rondo is a brilliant player, perhaps the most creative passer in the league, and Boston has generally done well when Rondo dominates the ball as his best teammates move around the floor. Rondo enjoys operating in the middle of the court on pick-and-roll plays, but defenses can often thwart those plays by going under picks because of Rondo's shaky jumper. Rondo would often respond by simply having the same big man screen for him again right away, only a step closer to the foul line.
That stuff is mostly out the window now in favor of this side-to-side, motion-heavy system. There are other classic Boston quirks, of course, but even some of those lead into this equal-opportunity stuff. The Celtics, for instance, hurt the Clippers on Sunday with one of my favorite old Boston plays — a quick Pierce duck-in during semi-transition, with the Celtics using their shooting bigs to clear the paint:
They tried the very same play on the next possession, but Caron Butler was ready for it, so the Celtics transitioned into a Garnett pindown for Pierce, and then into a Pierce-Garnett pick-and-pop:
Pierce and Garnett haven't increased their usage rates much in Rondo's absence, and Garnett's has actually dropped. Both are passing more, which makes sense, considering both have long been very good distributors for their positions. Boston has so far spread the scoring/shot-creation burden in an almost ideal way, with several players — Pierce, Terry, Barbosa, Lee, Bradley, and Green — picking up their usage rates by a couple of percentage points each, which combines to make up Rondo's share. Jared Sullinger's season-ending injury means Boston will have to use Green at power forward more, something that has generally ended badly in Oklahoma City and Boston. The Celtics are clearly hoping to use Green as something like a stretch power forward on spread pick-and-roll plays like this Bradley-Chris Wilcox pick-and-roll against the Clips, with Green dragging Lamar Odom toward the top of the 3-point arc:
It worked! But when Boston tried the same set 45 seconds later, the Clippers were ready for it, crashed much harder and much earlier into the paint, and forced a turnover.
And that's the thing. Boston without Rondo is both stretching some historically limited players and relying on sets that take a huge amount of energy and precision. Look how much work the Celtics have to do before finally breaking the Clippers' defense for this KG dunk:
This team still has all the same limitations that sabotaged its Rondo-centric offense. It lacks a consistent big man post presence, though Garnett will bull his way down there more aggressively in particular matchups. It lacks a pick-and-roll beast who likes to dive hard toward the rim, Tyson Chandler-style, on every pick-and-roll, sucking in defenders and opening up shots all over the place. It's still old, still turnover-prone, still allergic to offensive rebounds, still just so-so at getting to the line. Boston has in fact been more turnover-prone in the last four games, coughing it up on 17.1 percent of its possessions in that stretch, a mark that would rank dead last in the league. Turnovers can jump when a team is whipping the ball all over the floor and asking more of guys who have spent much of their career as spot-up shooters:
If the turnovers remain high and the recent uptick in shooting proves temporary, Boston's offense will sink back to its normal lows. And that's the point: We don't yet know which trends are real, and we won't for a while. But as the competition gets tougher and Boston goes on the road after the All-Star break, I'd expect its non-Rondo offense to eventually settle into a scoring rate not much different than the Rondo offense managed — and possibly worse.
So it's a good thing Boston's defense has remained so damn good without Rondo — continuing a trend that began around January 1, and, really, the moment Boston paired Garnett with Tom Thibodeau. Boston has allowed 96.1 points per 100 possessions since the calendar flipped to 2013, a hair stingier than what Indiana's league-best defense has surrendered for the season. In other words: Boston projects as the same team without Rondo that it was with him — a defensive juggernaut that will win games when its offense does just enough to allow its defense to carry the Celtics across the line. How often they can find the right balance remains to be seen, but Rondo's absence certainly lowers their game-to-game ceiling on offense, especially against top defenses that will scout Boston's new offense and have the skills and smarts to bottle up this motion-style stuff.
That's when Boston needed Rondo — in big games, especially in the playoffs, against focused teams. Sometimes he lifted them, and sometimes he didn't. Now Boston will have to learn to cope without him.
The early signs are good, but the smart money is on Boston looking very much like the so-so, defense-only team it has been for much of this season — a relatively safe bet to make the playoffs that can compete with anyone on a given night, but lacks the firepower to beat a really good team four times in seven tries. What that says about Rondo's value is the real question.
Filed Under: Boston Celtics, Kevin Garnett, NBA, Paul Pierce, Rajon Rondo, Zach Lowe