Andrei Kirilenko Is Not a Robot, Says Andrei Kirilenko While Making Crazy Robot Face
Sometimes, the basketball gods smile upon you. For Don Nelson, that moment came in Game 7 of the 1969 Finals, when he clinched the title for the Boston Celtics with one of the luckiest bounces to ever come off an NBA rim. For Russell Westbrook, it was that 18-foot, and-1 scoop shot from Game 5 of the Thunder's second-round series with the Lakers this year. For me, it was stumbling into the craziest of Andrei Kirilenko crazy faces.
It happened under the most innocent of circumstances. I was putzing around the website Euroleague Adventures and found an interview with AK47 before last month's Euroleague finals (Kirilenko's team, CSKA Moscow, lost to the Greek club Olympiacos). It's not an especially groundbreaking interview, and out of boredom I dragged my mouse along the YouTube timeline and saw second-by-second thumbnails of Kirilenko's face. Again, nothing spectacular, until I reached the 1:24 mark and found what you see here. The title of the video, "Andrei Kirilenko Says He Is Not a Robot," refers to the way Kirilenko explained how he and his teammates felt nervous heading into the championship game: "We're not robots. We have feelings and we have emotions."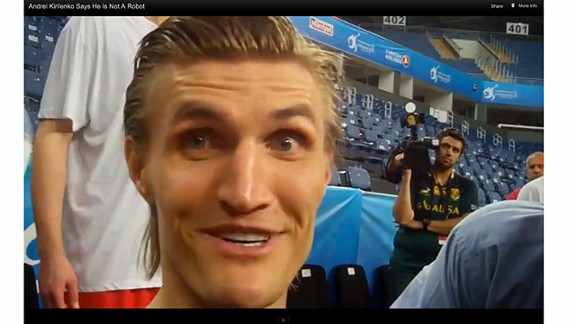 That's a perfectly reasonable quote and it was turned into a perfectly appropriate title for the video. But take it out of context and pair it with the still image of those deep-set, googly green eyes, and well, something completely different has been created.
Andrei 3000 is born. Thank you, basketball gods.
Filed Under: Rafe Bartholomew