An Ode to Johnny Manziel, Swag Superhero
AP Photo/Eric Gay
Johnny Football is playing football this weekend in one of the biggest games of the season, so now feels like a good time to talk about this: Should we be rooting for Johnny Manziel? I've been torn. There are good arguments on both sides. But over the past few weeks I've stopped fighting it. Johnny Football is great.
He is the best, he is the worst, he is the best at being the worst.
It's perfectly understandable if you can't stand Manziel just because you're sick of seeing his name at the center of stupid arguments for the past six months. That's where I was all summer. But if you're convinced he's just a media creation that won't go away … that perspective really shortchanges Manziel's ridiculousness. The media didn't make the Heisman Trophy winner get a tattoo of Drake's crew on his wrist and tweet about haters for six months straight.
Besides, Manziel is way too much fun to ignore. Like this lede:
This weekend, Heisman Trophy winner Johnny Manziel posted an Instagram photo of himself holding a fanned handful of cash, tagged with the caption "casino ballin."
These are the controversies we've been living with for the past year.
Nothing illegal about being 18+ in a casino and winning money…KEEP HATING!

— Johnny Manziel (@JManziel2) January 6, 2013
It's been a wonderful year.
If anything, the worst part of the Manziel story has been the people who turn him into some kind of NCAA martyr or a media victim, and then ignore the obvious point in all this. Every time Manziel does something ridiculous and gets caught, some of the media freaks out and criticizes him, but a larger segment of the media freaks out to defend him, wondering why we can't just have a little perspective and let this kid be 20 years old. Just once I'd like a Manziel defender to add, "OK, but doesn't he seem like kind of a douchebag?"
He does! Of course he does. Look at him. He's Lord of the Douchebags.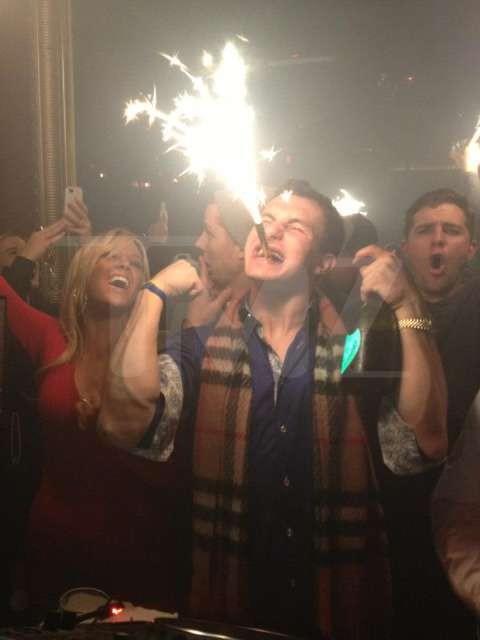 This isn't a hot maturity take. We were all pretty unbearable as 20-year-olds. But whether it's disappearing at Peyton Manning's football camp, signing stacks of memorabilia all over the country, tweeting that he can't wait to leave school, showing up to random frat parties at a rival school … Objectively speaking, Johnny Football is very good at making decisions a famous football player probably shouldn't make. Every stupid controversy he's encountered is possibly defensible on its own, but put together, the ensemble of bad decisions is incredible.
And this is the key to loving Manziel: Embrace it.
If you try to make him into a victim of the media or a martyr for the failed NCAA system, it doesn't quite fit. He's 10 times more fun as a villain and a cartoon that just keeps getting more ridiculous. Look at the different people he's pissed off over the past few months.
Barry Switzer: "I'm certainly disappointed in his actions. … For him to act so arrogant — I wanted to jerk his face mask and I wanted to grab him. Of course you get fired for that now; in the old days you could get away with that. It's the world we live in. It's a misplaced value system. When I see this happen I wonder where the core value system comes from, if he has a core value system. This young man needs a damn hell of a lot of development."
Charles Barkley in July: "Being in the limelight, Johnny Manziel has probably handled it as bad as anybody other than Amanda Bynes in the last few months. I'm concerned about him because I hate to see guys crash and burn."
Lou Holtz: "How would I have handled it? I would have grabbed him by the throat."
Tom Brady: "He's probably been the best athlete in his high school class, in his elementary school class. So when you look across the ball you have respect for those guys, and you treat them with respect because football's a physical game. And as [Patriots owner Robert Kraft] would say, if you're a turd, it's going to come back to you."
Charles Barkley this week: "Hey listen, Johnny Manziel, he's doing something that I never thought was possible. He's going to make me root for Alabama this weekend. I thought I would never say those words. Johnny Manziel. I am so close to saying 'Roll Tide' — Johnny Manziel is annoying me so much that I am really close to saying 'Roll Tide. … Johnny Manziel, oh my god, the only thing saving Johnny Manziel is Miley Cyrus. I mean, are you kidding me? That's the only thing."
Compared to Amanda Bynes AND Miley Cyrus. Plus two legendary coaches openly encouraging physical violence, while Brady calls him a "turd." It would take others a lifetime to inspire that kind of universal disgust from the sports establishment.
That's the biggest reason to love Johnny Manziel. Because we take sports way too seriously these days. The media, the coaches, even players. This is twice as true with football, where joyless control-freak coaches in the NFL and college are somehow more deified than actual players. For instance, a columnist wrote this week that Manziel reminded him of Joe Namath, and it's a shame that Bear Bryant isn't around to beat some sense into him. But let's be clear: If Namath were playing today, he'd be RUINED by the sports culture we have right now. Nothing Manziel's done the past nine months is more ridiculous than everything Namath did for his entire career. There's just more people hanging around to document things and get outraged in 2013.
Next to all that, Johnny Football has spent the past nine months pouring champagne on the flames he's created, doubling down on all the behavior that made him controversial in the first place. He's so good at not caring what you think that you can't help but love him for it.
Texas A&M will probably lose this weekend, because Alabama is a death machine and Nick Saban has probably forced his players to watch film of last year's A&M loss every day for 10 months. Either way, I'm rooting for Manziel all year long. To continue making ridiculous plays on the field, to continue winning, and to continue driving everyone insane.
Because this won't last forever. As a talent, he's not football LeBron; he's closer to someone like Jeremy Lin. Soon reality will set in, Manziel will struggle in the NFL, and there'll be a new most famous player in college football who won't spend all his days pissing off every authority figure possible.
It's even more reason to order eight bottles of champagne and light some money on fire and take a cue from the Texas A&M president. Enjoy the insanity while it lasts.
Filed Under: Alabama, College Football, Miley Cyrus, Nick Saban, Texas A&M