A Tale of Two Offenses: The Spurs Get Back to Business and the Knicks File for Bankruptcy
Garrett W. Ellwood/NBAE/Getty Images
Before they broke out in Game 5 and started to look like themselves again, something had been off with the San Antonio Spurs' offense. In the first four games of their series against Golden State — the first legit playoff team the Spurs had faced after their first-round bye — scoring points and getting clean looks, especially from the perimeter, was beginning to feel like work. It was an unusual feeling for a team that played the league's prettiest, most well-oiled offense before Miami found a new groove this season. It felt like the last four games of their conference finals loss against Oklahoma City last year, when the Thunder's athleticism and amped-up scheme forced enough extra steps into the Spurs' process to turn the league's best offense into an average one.
Something has been going on with New York's offense, the league's third-best in the regular season, since the day the playoffs started. New York has averaged just 97.3 points per 100 possessions in the postseason, by far the worst mark of anyone who advanced beyond the first round, and such a monumental drop from their regular-season number (108.6) that we can't just chalk it up to tougher competition.

The two teams are going through wildly different experiences, and the Spurs on balance have been much better than New York in the playoffs. But in very broad terms, each has had trouble moving the ball to places they like on the floor at both the starts and ends of possessions, and that in turn has led to changes in their shot-selection profile.
Let's start with San Antonio, since they're at least guaranteed to be playing after tonight. The Spurs in the postseason, and specifically in this series against the Warriors, are taking a disturbingly large number of midrange shots. Nearly half of their shot attempts in the postseason so far have come from the least-profitable areas on the court — midrange, and from the floater range just outside the block/charge circle and the left-right edges of the paint. Only about 38 percent of their field goal attempts came from those spots in the regular season, per NBA.com; they're taking 29.3 midrange jumpers per game in the playoffs, nearly nine more such shots than they averaged in the regular season. An increase in midrange shots naturally means a decrease in shots from other locations, and the cost has come mostly in the very best shots that exist — shots at the rim, and corner 3-pointers, the shot San Antonio damn near patented.
Of course, the Spurs are trying to score against a smart, if limited, Golden State defense; it is not as if the Spurs have voluntarily become a midrange shooting team. The Warriors know what shots the Spurs want, and they understand the Spurs get those shots by first moving the ball to particular spots on the floor. Golden State wants to keep the ball away from those spots, and by extension, snuff out those high-value shots before San Antonio can get within one pass of producing them.
The Spurs are a pick-and-roll offense at heart, and the Warriors have attacked those pick-and-rolls the same way almost every time: by having the guard defending Tony Parker (or Manu Ginobili) slide between Parker and the big man setting the pick, so as to block Parker from going around that pick at all. At the same time, the Golden State player defending the screener (Andrew Bogut in an ideal scenario) will drop down toward the paint to meet Parker at a predetermined location. In very simple terms, the Warriors are saying, "You will go here because we said so, and you won't go any further." If Parker can't past the foul line, he can't draw extra help defenders away from dangerous shooters spotting up around the 3-point arc. And if the pick-and-roll takes place on the side of the floor, the Warriors' strategy — blocking off the pick — functions to keep the ball on that side, preventing Parker from darting around the pick and into the center of the paint, where he can stab a defense in the heart.
When the Warriors execute the gambit well, their perimeter defenders can stay home on Danny Green, Kawhi Leonard, Matt Bonner, Gary Neal, et al. Parker is basically left with two alternatives: shoot a midrange jumper himself or kick to Duncan for a pick-and-pop jumper. Parker and Duncan can hit those shots, and the Warriors will fight to contest them — by riding Parker's hip as he yo-yos near the paint, and by closing hard on Duncan. But they are generally happy with possessions like this, even though Klay Thompson and Carl Landry aren't quite picture-perfect on the Parker–Tiago Splitter pick-and-roll that starts the possession:
If you freeze the play during Parker's jump pass, you'll see a very smart thing in Golden State's weakside defense: Bogut is the guy ready to crash onto Splitter if Parker can thread the pass there, and that's because Bogut is guarding Duncan, who is standing beyond the 3-point arc high on the floor. Harrison Barnes is guarding Leonard in the corner, a more dangerous shooter in a more dangerous position, and the Warriors' scheme calls for him to stay closer to home. Good stuff: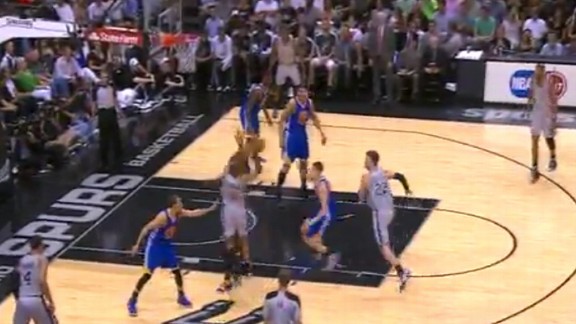 The strategy worked well enough to hold San Antonio to just 101.2 points per 100 possessions over the first four games of the series — a mark that would have ranked around 20th in the regular season. It has resulted in the Spurs' pick-and-roll ball handlers taking a larger-than-normal share of the team's shots in the playoffs, per Synergy Sports.
But the Spurs, those wily old bastards, scored at a gangbusters rate in Game 5 and got more of those tasty shots they like so much. How? Two methods:
1. They used Golden State's strategy against the Warriors in an especially smart, calculating, positively Popovichian way. They essentially told the Warriors: "You want us to keep our side pick-and-rolls on one side of the floor? Fine: We're going to kick your ass on that side of the floor."
Check out the subtle brilliance of what Boris Diaw, the screener for Ginobili, does on this pick-and-roll on the right side of the floor:
Did you catch that? Diaw initially sets his pick facing Ginobili, so that if Ginobili dribbles around that pick, he'll be headed to the center of the floor — precisely what the Warriors do not want. Stephen Curry reads the play and dutifully slides his body between Ginobili and Diaw, blocking Ginobili's path. And then Diaw, frisky from a croissant binge earlier in the day, does a sudden 180-degree turn, changes the direction of the pick, and slams poor Curry. Some teams script this action, known as "flipping the screen" or "setting a step-up screen," some coaches merely encourage this kind of braininess among their players, and some just leave this kind of read to the players themselves. But it's very smart, and clearly intentional, and it puts Ginobili in position to attack in a way the Warriors aren't anticipating.
And it was something the Spurs did several times in various ways. Here's Splitter screening for Parker in the same way Diaw screened for Ginobili — a pick designed to spring Parker toward the sideline, with room to attack, rather than one seeking to direct him toward the middle:
The goal is to get Parker a huge head start on Jarrett Jack, and Parker uses that real estate to get gain speed, cross over Carl Landry, get into the center of the floor after all, and find Green for a clean 3-point look. There is a saying about how the way to really hurt an enemy is not to attack his weakness, but to attack his strength. That's what the Spurs are doing here.
But:
2. In that second clip, they are also attacking Jack and Landry, two weak defenders in space. The Spurs had the luxury of doing that quite often in Game 5, with Jack spending lots of time guarding Parker (something Curry cannot do) and Bogut limited to just 20 minutes due to ankle issues.
Jack was especially messy on the ball. Analysis of pick-and-roll defense tends to focus on the big men involved, and they're important (and quite tall!), but if the guard defending the ball handler falls too far behind the play, the trickle-down effect — more drastic help from everyone else — can be devastating.
This is like a master class in bad little-guy pick-and-roll defense:
Jack first spins under the screen, a Bad Defense 101 move I've informally nicknamed "The Monta." And when the Spurs reset, he sort of stands still before running, almost as if by choice, directly into Duncan's pick. That's a crisis, especially with Landry as the fail-safe, and Curry justifiably responds by drifting much farther off Green than he'd like — a decision that forces him to cover more territory when the Spurs kick the ball there, making it easy for Green to blow by him on the drive.
This was not an isolated thing. On this play, Jack gets so lost chasing Parker around on what ends up as a de facto pick-and-roll on the right wing that Thompson, guarding Leonard (drifting to the left corner), has to hang around under the basket as an extra helper — freeing Leonard for a great look at a corner 3:
The Spurs have also attacked David Lee relentlessly on the pick-and-roll whenever Mark Jackson has dared play him, and though Lee has given a game effort and made some post-up shots, I'm not sure he should be playing at all.
What's troubling about this from a San Antonio perspective: There are no Jarrett Jacks, David Lees, or Carl Landrys on the Memphis Grizzlies. There are elite defenders almost everywhere, and if the Spurs have become midrange-dependent against lesser teams, it's a good bet that Memphis will be able to drag San Antonio's offense down to a level at which the Grizz like to Grind. The Spurs do have some cards to play. They can go small with Kawhi Leonard at power forward and see how the behemoth Grizzlies respond. They can try to find Bonner some minutes against Zach Randolph, forcing Z-Bo into some uncomfortable pick-and-pop duties. They can also go the other way, leaning more on the Duncan-Splitter duo, which provides two expert and mobile pick-and-roll players.
The Spurs' offense is not unhealthy — not even close. But it is showing worrisome signs.
---
The Knicks' offense is flat broke, and the Pacers have broken it in a very different way than Boston did in the first round. New York fell into the Carmelo Anthony Isolation Vortex against the Celtics, who have long defended Anthony very well by offering appealing pockets of space that really just lead to help defenders.
That has not been the case against Indiana, the league's best defense. New York has mostly tried the right stuff against the Pacers — high pick-and-rolls, side pick-and-rolls, hand-off pick-and-rolls, picking their noses and rolling the boogers (still reading?), post-ups for Anthony, possessions with three or even four pick-and-rolls, and having some unexpected participants (Iman Shumpert, Jason Kidd) in those pick-and-rolls. The Knicks have had good intentions in this series, and Indiana has squashed those good intentions with size, patience, and smarts. New York, in general, is taking the ball only where Indiana would prefer it go.
The Knicks' high pick-and-rolls have yielded almost nothing. The Pacers have shaded Raymond Felton (or Anthony, or Shumpert, or whomever) toward Roy Hibbert's giant wall of help defense, and Hibbert is big enough and smart enough to both keep Felton from the rim and at least make Felton think very hard about any lobs to a clearly hurting Tyson Chandler. And just as important, George Hill (and Paul George, and basically everyone but Lance Stephenson) has been very good at trailing Knicks ball handlers closely over those picks, making sure those ball handlers feel their presence. The result has been a lot of very low-value shots and ugly turnovers:
The two guys at the center of Indiana's pick-and-roll defense are so good, covering so much ground, that the other three Pacers can stay fairly close to New York's shooters, keeping at least one foot out of the paint at all times. New York gotten more traction on side pick-and-rolls, but as the series has progressed, Indiana has largely limited New York even on those plays to the sort of shots the Pacers are fine allowing — pull-up jumpers on the same side of the floor where the play began:
Anthony hits that attempt, but it's not the kind of shot keeping Frank Vogel awake at night.
Every team suffers some defensive breakdowns and yields some open shots; New York had several nice looks during its Game 4 stink-fest. It just missed most of them. But NBA games are about maximizing odds of success over 100 individual possessions, and the Pacers' offense is getting much more of what it wants on a possession-by-possession basis than the New York offense. It hasn't helped that Kidd has forgotten how to shoot; Iman Shumpert's knee flare-up has made him something of an unwilling shooter, allowing the Pacers to help more aggressively off of him; and that Mike Woodson hurt the team's spacing and vaporized the identity it built up over a full season by shifting Anthony back to small forward in spacing-challenged lineups.
But the Pacers are dictating the series. One easy way to visualize this: They are having much more success getting the ball into the middle of the floor on their own terms, in ways that have really damaged the Knicks. New York over and over has failed to corral Indiana ball handlers on one side of the floor, allowing dribble drives toward the foul line that suck in other defenders and lead to 3-pointers that look like this:
The Pacers were confident going into this series that they could at least play New York, the league's most prolific 3-point-shooting team, to a push from long range. They've done better than that, and not only because they've beaten New York's trap schemes to find some open 3s. The traps-versus-3s things is a little closer to a wash; Indiana's turnover rate in this series has been a disaster, and the Pacers are shooting only 32 percent from deep. But they're getting a lot of high-value attempts from very simple actions unrelated to New York's aggressive trapping, and in a relatively low-scoring series, piling up a half-dozen more high-value attempts each night than your opponent is a huge thing. Basketball is about ownership of territory, and the Pacers in this series have owned the most valuable territory on the floor.
Filed Under: Golden State Warriors, Gregg Popovich, Indiana Pacers, NBA, New York Knicks, San Antonio Spurs, Tony Parker, Zach Lowe