A Story of Refinement: How the Spurs' Elevated Playmaking Triumphed in Game 1
Issac Baldizon/NBAE via Getty Images
If there's a possession that neatly tied together every major story line, real and fabricated, emanating from San Antonio's stirring Game 1 win in Miami, it was this one with about 6:30 left:
Look at all the interesting stuff going on here, just in this freeze-frame: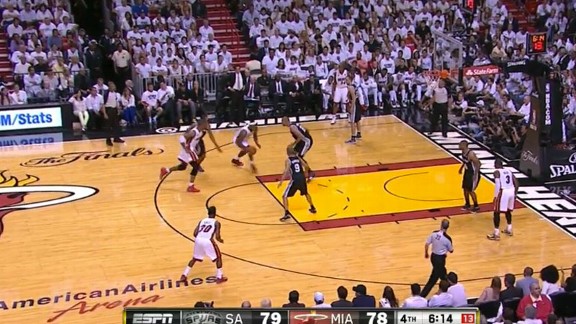 1. The Heat are running a boring old high pick-and-roll, the most predictable play in basketball. Gone are all the decoy plays and whirring misdirection that made Miami so hard to defend this season. That stuff dotted the game, but as has been the case since the Milwaukee walkover in the first round, Miami for whatever reason — injuries, fatigue, elite opposing defenses — hasn't been able to find its happy spot for more than a few minutes at a time.

2. The Spurs are making LeBron James, allegedly passive in this game, see bodies. Tony Parker, so brilliant it's scary, is near the center of the foul line, far away from Norris Cole. Tim Duncan is doing what he does — dropping back into the paint, coiled in a perfect defensive stance, ready to move in concert with James. Kawhi Leonard, up for this after all, trails close behind, long arms within swiping distance. And …
3. Dwyane Wade is in terrible position. Wade scored 17 points, above-average output for him these days, but aside from some very difficult first-half shot-making during a stretch when LeBron rested, this was one of his very worst playoff games. The Spurs caught him over-helping/ball-watching twice and found his man, Danny Green, for open 3-pointers. He was slow chasing Manu Ginobili through basic cuts, once yielding an open 3 for the Mad Genius at the top of the arc. He fell so far behind Ginobili on one San Antonio possession that James and Wade had to switch assignments as Ginobili curled off multiple picks, the last one from James's man (Leonard). The Spurs then dawdled into what looked like a dead possession when Gary Neal, who played more minutes alongside Tony Parker (18) than in any other Spurs playoff game so far, launched a contested 2-point jumper — a huge win for Miami.
But the win turned to a crushing loss when Leonard danced around a lazy Wade boxout, caught the rebound, and laid it back in:
And then there is the spacing issue. Wade cannot just be standing in no-man's-land on the baseline, allowing his man, Neal, to linger at the edge of the paint, another body for LeBron to see without any consequence. He either needs to be in the corner or elsewhere on the floor above the 3-point arc. Wade is a poor 3-point shooter who doesn't even look to shoot from there anymore, so he wouldn't exert much gravitational pull on Neal by standing way out in the corner. But every half-step Neal takes away from the paint matters, and if Wade's in the corner, he at least has a head of steam if LeBron kicks him the ball. And, man, does Wade need a head of steam these days.
And this spacing snafu happened more than once; look at Wade on the left baseline here: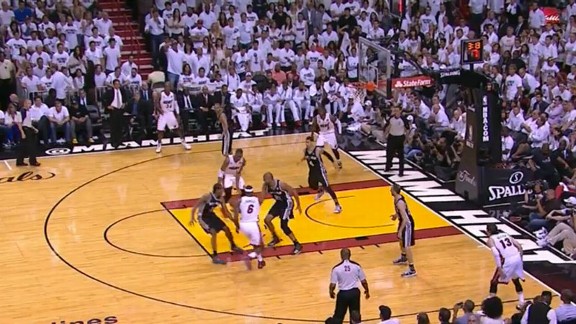 4. Look at Ginobili on the left sideline in that first clip, guarding Ray Allen. He doesn't stray from Allen at all, even as LeBron drives toward the other side of the floor, a directional change that would, in theory, turn Ginobili into a weakside help defender and embolden him to drift a bit. Nope.
It was fashionable after the game to suggest the Spurs adopted an "anyone but LeBron" strategy, and that's true in some senses. They packed the paint on James drives, hoping to at least make him think about passing — to cloud his decision-making, slow his rhythm, and make any shot come through a thicket of arms. But it wasn't really an "anyone but LeBron" strategy. The Spurs treated Allen with this kind of respect almost the entire game; his first two 3s came on San Antonio breakdowns on plays involving Allen going through some screening action.
And even on the most controversial play of the game, LeBron's dish to Bosh for an ill-fated 3-pointer with just more than one minute left, the Spurs made a calculated help decision, not a blind or panicky one: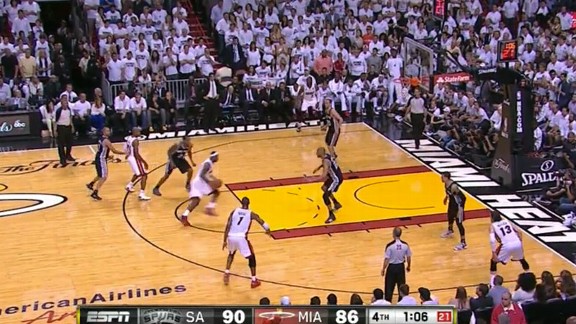 The calculus was simple: "We will help off Chris Bosh above the arc. We will not help on Mike Miller/Shooter X in the corner." Green, guarding Miller, starts in Miller's pocket, keeps both feet out of the paint the entire possession, and barely budges when James kicks to Bosh.
The "LeBron is passive" trope emerges from the sewer at screaming volume levels almost every time the Heat lose in the playoffs, and rarely with any sort of sophisticated analysis behind it. The guy had 18 rebounds, including a huge crunch-time putback, and pushed the pace constantly off misses. He blew by Duncan for a clutch layup with about 1:50 left. He brutalized San Antonio in the post during the middle stages of the game, generating good looks for himself and at one point late in the third quarter drawing something very close to a quintuple-team before hitting Mario Chalmers for a corner 3.
And yet, there were at least two late-game possessions, by my count, when James probably passed too early, and when he could have squeezed out something better by continuing his drive to the rim: the Bosh 3-pointer and the possession highlighted at the top of this post. There may have been one or two more, and it's fair to rewatch the video and wonder about LeBron's decision-making on those plays.
But it's really only fair if you remember the full context of the game. That starts with crediting San Antonio's defense. The Spurs crowded the lane without abandoning dangerous shooters, they moved on a string, and both Duncan and Leonard maintained perfect balance — almost balletic balance, really — in mirroring LeBron's movements without getting themselves out of position. The possession that tops this post ends with Leonard digging down on Wade, rushing back out to James, stopping his momentum on a dime, going into a controlled backpedal to prevent a James drive, and then stealing an entry pass. That's obscene.
And the "passive" shouting also ignores at least two drives in the first half on which LeBron might look back and lament his choice to shoot instead of pass. The first was an isolation drive against Boris Diaw on which LeBron got himself a nice look near the rim, but also missed two guys spotting up wide-open along the weak side: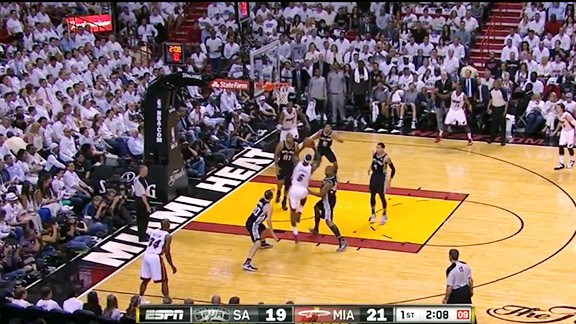 The second was a midrange jumper early in the second quarter, when the Spurs overloaded dramatically on LeBron, and a quick one-dribble-and-pass likely would have netted a corner 3 for Cole — especially with Chris Andersen creeping up to set a surprise back screen on Cole's man:
James will see all of this on film and make the proper adjustments. He might have been passive on a few possessions, but to just shout that without giving proper context amounts to impotent noise.
That said, LeBron probably should have been in the post more down the stretch; I'm not sure he posted up once in the final eight minutes of the game. That should not happen.
---
The Spurs won the San Antonio Defense vs. Miami Offense half of this equation. The jury is still out on the other half. The Spurs scored 102.3 points per 100 possessions in Game 1, about a league-average mark, and to hit "only" league average while committing an insanely low number of turnovers — an unthinkable four — is a disappointment on the surface. But the Spurs missed some very nice 3-point looks, including five straight open 3s bridging the late third and early fourth quarters. If two of those fall, the numbers look very different. Then again, if two of those fall and the Spurs commit three more turnovers, the numbers might look just the same.
In all, I thought the "blitzing Heat" against "wily Spurs passing" battle was something of a wash — which may well be good enough for San Antonio to win this series. The Spurs didn't exactly slice up Miami's defense and generate great look after great look. There were a lot of possessions in which Miami's hyper-aggressive trap schemes disarmed San Antonio, forced the Spurs into fatal hesitations, and effectively sabotaged the Spurs' glorious offense:
But, man, the Spurs. You know what the Spurs are? They're refined. That's the word that kept coming to mind last night as San Antonio's old guys found ways to produce points against a unique defense that has an athleticism advantage everywhere and a size edge in chasing Parker and Ginobili around the perimeter on pick-and-rolls.
We know the Spurs' system is refined. Gregg Popovich and his core players have spent nearly a half-decade perfecting their reinvention into this side-to-side pick-and-roll, corner 3–spewing machine. But the system isn't enough against Miami. Winning at this level requires both the perfect system and ultra-skilled players — guys who have mastered all the little ways to catch defenses off guard and make plays under intense pressure. Guys with brains. Guys with tricks, and countertricks for when defenses learn to anticipate the first trick.
It's Ginobili, almost 36 and ground-bound, using a wicked hesitation dribble to get to the rim on a pick-and-roll that looks bottled up. It's Ginobili throwing a pass he has practically patented over the last decade — a long-distance look-away on the pick-and-roll, where he fakes a pass to an open outside shooter in order to get help defenders to lunge out of the paint, so that he can hit the roll man inside:
The play doesn't yield a score, but it's on the right track. Refinement is Parker, not generally on Ginobili's level as a brainy passer, imitating that same trick later in the game:
It's Duncan not only understanding that Miami's rotations with about 5:30 left in the fourth quarter have left James on him, opening up the possibility for an offensive rebound, but also being able to artfully tip in that rebound softly off the glass. It's both Leonard and Green paying off all the work they've done over the last two seasons by driving at a fronted Duncan in the post, drawing the defense, and either scoring (Leonard's dunk) or passing out to an open shooter.
And, holy crap, the skills involved on this game-turning clutch play:
It's Duncan pivoting toward the paint without really setting the screen, giving Ginobili a passing angle. It's Ginobili pulling up and making that pass early and while crouched in mid-dribble, getting himself a head start against defenders whom he knows will leap to deflect this pass. It's Duncan gathering himself, sensing Bosh out of his right-side peripheral vision, pausing to let Bosh fly by, and proceeding with a determined single-dribble drive into traffic.
The call here might be shaky. It probably is shaky. But few teams have the collective skill to put themselves in position, under this kind of pressure, to get that shaky call. The Spurs, man. From Pop's taste in wine on down, this is a refined bunch.
This battle will be fascinating all series, and I'm not sure either team has any major adjustment to make after Game 1. They'll make minor tweaks and continue to mix things up, but they both got some of what they wanted on Thursday.
Some more quick notes about Game 1:
• The Parker-Neal pairing is not a small deal. If the Spurs are going to play small a lot in this series, and they did so for about 18 minutes of Game 1, they will fare much better if they can get both little guys on the floor at once. That was very hard against the behemoth Grizz and even the Warriors, since the Jarrett Jack–Stephen Curry–Klay Thompson–Harrison Barnes small-ball quartet does not even offer one safe hiding place, let alone two.
• One wrinkle I liked from Miami, and one they should go back to in Game 2 if spacing becomes a problem again: having Wade set a pindown screen for James on the right side, potentially freeing James to work in the middle. It's almost a Thunder-style play, and the Heat on a later possession transitioned from this right into a Chalmers/James pick-and-roll that totally flummoxed the Spurs.
• The Heat, as they did in Game 7 against Indiana, called some sets early to try and get Bosh going to the rim. They mostly failed, but the idea is something they should revisit — provided Bosh's ankle is healthy enough for him to execute.
• In sum, Miami's defense was basically fine last night. It gave San Antonio enough issues on that end to win games in this series. The Heat can look at the tape and find things to be happy about.
And yet, there might be a lingering fatigue issue for James in this series, especially on defense. He was a monster in the first half, especially away from the ball. He was terrifying, and I mean that literally. He was so active from the sideline to the paint, and so intense, that at times he scared San Antonio ball handlers out of making passes. He was like an apparition — a Raptors ghost player looming to make Parker rethink his decision to pass to Tiago Splitter in the lane here:
(Nice pump-faking and shot-making, Gary Neal. Refined.)
And check out what might be my favorite little moment of the game:
This is a thing the Spurs do regularly — have Parker kick to Ginobili on the right wing, jog up the court as if he's just going about his paces, and suddenly sprint down the gut for a pass from Ginobili. They've done it hundreds of times. About five years ago, I was lucky enough to sit courtside for a Spurs-Nets game in New Jersey, and I saw this play unfold in real time. Parker was walking the ball up when Ginobili, maybe 10 feet from me on the right sideline, shouted for Parker to pass it. Parker was confused, and shot Ginobili a look: I'm the point guard. What the hell? Manu nodded back, and Parker understood: Oh, we're doing that thing. He passed to Ginobili, strolled two or three more steps, and then broke into a sprint down the middle. The Nets had zero clue what was happening, and Ginobili hit Parker for a layup.
LeBron sniffed this one out right when the Spurs activated it, and he probably shocked Parker by appearing in his face, above the freaking dotted line, right when Parker caught the ball.
He did this to Leonard multiple times in the first half — leaving Leonard in the corner to help on a pick-and-roll near the rim, and darting back into Leonard's chest almost the split second Leonard caught a pass from Parker or Ginobili.
But James couldn't quite keep that effort level up, which is understandable. He arrived a beat later on Leonard in the second half, allowing Leonard to get up a couple of open corner 3s that he missed. With Bosh and Wade still limited, and the Heat itchy to use LeBron as a late-game Parker-stopper, the burden on James in Miami has never been heavier.
I can't wait for Game 2.
Filed Under: Chris Bosh, Dwyane Wade, LeBron James, Manu Ginobili, Miami Heat, NBA Playoffs, San Antonio Spurs, Tim Duncan, Tony Parker, Zach Lowe