29-Day NBA Warning: Remixing the Raptors With All-Star Weekend and Drake
Ron Turenne/NBAE via Getty Images
What's that? You were wondering exactly how many days until the start of the NBA season? Well, you're in luck! The Triangle is counting down the days for all of us.
Under 30 days till the NBA! We're so close!
But before we get there, let's talk about the Raptors. I have big dreams for the Raptors. Dreams that start with Masai Ujiri sabotaging this year's team, continue with Adam Silver rigging his first NBA lottery to give the Raptors Andrew Wiggins, and end with the Raptors bringing back their 1998 jerseys while Wiggins and Jonas Christ Superstar take over the world in, like, 2017. We can do this.
Drake can do this?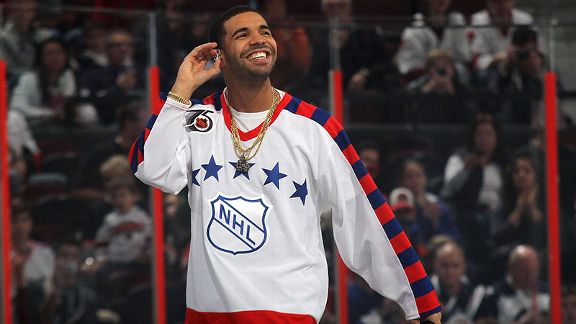 Because apparently Drake's going to be part of the Toronto Renaissance, too. Drake and mayor Rob Ford, who's kinda like Chris Christie remixed with Marion Barry.
Welcome to the Revolution!
Indeed, the Raptors held a press conference this morning to announce two important developments for the future. First, Toronto will host All-Star Weekend in 2016. This is wonderful news. I've been fascinated with Toronto's pro sports scene ever since this Wall Street Journal article a few years ago. Not only does that piece highlight the "libertine" gentlemen's clubs around Toronto, but also includes various athletes professing their love for Toronto's club scene, the close proximity between luxury hotels and stadiums and nightlife, and even an Illuminati godmother of Toronto's pro-athlete social scene.
All across the board, Toronto sounds pretty perfect for All-Star Weekend.
The other announcement? Drake has been named "Global Ambassador" for the Toronto Raptors as of Monday's press conference.
Somebody asks what Drake is going to do as global ambassador. It's clear nobody really knows.

— Eric Koreen (@ekoreen) September 30, 2013
"The sky is the limit," – Aubrey Drake "Drizzy" Graham

— Eric Koreen (@ekoreen) September 30, 2013
Perfect.
Conflicted Drizzy feelings and vague job description aside, we have to applaud any NBA team that (a) has a Global Ambassador, and (b) chooses a rapper as its Global Ambassador. Does Drake make the Raptors cool? Of course he doesn't. Not by himself. Drake is not Jay Z. But all this is a good start to making the Raptors relevant for the first time in what feels like a decade.
That's the biggest goal here, and everyone should be onboard. Think about the cities across the NBA. I've never been to Toronto, but I'd much rather visit there than:
• Oklahoma City
• Charlotte
• Indianapolis
• Phoenix
• Orlando
• Salt Lake City
• Detroit (apologies to America's Team)
• San Antonio
• Cleveland
• Sacramento
• Minneapolis
• Milwaukee
Toronto beats all those cities, and probably more if you want to start getting into stupid arguments. Having an awesome basketball team up there makes the entire NBA more fun. Becoming the #OVORaptors and throwing a gigantic party in 2016 won't change anything right away, but these are baby steps toward making Toronto matter on the NBA landscape.
The bigger steps happen over the next few years, and they include undoing various management war crimes from Bryan Colangelo and (probably) getting lucky in the lottery at least once. Either way, the Raptors are moving in a new direction. Good things are happening. Depending on how they play things this season, the Raptors may still look like the Bobcats of the Great North for another year or so, but soon enough this team won't suck, and after that they'll go back to the '99 jerseys, and soon after it'll be All-Star Weekend, and everyone will realize that Toronto has been pretty great all along.
Groupies and mixtape DJs and shady shoe reps and party planners and everyone in between, take note and get your passports ready. Because it is goin' downnnnnnnnnnn.
Filed Under: Drake, Toronto Raptors