The Only 2014 College Football Preview That Matters: Mascot Madness!
Getty Images
The blessed college football season is nearly upon us, and after the touches have been downed and the light beer similarly drowned, it'll be easy to forget the real reason for the season. So before the first whistle blows, gain your bearings and pour one out for those unheralded gridiron heroes: the mascots.
Time and again, these men, women, mammals, reptiles, and occasional pieces of foliage or fruit have proven their endless commitment to the game. They should be venerated … and that's exactly why we're here today.
Best Turtleneck: Wisconsin's Bucky Badger
Admittedly, there's not a lot of competition in the turtleneck-clad mascot category, but dammit, Bucky would still prove dominant even if there were.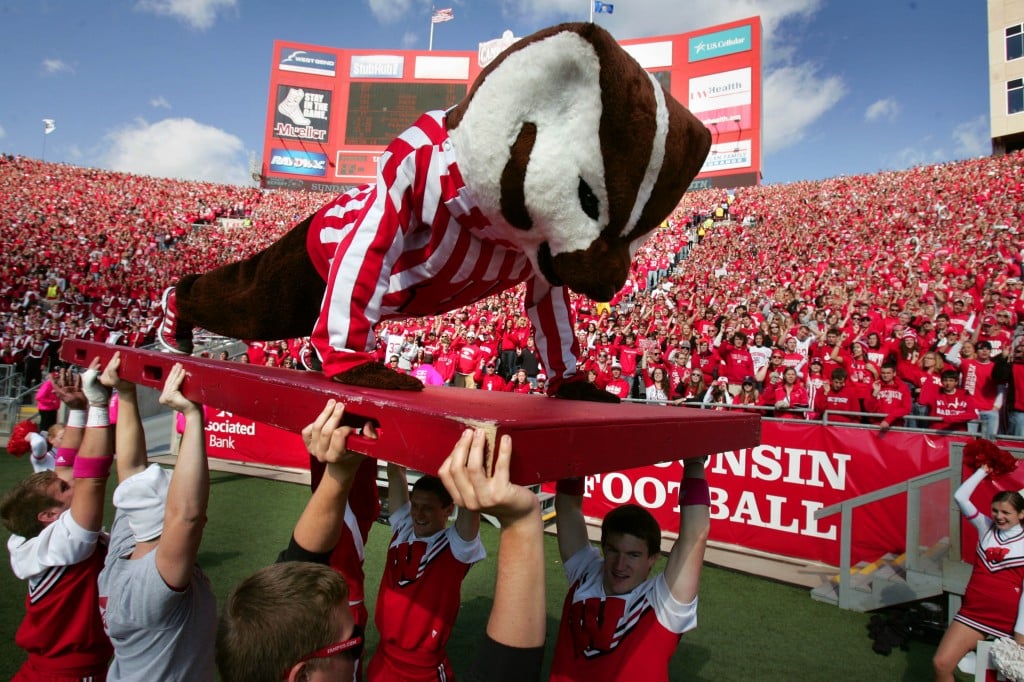 It takes a bold badger to wear a striped turtleneck, but it takes an even bolder one to wear a striped turtleneck while performing a strenuous upper-arm workout on a platform being hoisted seven feet off the ground by a group of male cheerleaders.
Click here for more from our 2014 college football preview.
Best at Combating Scurvy: Syracuse's Otto the Orange
Otto wants to make sure you don't lose your pep or your teeth! Best Wedding Date: Miami's Sebastian the Ibis
Recently, a bride had Sebastian give her away on her wedding day. It went rather well.
Unfortunately, we can't confirm reports that things got weird during the reception, when Sebastian had too much peach schnapps, unsuccessfully attempted to do the worm, and kept asking the DJ to play "Landslide."
Best/Worst Rides: Georgia Tech's Buzz and Oklahoma's Boomer and Sooner
Buzz gets to enter games like he's in a guest role as a speakeasy bartender on the second season of Boardwalk Empire.
Boomer and Sooner have to enter games like they're about to die from dysentery in Oregon Trail.
Most Likely to Avenge His Father's Death: Virginia Cavalier
Complete with cutlass, fencing gloves, and a superior sense of familial duty, the Cavalier is truly the Inigo Montoya of mascots.
Most Likely to Have a Secret Past Life as a Kellogg's Spokesperson: Notre Dame Leprechaun
ND's mascot bears more than a passing resemblance to Lucky the Leprechaun, of Lucky Charms fame. It's like Lucky shook his crippling marshmallow addiction, slept if off below Touchdown Jesus, and emerged anew on Notre Dame's 20-yard line.
Best Theoretical Mascot: Western Kentucky's Big Red
According to his/her/its Wikipedia page, Big Red is "meant to symbolize the spirit of WKU students and alumni." I always thought that a visual personification of the collective human spirit looked like this:
Not this:
Best Facial Hair: Vanderbilt Commodore
Apart from "Most Likely to Avenge His Father's Death," this category was the most impacted. From the regal goatee of the Virginia Cavalier to the underrated soul patch of the Duke Blue Devil to the John Watersesque mustache of the Arizona State Sun Devil, mascot facial hair is vast and diverse. That said, the Vanderbilt Commodore's muttonchops must be acknowledged as supreme.
Honorable Mention for All Categories: Lil' Red
No college mascot post is truly complete without Lil' Red, the unholy offspring of plastic and death itself. Having secured places on both all-time best and worst lists, Lil' Red is a hot-button topic in the college mascot sphere. Lil' Red needs a definitive win, but I'm going to do him one better: I'm giving him all of the second places!
Mia Galuppo (@ifiwere2tweet) is a Grantland summer intern.
Filed Under: 2014 College Football Preview, College Football, College Football Preview, Mascots, College Mascots, Lil' Red Is The Spawn Of Satan, Mia Galuppo