2013 NHL Playoffs: The Best and Worst of the First Round
Jeff Gross/Getty Images
The first round of the NHL playoffs isn't over quite yet, thanks to a pair of Game 7s tonight. But since one of those games involves the Toronto Maple Leafs, I'll be completely incapable of even basic human function all day long so we better just go ahead and do this now.
Let's take a look back at the past two weeks of action, and hand out a few awards to the best and worst of (almost) the entire first round.

Best Series
Kings vs. Blues
Despite the lack of a Game 7, we'll give this series a slight edge over Detroit-Anaheim. The Blues and Kings gave us six consecutive games of the most intense hockey in recent memory, a war of physical attrition between two legitimate Cup contenders who had the misfortune of meeting in the first round.
All six games were decided by one goal, including a pair of games that went into overtime. That sounds impressive, but it really doesn't do justice to how close this series actually was. That requires a stat that deserves its own section …
Craziest Stat
The Kings-Blues series was sort of tight
According to the NHL, the two teams spent 98.8 percent of their series either tied or within one goal of each other. In six games, they combined to play five minutes with a two-goal cushion. That's ridiculous, bordering on the impossible.
Worst Series
Sharks vs. Canucks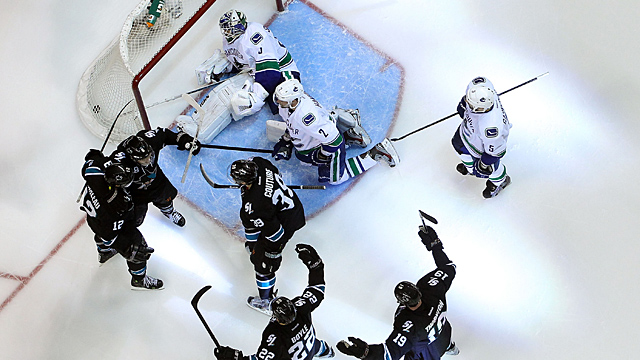 Sorry, Vancouver. This pick isn't a tough choice when only one series out of eight ends in a sweep. But don't worry, we'll still find a way to talk about you. In fact, let's do it right now!
Biggest Train Wreck
Vancouver Canucks
With apologies to the Canadiens, this is probably the easiest category to call. This team is just one shortened season removed from back-to-back Presidents' Trophy wins, but after being swept by the Sharks, the Canucks suddenly look like they're on the verge of collapse. Key players like Henrik and Daniel Sedin are in their 30s, the prospect cupboard isn't exactly impressive, and they're already up against next year's cap with several players still left to sign.
That last problem will be partially solved by finally moving goalie Roberto Luongo, but that may be all that trade accomplishes. The odds of Vancouver general manager Mike Gillis being able to get many assets back in return for Luongo's contract now seem slim. And with Luongo outplaying Cory Schneider during the San Jose series, now some are wondering whether it's the younger, cheaper goalie who should be on the block instead. What a mess.
Best Game
Ducks at Red Wings, Game 6

This series featured four overtime games, none more entertaining than Friday's back-and-forth classic. With Detroit facing elimination at home, two Wings third-period goals seemed to have iced the game. The Ducks rallied to score a pair in a frantic final few minutes to force overtime. And then Henrik Zetterberg's long-bomb winner set the stage for Sunday night's Game 7, which the Wings won to advance to Round 2.
Worst Game
Senators at Canadiens, Game 5
While not many expected a battered Montreal Canadiens team to come all the way back from a 3-1 series deficit, you could at least hope they'd go down fighting (figuratively, and maybe even literally). After all, the Canadiens were playing at home and coming off an overtime loss where they could make a legitimate case that they'd been robbed by the officials. Surely they'd at least make the Senators work for their series win, right?
Not so much. The Canadiens surrendered a goal just three minutes in, setting the tone for what would end up being a lopsided 6-1 loss. It was a bitter end to what had seemed to be a turnaround season for the young Habs, who now have to face some troubling questions, not least of which is about the guy below.
Worst Goaltending Performance for a Losing Team
Carey Price, Montreal Canadiens
While Evgeni Nabokov's numbers against the Penguins were worse, at least he can say he was shelled by the league's best offense. Price was lit up by a Senators squad that scored the fewest regular-season goals of any playoff team before an injury late in Game 4 forced him to turn the net over to Peter Budaj, who was even worse.
It's always dangerous to form narratives based on the playoffs, because you're dealing with a small sample size. But Price is now 9-17 in the playoffs, with five of those wins coming when he was a rookie in 2008. In his last four postseasons, he's 4-11, hasn't made it out of the first round, and has managed a save percentage better than .900 only once. Those are some stunningly bad numbers, and even if you don't buy into the concept of "clutch," Price will still have to hear all about it the next time the Habs make the playoffs.
Worst Goaltending Performance for a Winning Team
Marc-Andre Fleury, Pittsburgh Penguins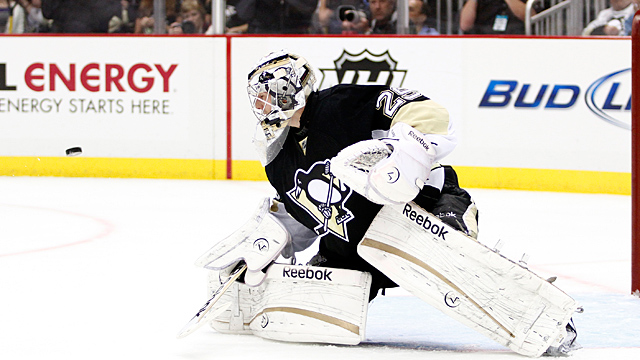 Fleury is a former no. 1 overall pick, has a Cup ring, and put up strong numbers during the regular season. But that hasn't slowed the suspicion in some quarters that the Penguins win in spite of him, not because of him, and his first-round meltdown against the Islanders won't help.
Just like in last year's first-round disaster against Philadelphia, Fleury never looked comfortable and was clearly Pittsburgh's weakest link as it split the first four games with the Islanders. But this year, the Penguins have a capable backup to turn to in Tomas Vokoun. He shut the Islanders down in Games 5 and 6 to lead the Penguins to the next round, and now you have to wonder when (or if) we'll see Fleury again.
Most Disturbing Subplot for Canadian Hockey Fans
Wait, now who's the starter in Sochi?
A month ago, Team Canada looked like it had a pair of solid options in Fleury and Price. Now that both those players have had disastrous playoff runs, the depth chart looks pretty thin. Do you go back to 41-year-old Martin Brodeur? Turn to Luongo, who couldn't even be the starter on his own team? An unproven name like Mike Smith, Corey Crawford, or even James Reimer? Surely not Cam Ward?
For years, Canada could count on having a superstar in his prime available for the big international events. A few weeks ago, that was still true. Now the position suddenly looks like a huge question mark.
Series I'm Barely Mentioning But Feel Like I Should Be
Rangers vs. Capitals
It's two rivals meeting for the fourth time in the last five years. It features arguably the best goalie of his generation facing a red-hot sniper who may win the MVP. The games have been close, and it's going to Game 7.
And yet … other than Rangers and Capitals fans, is anyone really loving this series? It's been low-scoring (including a pair of 1-0 games) and the home team has won every game. The Rangers' big-dollar stars like Rick Nash and Brad Richards have been mostly quiet, and there's been a surprising lack of bad blood. It's still been a decent series, and maybe even a good series. There just seems to be something … missing.
If we're lucky, that one missing thing will turn out to be a classic Game 7 tonight.
Best Play
David Krejci, Boston Bruins

Wednesday's Game 4 between the Bruins and Leafs in Toronto saw the two teams combine for nearly 100 shots and a frantic end-to-end overtime that featured several great chances on both sides. At the end, Dion Phaneuf's risky pinch led to a collision in the Bruins zone, which freed up Krejci to put home the winner on an odd-man rush.
It may not have been the highlight-reel goal of the round, but it managed to pack plenty of story lines into a single play. You had Krejci scoring a hat trick goal and recording his league-leading 10th point in just four games. Phaneuf's apparent mistake gave the Toronto media an opportunity to sink their teeth into him. The goal led to this moment. Oh, and the Leafs coming back to win Games 5 and 6 and turn this series into a minor classic just retroactively added to the drama.
Worst Play
Jonathan Quick, Los Angeles Kings

Oh come on, who hasn't dreamed of assisting on an overtime winner?
Play I'm Not Sure How to Categorize But Still Need to Mention
Mikhail Grabovski

Remember how last week's "10 players you meet in the playoffs" post mentioned the crazy European? I admit it, I was thinking of Grabovski when I wrote that. And he hasn't let me down, running around the ice and occasionally trying moves like the above. Yes, I know it wouldn't have counted. (It would have been waved off as a high stick.) That doesn't change the fact that Grabovski took a move that most hockey players don't have the guts to try against a live goalie in practice and broke it out in a scoreless playoff game. Like I said … crazy.
Best Moment
Josh Harding's comeback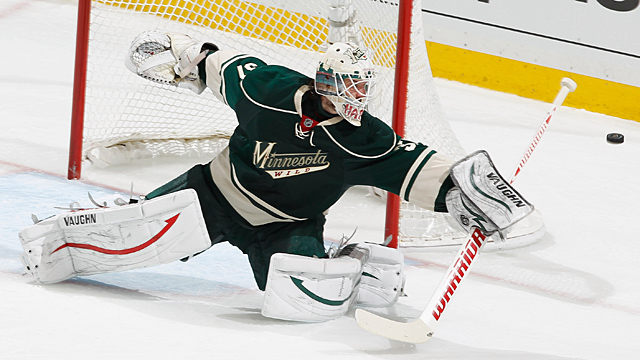 After an injury-plagued career and a multiple sclerosis diagnosis during the 2012 offseason, the fact that Harding was even in the league was an inspiring story. But the Wild's backup goalie hadn't started a game in more than three months heading into the playoffs, and he wasn't expected to see any postseason action.
That was until starter Niklas Backstrom was hurt during the warmups before Game 1 in Chicago, forcing Harding into an emergency start. Harding was phenomenal, making 35 saves and keeping the Wild in the game before eventually dropping a 2-1 decision in overtime. Yes, the Wild lost. But after everything he'd been through to get to that moment, seeing Harding standing on his head in the Wild crease was the highlight of Round 1.
Worst Moment
Gryba KOs Eller

We can argue all day about whether the hit by Eric Gryba on Lars Eller was clean. (Many experts said yes, Brendan Shanahan said no.) But there's no question that the sight of Eller slamming face-first into the ice was chilling.
Eller did make it back to the ice within a week, though there was no word on how long he would have been out if the Canadiens had advanced. Meanwhile, the hockey world was left to struggle with whether or not these sort of devastating hits should still have a place in the game.
Scariest Team
Chicago Blackhawks
We haven't talked much about the 2013 Presidents' Trophy winners in this post, because there's not all that much to say. The Blackhawks went in as a favorite, and they took care of business. While each conference's no. 2 seed was eliminated and the East's no. 1 seed at least had the decency to occasionally look vulnerable, the Hawks rolled through the Wild with relative ease.
And now they get to face a tired Red Wings team in Round 2. The Blackhawks may not have been the consensus favorite two weeks ago, but they pretty clearly are right now.
Filed Under: Chicago Blackhawks, Hockey, NHL, NHL Playoffs, Ottawa Senators, Pittsburgh Penguins, San Jose Sharks