10 NHL Early-Season Surprises
Bill Wippert/NHLI via Getty Images
We're about a quarter of the way through this truncated NHL season, and that seems like a good time to have a look at some of the players who are putting up impressive numbers so far.
But while it's not exactly a shock to see names like Stamkos, Crosby, and Rinne near the top of various categories, some of this year's other leaders are less predictable. Granted, we're dealing with a dozen games or so in most cases, so your "small sample size" warning light should be blinking rapidly. But that doesn't mean we can't take a moment to recognize some early season surprises.

Craig Anderson, Ottawa Senators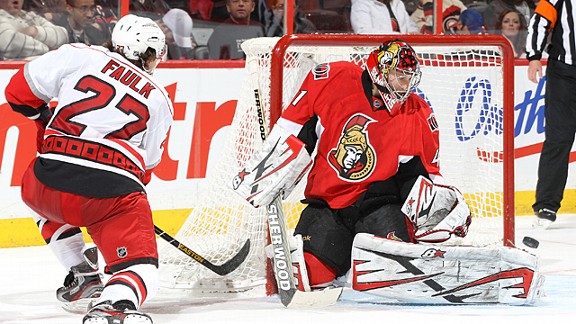 The expectations: After a shaky 2010-11 showing in Colorado, Anderson ranged from good to great as Ottawa's no. 1 goalie last year. Although the Senators have a history of seeing their seasons torpedoed by disappointing goaltending, fans were hoping Anderson could deliver another year of dependable work.
The reality: Anderson's been the best goaltender in the league, racking up a 6-2-2 record while leading the NHL in save percentage and goals-against average through Sunday.
Can he keep it up? While he can't be expected to maintain his current super-human numbers, at this point it doesn't seem all that difficult to picture Anderson being in the Vezina mix at the end of the year.
Thomas Vanek, Buffalo Sabres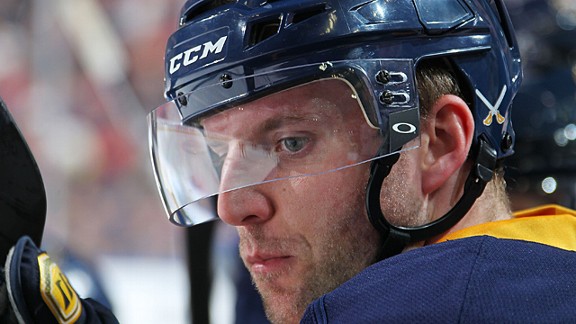 The expectations: Vanek was a former top-five pick who seemed to be emerging as a superstar after a 2006-07 season that saw him record 43 goals and 84 points in just his second year in the league. Then he signed a controversial seven-year, $50 million offer sheet with the Oilers that the Sabres were forced to match. He's never lived up to that deal, topping 65 points only once in the five years since. While he was still a first-line player, the days of hoping he'd emerge as a superstar seemed to have passed.
The reality: A quarter of the way into the season, Vanek leads the league is goals (11) and points (23), and has already recorded a pair of five-point nights.
Can he keep it up? There's no chance he keeps up his current pace, but he seems like a good bet to finish as a better-than-a-point-per-game player for the first time since his 2007 breakout. That's good news for the struggling Sabres, because at this point, Vanek seems to be the only thing keeping them from free-falling out of contention altogether.
Patrick Marleau, San Jose Sharks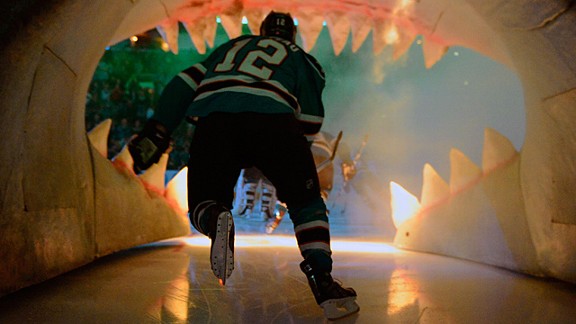 The expectations: At the age of 33, Marleau's settled in as one of those dependable first-liners who can be counted on for solid numbers while never really being part of the "elite superstar" conversation. Over an 82-game season you can usually pencil him in for 30-plus goals and around 70 points.
The reality: Marleau raised eyebrows by getting off to one of the best starts in league history, becoming only the second player to start a year with four straight multiple-goal games. His nine goals this season are currently good for second place in the league, trailing only Vanek. (Patrick Kane and David Clarkson also have nine.)
Can he keep it up? Nope. That's not really a prediction so much as a reading of his recent game log — after this blazing-hot start, he's pointless in his past five games. More concerning, he's managed just a single shot in three of those contests. Somewhere, Jeremy Roenick nods and smiles.
Roberto Luongo, Vancouver Canucks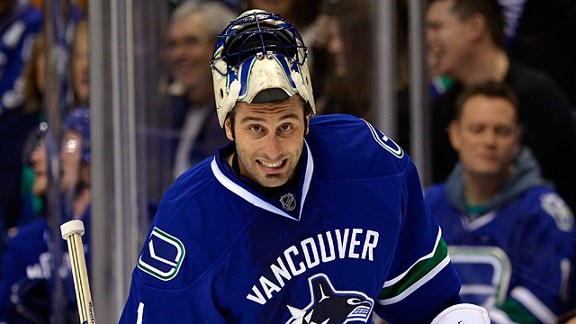 The expectations: Initially, it was thought that the Canucks would ride new starter Cory Schneider and Luongo would be traded, likely to the Maple Leafs or Panthers. When it became clear that no deal was coming, expectations shifted to Luongo being the league's most overpaid backup at best, or an outright distraction at worst.
The reality: As we've documented, Luongo has been one of the league's best stories so far. When he plays, he's been excellent (second only to Anderson is GAA and save percentage). When he sits, he's been an ideal teammate, having fun with the situation without ever complaining.
Can he keep it up? At this point there's no reason to think that he can't. For all the forced narrative about him being some sort of big-game choke artist, it's easy to forget that Luongo's been one of the best goalies of his generation. He'll still be traded eventually, probably in the offseason, but until then, he seems content to keep proving the doubters wrong.
Sheldon Souray, Anaheim Ducks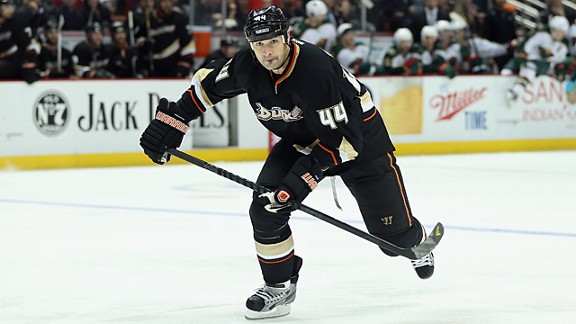 The expectations: Souray was an easy player to forget about coming into the season. After establishing himself as an All-Star in Montreal, he signed a big deal in Edmonton and had a mostly disappointing stint with the Oilers that at one point included being buried in the minors, Wade Redden–style. After being bought out and posting mostly unimpressive numbers playing tough minutes with the Stars last season, he signed with the Ducks in the offseason.
The reality: He's posted seven points through 11 games, and his +10 is the second-best in the league. More importantly, he's been a steady presence on the blue line for a Ducks team that's been one of the league's most surprising squads.
Can he keep it up? At 36 years old, he's solidly into the "savvy veteran" stage of his career. But though his days of 20-plus-goal seasons are behind him, he looks ready to be a workhorse for a young Ducks team — if he stays healthy.
Antti Niemi, San Jose Sharks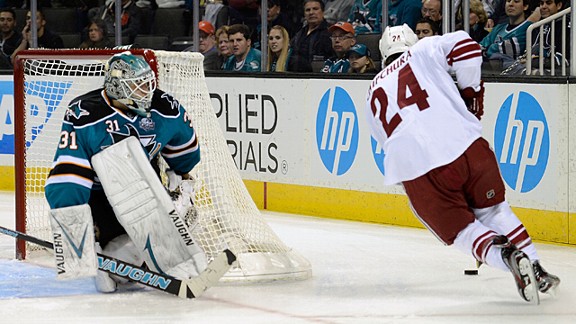 The expectations: Niemi's had a strange career. He's probably best known for backstopping Chicago to the Stanley Cup in 2010 and then immediately finding himself unemployed when the cap-conscious Blackhawks walked away from his arbitration award. That made him the poster child for the "You don't really need a great goalie to win a championship" crowd, and two solid but unspectacular seasons in San Jose cemented his reputation as the prototypical average goalie.
The reality: Through the season's opening few weeks, Niemi has been well beyond average — he finds himself in the top five in wins, goals-against average, and save percentage.
Can he keep it up? It's always tough to know what to expect from a goaltender — it can take years to get a read on his true talent. So it's possible Niemi really is a better goalie than we've all been giving him credit for, and we're seeing the start of his emergence as an elite player. But it's a lot more likely that he is what we thought he was — a solid goaltender riding a hot streak.
David Clarkson, New Jersey Devils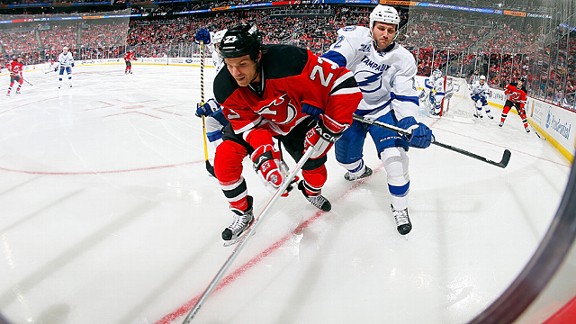 The expectations: If you're a Devils fan and/or you play in a fantasy league that rewards penalty minutes, you probably already love Clarkson. To the rest of the world, he's a hard-working plugger who could contribute offensively (as evidenced by last year's surprising 30 goals).
The reality: Clarkson added two more goals against the Penguins on Sunday to bring him to nine on the year. And unlike last season, he's mixing in some assists, too.
Can he keep it up? Can you really call it a fluke when it happens two years in a row? While nobody expects to see Clarkson's name among the Rocket Richard candidates by the end of the year, he's slowly but surely earning his way into the conversation about the league's best power forwards.
James van Riemsdyk, Toronto Maple Leafs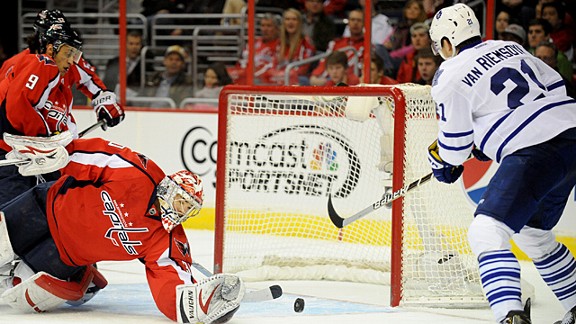 The expectations: The former second overall pick teased Flyers fans for years without ever really breaking through. Philadelphia eventually got tired of waiting and dealt him to Toronto in the offseason, meaning it was Leaf Nation's turn to wonder if he'd finally turn the corner.
The reality: Joffrey Lupul's injury gave van Riemsdyk a shot at the first line, and he's taken advantage. His seven goals would translate to just under a 50-goal pace over a full season, good enough for a top spot on the Leafs (and would also lead the Flyers, as Toronto fans have become fond of pointing out). So far he's looked like exactly like the best-case scenario the Leafs hoped they were getting — a dangerous player who can score with skill or by going into the dirty areas.
Can he keep it up? It's worth pointing out that while the goals are nice, van Riemsdyk's added only two assists so far. And of course, Flyers fans will ask you to check back when he's made it through an entire season without missing time due to injury. But so far, the Leafs have to be thrilled with the returns on Brian Burke's last big move as GM.
Cory Conacher, Tampa Bay Lightning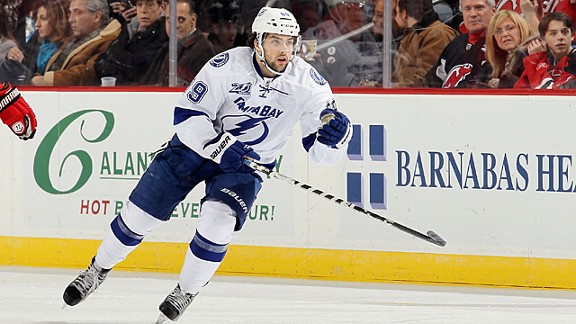 The expectations: Despite some strong bloodlines, Conacher went undrafted through four years of college hockey. But he impressed the Lightning last year in the AHL and came into this year's shortened training camp with a chance at an NHL job.
The reality: Conacher didn't just win a job, he earned playing time with top Lightning forwards like Martin St. Louis and Steven Stamkos. That's led to some early production, including 12 points through the season's first 11 games, which has generated some Calder buzz.
Can he keep it up? While he won't keep up a point-per-game pace as a rookie (and is now pointless in his last four), many seem to feel that Conacher is for real.
Viktor Fasth, Anaheim Ducks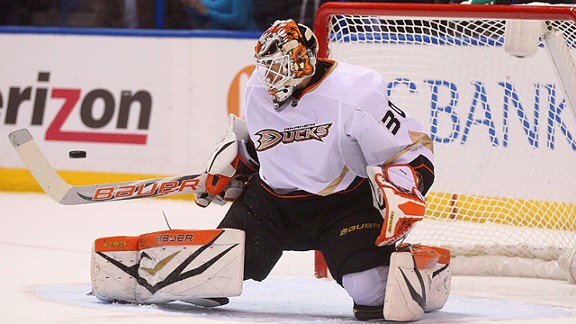 The expectations: There weren't many. As an undrafted 30-year-old who'd had success in Europe but never played an NHL game, Fasth wasn't viewed as much more than an occasional fill-in when Jonas Hiller needed a rest.
The reality: Fasth has started his career with five straight wins to go along with a 1.72 GAA and .932 save percentage. With Hiller struggling, those numbers are good enough to have some wondering if the Ducks have officially got a goaltending controversy on their hands.
Can he keep it up? Fasth wouldn't be the first relatively unknown European goalie to find unexpected success in the NHL, but let's not get ahead of ourselves. The job still belongs to Hiller, according to coach Bruce Boudreau, and it would be ridiculous to anoint Fasth as a star after just five career starts. (Note to self: Check back after start no. 6.)
Filed Under: Hockey, New Jersey Devils, NHL, Ottawa Senators, San Jose Sharks, Toronto Maple Leafs