July 12, 2012, was a bad day. Not the absolute worst day of the year, but easily top seven. Why? Surprisingly, it's not John Carter or Somethin' 'Bout Kreay–related; they allegedly came out on March 9 and September 14, respectively. On that 12th day of our seventh month, a Thursday, Facebook decided to make an update. They unleashed the "engagement" feature on the handful of us that use the social-networking platform, giving Internet-happy couples multiple days of real estate in the Northeast quadrant of the page.
If you're, say, 43 and have no idea what I'm talking about, this may not have been such a rude disturbance to your life, but as someone who is in his mid-twenties, the second half of 2012 felt like friends, associates, enemies, frenemies, and people you're convinced hacked into your account to confirm a friendship were losing bets/getting punk'd/punk'ing themselves/ falling in love and prepping for a wedding celebrations on a daily basis. The most neutral, inoffensive word that I can think of to describe this phenomenon: startling.
I bring this up not simply to vent and/or abuse this platform, but rather to provide an example of an entity, Facebook, that will not be included in our annual field of 32 dedicated to answering the question "Who Won 2012?" Getting to this answer is a complicated process. Ground rules need to be laid, constants and variables need to be established, and one soul (mine) needs to be searched. Last year, a similar task was carried out, with the Final Four represented by Timothy Tebow, Twitter, Ryan Gosling, and The Knowles-Thrones (Bey, Jay, 'Ye). The title went to Twitter, and because of its win, as a nod to TRL, it has been retired from the contest. It's the "Tearin' Up My Heart" of end-of-year, post-Christmas brackets.
As for this year's bracket, here's how it works. There are four categories: Sports/Athletics, Celebrities/Entertainers, Technology/Internet, and Movements/Phenomena. Eight people/teams/entities/things are in each category, which is how, with some quick mathematics, we make it to 32. Before getting into the bracket, here are the disclaimers:
The Deceased: Not included. Sometimes those who we unfortunately lose gain in popularity, post-mortem, but there's no way you can ever really call that a "win."
The Lochte: Not included. Not even an honorable mention. I know you want to think he came out positively in 2012 because he was such a heartthrob, became easily meme-able, landed a cameo on 30 Rock, and even performed well in London. It's natural, but know that he's snowballing downhill. A quote from his Wikipedia page:
On August 1, Lochte trademarked the phrase "Jeah" with the U.S. Patent & Trademark Office. Lochte will have a guest appearance on 90210 in late 2012. Lochte has shown interest in being a celebrity on Dancing With the Stars.
He's a successful Olympian, but somehow is having a career trajectory that mirrors a retired NFL player crossed with an America's Next Top Model runner-up. So no. Just no.
The Honorable Mentions: So many had great years, but there are only 32 spots. It's rough out there. The following were considered but then dismissed:
2 Chainz, Daniel Day-Lewis, Kendrick Lamar, Missy Franklin, Pablo Sandoval, Rap Genius lol, Cinemagram, Being Famous and Bad at Sexting, Mitt Romney, Katie Holmes, Mayans, Adele, Call of Duty, RG3, Red Bull, Gay Weed-Smokers in Washington State, Oscar Pistorius.
The Really Honorable Mentions: And these are the ones that, at one point, were on the bracket, and then got the last-minute ax:
Miguel Cabrera, The USA Women's Gymnastics Team, Eli Manning, The San Francisco Giants, Live-Tweeting Everything, Jeremy Lin, Rookie QBs, Honey Boo Boo, Nate Silver, One Direction, Pete Souza's Camera, Seth MacFarlane.
The Seedings: Objectively subjective. Last year, the seedings were based on the number of Twitter followers (objective), and if an entry did not have a verified Twitter account, I gave myself the freedom to pick any semi-related account to determine its placement (subjective). While the subjective aspect remains the same this year, in an attempt to become increasingly well respected in the math and science community, I have tweaked the objectivity indicator, making it not simply about number of Twitter followers, but …
# of Twitter Followers divided by # of Twitter accounts Followed.
THAT'S MATH, BABY.
If JoJo, Improper Bostonian, were in this contest (which she's not, but, based on this, will be making a strong push in 2013), 620,166/424 = 1,463 = her WINNING INFLUENCE BRACKET SEED SCORE (WIBS, duh). If it were last year's contest, those 620,000-plus followers would have gotten her a 3-seed. This year, it's a 6-seed. Love you, boo, but 3-seed you are not. THE SCIENCE HOLDS UP.
What's important to note, though, as I wrap up this session of showing off the fact that I know how to use the calculator on my iPhone, is that seedings don't even matter. Advancement from round to round is also both subjective and objective: the former because I'm making these decisions without consensus or a quantitative rationale, and the latter because the conclusions I've come to are correct.
OK, enough with the disclaimers and rules and TED talks. On to the 32 winners.
Categories
Sports/Athletics
LeBron James: G/F, Miami Heat/The United States of America. @KingJames.
Andy Murray: Professional Tennis Player, Great Britain. @andy_murray.
Michael Phelps: Swimmer, The United States of America. @MichaelPhelps.
Johnny Football: QB, Texas A&M (Formerly "Johnny Manziel"). @JManziel2.
Usain Bolt: Sprinter, Jamaica. @usainbolt.
Lionel Messi: Forward, FC Barcelona/Argentina. @AndresLionel10.
Alabama Football: College Football Team, SEC. @AlabamaFTBL.
Gabby Douglas: Gymnast, The United States of America. @gabrielledoug.
Celebrities/Entertainers
Channing Tatum: Actor/Stripper. @channingtatum.
Lena Dunham: Actress/Author. @lenadunham.
Frank Ocean: Singer/Tumblrer. @frank_ocean.
Taylor Swift: Singer/Girlfriend. @taylorswift13.
Danny Boyle: Director/Olympian. @SirDannyBoyle.
E.L. James: Writer/Sexter. @E_L_James.
Jennifer Lawrence: Katniss. @JennifLawrence_.
The Knowles-Thronedashians: The American Family. @Beyonce + @S_C_ + @kanyewest + @KimKardashian.
Technology/Internet
GIFs: Like a video, but… @Mark_Sanchez.
Pinterest: Like Etsy, but… @Pinterest.
Tumblr: Like Xanga, but… @Tumblr.
Google Maps: NOTHING LIKE APPLE MAPS [SMH SHAKING MY HEAD]. @googlemaps.
Spotify: Like Grooveshark, but… @Spotify.
Instagram: Like being a photographer, but… @instagram.
Samsung Galaxy SIII: Like the iPhone, but… @SamsungMobileUS.
Reddit: THE ENTIRE INTERNET. PERIOD. @reddit.
Movements/Phenomena
Obama 2012: They. Won. @Obama2012.
#YOLO: Live. Once. @yolostuff + @YOLOmeme + @YOLO_YODA + @yolo.
The Scooter Braun Factory: Pop. Music. @scooterbraun + @justinbieber + @carlyraejepsen + @psy_oppa + @thewantedmusic.
Club Paradise: Take. Care. @Drake + @kendricklamar + @asvpxrocky + @JColeNC + @WakaFlockaBSM + @MeekMill + @2chainz + @FrencHMonTanA.
Electronic Dance Music (EDM): Build. Up. @deadmau5 + @NeroUK + @Avicii + @steveaoki + @Skrillex + @CalvinHarris + @swedishousemfia + @davidguetta.
Linsanity: Landry's. Couch. @JLin7.
Boy Bands: Chris. Kirkpatrick. @onedirection + @thewantedmusic + @bigtimerush + @JLSOfficial + @MindlessBhavior.
McKayla Maroney's Face: Never. Impressed. @McKaylaMaroney.
For the 10 percent of you that I haven't lost in this Guetta-esque buildup, follow James of Trinidad's instructions for six minutes, check your heart rate, wipe your brow, and then let's do this.
Still there? OK, let's do this.
—-
Round of 32
I Just Met You Region
Instagram (1) vs. Danny Boyle (8): If you're wondering what Danny Boyle, director of 2008's Slumdog Millionaire, is doing on a bracket about the best of 2012, you forget that he pulled off perhaps the greatest spectacle of the year, Isles of Wonder. You know, the almost four-hour extravaganza that was the 2012 London Olympics Opening Ceremony. Boyle's production was the most viewed opening ceremony in both U.K. and USA history, with a worldwide audience estimated at 900 million. Just to put that in perspective, there are around 7 billion people on Earth. So yeah, about 13 percent of the human race. NO BIG DEAL. With all of these aforementioned accolades, it's really unfortunate that Danny got stuck against Instagram in the first round. Fifty-two Opening Ceremonies couldn't have helped him pull off this upset. Not to be a spoiler, but one of the questions you should be asking in this contest is "who/what can beat Instagram?" (haven't decided yet). It went from a popular photo-filter-brunch-puppy-Jordans-selfie app that was rapidly catching on in 2011 (please note its 2011 Sweet 16 loss to Adele) to perhaps the tech MVP of 2012. There's more to say about Instagram, but I'm in no rush. Will pace myself. I think. Bye, Danny.
Reddit (5) vs. Obama 2012 (4): Obama 2012 was not about a man, nor was it really about politics. It was a movement that, at first, struggled to match its 2008 cult-like status, forcing it to find new, creative ways to permeate the cultural landscape, all in the hopes of winning that wacky Electoral College thing come November. One of the ways it did this was by letting Pete Souza, official White House photographer, take the greatest pictures of all time. OF. ALL. TIME. Another way was by this sentence: "Hi, I'm Barack Obama, President of the United States. Ask Me Anything." Obama hopping on Reddit was possibly the coolest nerd move that's ever happened in the history of the presidency. It wasn't just great for the campaign, though. His half-hour session also gave Reddit some mainstream acceptance and positive press (which couldn't hurt, following 2011's "Jailbait" child porn scandal), and was also aided by the fact that Obama's final update was "By the way, if you want to know what I think about this whole reddit experience — NOT BAD!" Just incredible. While this moment, along with other great findings/events, were great for the website, this campaign got Barack reelected, something that looked iffy at certain points of the year. For that, they advance. But yeah, seriously, shout-out to Pete Souza. GREATEST. PHOTOS. EVER.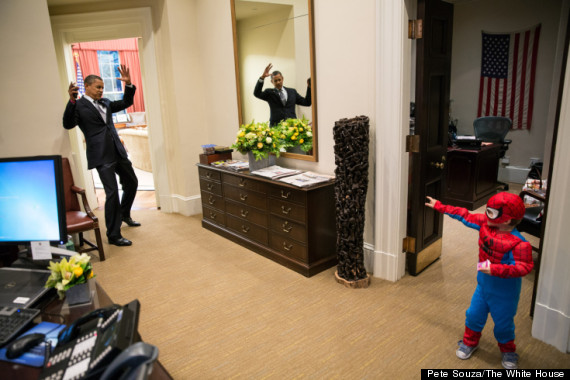 Channing Tatum (3) vs. Club Paradise (6): Last year, there were two guys, Ryan Gosling and Michael Fassbender, who dominated through a combination of making multiple films, being man-desirable, causing Internet hysteria, and getting naked. In 2012, these two men and their past accolades were rolled into one jacked soul: Channing Tatum. He was a presence for the entire calendar year, from February's The Vow to November's People magazine "Sexiest Man Alive" cover. And there was another small film somewhere in the middle that got some humans very riled up about his existence. Pitted against him is Drake's Club Paradise tour. Yes, it was the most successful hip-hop tour of 2012 (seventh-highest grossing tour worldwide, through June), but that's not what made it a phenomenon. In a genius move, Aubrey rounded up almost every rapper who could potentially be described as 'competition' and either had a song with them or put them on his tour. Kendrick, A$AP, J. Cole, Waka, Meek, French, and Tity 2 Chainz. That's a substantial chunk of hip-hop in 2012. The lineup was great, the live show was great, and perhaps best of all, they played basketball together between shows. In this 8 vs. 1 contest, strength in numbers does play a part, but not even writing this while blasting "Pop That" can push them past The Channing Tatum. He's like a late-'90s B-side Will Smith who hates wearing pants. There is no higher compliment.
Boy Bands (7) vs. Pinterest (2): It took me weeks to figure out Pinterest, but all that proves is that I'm an idiot. I tried to get involved, not because I have any real interest in pinning, but because I'm a follower and heard people buzzing about it left and right. Oh, and by "people," I mean "ladies." Ladies be buzzing. Related: boy bands. They're back and, like Pinterest, LADIES [younger] BE BUZZING. The best thing about them, perhaps the single largest sign that the movement is back, is that boy bands are beefing. If you don't know about the One Direction vs. The Wanted beef, I don't know what you're doing with your life. Dudes with names like "Zayn" and "Max" are taking to Twitter in the most vicious tiff since EAST [hampton] vs. WEST [egg]. Yes, these bands are cranking out jams and selling out arenas, but boy-band beef alone gets it to the next round. Easily.
This Is Crazy Region
Taylor Swift (1) vs. Jennifer Lawrence (8): This is a matchup that dreams are made of. Two talented women, born eight months apart, both with a monstrous 2012, meeting in the first round, forcing me to officially take the side of #TeamSwift or #TeamNotSwift. What's going for Taylor: her fourth album, Red, sold 1.21 million in the first week, which I'm pretty sure is more than all the other albums in 2012 combined. Seriously, though, that's the highest first-week sales tally since The Eminem Show, which came out in 2002, which is insane. What's going for Jennifer: She played the lead role, Katniss, in The Hunger Games, which grossed $152.5 million in its opening weekend, the fifth-largest opening weekend in history, and then turned around and received a Golden Globe (and highly probable Oscar) nod for Best Actress in Silver Linings Playbook. So what now? I guess the next logical step is to figure out which one dated a high school kid and which one seems to have a super-mature take on relationships. This quote: "You don't want your relationship to be in the press, but at the same time, and this is only a theory, the more you try and keep it secret, the more the media tries to crack it open," was said by Jennifer Lawrence. Taylor Swift? She dated Conor Kennedy, an 18-year-old SAT-taker. So yeah, #TeamNotSwift. UPSET, BABY.
McKayla Maroney's Face (5) vs. EDM (4): Last year, electronic dance music took over the airwaves and infiltrated other genres. Or, better said, artists in other genres looked to EDM to stay fresh. This year, the genre moved beyond simply popular singles and became the official background music to the year. Brands raced to EDM DJs to use their loud sounds in ads, from gum to cell phones to liquor to sodas to clothing lines. It seemed as if 2012 was the year the transformation became complete, from underground movement to household sound. Something very different than everything written above: gymnast McKayla Maroney. She didn't win the Olympic vault gold, an event she was favored in, and that, along with the sass that she brought to her loss, became the best thing that's ever happened to her. Why? Because this in August: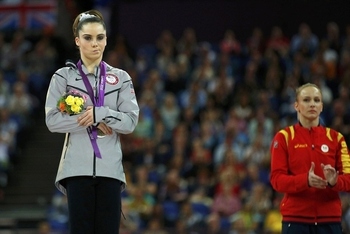 Turned into this in November:
MCKAYLA'S FACE WINS. LANDSLIDE VICTORY.
#YOLO (3) vs. Gabby Douglas (6): So both are inspirational, one in the best and worst way ever, and the other only in the best way ever. Yes, "you only live once" suggests seizing the moment, being like Aubrey and whatnot, but it also makes people be the worst, and unfortunately has become associated with (not responsible for) some really sad events. And then there's Gabrielle, pictured below with spirit mother HARPO.
If you think this entire bracket is an excuse to potentially pit Gabby vs. McKayla, you're not wrong.
GABBY ALSO WINS. ALSO A LANDSLIDE VICTORY. #YOLOLYMPIAN
E.L. James (7) vs. Usain Bolt (2): While E.L. James's Fifty Shades of Grey was released in 2011, this year is when it truly became a phenomenon. And while the book (and its readers) was wildly mocked (the term "mommy porn" became closely associated with the series), Ms. James quietly got the last laugh. She was named the 2012 "Person of the Year" by Publishers Weekly and one of Time's 100 Most Influential People in the World. All of these accolades! And for someone who used to write under the super-emo pen name "Snowqueens Icedragon"! Going against James is Usain Bolt, the fastest man in the world. Again. I could go on and on about how impressive it is to repeat as the world's fastest man when you're getting older and your competition is getting younger, but I think this does a decent job of articulating the matter at hand:
"The most naturally gifted athlete the world has ever seen."
Good god. I completely forgot who Usain was going against. Doesn't matter. He wins.
Here's My Number Region
The Knowles-Thronedashians (1) vs. Spotify (8): As previously mentioned, one of last year's finalists was The Knowles-Throne triumvirate. Well, in 2012, 'Ye found love in a once-Ray J'd place by way of Kim Kardashian, and suddenly a company of three became a crowd of four. At July's BET awards, the Knowles-Thronedashians were out for all to see, not only dominating the front row: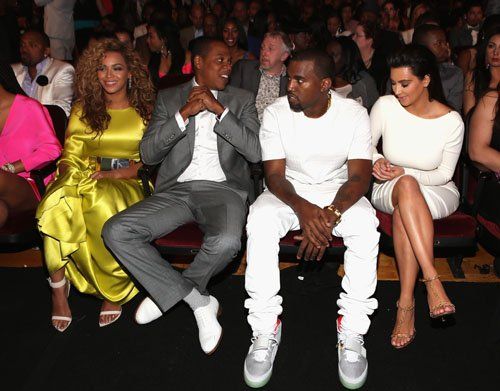 But also doing that diagonal, organize-yourself-by-latitudinal-position-of-eyes thing.
CLOSER:
Anyway, while adding the "-dashian" to the crew has a large number of naysayers, there's no denying the media frenzy it created. And that's in addition to the massive, media-frenzied year had by 3/4ths of the crew with actual jobs. I could counter this with positive thoughts about Spotify, which became the single most important music-playing entity of the year, but there's just no way it knocks out these four. Shout-out to Spotify Premium, though. Such a game-changer.
Lena Dunham (5) vs. Michael Phelps (4): Here's a Chris Rock quote, from 1996's Bring the Pain:
"Ni—s always want credit for some shit they supposed to do. A n—- will brag about some shit a normal man just does. A n—- will say some shit like, "I take care of my kids." You're supposed to, you dumb motherfucker! What kind of ignorant shit is that? "I ain't never been to jail!" What do you want, a cookie?! You're not supposed to go to jail, you low-expectation-having motherfucker!"
Why am I bringing this up in relation to Lena Dunham and Michael Phelps? Because it's the only way I can pick a winner in this matchup. I look at Michael Phelps's year — winning four gold medals and two silvers, and becoming the most decorated Olympian of all time — and I can't help but respond with "well, duh?" The guy should never lose a race, ever. He has gills. He's a 6-foot-4′ halibut human. Yes, all of his accolades are incredible, and this year he cemented his status as a legend, but that's what he was supposed to do. Congrats on doing what's expected of you, Michael. You take Lena, on the other hand, and what Olympic-size feat did she pull off? Oh, you know, just getting $3.5 million from Random House. Up front. Because that's her advance. One of the agreed-upon aspects of "winning" is just getting stupid paid, and that only becomes more true when no one can figure out why one got stupid paid. What's better than earning money? NOT EARNING MONEY AND GETTING IT ANYWAY. Lena won. Sorry, Michael. Don't take it personally, though; I attempted to ether Lochte earlier as a sign of respect for you. Know that.
Samsung Galaxy S III (3) vs. Tumblr (6): Tumblr is still great. Last year, it was knocked out by Tim Tebow in the Elite 8, because that's what had to happen. But after another year, it's only gaining influence. (Unlike certain backup QBs we could mention.) In March, Tumblr hit its 20 billionth post, and in November, it was reported that Tumblr broke into the top 10 most visited sites in the world. It capitalized on the increasingly large meme/GIF culture, and has cemented its status as an extremely easy platform to operate. You know, just a year ago, nothing seemed more official than having your own personal ".com" site. Now it almost seems silly, because the stigma of having "tumblr" attached to your personal site simply doesn't exist anymore. Obviously, "[your name].blogspot.com" is not the hotness, but "[your name].tumblr.com"? Moderate hotness. That's big. As for its technological foe, the Samsung Galaxy S III had a big year, but its run was much more surprising. Ninety-nine times out of 100, non-iPhone phones are laughable, but this device found a way to actually gain serious traction. In the third quarter, the phone overtook the iPhone 4S and became the world's best-selling smartphone. That's big. I had to read that headline three times to make it register, because it seems like a typo/Onion article. So which is advancing? Even with all of its success, and ignoring the occasional bug associated with it, the Samsung Galaxy S III still isn't the iPhone. And until the Samsung Galaxy S III is the iPhone, it will never advance. Seems like a rude stance, but whatever. I really don't care.
Lionel Messi (7) vs. Andy Murray (2): Messi scored 91 goals in 69 games in 2012. That's insane. While the ratio of goals to game isn't an all-time record, Messi did break the calendar-year goal mark of 85 by Gerd Müller. That's crazy. Messi's only 25. That makes me ill. Stats aside, he's one of the athletes of this generation who I genuinely feel privileged to get to watch in real time. He's incredible. As for Andy Murray, while he's not breaking any long-standing single-season records or being touted as the best of his generation, his success was definitely one of the feel-good stories of 2012. After years of disappointment, he came home for the Olympics in London and beat Federer for gold, becoming the first Brit to win gold in men's singles in over a century. And then he went to the U.S. Open and beat Djokovic in the match tied for the longest final in tournament history, becoming the first Brit to win a Grand Slam since 1936. And, just to top it all off, those titles made him the first man to win the Olympics and U.S. Open back-to-back. Ever. It's incredible. So, while Messi's statistics exist in the sphere beyond the stratosphere, Murray's accolades are bigger than his personal legacy. Yes, he slightly got the "big 3 + 1" monkey off his back, but he also ended a drought for British tennis and showed up in front of the home crowd for the Olympics. For that — becoming a national hero — he's moving on.
Call Me Maybe Region
Frank Ocean (1) vs. The Scooter Braun Factory (8): This is a tough one. On one side, you've got Frank Ocean, who released one of the more critically acclaimed albums of the year in channel ORANGE, and on the other, there's Scooter Braun, who manages a boy band (The Wanted) that beefs with One Direction, the two pop-music phenomena of 2012 in Carly Rae Jepsen ("Call Me Maybe") and Psy ("Gangnam Style"), and then that Justin Bieber fellow to round it out. So there's that. More: Frank Ocean's debut album got a Grammy nod for Album of the Year, but then "Gangnam Style" just hit the 1 billion views mark on YouTube. So there's that too. Yes, Frank's "off the court" life (his sexual orientation) got even more attention than his music, thus turning him into an important cultural figure, but the "off the court" beast of "Call Me Maybe" (the numerous parodies) took this song from a catchy pop hit to a cultural mainstay for almost the duration of 2012. In other matchups, most notably Club Paradise vs. Channing Tatum, power in numbers proved to not be the determining factor in advancement. In this case, however, it 100 percent is. While a year without Frank Ocean would be an unfortunate 2012, I don't even understand what this 2012 would be like without "Call Me Maybe" and "Gangnam Style." So yeah, Scooter's pop factory, unfortunately, knocks out Frank. That sucks. Ugh.
GIFs (5) vs. Alabama Football (4): Partly by virtue of how the college football season is scheduled, the University of Alabama football team is the best team of 2012, because they began the year with a title and are ending the year in the title game. It's extremely impressive, further proving that Nick Saban is a witch. Going against this powerhouse program are GIFs. One of the most important things about GIFs in 2012 is that, finally, the population that pronounces this word with a soft "G" (jifs) has either changed its ways publicly or has been deported. Beyond that, there is no 2012 without GIFs. Everything in this contest can be, and has been, explained thoroughly by GIFs. Here are three examples (more to come, I'm sure):
Hey loser.
Hey winner.
WE'LL SEE.
GIFs win. That was never a question.
Linsanity (3) vs. Google Maps (6): For something that came and went as fast as Linsanity, it's a testament to the strength and importance of the movement that it's still relevant as the year comes to a close. Living in New York during February and March of 2012, I can honestly say I've never felt a city as abuzz about something (sports or otherwise) in my entire life. Even with his injury, and then his exit from the Knicks, and then his move to the Houston Rockets, it's not completely over, but it's now different, maybe for the better of Jeremy's career. That remains to be seen. On the other side, we have Google Maps. When the Apple iOS6 update came out, many people assumed that installing it would make their lives better. Well, the opposite happened, because with that update came "Apple Maps," a direction-giving and location-finding service so bad, you had to purposefully feed it misinformation in order to possibly get accurate directions. None of us knew how good we had it with Google Maps until it was gone, and then when it finally made itself available in the Apple store again in December, we all jumped for joy that we could finally get from Point A to Point B again. While we as a directionless culture will never take Google Maps for granted again, it still can't hold a candle to the impact Linsanity had (and still has) on all parts of society. Linsanity Lives.
Johnny Football (7) vs. LeBron James (2): There's a lot going Mr. Manziel's way in 2012. He's got one of the best nicknames in sports, he's the first freshman to win the Heisman Trophy, and without hesitation he tweets Drake lyrics:
Also, he's got a fan in LeBron James, who not only tweeted at Mr. Football:
But found him, took a picture with him, and then put it on Instagram:
Johnny Football got to meet LeBron. How much better could it get? Well, for one, he could actually be LeBron James, who happens to be the man he's going against in this first round. It's well documented, but 2012 was the year LeBron finally got his ring. He also seemed to finally get a PR team behind him (see: Samsung Galaxy S III commercial) and, post-ring, has become extremely likable (see: previous Olympics dancing GIF). JFootball certainly had a great year, especially these past few months, but 2012 will always be the year LeBron got over the hump. Proceed, 'Bron.
—-
Sweet 16
I Just Met You Region
Instagram (1) vs. Obama 2012 (4): One of the reasons Twitter is so important is that it gives super-personal glimpses into the lives of the famous (and young and oft-stupid), whose public personas were once completely controlled by others. Instagram has taken that one step further, by way of candid pictures of stars doing everything, from always cooking the greatest meals ever (2 Chainz) to being straight-up goobers. This was especially true at the 2012 Olympics, the event at which Instagram became the single most important way to watch the athletes document their experiences. And by "experiences," I mean "PRANKS."
#GotEm. So Important. Obama 2012 also took full advantage of the "peek inside" aspect of Instagram — the campaign thrived on making its guy, Barack, an extremely likable, normal guy for the duration of the year. With that said, there is one thing that is impossible to ignore. WHY WAS IT SO CLOSE? In a similar vein to Michael Phelps, yes, the victory was achieved, but duh. Your guy is one of Earth's most charismatic humans. It seems wrong to knock out the campaign that successfully got the president of the United States of America reelected, especially by a bipartisan photo-sharing app, but it's kind of the truth. Sorry, Obama campaign. Should have played more pranks of Biden asleep with an Amtrak map over his face, applied the X-Pro II filter like a bawse, written #GotEm next to it, and then put it on Instagram. Your win (not costing yourself the election), but also your loss (LACK OF PRANKS). Instagram rolls on.
Channing Tatum (3) vs. Boy Bands (7): Channing advanced to the second round without even a discussion of Magic Mike. That's how big of a 2012 he had. In discussing the film, the first place to start is that it's semi-autobiographical, which is fantastic. People tend to try to hide their stripper past (trust me), but not Tatum. He has embraced it, and the result has been him shockingly becoming a bona fide movie star. He was great in Step Up, don't get me wrong, but there was just no way to predict this is where he'd end up. As for Boy Bands, yes, they had a big comeback year, but it already looks as if there's a big gap between no. 1 (One Direction) and the rest. 1D's "What Makes You Beautiful" is a banger. Everyone knows that. The Wanted's "Glad You Came" is solid, but not good enough to actually warrant anything approaching *NSYNC/BSB-level pick-a-team mania. So yeah, it's great to see the young men back, with their legions of fans and their boatloads of money that they'll never see 97 percent of (with the the final 3 percent spread throughout the group, spent mostly on hair products), but it's Channing's nature to defeat large groups of men. First Club Paradise and now Boy Bands. What's next? THE SENATE? (Actually, it's Instagram.)
This Is Crazy Region
Jennifer Lawrence (8) vs. McKayla Maroney's Face (5): One of these has staying power (Jennifer Lawrence) and the other does not (McKayla Maroney's unimpressed face). One of these doesn't seem to buy into her celebrity (Jennifer Lawrence) and the other most certainly does (McKayla Maroney, with regard to her thizz face). One of these would probably be horrified to become a meme (Jennifer Lawrence) and the other couldn't seem to love it any more (MemeKayla MemeRoney). With all of this said, it seems as if Jennifer Lawrence is the landslide winner of this contest. In the long run, absolutely, but when it comes to this calendar year, McKayla's facememe definitely takes the cake. We might not be talking about it in three months, but by then it'll be 2013, a year that is of no concern to this contest. Few people have ever taken their meme to the White House. When McKayla and Obama did the pose, this was a trailblazing moment for memes everywhere. It's proof that, with enough hard work, even you, Nyan Cat, can meet the president.
Congrats, face of McKayla. You're a hero.
Gabby Douglas (6) vs. Usain Bolt (2): Yes, Usain is fast and appropriately cocky, but in the middle of all his winning in these Olympics, he did one of the cooler things in recent sports memory. He won the 200-meter, took a camera from a photographer, and then began snapping pictures of the celebration, one that involved a Jamaican gold-silver-bronze sweep.
For an athlete whose bravado occasionally leaned toward unapproachable, this was one of those moments where you had to love him — for the energy and joy he has for his craft and, more important, his country. On the other side, there's Gabby. While there was precedent that suggested Usain would have a good showing at the Games, Gabby came out of nowhere, stealing the spotlight from the heavily favored Jordyn Wieber, by winning the all-around gold. And then she and her girls won team gold. And then once the Games ended, her potential for having staying power truly took off. There hasn't really been anyone that qualified as an "America's Sweetheart" in a while, but Gabrielle certainly has taken those reins. This is a battle between two champions, two of the most notable Olympians of the Summer Games, but one of the curses of the Olympics is that as soon as they finish, the athletes quickly fade away. While that isn't fully the case with Usain, with time, Gabby's only getting stronger. If there's ever been proof of this, it's in a letter nominating her for Sports Illustrated's Sportsman of the Year (a title awarded to LeBron James). The nominator: Michael Vick. Line one: "Gabby Douglas is the American dream."
GABBY WINS. GABBY VS. MCKAYLA'S FACE. IT'S HAPPENING. TUNE IN ON PAY-PER-VIEW AND/OR ON SATURDAY MORNING.
Here's My Number Region
The Knowles-Thronedashians (1) vs. Lena Dunham (5): Lena pulled a pretty big upset in the first round, knocking off the most decorated Olympian of all time in Michael Phelps. This time, she goes against the First Family of Illuminati, the Knowles-Thronedashians. Here are 10 reasons why Lena, despite all of her Girls success, never stood a chance in this matchup:
1. Blue Ivy Carter
2. Beyoncé's Tumblr
3. Blue Ivy Carter
4. Jay's eight Barclays shows.
5. Blue Ivy Carter
6. Blue Ivy Carter
7. This picture of Jay and daughter Blue Ivy Carter
8. Blue Ivy Carter
9. Blue Ivy Carter
10. Kanye's updated filmography:
Good run, Lena. Excited for Season 2. Keep getting that paper.
Tumblr (6) vs. Andy Murray (2): Kim Jong-un Looking at Things, Texts From Hillary, I AM BEYONCE, McKayla Is Not Impressed, What Should We Call Me — these are all sites that, at one point or another, were Internet-dominating forces, all of which are hosted on Tumblr. One of the hallmarks of 2012 and Internet culture has been the race to have the best topical meme as soon as something worth note happens. It's a unique mix of content, snark, appropriate GIFs/images, and securing the perfect Tumblr name. When Mitt Romney uttered the phrase "binders full of women," it was only a matter of time before someone started a Tumblr about the "binders full of women" quote. And just like that, there it was. Binders Full of Women. That's why Tumblr was so huge in 2012. It stayed so topical and relevant, the actual sites became as much a part of the story as the inspirations themselves. Going against Tumblr is Andy Murray. Imagine if he would have won Wimbledon instead of losing in the finals to Federer? If Andy wins that, then gets the London Olympic gold, I'm pretty sure he wins this bracket. But he didn't, so instead of getting a statue built for him, he's getting ousted by a handful of blogs. It could be worse, though. He could be Tim Henman. #HenmanDis.
Call Me Maybe Region
The Scooter Braun Factory (8) vs. GIFs (5): GIFs were everywhere in 2012. So were the pop stars created in Scooter Braun's hit dungeon. The big difference between the two, however, is that at the end of the year, it started to get a little weird for Braun and the crew. For one, Carly Rae got nominated for two Grammys (happy Scoot), but Bieber went nomination-less, again (angry Scoot), sending Braun into a multiple-tweet tirade for his OG breadwinner:
"second … this time there wont be any wise words, no excuses, I just plain DISAGREE. The kid deserved it. Grammy board u blew it on this one. the hardest thing to do is transition, keep the train moving. the kid delivered. Huge succesful album, sold out tour, and won people over… this time he deserved to be recognized and I dont really have any kind nice positive things to say about a decision i dont agree with."
So that was a thing. And then there was the whole Psy/kill Americans snafu from that 2004 concert that was dug up. I mean, it wasn't a huge deal, just simply Psy singing lyrics that may have been translated to:
"Kill those fucking Yankees who ordered them to torture,"
"Kill [the Yankees'] daughters, mothers, daughters-in-law and fathers / Kill them all slowly and painfully."
All of Scooter's puzzle pieces are still operating at a high level, but the wheels began to slightly come off as the year came to a close. For that, they're out of here. As a farewell, here's a GIF of Justin and Selena almost kissing in their "Call Me Maybe" video.
Their love may not have lasted, but that GIF is forever.
Linsanity (3) vs. LeBron James (2): Well, this is pretty easy, seeing as LeBron faced the Knicks in the height of Linsanity and helped cause the phenomenon's first real hiccup.
Heat over Knicks, 102-88. Lin: 1-11 from the field, finishing with eight points, three assists, and eight turnovers. LeBron: 20 points, nine rebounds, eight assists. So yeah. LeBron won that battle. With authority. And then, as previously mentioned, went on to be named "Sportsman of the Year" (much to the dismay of Michael Vick). 'Bron 'Bron marches on.

—-
Elite 8
I Just Met You Region
Instagram (1) vs. Channing Tatum (3): Both of these things brought so much joy to humans in 2012. And they're so connected. Here's Channing Tatum's Instagram, and here's someone who's not Channing Tatum Instagramming a picture of Channing Tatum. Super meta, all of it. While I do appreciate the accomplishments of humans over robots, I don't even think I can argue for Channing Tatum leaving a larger mark on 2012 than Instagram. Maybe if Channing would have gone full Will Smith and released an album or starred in a sitcom while becoming a full-fledged movie star, the argument could have been there, but that didn't happen. Maybe that's what 2013 is for. I hope so, because I have no intention of watching him be a flash in the pan. So there it is, our first Final 4 awardee: Instagram. As for the question I posed in the first round, "'who/what can beat Instagram?' (haven't decided yet)," I just don't know. Neither does the president of the United States nor Magic Mike. STAY TUNED.
This Is Crazy Region
McKayla Maroney's Face (5) vs. Gabby Douglas (6): Happier times:
OVER.
Gabby the girl vs. McKayla the meme. Why did I put myself in this position? I don't like this one bit. It's too difficult. Both are important, neither is bad, and we don't deserve any of it. But one of them has to advance, and thankfully there is one very obvious way that one beats out the other. SONG IMMORTALIZATION.
Nicki Minaj (on Alicia Keys's legendarily off-pitch "Girl on Fire"):
Took me on the balcony
Telling me to jump with her
Yeah I'm in the ghost but I ain't doing stunts with her
I ain't trying to be that
Haters wanna see that
But I got 'em aggy
Cause I win the gold like Gabby
GOLD LIKE GABBY. Say what you will about Ms. Minaj, that's awesome. And then it gets better.
The 2012 VMAs:
Yes, when Gabby came out, on the cue that was her name, because it's a lyric, I screamed, but then she started doing flips:
And I died. SHE IS THE CRAZY OFF-PITCH GIRL ON FIRE.
Time's up, face of McKayla. You had an amazing run, but it's not quite Final Four–worthy. The Girl on Fire? Absolutely.
Here's My Number Region
The Knowles-Thronedashians (1) vs. Tumblr (6): In order for the Knowles-Thronedashians to be a real family, we needed proof that the matriarchs were in for the long haul and friendly with one another. This was quite unclear at first, but then we got this:
And this:
Where's this from? Oh, you know, Knowlesdashian Ladies' Night Out (KLNO) at The Throne show in England this past June. This isn't an awards-show environment where everyone's expected to be on their moderately best behavior. This is a concert where the two thug misses were partying while celebrating all the glory that was their men. The family was officially strong. And it was good. As for the foursome's opponent, Tumblr, this takes me immediately back to the foursome. This may be confusing, but Beyoncé's Tumblr is actually more important than Tumblr. It's weird, it doesn't really make logical sense, but I know it to be fact. Tumblr's great, but it really can't compete with 3.2 superstars that didn't even release solo projects in 2012 but still found a way to dominate airwaves/Internetwaves, be it through lingering 2011 singles that wouldn't go away ("Love on Top," "Ni—s in Paris"), posse cuts ("Mercy," "Clique"), or giant announcements (Jay/Bey-our kid's name is Blue Ivy, Jay-Barclays, Beyoncé–Super Bowl, Kanye–I'm dating Kim Kardashian). There are just certain things that technology can't topple. So far, this crew has been just that.
Call Me Maybe Region
GIFs (5) vs. LeBron James (2): In 2012, a new, charismatic, talented, not really despised LeBron replaced an old, selfish, talented, ringless, despised LeBron in the eyes of fans all over the country. This almost-overnight transformation was an incredible thing to witness. Another amazing transformation: GIFs just straight-up replacing words. Every time I construct a sentence, part of me is thinking, I know there's a GIF out there I could have found/made to convey these feelings I have. And I'm always right. While I am still, stupidly, a champion of words, there's no denying the power GIFs have had, not only in funny Internet banter, but also in important events in which showing what happened, instead of simply describing, is useful. Yes, it's a very easy crutch to fall back on when you're lazy/illiterate, but when used appropriately and responsibly, it's very much a tool for good. Truly a great year for King James (infinite shout-outs for continuing to have your high school "ST. V-M Class of 03" in your Twitter bio), but GIFs have earned a spot in this Final Four for truly making their presence felt in every corner of the computerized society, regardless of the level of esteem. GIFs KNOW NO CLASS STRUCTURE. GIFs ARE POST-RACIAL. TEACH THEM GIFs [the children] AND LET THEM LEAD THE WAY.
——
Final Four
Instagram (1) vs. The Knowles-Thronedashians (1)
Instagram almost had the perfect year. It got so close, and then, with the language added in the terms and conditions for its new update, it caused an uproar, angering its faithful so much that many have plans to leave the service for fear of their privacy. The language:
"You agree that a business or other entity may pay us to display your username, likeness, photos (along with any associated metadata), and/or actions you take, in connection with paid or sponsored content or promotions, without any compensation to you."
Uh-oh. The Facebook influence had officially arrived. Here's a quote from the New York Times from one person who's not pleased:
"the most followed person on Instagram, said on Tuesday that she 'really loved' the service — note the past tense — and that the new rules were not 'fair.'"
That "most followed person on Instagram"? Kim Kardashian. No good. Even though Instagram attempted to backtrack on its language, it has still left an uneasy-feeling naïve group of people who thought this would never happen/that there was such a thing as privacy, which happens to be a lot of people. So, going back to that original Instagram question, "who/what can beat Instagram?" The answer: Instagram. That only seems right. And just like that, the House that Dereon Built sashays into the Finals.
Gabby Douglas (6) vs. GIFs (5)
Gabby's march has been pretty spectacular. She knocked off #YOLO some 73 hours ago, took out The Most Naturally Gifted Athlete The World Has Ever Seen in Usain Bolt, and took it to her teammate's face in the Elite Eight. Standing between her and a matchup with the Illuminati that I'm sure she's already paying monthly dues for: GIFs. Before we get to GIFs, though, more on Gabby.
She accidentally became a cultural icon this year. She's a source of inspiration for little girls around the world and someone parents can make an example out of. TAKE IT AWAY, AGAIN, MICHAEL VICK:
One thing's for sure: you have girls today aspiring to be like Gabby. I don't have to look far. The younger of my two daughters wants to be a gymnast now. She's been inspired by Gabby and I think it's a beautiful thing. It's awesome, not just that Gabby has become a role model, but that she's aware of it. Women mature way faster than men and they tend to understand more at an earlier age. You sense that Gabby understands the impact she can make, to not only help young girls but educate them as well, to show them what it takes to accomplish certain things in life and how to get there.
Thank you, Michael.
But here's where it gets tricky/sad/I hate myself. GIFs still win. Without question. Even though they've been around for decades, the way we consumed media in 2012 was completely altered by the mainstream acceptance of (and reliance on) GIFs. Not since Twitter handles became equally important as one's government name a few years back has something just taken the media/news cycle/Internet by storm. Gabby is an inspiration, and if this was a "Who Inspired Us In 2012" contest, Gabby would probably win. But it's not. So Gabby's gone and GIFs are in the Finals. I hate myself.
Championship
The Knowles-Thronedashians (1) vs. GIFs (5)
****WINNER****
Why?
It seems kind of unfair to lump so many powerhouses in one group, but when you think about it, none of this was ever supposed to happen. In what alternate universe does the Marcy Projects' Jay-Z become a mogul, somewhere along the road convince the beautiful Destiny's Child lead singer Beyoncé to date and then marry and then have a child with him who's named after a color and an evergreen vine, all while his once-beatmaker turned protégé Kanye West becomes arguably more culturally relevant than Jay, and to top it all off, he goes from a guy with his swollen jaw wired shut to a guy dating one of the most sought-after women on earth. Are you kidding me? And now they all occasionally hang out together. ARE YOU KIDDING ME? No, because we live in that alternate universe and somehow have become so accustomed to it, we forget how insane it is that this is the current state of affairs.
It seems odd to crown them the winner of anything this year, because it was kind of an off year for the crew. No one was really promoting an album (Kanye's crew did more promotion of Cruel Summer than he did), Jay and Beyoncé were tending to a newborn, Beyoncé only did a handful of concert dates, The Throne did an overseas tour but it was only a month long and Jay was prepping for the Barclays opening and didn't really fight for the spotlight until his run of shows. Even Kim had a more relaxed year, with Kourtney & Kim Take New York wrapping up in January of 2012, Kourtney & Kim Take Miami not beginning its second season until 2013, and the seventh season of Keeping Up With the Kardashians really being her only main gig for the year other than matching outfits with Kanye.
But even in their slowest of years, they were everywhere. Every time Blue Ivy sneezed, I got a Google Alert. Beyoncé adds something to her Tumblr, be it a cryptic Super Bowl tease or one of her many letters that she pens to various members of the Obama family, and it becomes the topic of the day. Kanye has a tweet spree whenever he's feeling especially emotional, and the Internet crashes. Kanye writes a song seemingly for Kim, and then they coordinate yet another outfit, smiling while stepping out together, further fueling the rumors that they actually like each other, and no one knows what to do with himself. Jay-Z plays the same show for seven consecutive shows in the new Barclays Center, and we remained interested for all seven nights. And then he brings out his wife for the final show, they perform like no one/everyone's watching, and then we crown them King and Queen of Brooklyn for a night.
In their most minimalist of years, they each separately became bigger stars than ever before, and as a newly formed unit that now have some degree of connectivity to one another, treating them as a unit has been a fun ride. Who knows how long it will last into 2013, but I'm pulling for them. And you should too. All that's left: Rob Kardashian to ask for Solange's hand in marriage, so we can finally get the group I've long been waiting for:
The Snowlangcé-Throbdashians
It'll never happen, because Solange has firmly cemented herself in 2012 as an icon in her own right, while Rob is busy pushing designer socks, but what if? I mean, crazier things have happened. Actually, crazier things are currently happening, and those four are the ultimate proof of it.
Great run, GIFs. Get you some audio and maybe I'll see you this far down in this piece next year. Probably not, though. I'm really banking on Rob and Solange.
Solid year, everyone. Great work all around. And, again, shout-out to Spotify Premium.