We're approaching the point where it's OK to at least tap the glass on some surprise early-season trends, gauge their staying power, and investigate what might be driving them. The focus here is on trends at the team and league levels that sources across the league consider at least semi-surprising. That means we'll mostly be giving short shrift to the predictable1 and the individual.2 Other stuff missed the cut because of injury-related sample size issues, factors that raised doubt about whether the trend in question is/was real, or future pieces in the works.3
Here's what we're left with:
Miami stinks on defense.
Miami ranks a putrid 27th in points allowed per possession, and its opponents have hit a tidy 37 percent on a ton of 3-pointers. If this sounds familiar, it's because this is what happened during the first 20 games of last season. Miami was not prepared to dial up its ultra-aggressive defense early in the season, and opponents, increasingly wise to the need for next-level ball movement against the Heat's trapping style, sliced them up for open perimeter looks. But the Heat mostly tightened things up when it mattered, unleashing that dreaded "another gear" at high-pressure moments. Lesson learned.
There's one difference so far this season: Opponents are destroying Miami at the basket, the very chunk of real estate Miami is determined to protect above all others. Heat enemies are hitting nearly 66 percent of their shots in the restricted area, the second-worst defensive mark in the league. Last season, Miami experienced no such prolonged regression in this aspect of defense during its early-season doldrums.
So what's up? It's a little of everything, which is both encouraging and discouraging. There's no fatal flaw, meaning it's likely the Heat merely have to summon Erik Spoelstra's "warrior" energy levels in order to rediscover their form — as they did in eviscerating the Clippers' offense during the second half of Miami's home win last Thursday.
Perimeter defenders have been sloppy negotiating screens, traps have rated only so-so on the disruption scale, and rotations behind the play have been tardier and softer than usual. They are also integrating new rotation cogs in Rashard Lewis and Michael Beasley, and playing smaller three-guard lineups more often — making them vulnerable to post-ups.
Not only are the Heat still crappy at rebounding, they are getting roasted in transition. Like, borderline humiliated. The Heat have allowed 1.28 points per possession on transition chances, good for last in the league, per Synergy Sports. You guys will never believe this, but Wade has often neglected to get back on defense after a miss in order to mope, hold his face, or argue with officials. I know! I'm shocked, too! The Heat's collective first step has been below its standards, and Mario Chalmers especially has gambled for steals in semi-transition, leaving him flailing in the wrong direction when those gambles bust like a hit on 17. Miami also hasn't paid as much attention as normal to floor balance, leading to multiple sequences like this one: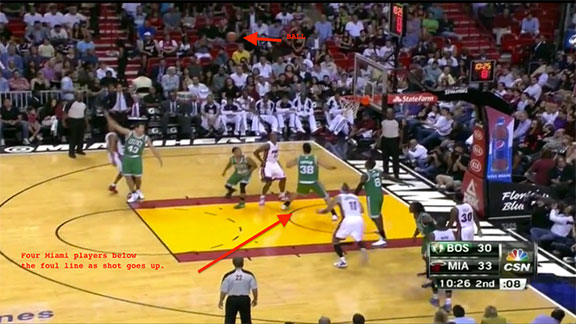 And this one: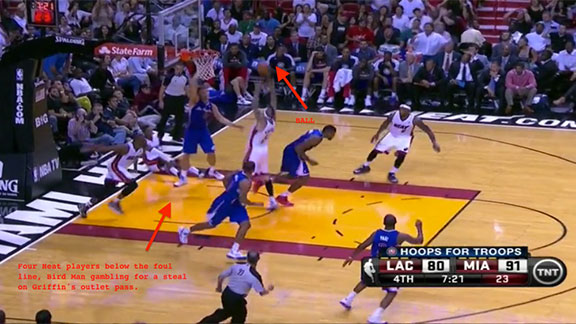 It has been ugly, but Miami has earned the benefit of the doubt.
---
What if the Suns are … good?
It's early, and the schedule has been friendly, with only two of Phoenix's first seven games coming against sure playoff teams. But Phoenix was competitive in losses to the Spurs and Thunder, and any allegedly tanktastic team outscoring opponents by five points per 100 possessions — typically a top-seven overall differential — merits a closer look. Multiple executives from other Western Conference teams have expressed concern that Phoenix might — gulp — be for real.
The Suns have totally revamped their shot-selection profile after jacking the second-most long 2s in the league last season. Three of Phoenix's four rotation bigs have 3-point range, and the Suns are spreading teams thin, letting Eric Bledsoe attack on the pick-and-roll, launching corner 3s, and urging Markieff Morris to attack the basket instead of settling for midrange shots. 'Kieff is averaging nearly 23 points per game on 70 percent shooting over his last four games, and while that can't last, he'll maintain some level of efficiency so long as half his shot attempts are coming in the restricted area.4
But the Suns have really shined on the other side, where they're fifth in points allowed per possession. Mike Longabardi, an assistant coach who worked under Tom Thibodeau in Boston, has Phoenix playing a standard Thibodeau system with shocking success. Everyone is following the rules, Bledsoe is a freaking menace, and opponents are shooting only about 40 percent on close-range shots when Channing Frye, Morris, or Miles Plumlee is near the rim, per SportVU. That's not quite Roy Hibbert–level intimidation, but Tyson Chandler–level work is a giant surprise for this frisky bunch. They're probably not a playoff team, and they certainly wish not to be, but they are way better than anyone anticipated.
---
Everyone is running, the 3s are bombing, and the whistles are sounding.
Holy hell. Six teams are averaging over 100 possessions per game this season, per NBA.com. None did so last season. The league hasn't played this quickly in decades.
What's going on? It could be a host of things. Offense typically lags behind defense to start the season, as teams work out the kinks, find their shooting strokes, and settle rotations. Teams can come out of the gate coughing up the ball a ton, and quick possession-ending turnovers increase the league's overall pace. Turnovers are indeed much higher now than they will be at season's end, but the league also had butterfingers during the early part of last season, without any massive jump in pace at the same time.
Another potential culprit: Offensive fouls, and particularly illegal-screen calls, are up compared with the same period last season, according to several executives tracking this stuff and league numbers provided to Grantland.5 The league, so far, has followed through on its threat to police picks. Picks come early and often on each possession, and a bundle of illegal-screen calls might also lead to more changes in possession.
A third possible contributor: The league is on pace to break last season's all-time record for 3-point attempts, with teams on average jacking about one more triple per game. Perhaps teams are pulling the trigger at the first good chance, especially in semi-transition.
There has also been an influx of new coaches and GMs who understand the value of shooting early. New coaches on bad teams with no expectations tend to view pushing the pace as an experimental way of introducing some unpredictability and closing the night-to-night talent gap.6 But pace is up just as dramatically in lots of places with incumbent coaches still on board.
All these things are probably playing into the hectic pace to some degree. But it could also be that the league is just getting smarter about how best to score points.
---
Some Funky Stuff in the Eastern Conference Playoff Morass
1. The Cavaliers can't score.
Cleveland ranks 29th in points per possession, and just about all of the Cavs' offensive metrics are bad. That's disappointing for a team that scored at a league-average rate when Kyrie Irving and Anderson Varejao played together last season, per NBA.com.
Things will get better when Irving finally heats up, and Varejao is clearly working himself back into peak condition — and trying to find his way, again, with another interior-oriented pick-and-roll big in Tristan Thompson. Combine those two with a shaky shooting small forward, whether it's new starter Alonzo Gee or demoted Earl Clark, and spacing is tight for the Cavs. C.J. Miles has helped a bit, and the three-guard combination of Irving, Dion Waiters, and Jarrett Jack has blitzed the league in limited minutes. But that group will have trouble sustaining defensively, Andrew Bynum looks like Frankenstein's monster, and Anthony Bennett basically does nothing on the court. I'm worried.
2. Accio points!
Would you look at the Wiz! One year after ranking last in points per possession, the Wiz are up to ninth and launching more 3s than anyone. They're averaging more corner-3 attempts, at 9.3 per game, than any team ever has over a full season. John Wall creates good looks for everyone, even when he's cold himself, and Bradley Beal has found his shot after an icy start. The team's D has slipped with Emeka Okafor's absence and some foggy guard/wing play, but Trevor Ariza has snatched the starting small-forward role for a reason, the team has long been worlds better whenever Nene is available,7 and it's been insanely stingy with the Nene–Marcin Gortat combo. Fingers crossed.
3. The Pistons' big lineup stinks … at everything?
Um, so, opponents have outscored the Pistons by 22 points in the 135 minutes that Josh Smith, Andre Drummond, and Greg Monroe have been on the floor together. Everyone expected scoring to be a chore as the Pistons sorted out their spacing issues, and Detroit indeed has shot fewer 3s and turned the ball over at a ghastly rate when all three play together — indicative of all the passing through small creases required for a single good shot.
But the Pistons have given up 114.4 points per 100 possessions while playing big, so far beyond the second-worst team you can barely see it, and that just shouldn't be with all the sheer size, shot-blocking, and rebounding here. But it be. Smith will have a hard time keeping up with some small forwards, Drummond's footwork on the pick-and-roll is unsteady, and Monroe remains below average.
Let's give them time to jell with Brandon Jennings, and for Maurice Cheeks to figure out the optimal rotation. He gets points for realizing quickly that Rodney Stuckey, hot start notwithstanding, should not be on the court with the three big guys, but there's lots more to discover here.8
---
Some Funky Stuff in the Western Conference Playoff Morass
1. Wolves will eat you.
It might be time to lift the Wolves out of "morass" status, pending continued good health. The offense looks great, even as Ricky Rubio and Nikola Pekovic work to rediscover their fit in a Kevin Love–centric world, and the Love-to–Corey Brewer outlet passes (see below) are a sexy YouTube hit. But the real story comes on defense, where when the ground-bound Love/Pekovic duo shares the floor, the Wolves have allowed just 96.2 points per 100 possessions — one of the stingiest numbers any team put up over last season. Kevin Martin is a minus on defense, and Brewer is a feast-or-famine type, leaving Rubio the only certified above-average defender in the team's starting five.
Chalk one up to the power of smarts, discipline, and a workable scheme lifting up a raft of uneven defenders. The Wolves know their pick-and-roll coverages — the big men drop on almost everything, and force ball handlers to the side — they never foul, and they clean the glass. The Wolves started last season very well defensively before falling off, mostly as result of injuries. Can they maintain this level, even with a so-so bench?
2. Anthony Davis is a golden god.
The Pellies are a mystery at 3-4 — just about average on both ends, despite a world of issues. Jrue Holiday has shot poorly and gotten to the line less, Ryan Anderson is hurt (turning the Pellies into the Grizzlies from deep), and though Eric Gordon is attacking the rim like mad, he's still trying to find his killer shooting touch and pick-and-roll chops. Tyreke Evans has been worse than uneven, and Monty Williams has played his three perimeter stars together for only 41 minutes total on the season. The pack-the-paint defense is a work in progress that has yielded a ton of 3s.
But in Davis, this team has a guy who should emerge in some season not too far off as one of the half-dozen best players in the league. And that is probably pessimistic. The dude's arms are so long, it's like having a sixth defender on the floor.
3. Denver is a mess.
Behold the anti-Suns. Denver has seen its shot selection revert in a bad direction as Brian Shaw tries to impose a grind-it-out, post-heavy style that doesn't fit this roster. Only 33 percent of Denver's shot attempts have come in the restricted area, down from the team's league-high 48 percent mark under George Karl's dribble-drive style attack last season. Ty Lawson doesn't have the same spacing on his drives, and the team has essentially swapped in midrange looks — ugly Kenneth Faried turnarounds in the post, jumpers from its bigs — for the go-go rim attacks that flustered the league under Karl. The team's defense at the point of the attack on pick-and-rolls has been as bad as feared for a team that relied on the JaVale McGee/Faried pairing. (A pairing now on hold in the wake of McGee's diagnosed stress fracture.)
Some of this was inevitable given a coaching change of this magnitude and the gaping hole at small forward, where Shaw has tried almost everyone available while juggling his rotation night to night. But for now, this looks like a lottery team, which isn't on its own a huge surprise.
---
Brooklyn looks … mediocre?
The Nets have an early "signature" win at home against Miami, but they've been uninspiring all season, with a negative scoring margin, average or worse play on both ends, and disappointing individual play from a number of big names.
But a lot of those big names are old (Paul Pierce, Kevin Garnett) or coming off injuries (Deron Williams, Andrei Kirilenko), and may simply need time before finding their oomph within what should be a deep, versatile roster. Garnett's play has been especially troubling. The Nets have been far worse on both ends when he has played, but the damage has been most severe on defense — Garnett's specialty. The Nets have allowed 96.6 points per 100 possessions with KG sitting and 107.6 when he's been on the floor, roughly the difference between a top-three defense and Sacto's league-worst outfit.
Sure, it's early. But Garnett's defensive skills have been eroding (slowly) for years. He doesn't have the speed to consistently contain guards on the pick-and-roll anymore, and his help-and-recover dexterity just isn't the same. The midrange shot will come. The defense probably will, too. But the early returns are discouraging.
---
Benefit of the Doubt at the Top of the Western Conference
1. What happened to Grit-n-Grind?
The Grizz, the league's stingiest defense last season after adjusting for schedule strength, rank a yucky 24th in points per possession after becoming the latest victim Monday of the Pacers' meat grinder — a dispiriting loss that came after what appeared to be a strong get-well win over the Dubs last weekend. The system and personnel are mostly in place from the last three seasons of grit-n-grind goodness, and that kind of continuity earns these guys the benefit of the doubt — for now. But the collective age of several rotation players is worrisome. Tayhhaun Prince has looked slow trying to contain dynamic wings, and Zach Randolph, never a plus defender, hasn't looked himself on either end of the floor; David West exploited Randolph's lack of footspeed with several hard cuts to the rim last night, and the A-plus communication that usually characterizes this defense just hasn't been there.
The Grizz are only generating an average number of turnovers after ranking first or second in forced turnover rate in each of the last three seasons, and they need to win the turnover battle just to survive. Opponents are roasting the Grizz in transition, clearly eager to exploit their quickness advantage on the plodding bears. Integrating new rotation pieces is always dicey, and the Grizz have overextended Mike Miller, a fading defender, because they so badly need anyone who can shoot the ball on offense. Nick Calathes is also new (and intriguing!), and Dave Joerger still has to work out how to best use Kosta Koufos and Ed Davis.
Bottom line: These guys will get better, but it won't matter much if they can't improve the offense. Joerger has introduced a bit more spice on that end, but no amount of spice can mask the stench of bricky shooting and horror show spacing in the starting lineup. Stay tuned.
2. The Spurs' shot selection is a bit off.
The Spurs are last in free throw attempts per field goal attempt, and this pleasing 3-point shooting machine ranks just 19th in 3-point attempts per game — and that's after 56 combined triple tries against the Knicks and Sixers on a Sunday-Monday back-to-back. Those 3-fests underscore the danger in early overreaction.
But still, lacking in free throws, forced turnovers, offensive rebounds, and 3-point shots is dangerous, even for such a polished crew. Part of this is rotation-based. Matt Bonner isn't playing, and the Spurs have swapped Gary Neal, a guiltless gunner, for a more thoughtful ballhandling type in Marco Belinelli. Kawhi Leonard is easing into his larger role and still has a tendency to pull up early on drives and pick-and-rolls. Gregg Popovich has been cranky enough to start Boris Diaw, shockingly trigger-happy after his success at EuroBasket, and Belinelli over Leonard and Tiago Splitter on Sunday in what probably amounts to classic early-season Pop experimentation.
Again: It's early, these guys are 7-1, and they're up to seventh in points per possession. The system is the same, designed to generate the same shots. Doubt the Spurs at your peril.
---
Contenders with benches?
1. Fare thee well, Sam Young and D.J. Augustin.
The Pacers' bench hasn't quite been as killer as advertised; the team still has a negative scoring margin when either Paul George or Roy Hibbert hits the bench (and when both do), and the backup big combo of Luis Scola/Ian Mahinmi is minus-5 on the season.
But those margins are barely negative, and George Hill's minor bumps forced the Pacers to elevate C.J. Watson into temporary starter status. Watson has introduced a new level of stability here, and the Pacers' potent play with Watson and Lance Stephenson together bodes well going forward, since Frank Vogel has often left Stephenson as the lone starter on bench-heavy units. Vogel is already having fun using the wily Scola, and the team's general depth allows for more mixing of multiple starters and bench players. All signs are good, and Danny Granger lurks.
2. Kiwis for everyone!
The Thunder kiddies have shown some intriguing glimpses of late. Steven Adams had two straight solid games before coming back to earth Sunday, and the Adams/Jeremy Lamb/Nick Collison bench trio has scored a robust 108.3 points per 100 possessions for the season.9 Lamb is shooting well enough, and hit a couple of big ones in the Thunder's silly comeback against the Wiz on Sunday.
Adams especially intrigues, since the Thunder's starting center is, um, not exactly an All-Star. Adams isn't the smoothest cat, and he has been a bit tentative and awkward negotiating larger distances with the ball. But he's also smart about sliding into the right space at the right time, he's a killer on the offensive glass, and he sports a soft touch on hook shots with both hands. Again: These guys are young, and things could go south, fast. But the Thunder all of a sudden don't look so shallow.
---
10 Things I Like and Don't Like
1. Kevin Love to Corey Brewer
This is what happens when you pair the world's premier outlet passer with the league's most unapologetic leak-out heat-seeking missile. I want the SportVU cameras tracking every Love-to-Brewer assist that travels at least 50 feet in the air. In fact, we need a nickname for these babies — one that's better than "Love Connection." Brewer Bombs? Love Lofts? This is clearly not my strong suit. Help me, people.
Love's mega-bomb to Brewer against the Lakers made basically every blog in existence, but this stuff is happening every game:
2. Eric Bledsoe's muscle flex
Some guys do this after absorbing contact for an and-1, and it feels lame or unearned — a bit of false bravado from someone aware of his strength limitations. When Bledsoe does it? Just nod, accept, suppress your terror, and move on with life.
3. Omri Casspi dribble attacks
The Rockets are using Casspi as an undersize power forward, with the idea that Casspi can spot up for open 3s around pick-and-rolls that penetrate the defense. But Casspi isn't a great 3-point shooter, and some power forwards are mobile enough to contest those open looks. Casspi is generally quicker than those big men, and when the initial look isn't quite as open as he'd like, Casspi should have enough off-the-bounce creativity to keep the play moving:
4. The spacing in Utah
Oh, for the days of summer, when Utah fans on Twitter would insist the Jazz weren't tanking. How dare anyone levy the accusation against such a regal franchise? The Jazz bench, shackled too long, would push for a .500 record and a bottom-rung playoff spot!
Jazz fans, reality. Reality, Jazz fans. The team is 0-8, sporting the very worst offense in the league. Why? Well, check out how cramped the spacing is on this Jamaal Tinsley drive from the right corner:
This is the downside of starting two big men with unreliable midrange jumpers, a point guard who can't shoot (Tinsley, recently demoted in favor of John Lucas III, not exactly a giant upgrade), and an over-the-hill Richard Jefferson. Only Gordon Hayward garners respect beyond 15 feet. It's going to be a long year. Buckle up, and track those lottery odds..
5. The continued demise of Derrick Williams
The Wolves picked up Williams's $6.3 million option for next season despite the fact that it endangers their ability to use the full midlevel exception, but they're barely playing him now. The presence of Love and Pekovic basically requires Williams to play small forward, and he just doesn't appear to have the combination of quickness, ballhandling, jump-shooting, and passing vision to play the role. I've highlighted his poor assist numbers before, and you catch a lot of missed passes when you track Williams closely. Watch him miss a wide-open Kevin Martin under the rim on this fast break before whipping something that looks like a shot off the glass:
Other front offices have been monitoring Williams for a while, sensing a buy-low opportunity, but there's not much to monitor right now.
6. The no-tie look
Basketball takes place in a sweaty gym, amid rowdy fans and trash-talking athletes. Why the need for such sartorial formality among coaches? Kudos to the increasing number of guys going without a tie, a group that includes Rick Adelman, Kevin McHale, Gregg Popovich, Mike Brown, and others.
7. The in-play "my bad"
There are two universal symbols players use to indicate they've just screwed up, especially on defense: the raised hand of acknowledgement and the chest pat of shame. They usually occur during safe moments when urgent attention is not required — right after the other team has scored, for instance. But sometimes you'll get a delightful in-play "my bad" like the one Lamb signals with his right hand here after missing a teammate open under the basket:
Or how about Paul Millsap, always a favorite in this space, giving Cartier Martin the "my bad" point of forgiveness after shooting instead of hitting Martin open in the corner. No matter that Millsap made the shot!
8. Gigi Datome as Charlie Villanueva
The Pistons found some punch last season surrounding Andre Drummond with a point guard and three shooters, and then running Drummond down the lane in pick-and-rolls that were impossible to defend. Villanueva served as the power forward in those lineups, and it looks as if Cheeks has Datome pegged for that role this season. Watch how the Pistons have Datome lift up toward midcourt on this Will Bynum/Drummond pick-and-roll, taking a help defender with him:
Datome has started 0-of-6 from long range, and the Pistons benched him last night in Portland in favor of Villanueva. But the dude can shoot! He's not the quickest guy, but he's smart and he battles on defense. Free Gigi!
9. Portland's quick-seal post-ups
A few other teams do this with their guards, and Portland has worked the out-of-nowhere corner-to-post cut early in the shot clock for both Wesley Matthews and Nic Batum.
The loosening of illegal defense over the last decade has made scoring out of the post harder, but post-ups remain an effective way to bend a defense, draw attention, and open up opportunities elsewhere. They can, on their own, generate scoring chances or fouls — if they are designed as quick-hitting flashes built to produce an instant shot upon the catch. And if nothing materializes, one can go to something else right away, as Batum does here in scampering away from a pinned-down Evan Fournier, around a Joel Freeland screen, and into an easy triple:
10. "Plum-Dog"
The Suns' otherwise very good announce crew is pushing this as a nickname for Miles Plumlee. We can do better, can't we?