Championship parades can be quite bittersweet. They're like graduations, or weddings, or having a big fun group of houseguests: You spend so much time and effort just to get there, and then even more to get through, and then — just like that — it's all over. Everyone disassembles and goes their own way, and you know that the next time you talk about the event it will be out of some sense of hopeless nostalgia. Perhaps Giants fans sensed this: In the picture above, they sure don't look like they even know their team won the World Series.
Or maybe all those fans are just super exhausted from their wild ride, because championship parades — and the championships that precede them — are a hell of a lot of fun while they last. Yesterday San Francisco played host to its second such parade in three years, this time celebrating the Giants' World Series sweep over the Detroit Tigers.
Everyone's orange-and-black attire was perfectly Halloween-appropriate, and while it was a cloudy day, the vibe was bright. Below are some photos of the parade and the many wonderful oddballs who attended.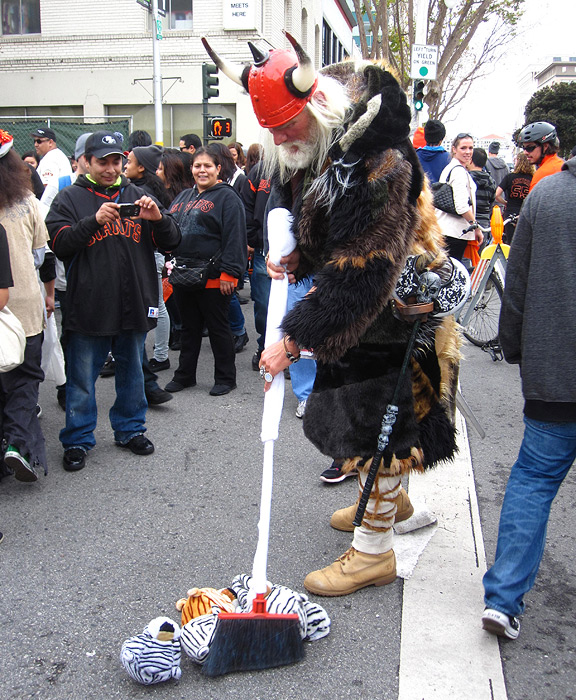 There were a multitude of brooms to be found at the parade — the mayor of San Francisco even presented the Giants with a "Broom to the City" — but this man's variation on the theme really went above and beyond. I hope he wore that same outfit when he went into Toys "R" Us to buy the little stuffed tigers.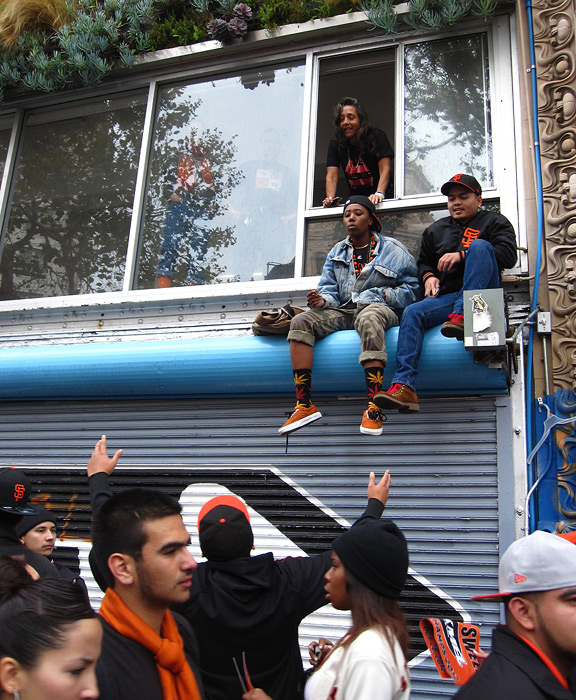 As I walked up Market Street to find a place to stand before the parade began, two people somehow scrambled up on top of a storefront gate, and a lady watching from inside the building above opened the window and began yelling at them to get down or else. Not only did they completely ignore her, the one in the marijuana-leaf socks immediately and defiantly sparked up a joint then and there. "I'm calling the cops in five minutes!" the woman warned, to the great amusement of a man down on the sidewalk who had been watching the whole thing. He couldn't resist. "Hey lady!" he yelled up to her. "The cops don't give a fuck!"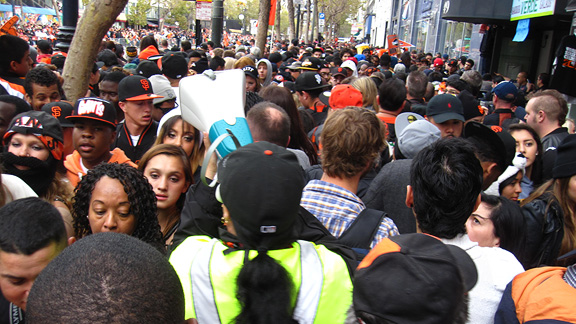 Considering this pre-parade scene — the closest I felt to getting trampled today — the cops (or the various other iterations of security officials on hand) probably just would have been happy to see that those two kids weren't clogging the sidewalk.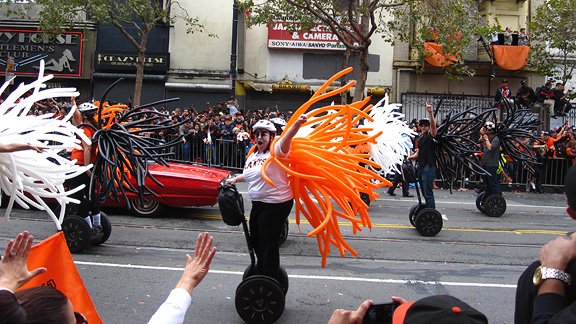 Is there a concise term for "hype men (and women) wearing porcupine-y balloon spikes and tooling around on Segways"? I have to imagine that these people are innocent tourists who signed up for the guided tour of Golden Gate Park and got rerouted over here at the last minute.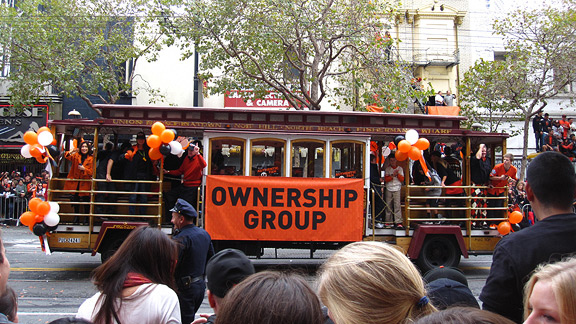 Before the players came through, riding in the backs of convertibles, various other groups of team personnel — from the ownership families to the concessions workers — got their turn in the spotlight. But the natives in the crowd were beginning to get restless as each minute passed without a sighting of Marco Scutaro or Matt Cain. One girl near me began openly shouting "We don't care about you!" at all the floats that drifted by. When a trolley carrying the Giants' trainers and medical staff went past, she did it again, and this time the man in front of her whipped around. "They fixed Buster Posey!" he said, impassioned.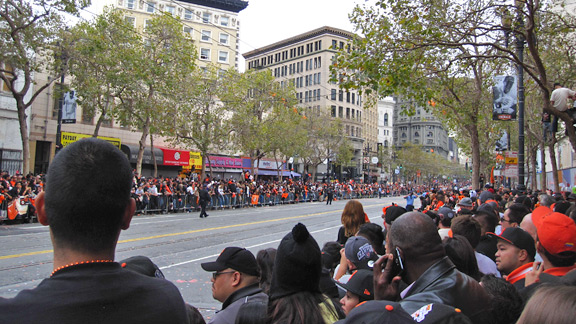 More waiting. (This photo was taken in the middle of the parade, during a long lull.) "Where are the players?" someone asked; I think it might even have been the same girl as before. "Right here!" yelled a funnyman. "Ohh, you mean the baseball players!" He sounded like he'd been guarding that gem for a while.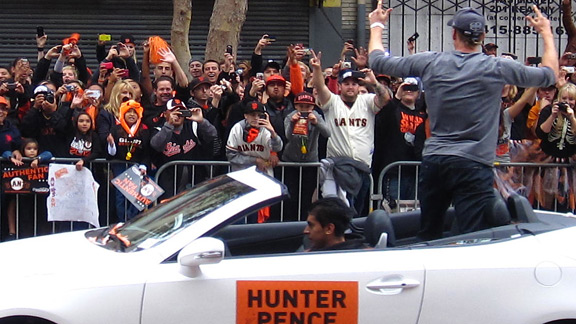 At last, the actual team began to roll in. I have about 6,000 nearly identical pictures of each convertible carrying each guy (manager Bruce Bochy got the best one, a Rolls-Royce) but none of them are particularly good; it's a little bit like visiting Yellowstone and coming home with a whole memory card's worth of cloudy pools of water and blurry elk grazing in the middle distance. You swear it was all way more vibrant in person.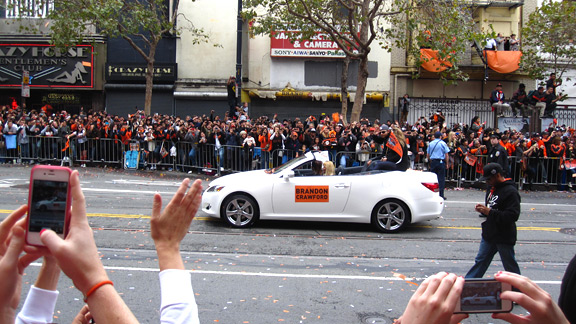 See what I mean? (Also, just as Yellowstone has lots of horses, the Giants victory parade had as its backdrop the Crazy Horse Gentlemen's Club.) It's fitting that this picture captures the phone screens of a few other people taking the same picture, because Brandon Crawford happens to be the most meta player on the Giants: If you haven't already seen this picture of him as a youngster SF fan that ran in the Chronicle in 1992, get ready for your cold hearts to melt.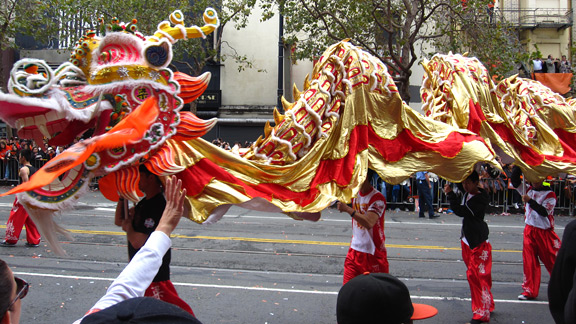 The dragon float in the parade had much better luck getting applause than San Francisco Mayor Edwin Lee did when he delivered this big line at the Civic Center: "This! Is the year! Of the ORANGE DRAGON!" Really, the only thing preventing the crowd from falling into complete crickets-silence was its collective murmur of " … wha?"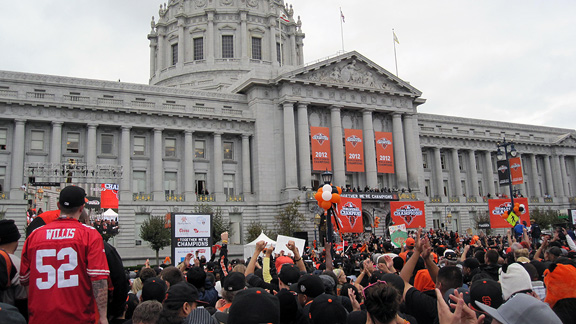 But Lee's awkward rallying cry wasn't the worst speaker snafu of the day. That honor goes to Tammy Nelson, a lead performer in local musical revue Beach Blanket Babylon who since 2010 has perhaps been better known as the God Bless America Singer With the Crazy Hat. "Your San Francisco 49ers swept the Detroit Tigers!" she said by way of opening. At least the guy in the Patrick Willis jersey was psyched. (Alex Smith and Jim Harbaugh actually both participated in the parade, chauffeuring the convertibles carrying Matt Cain and Brandon Belt, respectively.)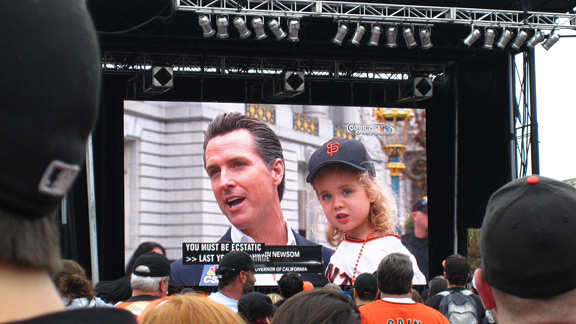 "Buster Posey," said the adorable daughter of former San Francisco mayor and current California lieutenant governor Gavin Newsom when she was asked, in front of tens of thousands, who her favorite Giant is. (Then her daddy had to go and ruin all the Newsom family's cred by comparing the stress of sitting through the Giants' six elimination games to "watching the 18th game in the fifth set of the French Open." I love that that's what came to mind.) Also, let's be honest, I just wanted to include this picture so we can discuss how Gavin Newsom looks totally like the love child of Patrick Bateman and Dear Leader Simmons, right?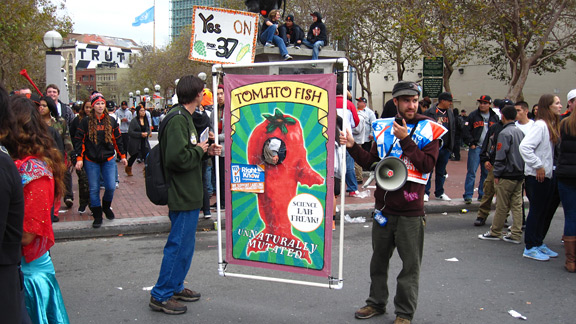 With less than a week before the election, it was an important time to do some special-interest lobbying — in this case, for better labeling on genetically engineered food. Here, kids, put your faces in that Tomato Fish and say (soy vegan) cheese and also be sure to vote YES on Prop 37 and go baseball team, woo!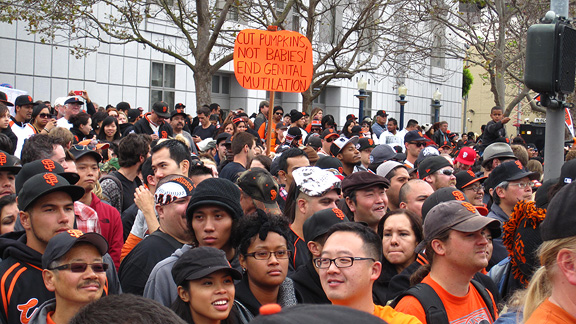 And then there was this. I like to believe that whoever toted this, um, descriptive sign to a World Series parade also shows up at political rallies waving a giant foam finger.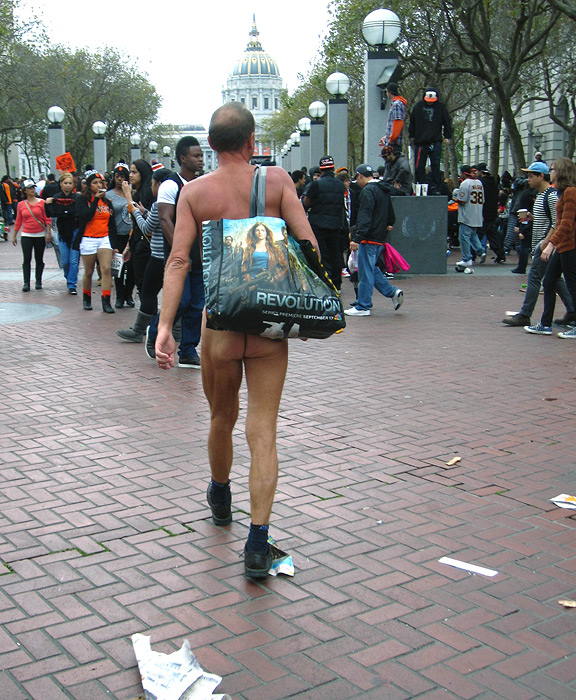 While we're on the topic of genitals, I can confirm that this guy's front was as much of a free-for-(b)all as his back. Though I can't shake the notion that this is some sick viral marketing stunt for the show Revolution, and that somewhere a rogue ad guy is getting a pat on the back for a job well done. Regardless, I can't stop staring at that left thigh! CrossFit, do you think?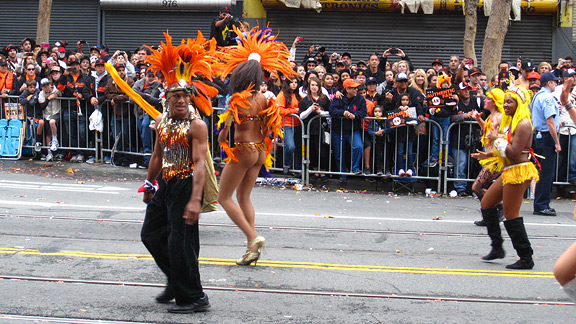 Just in case you needed a palate cleanser after Viral Revolution Man.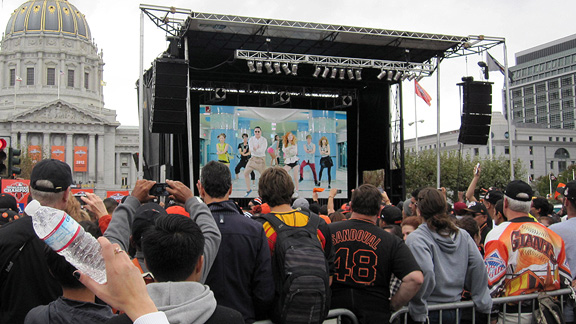 The obligatory "Gangnam Style." (Also, check out that one dude's sweet jacket.) At the beginning of the day, I attempted to keep three running tallies: (1) the number of times I heard "Lights" by Journey, which the Giants play in the eighth inning of all their home games; (2) the number of times I saw pot being openly smoked; and (3) the number of times I heard "Gangnam Style." No. 1 turned out to be five, I basically lost count of no. 2 within the first 30 minutes, and no. 3 was basically just running on an ongoing loop all day. At one point during the rally, it was played twice in the span of like 10 minutes. Do you think Tony Bennett, who came out at the end to croon "I Left My Heart in San Francisco," is aware of this song? He'd probably do a killer rendition.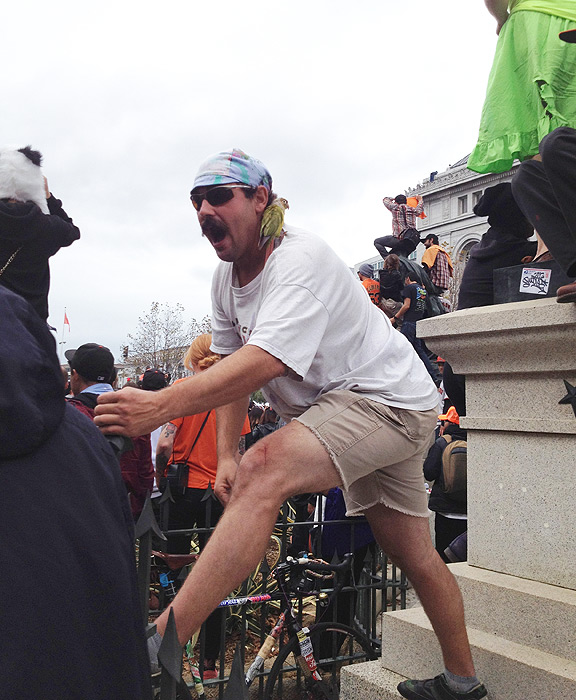 This guy was an absolute beauty. "Me and the bird went to 12 games this year," he was telling another dude, as if the parrot on his shoulder was a buddy from high school. "I really think the Giants can win four World Series in six years. Four in six, man. Four in six!"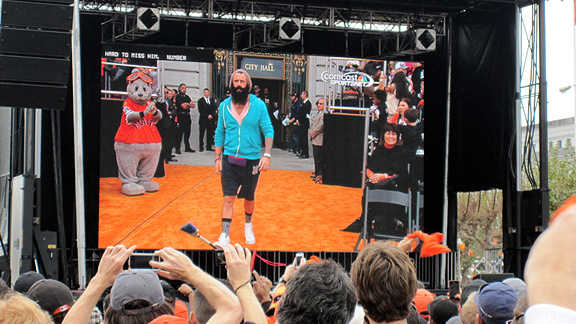 Brian Wilson would blend in perfectly in the Mission. It's crazy that someone with such a huge presence and role in 2010 was sidelined this time around after undergoing Tommy John surgery this spring. Still, the Giants more than made up for Wilson's quirk in 2012. Midway through the parade, closer Sergio Romo, wearing a shirt that said "I JUST LOOK ILLEGAL," ditched his convertible and chose to walk/skip/hop the rest of the route. During the victory rally, pitcher Ryan Vogelsong told a strange story that ended with the punchline "You're going to jail now!" and an uppercut to the mic. (SFist identified the reference, albeit quite fussily.) There were Pablo Sandoval and Marco Scutaro, addressing the crowd en Español, and there was Barry Zito throwing an alley-oop pass by saying "we're enjoying the highest of the highs right now." ("So am I!" someone yelled, completing the dunk.) I was half-expecting to see signs that said "KEEP THE GIANTS WEIRD."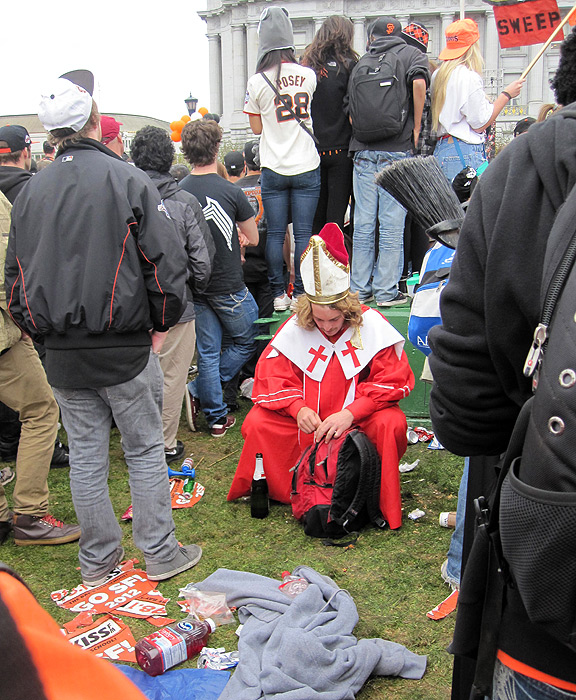 In contrast, sad Pope is sad. Can you blame him? Not only is baseball season, glorious baseball season, officially over — he had to spend his day walking among a lewd, louche, and very loud collection of sinners. Even if they are much more fun.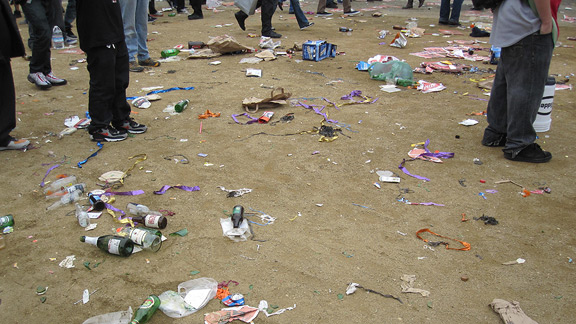 Heathens, all of you. No wonder they wanted to hold the parade on Halloween. Just as with the Giants' playoff run, it would be two big messes — followed by one big cleanup. Get out the brooms.