The Year of Lisa Bonet?
1. A major American celebrity — long rumored to be gay — will be forced to publicly reveal his sexual orientation in order to avoid humiliation from a tabloid news source.
2. The Kentucky Wildcats basketball program will struggle throughout the regular season, enter the NCAA tournament as a 6-seed, and unexpectedly advance to the title game.
3. A significant real-life illness will force a major character on a beloved AMC series to be hastily written out of the story. (But the performer will ultimately survive.)
4. Radiohead will break up.
5. Literary tongues will be wagging over a hyper-violent, self-published erotic novel set in the Jazz Age.
6. The Knicks will upset the Heat in an epic, unforgettable seven-game series to advance to the NBA Finals — where they will then lose to Oklahoma City in five sloppy, underwhelming games.
7. A current member of the Rock and Roll Hall of Fame will be framed for the murder of a former NFL journeyman quarterback.
8. Bill Clinton will become the public face of gun control reform.
9. Marine biologists will capture a live giant squid.
10. Lisa Bonet will be (briefly) very famous again.
11. Startling historical evidence will emerge about a long-dead U.S. president, radically changing our perception of him. The information will involve sexual espionage.
12. Everett Golson will win the Heisman Trophy. Johnny Manziel will finish fourth in the voting. (Ka'Deem Carey will be second, Marqise Lee third.)
13. The political and economic relationship between Russia and Germany will intensify, raising amorphous concern throughout the Western world.
14. It will suddenly become cool to move to Detroit.
15. Rihanna and Chris Brown will marry and divorce within the year.
— Chuck Klosterman
The Knicks Will Not Win the NBA Championship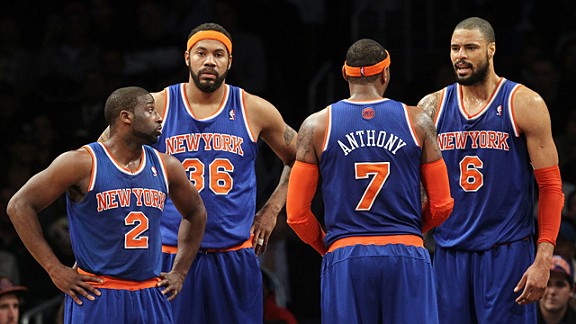 Because if they appear to be threatening to do just such a thing, I will personally assign Guy Fieri to follow Ray Felton. From the earliest mornings, to pregame shootarounds, to those quiet moments in the locker room after a tough loss, all the way to his residence in Mount Vernon or wherever it is he lives. Fieri will be toting deep-fried sqidoodles and caramel-glazed thingamabobs, salt-drenched whosits and pork-spiced doohickets. Caloric weapons are what he'll be wielding. Ray Felton has never seen a feast like this and he will not be able to resist. And he will get fat.
I may also enlist an artisanal bartender to shadow Jason Kidd.
— Sean Fennessey
13 People Who Will Be in New Jobs, or Wearing New Uniforms, in 2013
1. Dwight Howard will be a Brooklyn Net.
2. Chip Kelly will coach the Philadelphia Eagles.
3. Josh Smith will be a Boston Celtic.
4. Nick Saban will coach the Dallas Cowboys.
5. Cristiano Ronaldo will play for PSG.
6. Bart Scott will be in an NFL pregame studio.
7. Phil Jackson will coach the Nets.
8. Jon Gruden will coach the Raiders.
9. Monte Kiffin will join him on the sidelines.
10. Pau Gasol will be a Pelican.
11. Jose Mourinho will manage Manchester United.
12. Tim Tebow will be a Jaguar.
13. Andy Reid will coach the Chargers.
— Chris Ryan
The Rise of Walton Goggins
Lots of people do idiocy and venality. Some of those people do them well. But right now only Walton Goggins has the mouth for both. Those big teeth of his mean his lips don't meet with ease. His jaw seems permanently slack. In Lincoln, that made his sense of morality seem easily manipulated. In Django Unchained, his mouth made that morality seem debased. He was a bit player in both movies. He always will be — he looks too much like the Coen brothers invented him to fulfill the conventions of a so-called leading man. It's true, we should be happy to have Goggins on Justified. But some of us are greedy. Some of us think he needs bigger bits.
— Wesley Morris
Popeye Jones's Kid Will Go First Overall in the Draft. The NHL Draft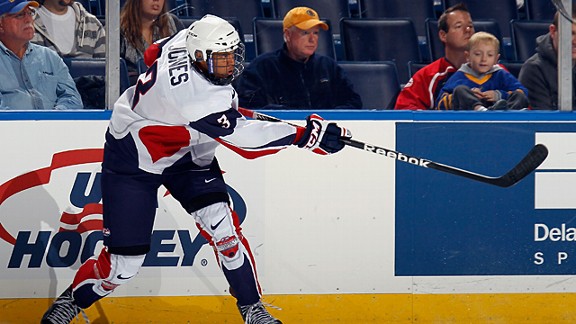 Whichever team winds up being the worst in this truncated NHL season will get quite the consolation prize at the draft next summer: the choice between two North American standouts, Canada's Nathan MacKinnon and the U.S.'s Seth Jones. (TSN even has a website devoted to tracking the two.) And while that choice will be highly needs-specific — MacKinnon is a high-scoring center, while Jones is a defenseman — there's an excellent chance that the Son of Popeye will be the first player selected.
Jones caught the hockey bug as a kid living outside Denver, where his father played a season for the Nuggets at the same time the Colorado Avalanche were dominating the NHL. (Joe Sakic gave Popeye advice on how to nurture Seth's newfound love for the sport.) Now, at 6-foot-4 and 206 pounds, he possesses the calm and consistency of a Nicklas Lidstrom, his idol and a player he's often compared to by the scouts who have rated him tops in the Western Hockey League, where he plays for the Portland Winterhawks after spending two seasons with the U.S. National Team.
Jones downplays the fact that he could be the first black player to go first overall, explaining that he grew up with a black father and white mother and race was something his family cared little about; their focus was simply on sports. Regardless, he'd be one of only a few American players to ever be taken in the top slot (the last one being Patrick Kane in 2007) and is undoubtedly one of USA Hockey's prime jewels. Like MacKinnon (and Sidney Crosby), he is represented by super-agent Pat Brisson; at last year's NHL draft in Pittsburgh, Brisson brought the two along to get a feel for what the weekend is like. But Jones knows he can't think too much about next June; after all, he's got the World Junior Championships going on. "The more you worry about it, the more it can affect your play," he told The Hockey News this summer. Judging by the season he's having, he must not be worrying at all.
— Katie Baker
Greg Oden Will Not Only Play in an NBA Game, He Will Record a Double-Double
I realize that I'm running the risk of jinxing him by predicting this, but at this point, Greg Oden's entire professional career has been one big jinx, so this would really just be a drop of water in the ocean. With that said, I'm predicting that during 2013, Greg Oden will record a double-double in an NBA game. Chances are you think this is a ridiculous idea because you either (a) think predicting that a guy who was the no. 1 pick in the NBA draft five years ago will get a double-double isn't exactly ballsy, or (b) think there's no chance in hell of this happening.
If you're in the former group, this seems like a good time to remind you that when the 2013-14 season rolls around and Oden is (hopefully) set to make yet another comeback, it will have been almost four full years since he last played in the league. The odds of him making it through a month, let alone an entire season, without getting hurt are so astronomically against him that many people think he should just retire now and not even bother trying. Which brings me to those of you in the second group. I know that Oden is trying to make an unprecedented comeback, and suggesting he can produce at a high level even for one game is borderline insane. But I'm sticking by my prediction because I've seen firsthand how motivated he is to salvage his career. And by that, I mean that he's lost almost 30 pounds during his time off and is moving better than I've ever seen him move since he left Ohio State. Hopefully shedding weight will relieve some stress on his fragile body, and for at least one night in 2013 — probably against the Wizards — he'll tap into the fountain of youth and show why he was once considered the best big-man prospect since Lew Alcindor.
— Mark Titus
You're Always Welcome at Our House, Tim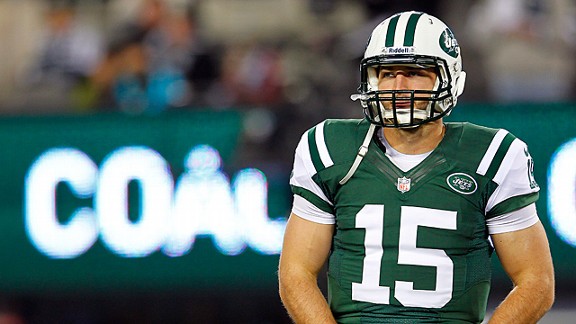 The Fierce Five will be forgotten. The NHL will be forgotten. Lance Armstrong will be forgotten. Tim Tebow will be forgotten and yet also chosen, once again, as "America's preferred Thanksgiving guest."
— Louisa Thomas
Kim Kardashian Will Become Pregnant With Kanye West's Child and/or They Will Elope to a Very Fancy Place on Earth
This is a no-brainer. Yes, giving myself the "and/or" is a complete cop-out, but I almost know as fact that one of these two things will happen. Kanye is all about one-upping his previous year, as well as those around him, and how better to top landing Kim Kardashian than to turn her into his baby mama and/or WIFE? Also, 'Ye has studied how ballin' kids are, in the era of Blue Ivy Carter, and knows that in order to truly keep up with the Carters, he's got to produce offspring and present it to the world like Simba wearing a crotch-less diaper and a Jesus piece bib. AND JUST THINK ABOUT THE ALBUM AND/OR 30-MINUTE MUSIC VIDEO THIS WILL PRODUCE.
As for Kim, she's down.
— Rembert Browne
Sidney Crosby Tackles the Quintuple Lutz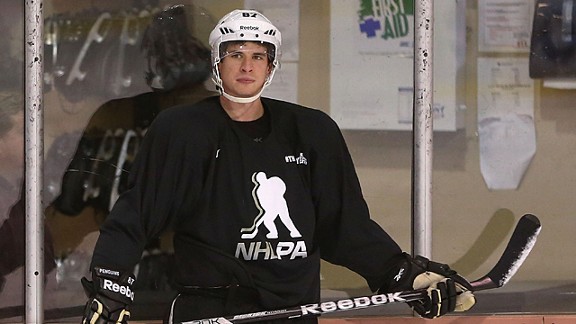 1. Ian Poulter will win the first major of his career.
2. Duke will win national championships in men's basketball and women's soccer.
3. Figure skating will start to sneak up on us.
4. "Wow, there's almost no chance of getting a concussion in figure skating," Sidney Crosby will say, intrigued.
5. NHL commissioner Gary Bettman will panic about the rise of American figure skating and blackball the sport from major rinks.
6. The Yankees will sign a big-name free agent.
7. Sidney Crosby will be the first man to pull off the mythical quintuple lutz, but it will happen on a remote pond in Minnesota thanks to the Bettman Blockade.
8. After the outcry following Crosby's stunt, President Obama will order Bettman to stand down.
9. Notre Dame will lose to Alabama in a hard-fought BCS title game.
10. Bettman will refuse, and Obama will be forced to send in the National Guard to major rinks across the Northeast and Midwest.
11. Surrounded by a mob of angry hockey fans, Crosby will enter Detroit's Joe Louis Arena and win the first-ever USFS regular-season championship over savvy veteran Elvis Stojko by pulling off a quintuple salchow.
12. Seeing a chance to gain favor with Bettman and make the NHL an exclusively Canadian enterprise, the Canadian army will mobilize that same day and invade Detroit from the north.
13. The Giants will win the Super Bowl.
14. Before Crosby can leave the arena, the Canadians will overwhelm the national guard and Crosby will have to hide in an air vent inside the visitors' locker room, terrified of his home nation's army.
15. Stojko will broker a peace between the Canadians and Crosby, guaranteeing his safe passage.
16. LeBron James will lead the Heat to another title.
17. It was a trick. Stojko was a Canadian agent. The Canadians now have Sidney Crosby, the great figure skater. One of their own.
18. Air strikes weaken the Canadian army's resolve as the Battle of Detroit rages on. The Mounties are sent across the border.
19. Rather than betray his sport and play hockey like the Canadians demand, Crosby chooses to martyr himself by attacking an enemy tank. The Instagram of his doomed effort replaces the Tiananmen Square photo as the most compelling tank-related image in world history. As American and Mexican reinforcements pour into Detroit, the Canadians are forced back north. Figure skating becomes outrageously popular across America, and by the end of 2013, the NFL, NBA, and MLB all fold. Gary Bettman becomes the prime minister of Canada, gambles the entire economy on Greenland timber stocks, and is ousted in a coup and forced to live the rest of his life on a canoe in Hudson Bay.
20. Barcelona will win the Champions League.
— Shane Ryan
Kobe Beefs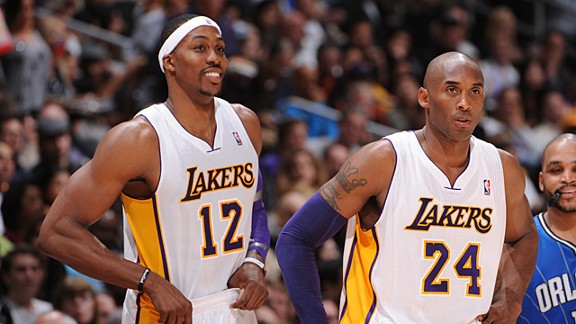 Kobe and Dwight will both record dis tracks, which will both be released when Dwight signs with Dallas.
— Jay Caspian Kang
An active pro athlete in one of the major four American sports will come out of the closet.
— Bill Barnwell
Zombie Hockey
The NHL lockout ends just minutes before the drop-dead point for a canceled season, and the Toronto Maple Leafs pull a '99 Knicks, getting hot long enough to squeak into the playoffs on a shortened schedule. Led by newly acquired goalie Roberto Luongo, the Leafs storm through the postseason, advancing to the Stanley Cup finals. The series extends to Game 7, with the deciding game going to quadruple overtime. Twelve minutes into quadruple OT, an exhausted Phil Kessel weakly dumps the puck in from center ice, gasping for air as he limps to the bench for a line change. The puck dinks off two skates, then knuckleballs into the net for the Cup-winning goal. Air Canada Centre is immediately overrun by hordes of marauding zombies. The plague of the undead spreads north to King Street, then Queen Street, all the way up to James Bay, eventually engulfing the entire province in death.
The Toronto Star leads with a column by Zombie Damien Cox. The main photo is a picture of Zombie Luongo eating Zombie Borje Salming's left arm. The 128-point headline at the top of the page reads: "IT WAS ALL WORTH IT."
— Jonah Keri
Joey Chestnut Walks Away … From Meat Options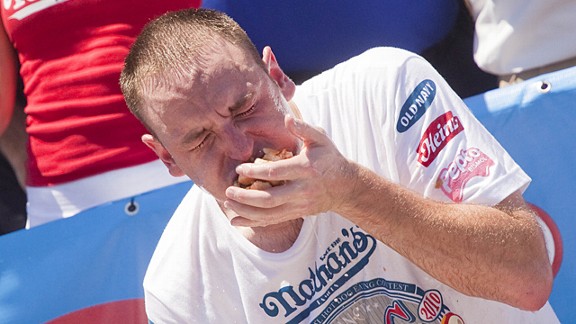 Legendary competitive eater and diarrhea aficionado Joey Chestnut will become a vegetarian in 2013. This major decision comes after PETA officials hold him hostage in his own home for 72 hours — bombarding the reigning six-time Nathan's Hot Dog Eating Contest champion with videos of cows and Turkish Angora cats being slaughtered. In a televised press conference, the brainwashed Chestnut will denounce meat consumption for eternity and toss his coveted Mustard Belt into a wood chipper. Soon thereafter, he will go on to start his own competitive-eating faction, which focuses only on umbelliferous vegetables and legumes. After realizing there's no monetary interest in a glutinous-yet-watered-down sport of this nature, Chestnut will declare bankruptcy. His gloomy financial state will lead him to attempt to take his own life by slashing his wrist with broken relish bottle pieces. Don't worry — in this fake scenario, he turns out fine in the end.
— Sal Iacono
Tebow to the CFL
1. Tim Tebow will depart from New York and, in his first season, will lead the Canadian Football League's Montreal Alouettes to the Grey Cup.
2. A 14-year-old from Dothan, Alabama, will become an Internet sensation.
3. Boise State will go 12-0, and will finish third in the BCS standings.
4. A Horizon League men's basketball team will make the Final Four.
5. A Texas high school quarterback will throw for 1,000 yards in a game.
6. Johnny Manziel will briefly quit the Texas A&M football team before returning. He will finish fourth in the Heisman Trophy voting.
7. LeBron James will become embroiled in an off-court, non-sexual "scandal" that will be covered heavily by the tabloids, will once again alter public opinion of him and cause much hand-wringing about Sports Illustrated's decision to name him the 2012 Sportsman of the Year, and will be denounced as thoroughly silly and inconsquential by early 2014.
— Michael Weinreb
Taylor Swift Will Have Three Different Males Called Her "Boyfriend" in 2013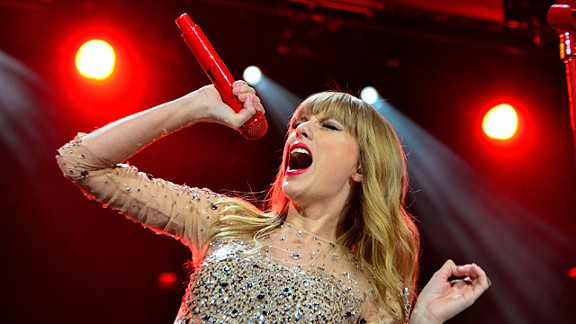 If you believe a series of highly staged photographs taken over a three-week period in November and December, Taylor Swift, 23, is "dating" One Direction heartthrob Harry Styles, 18. It can't last. They will break up well before the end of Q1 of 2013. Styles embarks on an eight-month world tour with his band in February, while Taytay will set out on her own U.S. tour come April. Expect the breakup announcement (due to conflicting schedules) to come before winter's end.
Who will be next for Taylor? Because Styles is her second consecutive 18-year-old "boyfriend," following Robert Kennedy's grandson Conor Kennedy, she's going to go older. These teens are bringing the Swift Boyfriend Average Age metric way down, and she must course-correct. Next she'll date a post–Zoe Saldana Bradley Cooper. He meets her profile: someone inexplicably dating her because he's famous enough on his own already.
Alas, Taylor's heart is a mystery and this relationship, too, shall end. It'll fizzle in early July. This will leave Taylor time in the summer to go to her new house on Cape Cod — the one she reportedly bought through her shell company in November. It's on the Kennedy compound! And so, by summer's end, Swift and her young Kennedy swain will be reunited. The ballad of Taylor and Conor is far from over.
— Juliet Litman
The Opening-Weekend Box Office Results of Notable 2013 Releases, Accurate to Within 2 Million American Dollars
The Last Stand (January 18): $22 million
Bullet to the Head (February 1): $18 million
A Good Day to Die Hard (February 14): $34 million
G.I. Joe: Retaliation (March 29): $52 million
Oblivion (April 19): $37 million
Iron Man 3 (May 3): $115 million
The Great Gatsby (May 10): $28,043
Star Trek Into Darkness (May 17): $57 million
The Hangover Part III (May 24): MP (of 600,000 masturbating macaques)
After Earth (June 7): $42 million
Man of Steel (June 14): $68 million
World War Z (June 21): $53 million
The Lone Ranger (July 3): $490 million (Disclaimer: Grantland is owned by the Walt Disney Company)
Pacific Rim (July 12): $45 million
The Wolverine (July 26): $83 million
The Smurfs 2 (July 31): $49 million
Elysium (August 9): $34 million
Runner, Runner (September 27): $26 million
Thor: The Dark World (November 8 ): $88 million
The Hunger Games: Catching Fire (November 22): $137 million
The Hobbit: The Desolation of Smaug (December 13): $95 million
Jack Ryan (December 25): $33 million
The Secret Life of Walter Mitty (December 25): $38 million
— Mark Lisanti
We'll Miss George Lucas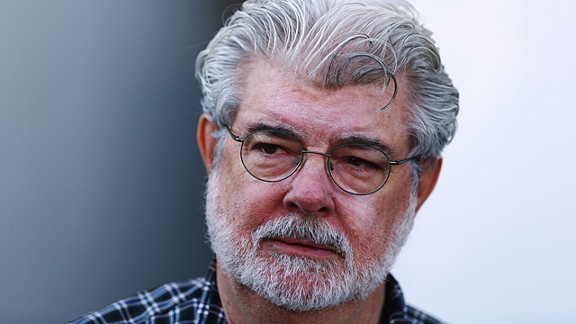 Starting next year, someone else is going to be making Star Wars movies. George Lucas — previously the only person who made Star Wars movies (or the only person who presided over them, anyway) — will be a mere consultant. "I don't really have much to do," Lucas said the other day.
I predict we'll miss our bearded guru, and miss him badly. One, we'll miss Lucas as a filmmaker. The argument for years was that Lucas should let someone else play with his inventions: with C-3PO, Tatooine, Tusken Raiders, Hoth, the Ugnaughts, Endor — that someone else should take a swing at his big, simple themes, like leaving home and breaking with childhood and embracing your destiny. All fine, but this is (was) his stuff, and there's a reason no one made "another Star Wars," even though the studios spent 35 years trying.
Second, we'll miss Lucas because we're in that part of the love-hate cycle. Phase 1 (1977-1983): Lucas love. Phase 2 (1984-2012): Lucas anger, Lucas confusion, Lucas overload. Phase 3 (2013-????): Lucas love restored. It's bound to happen. And my guess is that now that he's freed from corporate responsibility — now that he can relax — Lucas is going to love his fans back.
Finally, we'll miss Lucas because he's no longer the convenient target of so much rage. If the next Star Wars movie sucks, he'll be absolutely blameless. Jar Jar will have a new dad. Happy New Year, fanboys!
— Bryan Curtis
Go Filibusters!
1. Everybody falls off the fiscal cliff. (Wait, too soon?)
2. Not to be outdone by the New Orleans Pelicans, the Wizards decide to change their name to the Washington Filibusters. They excel at the stall ball.
3. Roy Hibbert becomes increasingly jealous of Blake Griffin's cool Kia commercials and signs on as Maytag's new spokesman. He injures his back while attempting to dunk over a washer-dryer combo and is out for the Pacers' surprising run in the playoffs.
4. Dwight Howard decides to put his sensitive personality to good use and makes cameos in several episodes of Grey's Anatomy. He is credited as "Crying Doctor."
5. Finally heeding the cries of Jets fans everywhere, Mark Sanchez retires. He becomes a motivational speaker, and tells crowds about overcoming Sisyphean ordeals.
6. Glen Davis returns from his shoulder sprain as a more "developed" player, yelling at teammates and pouting about not being able to shoot 3-pointers during games. He adopts a new nickname — Angsty Teen.
7. Paris Hilton becomes relevant again, coming out with a new TV show, The Complicated Life, in which she pairs up with Nate Silver to try out a new type of modeling.
8. God no longer hates Cleveland. Ha, just kidding.
— Patricia Lee
Hello, Brooklyn
Ahead of their 2015 move to Brooklyn, the Islanders start making inroads into the community — and accidentally launch The Great "Rap Dudes Wearing Hockey Jerseys" Revival of 2013. (Frank Ocean's spiffy Aztec warrior number helps, too.) Eventually, the area around Barclays Center ends up looking exactly like the set to Raekwon's "Ice Cream" video. Nobody complains.
— Amos Barshad
The Clippers Will Carry L.A.'s Sports Mantle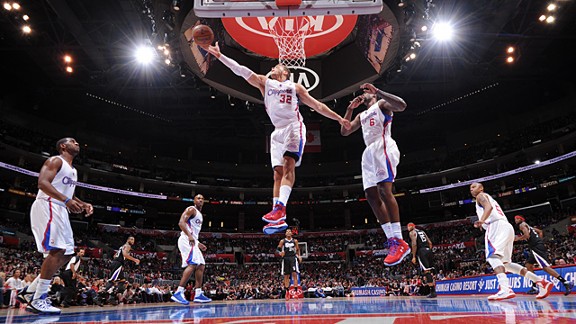 The Lakers are in disarray, and the Clippers look like a team constructed for the playoffs. Los Angeles's other teams lag behind their NBA counterparts. The Dodgers finished out of the playoffs this year and continue to spend outlandishly. The Stanley Cup–winning Kings are locked out. USC football had its first chance to be relevant this season and sputtered. They'll take another step back after the departure of Matt Barkley. And it only took a couple of games for UCLA men's basketball to drop out of the Top 25 rankings. There is no better time to be a Clippers fan.
— Jonathan Abrams
"We Should Try to Bring Back Eddie Bauer"
1. Borussia Dortmund will make the Champions League finals, and the English teams will be knocked out before the semis.
2. Sometime in mid-July, I will eventually be able to hear the word "sundress" and not hear it in Drakevoice. (See: "reupholstered," Kanyevoice.)
3. Chip Kelly to the Chargers, Sean Payton stays in New Orleans, Dwight Howard to Atlanta; Tim Lincecum figures out a way to win 16 games and Brandon Belt contends for a Gold Glove; a Warrior will make the All-Star team for the first time since 1997; the A's will become even more adorable.
4. At least once a month, two people will be walking through Soho toward Chinatown and one will say to the other, "We should try to bring back Eddie Bauer."
5. UCLA will make a tournament run, but then everyone will leave and the Bruins will be unprepared again next fall.
6. An anti-anti-Barry lobby will cohere, and Bonds will make a strong push for the Hall of Fame. He won't make it on the first ballot, but a more sympathetic narrative will form that will send him there within a few years.
7. Lil Wayne will put out a skate video and it will be watchable mostly for its skits.
8. During a Wednesday-afternoon lull in early August 2013, the secretary of a small dental practice in Somerville, Massachusetts, will say, "Hey, remember 'Gangnam Style'?" and ruin the evenings of his seven co-workers.
9. A protégé of "Duncan Jenkins" and/or some fake Twitter account will actually/accidentally shape the decisions of a club somewhere out there.
10. Jamie xx will become his own mini-genre, and a year from now he still won't have ever put his name on/near a bad song.
11. More hurricanes, a rebranded fiscal cliff.
12. Blake Griffin will appear in a Kia commercial in which he talks to Blake Griffin circa 2011 about appearing in Kia commercials.
13. Full disclosure: I already know what happens in 2013; I played this year in Football Manager two summers ago. I'll just say that Stephan El Shaarawy is right on time and keep the rest of my "predictions" private. It's safer this way.
— Hua Hsu
Davey Johnson's Nationals Win It All … Which Means Davey Johnson Gets to Pull a La Russa (Non-Surprise Version)
I'm going to be honest. I'm only saying this because I want "Pulling a La Russa" to mean something that's not super maniacal. I still miss you, Tony!
— Sarah Larimer
Operation: Eff It? Operation: Eff It.
With The Office, Parks and Recreation, and 30 Rock leaving in the spring, and with The Voice still making them approximately 1 billion dollars per second of ad time, NBC will launch a bold new Thursday-night strategy in the fall of 2013: Operation: Eff It, in which they simulcast Universal-owned Bravo from 8/7c to midnight. It will soon become apparent that The Real Housewives of Atlanta is a truly formidable big-four time slot competitor, and Fox's The X Factor will suffer a catastrophic drop in ratings that it cannot afford, leading to a shocking mid-season cancellation and the winner being determined via YouTube webisodes.
— Emily Yoshida
Call Him Sir David Beckham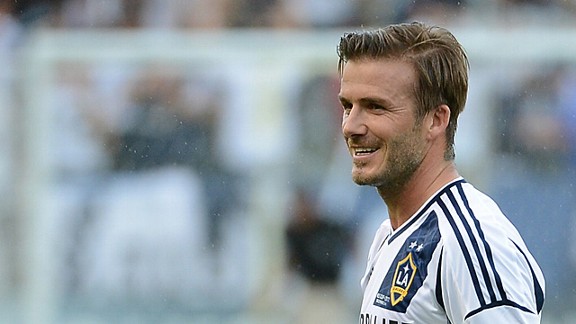 1. Mike Krzyzewski will announce his retirement following an improbable second-round NCAA tournament loss to St. Bonaventure, only to reconsider after a summer spent gazing broodingly at the sea and refreshing his Fidelity app.
2. David Beckham will receive full knighthood, prompting a majority of the world's corporations to pitch "suit of armor" campaigns to his management team. (Beckham as Sir Wrigley's Spearmint Gum slaying the dragon of halitosis, Beckham on a billboard over Tokyo wearing nothing but a longsword and Emporio Armani boxer briefs.) Although he will decline these offers in the spirit of patriotism, his wife will tacitly allow the fashion press to begin calling her "Lady Victoria."
3. Sasha Frere-Jones will write a heavily blogged-about piece that makes fans of fun. feel morally uncomfortable for some reason.
4. Leo Messi will score 67 goals in all competitions. End-of-year tabloid columns will fret about his "disappointing season" and speculate on "whether he can return to form in 2014."
5. A wild-eyed Tim Tebow will turn up at a New York City police station at 3 a.m., shirtless and bleeding, and claim to have "fallen off a fire escape" and not to "remember the last 36 hours." "Officer, I've Fallen Off A Fire Escape" will become the dominant meme-template of early 2013, with the period from March through July being remembered as The Long Spring Of People Falling Off Things by the sad-eyed historians of the Pathfathian Epoch (3,500 years in the future).
6. The number of children who can recall watching Michael Jordan play basketball will continue to decline, arousing suspicion in some quarters that life is transient and glory an illusion.
7. Blue Ivy Carter will exist inside a bubble of happy tranquility, all her fears soothed, all her needs tended to, and you will think about this when you are alone, and feel better in ways that are hard to describe or understand.
8. The Glazers will sell Manchester United.
— Brian Phillips