It had been a largely uneventful month in the world of weddings this August, with all the usual suspects showing up in the pages of the New York Times.
There were the pairs who met at Harvard Law (or, to mix it up, Yale Law). We had the daughters of former senators and the sons of former Times editors. Couples got married at boarding schools or in event spaces in New York.
There were the a-little-bit-kooky ones, like the featured column on the actress who stars in the Broadway play Kinky Boots, which included this description:
One of her favorite words is "magic," and she uses it to describe all kinds of things: roller coasters, vintage platform shoes, 19th-century novels and, especially, ladybugs. Even breakfast at McDonald's can be magic, in her opinion, since it reminds her of her suburban childhood in Denver.
True, the hash brown things are pretty tasty. However:
They were alike in so many ways. "We were both country people trying to make it in the city," she said. Both were very close to their maternal grandmothers (he still often carries his grandmother's handkerchief in his pocket and she wears her grandmother's wedding ring). Both love roller coasters and they have the same work ethic.
They can also talk or not talk forever, and still find things to not talk about.
Anyway, then there were the stories about people entering marriages later in life. Gay Cioffi and Mark Obenhaus had a Hamptons summer fling back in the late '70s and reunited last year via Facebook. (Their vows are so lovely: "I offer you not the summer of my life but the autumn, brisk and vibrant." It's getting a little bit dusty in here.)
Dorothy Rogers and Shirl Abbey, meanwhile, didn't know one another, but connected on Match.com and were married this month at the ages of 80 and 89.1
After numerous toasts and speeches lauding the couple, Ms. Rogers, who took her husband's name, gave a toast of her own. "This is so much better than a funeral," she said. "We can be here!"
---
All of these stories, while varied in their own ways, were pretty much standard fare. Then, everything changed: The Miami Heat's Udonis Haslem got married.
"I was an inner city Miami kid," said Mr. Haslem, now 33, "with a drug-addicted mother, a stepmother who never married my father, and a son from a high school fling. I fought on the streets, watched friends die from drugs and violence, and learned to shoot hoops in Liberty City. I had no idea if she even liked me."
The "she" in the equation was Faith Rein, a track and field athlete at the University of Florida, where Haslem played basketball. Their first date was at Popeye's. After he dropped her off, he called and said, "I like you, I am feeling you."
(Contrast that with this, from the "magic" couple: "She sent him lots of texts, but he usually replied tersely or not at all. 'One time I texted him: "I have a mouse and I don't know anybody who can help me" … he texted back, "Get a trap."'")
Over the next decade-plus, there would be an abortion, a long-distance relationship between Gainesville and Chalon-sur-Saône, France, where Haslem was hoping to revitalize his career, athletic injuries, a contract with the Miami Heat, a son from a previous relationship, then another one they had together, the death of Haslem's mother, and three NBA titles. And then, finally, a wedding, with Pat Riley, Erik Spoelstra, Flo Rida, LeBron James, and Dwyane Wade in attendance.
After she and Mr. Haslem kissed four times as man and wife, they walked along a rose-strewn path to the strains of Tupac Shakur's "2 of Amerikaz Most Wanted."
Later, just before 1 a.m, "Mr. Haslem surprised his bride, who had changed into a black Dolce & Gabbana dress, by presenting her favorite rapper, Wale, who had flown in from Washington to perform."
Worth the wait, and worth the read.
---
A hearty congratulation to Eliza Baker (no relation, sadly — I wish I had relatives in London) and Addison Holladay for being August's finest pairing, according to our proprietary NUPTIALS algorithm. And an even heartier thank-you, as always, to Friend of Grantland Alex Morrison for his Society Scorecard design!
The Baker-Holladay announcement picked up big points thanks to very high scoring in Locales (Newport, Palm Beach, and a boarding school chapel constitute some sort of WASP holy trinity) as well as Names. Here is a list of the cast of characters:
Charlton Elisabeth Baker
Wylene R. Commander
Robert F. Baker (booooring!)
Addison Cole Holladay
Winton Smoot Holladay
Wallace Fitzhugh Holladay Jr.
David Llewellyn Van Schaick
I'd totally watch a TLC or Bravo series, Wylene & Winton, about those two mothers of the bride. One is a painter … and one is "the president of the board of directors of the National Museum of Women in the Arts, which was founded by the groom's paternal grandparents in 1987." It's like Gallery Girls all growns up.
Finishing in second place was another Newport wedding, between two Wharton graduates, while third place went to Yalies Rachel Sam and William Rubenstein, whose wedding "incorporat[ed] blessings in Hebrew, English, French and Cambodian." Just in case you're wondering about that last one:
She is a daughter of Tioulong Saumura and Sam Rainsy of Phnom Penh, Cambodia. Mr. Sam Rainsy is the leader of the Cambodian National Rescue Party, the opposition party. From May 1993 to October 1994, he was Cambodia's minister of finance. The bride's mother is a member of the Cambodian Parliament from Phnom Penh.
Um, I … OK, that is nuts. Can you imagine what it's like to be a college freshman, meeting thousands of people for the first time and answering the same rote questions again and again — What dorm are you in? Where are you from? Oh, Cambodia? Wow, what do your parents do?
Oh, you know, my mom's in public service and my dad went into self-imposed exile in France for awhile and was then sentenced to 10 years in prison but got a royal pardon and now he's leading the opposition protest of a possibly rigged election. Anyway, you said your dad worked at Ernst & Young? That's so cool — don't they count the Oscar votes?
---
Weddings make everyone loopy. When I read the Gawker piece this morning on the monstrous bridezilla e-mails (my absolute favorite part of the entire flood of correspondence is the "Thoughts?" in the second to last one, by the way), I … I kind of came away wishing I could hire this terror to be my personal trainer? Is that bad? She's got a decent point about the skinny arms, you know, and I could use a little tough love about my haircut decisions. This is how it all starts, you see, and it never ends well for anyone.
Except for all the couples in "Vows," of course! They all have pleasant dispositions and respectful e-mail chains and nannies who raised them right. Here are a few odds and ends from the month of August.
• An additional Society Scorecard shout-out goes to Alexandra Helprin and Swift Edgar, who picked up 17 Universities points. Some people attend the Groton School, some go on to get married there … and some are descended from Endicott Peabody, who founded the entire institution in 1884. There's always someone better.
• Regarding talented musicians: Want to feel really bad about yourself? Bride Rachel Lee is 25 years old, met her husband at Harvard, and is a concert violinist who has performed as a soloist with symphonies across the country (and even in Berlin). Then, tossed off as if it's a casual aside: "She is also an assistant to the general counsel at The New Yorker magazine and works with its fact-checking and research department." We all have our side gigs. But she's kinda making the Juilliard-educated ageless cellist seem lazy.2
• NBA writer Dan Devine posted a really lovely essay on the experience, two years back, of getting married during the weekend that Hurricane Irene hit the East Coast. "I'll always wish we got to have the wedding we'd planned," he wrote, "but these days, when I think about it, I focus less on what didn't happen and more on what did." (One of the things that did: "going in on 'Crazy in Love' with my mom." Aww.)
• "The bride's father retired as a professor of government at Empire State College. From 1971 to 1976, he was the commissioner of the State Office of Parks, Recreation and Historic Preservation. He wrote a memoir, 'Dancing With the Queen, Marching with King: The Memoirs of Alexander (Sam) Aldrich.'" In other words, the bride's father is Ron Swanson.
• Regarding that last one: I love when otherwise-straightforward announcements include nitty-gritty info about the readings. (In this case, it's "an Apache blessing and poems by Robert Louis Stevenson and Pablo Neruda.") I wish we got these details more often. Imagine an announcement that was all, "The ceremony included a few random readings all found last-minute on offbeatbride.com and performed by frenemies who didn't make the wedding party cut." We need to make this announcement happen.
• Matt Ballinger and Danielle Manning met when Ballinger, who was in a boy band called Dream Street,3 came to her hometown and she was "able to interview" them. He was 15, she was 14, and years later they would reconnect via Facebook. I highly recommend checking out the video.
• This bride and her sister "have a blog called the Sisterhood of the Unbuttoning Pants." Unfortunately, it focuses "mainly on New York restaurants." Teases.
• A letter writer to Peggy Post's wedding Q&A column has the worst story ever: "My husband and I were married nine months ago. A friend just found a pile of cards (with [now-expired] checks) that had been given to him to pass along to us when we were less distracted by festivities." Post advises her to "please forgive him," but I'm pretty sure it's only because the New York Times legal advisers were too wary of having her endorse cold-blooded murder in an etiquette piece. (ON THE OTHER HAND, everything about everyone in this piece is utterly abhorrent — even and especially you, Snapple Lady.)
• Best occupations of the month: the (now-retired) "marketing director for Country Log Homes, a maker of log cabins"; the "publisher of Lihn's Golf Guide, a series of guidebooks to golf courses around the world"; and the guitarist and songwriter who has worked with people ranging from Kelly Clarkson to Billy Joel, from Jackson Browne to Meredith Brooks. Thanks for all of it!
• Of all the Miley Cyrus think pieces I've read, this one is probably the strangest.
• It's cool to be super-smart! These two met at MIT, while this couple got married at the school chapel. The way they met ought to be an inspiration to anyone feeling down about the status of their love life.
The couple met in April 2011 at an ice cream shop in Cambridge. Dr. Norville was alone, consoling herself after a bad date, and Mr. Freilich was there with his medieval folk dancing group. He noticed Dr. Norville's M.I.T. jacket, and he struck up a conversation with her.
One of their first dates was in an academic lab, and then they had her dissertation to deal with. But: "Both think the Ph.D. process served as an excellent litmus test for their relationship." I see what you did there, Margaux Laskey.
• Was hoping "Dynasty Financial Partners" was the name of Joan Collins's tax shelter LLC or something, but alas — it's just a financial firm in which one bride's dad is the "director of wealth and capital markets services." I'd remove those last four words — gives the title a little more oomph.
• It worked out OK for two ladies who had inauspicious beginnings with their crew-rowing beloveds. Catherine Moore — "a great-granddaughter of the late Maria von Trapp and Captain Georg von Trapp, the family in 'The Sound of Music'"4 — ran smack dab into rower Nicholas Anderson not once but twice in the hallway of their dorm, but it wasn't until months later when they were about to leave school for the summer, "Ms. Moore for an internship at the Pentagon, he to row at the Vesper Boat Club in Philadelphia," that they finally decided to exclusively date. And Katharine Hagler thought Steven Coppola, a former Olympic medalist and current Princeton women's crew assistant coach, was staring at her funny the first time they met because she maybe had B.O. Nah, he was just "say[ing] to himself, 'I've got to get to know this person better.'" And he did.
• It's a close race for this week's Chosen Couple. On the one hand, we had a graduate of Brandeis and Yeshiva wedding a woman who went to med school in Israel. On the other hand, there are two people in this announcement — the bride and the father of the groom5 — who are heavily involved in the UJA-Federation, and Teaneck is involved. But as you know, the tie goes to the rabbi, and it's the second groom whose paternal grandfather is just that. Mazel tov, shana tova, and I hope everyone had an easy fast!
• I wonder what their kids will look like.
---
The most important innovation related to weddings in August came, unexpectedly, from the engineering brains behind Rap Genius.6 With their new super-fun toy, Wedding Crunchers, you can run searches back through 1981 for the frequency that words or phrases appear in the announcements over time. (Here's an example. Go Telluride!)
For example, I did a search to compare Universal Life with Episcopal, just to see who the kids have got officiatin' these days. It's easy to get married via a Universal Life minister — anyone can basically just fill out a form to get ordained. (On the website there's a statement in bold warning you that "applying for ordination in the name of a fictitious person or animal … is fraud.") As a result, the Episcopal priest no longer rules all.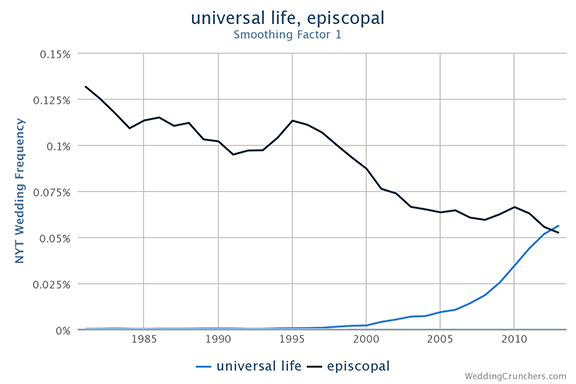 Here's Nantucket vs. Martha's Vineyard. It looks like an upwind sailing race!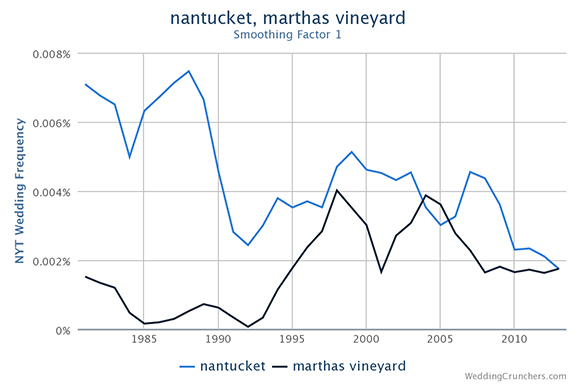 My favorite might have been when I tried "World Wide Web." The best thing about the Wedding Cruncher is that in addition to the n-gram charts, it also returns the articles matching your request. Which is how I found gems like " … a New York company that develops World Wide Web sites, CD-ROM's and information kiosks" (1997) and "The bridegroom, 28, designs World Wide Web sites for Firefly Network." (1996; his dad also worked for the late Kidder Peabody.)7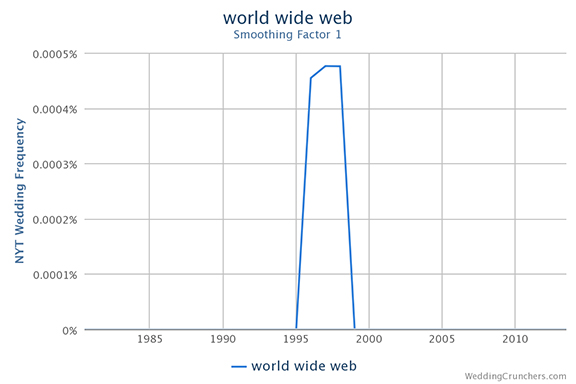 Finally, I did a search for the "Fabulous Five" towns that earn the most NUPTIALS points, and got this: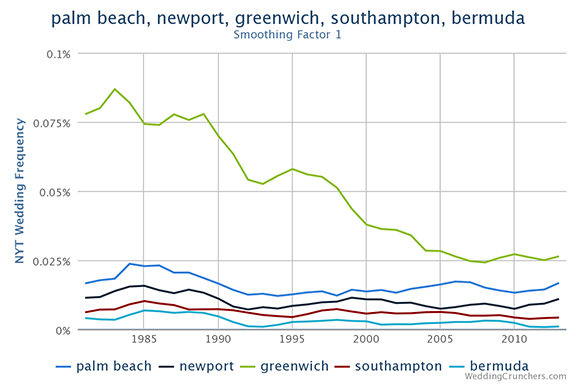 Very interesting indeed. All empires eventually fall.