The Rockets, really, are fine. They're 7-4 with two max-level free agents, and they're outscoring teams by 4.3 points per 100 possessions — the eighth-best mark in the league. That margin doesn't peg them as legit title contenders, and it would be unrealistic to expect championship-level play this early from what remains, in the big picture, a very new roster integrating a giant and even newer centerpiece.
Even their defense, maligned across the Internet after a couple of embarrassing performances, ranks 13th in points allowed per possession and has held opponents to just 41.7 percent shooting overall — the third-lowest mark in the league. "It's way too early to panic," says Kelvin Sampson, the team's top assistant coach. "There are a lot of things we are doing better than people might think."
And yet, there is an unease and turmoil around the Rockets that is unusual for a team this good. Much of the tension was predictable, though it has blown up faster than anyone could have expected. And it stems in part from high expectations after the offseason signing of Dwight Howard. The Rockets are all-in for a championship this season, and the margin for error shrinks close to zero when you're competing with the very best teams. All the little bits of ugliness that mar a quarter here and there — inconsistent defense, lazy effort, an imbalanced roster — morph into team-defining weaknesses in the playoffs against elite teams devoted entirely to exploiting your imperfections.
The Omer Asik situation has engulfed the team, but it will be resolved soon. The Rockets have begun Asik-centered trade talks after Kevin McHale removed Asik from the starting lineup last week, a demotion that renewed his desire to leave Houston. McHale left Asik on the bench during the second half of last Wednesday's overtime loss in Philadelphia, and a source within the organization confirms Jonathan Feigen's report in the Houston Chronicle that Asik asked out of the team's next game against the Knicks in New York.1
The Rockets will eventually trade Asik, likely sometime after December 15, when free agents who signed over the summer are eligible to be traded.2 What they get for him will hugely determine the league's final balance of power, especially since a lot of the most interesting teams with a potential need for a rim-protecting behemoth center are in the Western Conference with Houston: Portland, Oklahoma City, Dallas, the Clippers, and even the Pelicans.3 The most calculating analytics types, including Houston GM Daryl Morey, have long scoffed at the idea that trading within your division or conference should factor into a team's deal-making calculus. But it's easy to be blasé about such things when you're battling for the no. 8 seed. The Rockets are on higher ground now.
But the Asik situation will resolve itself either way. That will leave the Rockets with two defining questions still to answer:
1. Can they build a championship-level defense without a major roster upgrade?
2. Can they integrate Howard's fading inside game into the go-go, 3-point bombing offense that blitzed the league last season?
The first question is not new. The Rockets were a disaster defensively last season whenever Asik hit the bench, and if they deal Asik without getting a backup center in return, they'll face the same challenge this season when Howard rests. They've lately been using Terrence Jones as a backup center, and they dusted off Donatas Motiejunas over the weekend.
And so far this season, Howard hasn't really made a dent in Houston's overall defense. The Rockets have allowed 101.7 points per 100 possessions when he plays, 101.6 when he sits, and 101.2 when he plays without Asik. Being ranked 13th overall in points allowed per possession isn't terrible, especially if Houston maintains a top-flight offense, but it places any team with title ambitions in dicey historical territory. Since 1990, only two teams have won the title with a defense ranked outside the top 10 — the 2000-01 Lakers, who essentially checked out the entire regular season, and the 1994-95 Rockets, who ripped apart their roster midway via the Clyde Drexler deal. Over that same span, only 15 teams have even made the conference finals with a defense outside the top 10.
Houston's defense on the perimeter is a well-chronicled mess outside of the delightfully feisty Patrick Beverley. Jeremy Lin works his tail off, but he's often at a quickness disadvantage, and he tends to ball-watch and lose his man on cuts off the ball. Chandler Parsons is smart as all hell, but he's not as fast as the league's speediest wings, and he often lunges himself out of possessions by jumping passing lanes in pursuit of steals he has little chance of snagging.
And James Harden … He has been a disaster on defense this season. There have been games in which he has barely bothered to try. He might be the first player in NBA history to become a mainstream (sports) Internet sensation because of his lazy, unfocused off-ball defense. When Harden is not feeling it, he tends to gaze wistfully upon the ball and stand upright, a nonathletic position from which it is very hard to muster quick-hitting movements when the need arises. That poor stance is behind the one-on-one blow-bys from luminaries such as Steve Blake. When drivers get by him, Harden has a habit of going for the desperate reach-around steal and then quitting on the play when he doesn't get it. He's a gambler like Parsons off the ball, only with less urgency and much worse risk/reward calculations.
"There's no in-between with him," Sampson says of Harden's defense. "He's either really good or he's not there. He sometimes has slacked off as he adjusts to being a no. 1 option on offense, but being a no. 1 option comes with responsibilities on the other end."
And in fairness, the way Houston plays offense is exhausting. It runs a lot, especially when Howard sits, and even its half-court offense amounts to a whirring series of pick-and-rolls and drive-and-kick action. "Our guards just have a hard time being two people in our system — really good offensively, and really good defensively," Sampson says.
But they have to be better, more solid, and they know it. "It's just going to take us buying in on defense and really focusing," Parsons says.
Some of it is simply effort. "The most overrated thing is that you're a good defensive team because of your coaching," Sampson says. "No. You're a good defensive team because you care and because it's important to you."
Some of it is schematic execution. Most teams generally prefer keeping pick-and-rolls that start on one side of the floor on that same side of the floor, so that the ball handler cannot get over the pick and into the juicy middle — in hoops lingo, "icing" or "downing" wing pick-and-rolls. Doing that requires lots of work from multiple players, and Houston is failing too often, as Mike Prada of SB Nation illustrates here. The guard defending the ball handler has to stick his body between the opposing point guard and the screen, effectively blocking the point guard from even using the pick. That can hurt, a lot.
Any guard trying to do that has to know the pick is coming early, so that he can scurry into position ahead of it. He needs the big man guarding the screener to call out the play early — to sound the alert that a pick is coming in a particular direction.
If any of this goes awry, a ball handler can get into the middle of the floor, draw defenders, and kick out to open shooters all over the floor.
Houston's difficulties with this have been a little overblown. Like lots of teams, it's fine with some ball handlers getting into the middle — guys who are dribbling toward their weak hand, nonthreatening drivers, and ball handlers who have only crappy shooters surrounding them. But it has still had too many breakdowns, and the helpers behind the play haven't always been in the right position at the right time. "It's just not clicking," Parsons says. "It's just communications problems we are having with our big men — not getting the call early enough. We have to be better."
They'll clean some of this up, but Parsons, Lin, and Harden are not turning into plus defenders by the spring. When Houston trades Asik, it might be on Howard alone to prop up the Rockets' defense.
He can still do that. The Lakers were very good defensively when Howard played, and he looks springier than he did last season, when he dealt with back and shoulder issues. He's a deterrent at the basket, and he still has the speed to corral a pick-and-roll 20 feet from the hoop and sprint back to challenge a shot at the basket. Houston opponents are shooting just 55 percent in the restricted area this season, the sixth-stingiest mark in the league, and one that would have ranked second last season, per NBA.com.4
But he's not the same terrifying force he was in Orlando in 2011 and 2012, and that is most obvious on the offensive end. To be blunt: Howard's post game is dead, or at least on life support, and if it doesn't recover, the Rockets run the serious risk of wasting a dozen possessions per game in order to keep the big fella happy. Howard has shot 20-of-60, or 33 percent, on post-up attempts this season, per Synergy Sports. That would have ranked 88th out of 92 players who recorded at least 75 post-up plays last season. He has turned over the ball on an astonishing 24 percent of his post-up chances this season, per Synergy. That would have ranked last among those 92 players last season.
This is not a startling trend. Here are Howard's post-up numbers for the preceding three seasons:
2010-11: 50.6 percent shooting, 14.5 percent turnover rate
2011-12: 49.9 percent shooting, 13.6 percent turnover rate
2012-13: 44.5 percent shooting, 18.2 percent turnover rate
It is a myth, and a disturbingly widespread one, to say Howard has never had a post-up game. It is doubly frustrating that the loudest such critics on your Tee-Vee tend to be post-up guys who played during a time when the illegal defense rules were such that they could happily back it down one-on-one without fear of swiping help defenders and opponents shading their entire defenses toward the ball. "It's great that those players like Charles Barkley could do that," says Stan Van Gundy, Howard's longtime coach in Orlando. "But all you gotta do is watch, and you see the game is going in a different direction because of the rules. A lot of the criticism is B.S."
Howard was once a very powerful post-up player, and it wasn't all that long ago. He never had the most graceful footwork or McHale-esque bag of tricks, but he had seven or eight dependable moves and countermoves that worked well enough. People might scoff at the idea that Howard possesses such variety, but it's on the film if the critics care to look.
It just doesn't work anymore, and that's before you even consider his abysmal foul shooting. Watching film of the current Howard and the version from 2011 and before his back injury late in the 2012 season, is like watching film of two different human beings playing basketball. The repertoire of moves is the same; the results are not.
Peak Dwight didn't have moves and countermoves as much as fluid explosions in every direction. He built his post arsenal on sweeping hook shots he could launch while dribbling toward the middle of the floor with either hand, from either block. If he caught the ball on the right block, he liked to face up, throw a shoulder fake toward the baseline, and then barrel into the lane for a lefty hook. But if defenders tracked him there, he could spin right back toward the baseline for a counterattack.
The spins were so fast in 2011 and 2012 that you couldn't even really tell it was a countermove. It looked like one continuous motion. The sheer velocity of it left defenders either hopelessly flat-footed, falling out of bounds, or trailing the play badly.
Check out poor Etan Thomas trying to deal with peak Dwight on this move, which starts out as if Howard is going to his righty hook from the middle of the floor: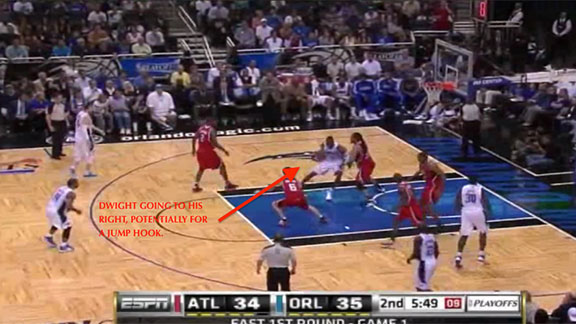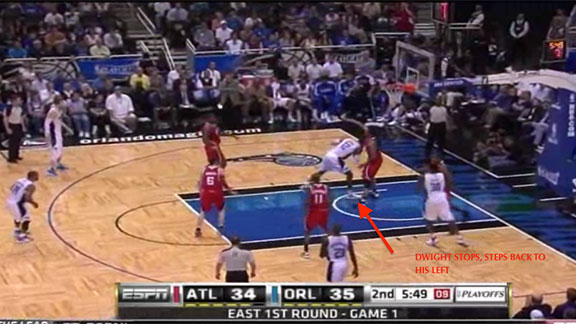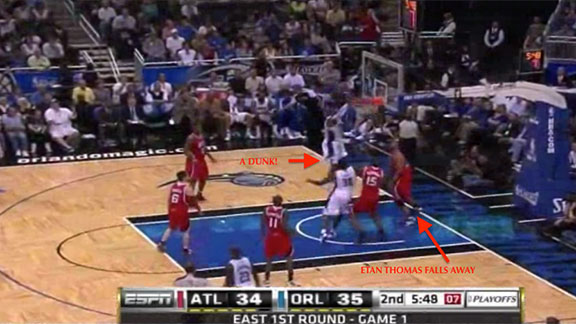 Peak Dwight could also just move large humans out of the way for dunks. Check out this sequence on Reggie Evans, noted tough guy and ball-puncher: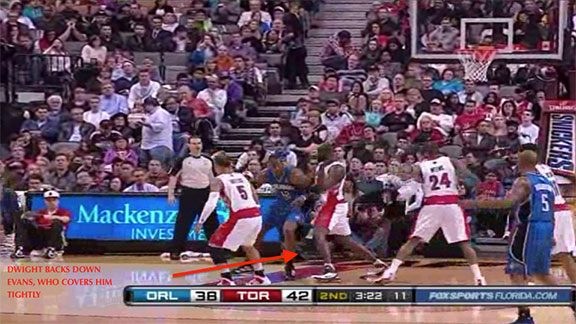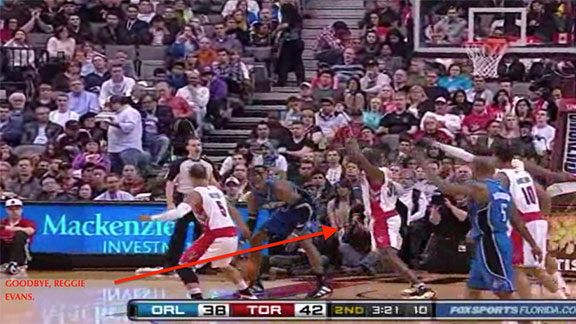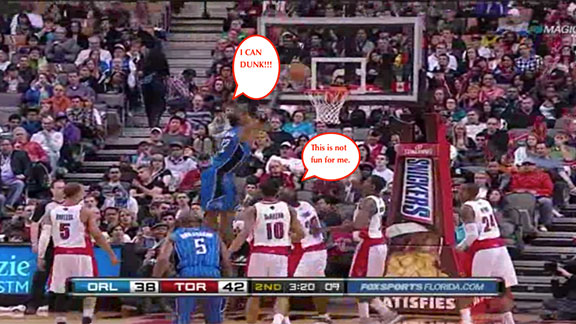 The combination of speed and power left guys so out of position, and so off-balance, that Dwight could often simply rise for a dunk as they fell out of the play.
That's the starkest difference: Howard used to dunk from the post. He has not made a single dunk this season on post-up tries. He likes to face up on the left block, drive baseline, and squeeze through the tiny space there before rising for a dunk. He used to blow by guys on that move, or get them backpedaling in such an off-balance panic that he could nudge them out of the way before rising up, as he does to Kwame Brown here: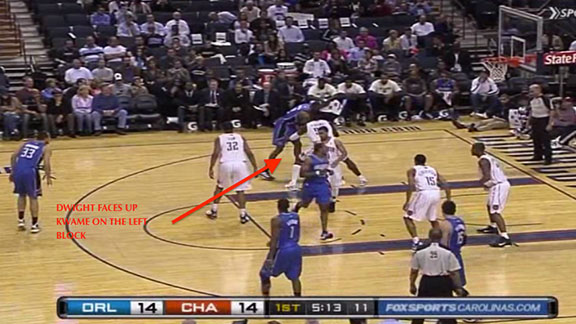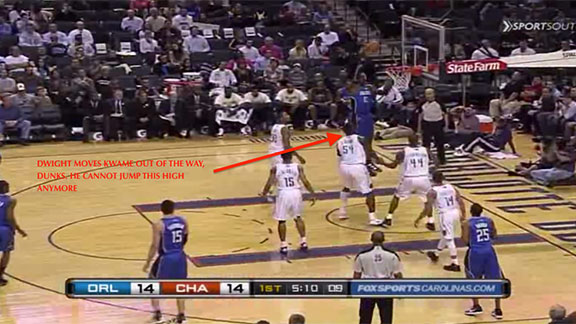 He still tries those baseline dunks. They just end in offensive fouls, or turnovers, or sad attempts at up-and-under moves as Howard tries increasingly more difficult tricks to avoid swatting arms that never used to be in his airspace. The countermoves are mechanical now. You can see Howard's brain working. I'm going for the hook. Now I stop. Now I gather my weight and pivot back the other way. Now I jump off two feet. He's showing his work, to us and his defenders. Those defenders can stay with him now, and they can see that work as it unfolds.
His old coach watches Howard now and sees the difference. "He's gotten a little older, and the back injury is there," Van Gundy says. "That will take away some of his quickness and mobility."5
Van Gundy never much liked the straight post-up anyway. If Howard was going to get the ball on the block, Van Gundy preferred it to come either in semi-transition or after Howard set a high screen and rumbled down to the block. He could get deep position that way, so that he could catch and go right into a monster move. "We wanted to get it to him as close to the basket as possible," Van Gundy says, "to a place where no dribble was necessary." Howard mostly catches the ball two steps outside the paint now. Basically, every defender is Jason Collins from the 2011 playoffs.
Houston does try to get Howard the ball down low on the move, as Van Gundy suggests. Howard still hits the post hard after setting a high screen for Lin or Harden. The Rockets have a fun little play where Beverley will enter the ball for Howard, meander down the lane toward him without any apparent purpose, and then suddenly shove his ass into Howard's man, freeing Dwight for a rim run: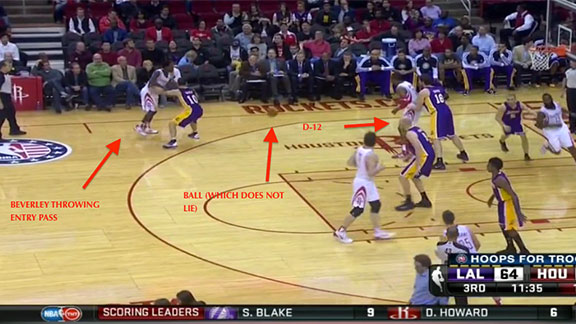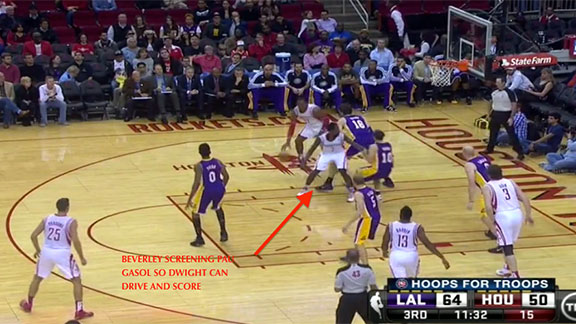 They should keep that stuff coming. But they also have a lot of stagnant post-ups in which they dump the ball to Howard with 15 on the shot clock and watch him work, hitting the "off" switch on the cascade of side-to-side pick-and-roll driving action on which the Rockets thrive. They might want to think hard about cutting that stuff, especially since Howard is just an average passer, at best, from the post. "Houston has a great offense already," Van Gundy says. "I'm not sure they should be looking to make adjustments."
Houston has tried to have its cake and eat it, too, by calling for Howard post-ups out of timeouts and after dead-ball situations, Sampson says — basically, to let Dwight eat when the game has already come to a pause organically, rather than stop the flow to force-feed him on the block. "In the flow of the game, we want to play how we've always played," Sampson says.
"It's going to take time to adjust," Parsons says.6
Look: Houston ranks fourth in points per possession, and the Rockets have been crazy good in the 300 minutes Howard has played in smaller lineups without Asik clogging things up.
But you can't waste possessions against the very best teams in the playoffs. You can't willfully give away slivers of points here and there across games and expect to win four brutal playoff series. Coaches say Howard needs his touches in order to feel motivated on defense, and on the boards, where the team really needs him. Fine. But he has to get those touches in the flow and be mature enough to play hard on the other end regardless.
Winning at the highest level requires that kind of sacrifice. It requires Harden to play hard on defense, even when he'd prefer not to. It requires Howard to rejigger the conception he has of himself as the league's greatest post-up big man. The Rockets can absolutely win big this season, but going all the way means accepting some unpleasant tweaks.
10 Things I Like and Don't Like
1. Brooklyn's offense.
The Nets, with all their talent, size, shooting, and passing, rank 23rd in points per possession. That is unacceptable, and it's clear that getting this thing humming is going to take time — especially with so many injuries now. Brooklyn has the smarts and shooting to be a beautiful, well-spaced offense, and integrating Andrei Kirilenko will help on all fronts.
But in the meantime, this team is playing a slow, post-heavy style of ball in which it almost feels like the veteran stars are taking turns calling for the ball on the block. Perhaps there is a downside to starting 4.5 guys with solid post games for their positions. The 0.5, by the way, goes to Kevin Garnett, who couldn't hit anything until exploding in the first quarter against Portland last night.
The Nets need to get the ball moving and unclog their spacing, or they are going to be easier than expected to guard.
2. Quincy Pondexter's Zorro game.
Every player who breaks his nose should wear a black mask instead of standard white or clear getups. Pondexter looks like a freaking bank robber out there.
3. The spacing of Orlando's starting lineup.
Maurice Harkless has unproven 3-point range, and the Magic start two traditional post players in Jason Maxiell and the very, very good Nikola Vucevic. That is not a recipe for good spacing. Check out this Arron Afflalo (red hot!)–Vucevic pick-and-roll:
Vucevic rolls directly into a poorly timed Maxiell post-up, and their near-collision takes place just as Harkless cuts right under the basket. That is, umm, not optimal. Nor is this Jameer Nelson–Maxiell clusterfuck:
The Magic will have more small-ball options when Tobias Harris gets back, and playing Andrew Nicholson more would let them breathe a bit on offense (while probably hurting their defense). They get much more watchable already when they shift Harkless to power forward and play three guards.
4. Rudy Gay in semi-transition.
This is a Rudy Gay I can get behind — decisive and playing upon the expectations of a defender (Nic Batum) who sees that monster Jonas Valanciunas–Amir Johnson stagger screen coming to Gay's left and leans that way in anticipation:
And here he is again!
Toronto's offense hasn't been the disaster Gay's ugly shooting lines would indicate; the Drakes rank about league-average in points per possession. But they'd be better if Gay and DeMar DeRozan completely bought in to the idea of catching the ball and doing something productive with it right away — shooting, attacking the rim, dribbling and then swinging the ball — instead of dribbling in place a few times before jacking a 20-footer.
5. Jordan Hamilton's defense.
Wilson Chandler's return gives Brian Shaw a real starting-caliber option at small forward, a position at which he has used Chandler, Hamilton, Anthony Randolph, Evan Fournier, Prof. Andre Miller, PhD, and maybe even Rocky the mountain lion when I wasn't watching. Hamilton "won" the starting job by de-fault (the two sweetest words in the English language!), and he can shoot, but he doesn't defend well enough to earn his keep over the long haul. He falls asleep away from the ball, loses his man on cuts, and does not provide consistent help from the weak side when Denver's scheme calls on him to do so. We think of players having a "good first step" on offense, with the ball. They can also have a bad first step on defense.
6. Running the elevator doors for Raymond Felton.
The "elevator doors" play is a pleasing little trick in which teams have a shooter sprint between two screeners, who close the space between them just as that shooter goes through — blocking his defender. Here is Phoenix last season running the play for Jared Dudley:
The Warriors run this for Stephen Curry on the wings, and Klay Thompson now and then at the top of the arc. The Sixers have run it once or twice this season for James Anderson. The Bobcats use it to free Kemba Walker on inbounds plays. Kyle Korver gets the treatment.
It's almost charming how the Knicks run it for Felton, as if he's a threatening shooter. He's a 33 percent career shooter from deep who's 7-of-34 this season, and worse yet, the Knicks often run it to produce an open long 2-pointer for him. Go Knicks!
7. Jeff Teague's lefty hesitation dribble.
This is just mean. Teague's entire season so far has been mean.
8. Tommy Heinsohn's "quick fowahd."
Heinsohn's a homer who thinks the referees are part of a widespread conspiracy against the team that has won more championships than any other. It's a pretty ineffective conspiracy if you think about it. He can be insufferable. But he's also funny, hamming it up in character, and he has a unique sound and set of colloquialisms that make Boston broadcasts distinct — along with Mike Gorman's wonderful play-by-play work.
One such expression: Heinsohn refers to small forwards as "quick forwards," in his deep Boston accent, as in: "Jeff Green's gonna guard the quick fowahd here."
I love it. I can't fully explain why.
9. Kevin Love's transition defense after taking a shot.
Love is insane. He's having an MVP-caliber season so far. He has worked to improve his defense. But you'll occasionally catch Love admiring his own shot a couple of beats too long and then frantically pointing for someone else, often an overmatched guard, to pick up his man in transition. Hamilton gets an open 3-pointer here because Ricky Rubio has to shift into the paint to account for Love's man (Kenneth Faried):
And here's Love doing his pointing thing again in the same game:
Hey, at least he's communicating!
10. DeJuan Blair's floater.
It's a nifty little shot, and Blair uses it often:
It's one reason the Mavs are scoring 116.5 points per 100 possessions, way better than the league's best overall offense, when Blair and Dirk Nowitzki share the floor. Nowitzki can spot up around Blair pick-and-rolls, clearing the way for Blair to rumble toward the rim, catch the ball in wide-open space, and do something with it. Blair's also a solid passer, and he's helping Dallas hold the fort (just barely) in ultra-small non-Dirk lineups in which every player is 6-foot-7 or smaller. That probably can't last, and the Mavs need another big, whether it's Brandan Wright or a trade target. But Blair has been fun to watch.