Remember when I promised that Part 2 of the Trade Value column would arrive the week after the Super Bowl? That was a typo — I meant the Oscars. Sorry about that. The good news: At least the readers handled it well.
Eric in Washington: "Is this just you being a dick? Last year we don't get one at all. This year, you start it, and then NEVER FINISH IT. Part 1 was just an elaborate way to crush us. Ultimately, I don't know if I should lower my expectations in terms of how much content you produce, or raise my expectations in how elaborately you will tell your loyal readers that you secretly resent us. ***OBLIGATORY 1980s WRESTLING REFERENCE THAT I DON'T UNDERSTAND***"
Travis in Lincoln: "Every time I see any spoken or written content from you that is not part two, I feel like your lie grows deeper."
Kyle B in Overland Park, KS: "I have checked every day since the Super Bowl for Part 2. I have now given up on you more than I have given up on Derek Rose's knees."
Peter in Anderson, IN: "Each night, my wife says that we'll have sex tomorrow, so I wake up the next morning excited about that evening. And then, she says the same thing. Just like your Trade Value column. Each day I wake up thinking, 'Surely Simmons will get the second part of the column up today!' Only no. Don't worry, I'll go to bed expecting to see the column tomorrow."
And here it is! You made it! Please remember — the Trade Value column is like a pizza. You can't pull it from the oven before it's ready. If you missed Part 1 from last month, as well as a detailed refresher regarding the rules (remember: it's untradability, not ability), CLICK HERE. If you missed our NBA Trade Value page, which houses every column since 2001, CLICK HERE. If you missed The Grantland Basketball Hour's first-ever Trade Value special, here are some video clips:
• Hold On, I Have to Finish Guffawing
• Sorry, Too Many Karmic Implications
• This Is So Ludicrous That I Can't Even Hang Up on You Yet
• Don't Tell Anyone, and I'll Deny It to the Death, But I'm Listening
• No Thanks — We Don't Want Him to Come Back and Haunt Us
• I Know, I Know, We're Being Irrational
• I'm Hanging Up and Calling You Back From a Pay Phone
• You're Just Lowballing Me Because He Expires Soon
One note: The Trade Value rankings are intended to be a historical document that endures for years to come — no different from the Gettysburg Address or Fast Five. We taped the Grantland TV show three weeks ago; since then, I came to feel differently about two young players (Greek Freak and Kyrie Irving) and one aging player (Tony Parker) and bumped their rankings accordingly. A few other players moved up or down by a couple of spots just because I am a lunatic and I couldn't stop tinkering with the list. Don't worry; in the words of Boogie Cousins, this was all God's plan. On to Part 2 …
GROUP K: "No Thanks — We Don't Want Him to Come Back and Haunt Us"1
37. Rudy Gobert
Earned a top-40 spot after unleashing these promising January splits: 27.6 mpg, 9.4 ppg, 9.0 rpg, 3.1 bpg and 4.8 super-fun screen-and-rolls per game (unofficial). Sorti de nulle part!2 In six whirlwind months, Gobert went from "Tall French Dude On Utah's Bench" to "Guy Making a Legit FIBA World Cup Splash," "Guy Who Got His Own Movie Clip That Confused Jalen In Our Bill & Jalen NBA Preview," "Mega-Fantasy Sleeper," "Stealth Daily Fantasy Asset On FanDuel And DraftKings," "SportVU Rim Protection God," "Legitimate NBA Starter," "Future Block Leader," "Top-40 Trade Value Guy" and finally, "Winner Of The Best NBA Nickname Of The Decade." Ladies and gentlemen, please, give a round of applause to the Stifle Tower, Mr. Rudy Gobert!
36. Jabari Parker
A torn ACL interrupted his 15-year run as either Paul Pierce 2.0 or The Not Much Poorer Man's Paul Pierce, but Jabari should return 100 percent healthy for the rejuvenated Bucks next October unless he utters the words, "Hey, Danilo, can I use your knee surgeon?" And look, I know that Wisconsin sports fans are still in mourning after their Packers summoned the spirit of the 1986 Red Sox in Seattle. They might not want to read the words "HERE COME THE BUCKS!!!!!" in all caps. They might not be ready yet. So we'll go lowercase, dump the exclamation points and tweak the wording a little. The Bucks don't stop here.
https://www.youtube.com/watch?v=IrXOEcyB-A8
35. Joel Embiid
One of these six points about 20-year-old Jo-Jo is NOT true:
• Broke his foot last summer, hasn't started scrimmaging yet.
• Provoked the relatively recent headline "Questions surround Embiid's conditioning, maturity."
• Inspired the relatively recent quote "A source said he's close to 300 pounds," which was seemingly refuted by this seemingly encouraging footage of him seemingly defending Nerlens Noel.
• When you bring up the Oden-Embiid parallels to Sam Hinkie, he immediately starts sobbing like he just watched the end of Big Hero 6.
• If you threw Jo-Jo in the 2015 draft, he'd still get picked in the top four overall.
• If you're selling your Jo-Jo stock, I'm buying.
Speaking of the Sixers, Grantland's Rafe Bartholomew had the best take on Philly's never-ending spin cycle of assets and lottery picks, which hasn't led to anything remotely tangible yet: He believes that Hinkie is running the NBA's first pyramid scheme. Good news, everyone: I flipped some ambiguously tangible assets for a few less-tangible ambiguous assets with a slightly greater ceiling, only it's going to take even longer for us to turn this around, so GET YOUR SEASON TICKET MONEY IN NOW. Just change his name to Sam Ponzi. And change the Sixers logo to this.
Elias Stein
GROUP J: "Don't Tell Anyone, and I'll Deny It to the Death, But I'm Listening."3
34. Carmelo Anthony
In July, I wrote a piece centered on the question "Could you win the NBA title if Carmelo were your best player?" (My answer: absolutely.) That was before Phil Jackson blew up the Knicks for a top-five pick while Jedi mind-tricking everyone into thinking they have a summer of 2015 chance at Marc Gasol or LaMarcus Aldridge. Yeah, I'm sure both of them are dying to ditch legit playoff contenders to play on a barren roster with a shaky coach, a historically incompetent owner, and a suddenly overpaid leading scorer with a surgically repaired knee. Keep getting dem checks, Phil.
You know what's really funny? In November, Carmelo did that now-infamous ESPN The Magazine cover story that pushed his "brand," his fancy Brooklyn office and his I want to be remembered for more than just basketball nonsense. He painted himself as something of a businessman, which was funny for about 30 different reasons, but mainly this one: If Carmelo WERE a businessman, he would have realized that it was terrible business decision to stay with James Dolan and the Knicks.
You know what's bad for your brand? Wasting one of your last prime years in front of half-empty crowds on a 14-win lottery team. Kids around America aren't saying, "Did you see what Carmelo wore in the press conference after the Knicks lost by 34 points? I want to get that!"4 Yikes. The last time a businessman from Baltimore misfired that badly, Brother Mouzone and Omar finished him off with a flurry of bullets. Hold on, Carmelo, could you stand in front of a skyscraper window in a three-piece suit with your right hand in your pocket while blowing cigar smoke for us? Please? You won't look like a jackass at all.
33. Chris Bosh
Future Hall of Famer, two-time champ, 10-time All-Star, career 19-and-9 guy, beloved interview (his B.S. Report appearance was exceptional), the accomplished bassist from one of the best NBA "bands" of the past 30 years (that 27-game winning streak is aging nicely), and for a little less than 24 hours last week, an NBA savant for spurning Houston to stay in Miami last summer (thanks to the unexpected Dragic trade). Get well, Chris Bosh. We're renting your no. 33 spot to your teammate …
33. Hassan Whiteside
On the surface, these numbers don't make sense:
2010-14 (19 games): 1.5 ppg, 2.1 rpg, 0.8 bpg, 44 percent FG
Dec. '14 (9 games): 3.1 ppg, 3.9 rpg, 1.1 bpg, 56 percent FG
Jan. '15 (11 games): 13.0 ppg, 10.6 rpg, 3.4 bpg, 67 percent FG
Feb. '15 (8 games): 14.3 ppg, 12.6 rpg, 2.4 bpg, 60 percent FG
Then you dig a little deeper, and … oh wait, this still doesn't make any sense. Throw 2001 Ben Wallace, 1980 Billy Ray Bates and 2004 Flip Murray into a salad bowl, toss it with 2012 Linsanity/2011 Tebow dressing, sprinkle in a dash of Willie Beamen bacon bits and you're still not close. It's impossible to just FIND a 7-footer who protects the rim and throws up double-doubles. These human beings do not exist. They are not out there. If they possess even a hint of the possibility of doing what Whiteside did these past two months, they would have played for four or five NBA teams by now.
And you know what the best part is? Even though Whiteside's league-minimum salary (this year AND next year!) made him semi-untouchable during last week's trade deadline, would you be shocked if he were out of the league in three years? How difficult did Whiteside have to be to NOT PLAY IN THE NBA IN HIS EARLY/MID-TWENTIES FOR THREE SOLID YEARS? This is a league that recently employed Metta World Peace, Gilbert Arenas, Ruben Patterson and Adam Morrison!!!!! I can't get enough of this story. Whiteside reminds me of a new character from The Walking Dead who shows up from out of nowhere, seems helpful and trustworthy, murders a slew of zombies and quickly evolves into an asset for Rick and the gang — only deep down, you keep waiting for him to turn on everyone. I'm watching you, Hassan Whiteside.
32. Dwight Howard
Ever notice the lag between a celebrity losing their superstardom and everyone else finally realizing it? Sometimes that lag can last 12 to 18 months; sometimes it can last years and years. With Will Smith, I didn't realize we were on an extended hiatus until a Focus billboard made me think, Hmmmmm, I kinda want to see that. That's when I realized that I haven't seen a Will Smith movie in a theater since Hancock. Meanwhile, the one quality that made Derrick Rose special (his freakociousness, as covered in Part 1) went dormant in April 2012 and never came back. Many fans didn't want to admit it. He's only 26. He's still rusty. He needs more reps. He needs to regain his confidence. We made excuses for him. At least until last night's sobering news.5
And then there's Dwight. He's never been the same since his 2012 back surgery, save for six throwback playoff games against Portland last spring. If you're looking for a rim protector/shot-blocker whose atrocious free throw shooting transforms into a crunch-time liability, DeAndre "CONNNNNN-TRAAAAAAACT YEEEEEEEEAAAAR!" Jordan has hijacked that corner from him. And there's been undeniable statistical deterioration.
2011 Howard: 22.9 ppg, 4.0 orb, 11.7 fta, 2.4 bpg, 26.1 PER
2015 Howard: 16.3 ppg, 2.8 orb, 6.9 fta, 1.4 bpg, 18.1 PER
Ask Shaq. Ask Robinson. Ask Ewing. Ask Hakeem. When your numbers dip that much from your apex, they don't bounce back. Franchise centers take a particularly brutal beating. Opponents ram elbows into their backs, shove them from behind and yank on their shoulders to prevent easy dunks. Their knees eventually start rebelling against the load of 36 minutes a night, night after night, year after year. Physically, it doesn't take much to go from 2011 Dwight to 2015 Dwight — we're looking at 800-plus games, 11 seasons, eight kids, one major surgery and approximately 75,892 hard fouls on his basketball odometer. NBA history says Superstar Dwight is never coming back. There is no more lag here — at least for me.
GROUP I: "This Is So Ludicrous That I Can't Even Hang Up On You Yet."6
31. Gregg Popovich
Our first coach in Trade Value history! Every NBA fan/writer/talking head has the exact same Mount Coachmore: Red, Phil, Riley and Pop. Only one of those four still throws fastballs in the high 90s. So … yeah. Years from now, we'll savor his work in classic YouTube clips like, "Gregg Popovich Tells Danny Green To 'shut the f— up,'" "Gregg Popovich PISSED OFF at Kevin McHale," "Gregg Popovich one word press conference," "Coach Popovich discipline and respect," "Gregg Popovich Two Word Interview" and "Gregg Popovich Counts The Rings," but this 164-second montage after Game 5 of the 2014 Finals sums up the Pop Era.
https://www.youtube.com/watch?v=czO_na4xO8M
0:19 — Pop sitting on the bench, overwhelmed, finally puts his head in his hands. Total sports movie moment. You can almost imagine Al Pacino playing him while wearing a white wig.
1:03 — A Pop-Manu hug as Tim Duncan explains to Doris Burke why Pop is the best: "His fire, he brings it every year, his passion for the game, his ability to change with the game and change us with the game, it's amazing, it keeps us fresh." I'm almost positive that Westbrook and Durant will never describe Scott Brooks this way.
1:50 — Duncan euphorically hugging David Robinson, followed by Avery Johnson euphorically hugging Tony Parker. That's one of my favorite Spurs Dynasty wrinkles — retired Spurs remain part of the extended Pop-Spurs family. Last season, I taped an episode of NBA Countdown with Avery when the Spurs were in town; Pop invited him out to dinner with his team that night. Why? Because, as far as Pop was concerned, Avery Johnson was still on the team. No other NBA franchise operates that way. It just doesn't happen.
2:15 — Pop comes off a Robinson hug for a prolonged Duncan hug that feels like another sports movie scene. That's the greatest coach-player relationship in NBA history. Eighteen years and counting. All signs point to Duncan retiring this summer. We'll see if Pop leaves with him. But where would he go? Justin in Tucson has a plan:
"Would a Belichick/Popovich ticket get 98 percent of the popular vote in 2016? Or is it safe to say they'd get 100? We'd have to amend the Constitution just to keep them in office for more than two terms."
So much to work with here. Would they be Republican or Democrat? Who would be the president and who would be the VP? Could they be copresidents? How fantastic would their press conferences be? What would be their first scandal that turned out not to be a scandal because a major TV network kept misreporting facts that weren't actually facts? (Cough … DEFLATEGATE … cough.) How would Americans handle it the first time Belichick just sold something like the Washington Monument for multiple assets? What would be the political equivalent of Belichick Jedi mind-tricking Pete Carroll into throwing that second-down slant to his fifth receiver against a defense that knew it was coming? Oh, and how great would the campaign poster be?
Elias Stein
GROUP H: "Stop It, He's a Young Stud, No Way!"7
30. Bradley Beal
29. Jimmy Butler
Butler belatedly blossomed into a two-way force, earned himself a market max contract this summer (I made up this concept in Part 1 of the Trade Value column) and defended his title as The NBA's Most Heartwarming Story.8 Beal is four years younger and headed for a probable Klay-like shooting leap within the next three years,9 but as our Wizards correspondent Joe House reports, "I'm starting to worry about spending the next few years of my life worrying about how fragile Bradley Beal is." Fine. But if you told me that I had to murder only ONE person to have Beal's jump shot, I wouldn't do it … but I would definitely ask, "Just out of curiosity, who would I have to kill?"
The big-picture subplot: In December 2011, we were so collectively concerned about the future of the 2-guard position that I somehow wrote an entire Arron Afflalo column. No, really! An Arron Afflalo column. It's in my archives and everything! That piece laid out an improbably bleak 2-guard landscape, argued that Afflalo might be worth five years/$50 million in a deteriorating position (wrong — he re-signed with Denver for $14 million less), and argued that Eric Gordon was our best under-27 bet to own the 2-guard position after Kobe and Wade abandoned the title (whoops).
Fast-forward 38 months. Gordon's career was derailed by injuries, but we still have Wes Matthews, Kyle Korver, Monta Ellis, DeMar DeRozan, Gordon Hayward and the creaky-but-effective Joe Johnson, as well as two promising young guys (Victor Oladipo and Ben McLemore). And I haven't even listed the six best 2-guards yet. One is an MVP candidate (James Harden), one is a potential superstar (Andrew Wiggins), one is an occasional superstar (Dwyane Wade) and the other three became genuine assets on contending teams (Klay Thompson, Beal and Butler). The 2-guard is back! LONG LIVE THE 2-GUARD!
28. Andre Drummond
Meet the lottery "project" who blossomed in Detroit and prevented Joe Dumars's post-2004 Pistons reign from being remembered as a Billy King–level train wreck. Only his reprehensible free throw shooting prevents Drummond from cracking the top 20.10 (Had they added a free throw shooting contest to All-Star Saturday featuring Drummond, Howard, Jordan, Lou Amundson and Elfrid Payton, I definitely would have enjoyed that more than the skills challenge.) The good news for Drummond: Along with Moses and Shaq, he's one of only three 21-or-under centers who averaged 12 points and 13 boards per game … and he's about to do it twice. Moses and Shaq! More important, the post–Josh Smith emergence of Drummond and Greg Monroe as a big-boy tandem has driven not just Detroit's belated playoff run, but Smith's historic 2014-15 Least Valuable Player campaign. Has anyone ever submitted a stronger LVP showing?
Oh yeah! I forgot about the time when Ron Artest started the biggest melee in NBA history, ruined Indiana's 2005 title hopes, let down Larry Legend (a crime in 39 states), inspired me to write two columns in 24 hours, nearly ruined professional basketball in Indiana, changed the NBA's leaving-the-bench and serving-fans-liquor rules and spawned a massive Grantland oral history. My bad. My top-five favorite NBA-related 30 for 30 ideas that we can't do:
Artest Melee: The NBA would never approve the footage.
Donaghy Scandal: Ditto multiplied by 100 dittos.
Spree vs. P.J.: No video footage. You'd have to animate the altercations and you'd have to feed Spree's family. Too dicey.
The Jail Blazers: Another one the NBA would never let us do. This could be 10 hours and I'd still be 1 million percent in. Not giving up on this yet.
The Oakland Hyatt: The legendary cocaine hub from the late '70s and early '80s that derailed many an NBA star and even a couple of teams. Apparently it was easier to get coke there than it was to get Coca-Cola. We wanted to turn this idea into a Grantland oral history two years ago, but Jonathan Abrams couldn't find anyone to go on the record — and this is Abrams, for God's sake. He can get anyone to talk. At some point, we need the NBA stars from that era to start spilling those coke stories. Come on, it wasn't your fault, fellas! Nobody knew coke was bad! Stop blaming yourselves! Now tell us some stories! Wait, where was I?
GROUP G: "Sorry, Too Many Karmic Implications"11
27. Tony Parker
26. Tim Duncan
The Trade Value gimmick's most glaring flaw: that uncomfortable section when we veer into the Stars Who Are Definitely Retiring With Their Original Teams group. You know, the future Hall of Famers who are never getting traded even though — on the surface — it would be insane for Detroit to trade Drummond for Duncan, and even more insane for San Antonio to demolish the Duncan era's homestretch by exiling him to Detroit. I mean, come on.
Quick note on Duncan: Aliens will study his season-by-season per-36 numbers 2 million years from now and eventually decide that he was one of them. If the NBA handed out an annual "Kareem Award" for the best season from anyone with 15 or more years on their odometer, Duncan would have won the last THREE Kareem Awards. Kareem was an alien and Duncan is an alien. Don't ever forget this.
Quick note on Parker: I ranked him 20th in the Trade Value TV special as a legacy move, didn't feel good about it, studied him a few more times and eventually dropped him here. Barring another injury (and he has been banged up for the first three months), the 32-year-old Parker will join Fisher, Horry, Kareem, Duncan, Kobe, Shaq and Pippen in the 1,000-200 Club sometime in late April. What's that club? Everyone who played 1,000 regular-season games and 200 playoff games. Yikes. There's no real historical point guard precedent for Parker — he's only 32 right now, but he's been an NBA player for fourteen years. Can he make it to 20 years like Kareem did? Will he disappear overnight in his early thirties like Isiah Thomas did? This trend definitely scares me:
2013: 20.3 ppg, 7.6 apg, 5.0 FTA, 52.2 percent FG, 23.0 PER, 32.9 MPG
2014: 16.7 ppg, 5.7 apg, 3.6 FTA, 49.9 percent FG, 18.9 PER, 29.4 MPG
2015: 14.1 ppg, 5.0 apg, 2.5 FTA, 46.8 percent FG, 14.7 PER, 28.9 MPG
The lesson, as always: Spend a little extra time enjoying this 2015 Spurs run. And not to bring up Pop again, but his finest coaching moment will always be when he prevented his Spurs family from imploding after the Tony Parker–Brent Barry fiasco. That's another 30 for 30 that can never happen.
25. Dwyane Wade
He's the fourth-best shooting guard of all time. He competed in five Finals, won three rings, averaged a 24-6-5, played for one of the 21st century's two best NBA teams, and won himself a Finals MVP  — a résumé that, through 12 years, looks just as good as Kobe's first 12 years (it's true). He lives in beautiful Miami and earns $15 million per year on top of the $120 million he already made. He's never getting traded. Three times per season, he kicks everyone's collective ass for 10 to 12 days — almost as if he's intentionally reminding everyone that he's still marvelous at basketball. That's why everyone still considers him a superstar even though he misses around 30 percent of every season and never added a 3-point shot.12
So what were his three best career achievements? Those last four 2006 Finals games, obviously. His ludicrously good performance in the 2008-09 season has to be up there — a PER masterpiece that doubles as one of the best seasons ever from a guard. But over everything else, I'm going with what happened in 2010: When Wade convinced the best NBA player since Jordan to move to Wade's city and play for Wade's team for four years during that guy's prime. The Heat might be seven games under .500 right now, but Dwyane Wade is still winning. Don't forget this.
24. Dirk Nowitzki
I covered Dirk's historical chops in the aforementioned Carmelo column (halfway down). He's already one of the 20 best players ever and one of the best five forwards ever,13 but as we watch yet another successful Dirk season on yet another playoff team (an unhappy playoff team, but still), it's fair to ask the following questions:
1. Has Hakeem's undisputed three-decade reign as the "Best Foreign NBA Player Ever" finally come to an end? Did Dirk steal the crown from him? (I'm not ready to answer this yet. Need more time. It's too important.)
2. When is this ending? Dirk turns 37 in June, only two years younger than Duncan. He's still throwing up 18 and 6 right now with 46-35-89 splits, only he's not quite as unstoppable on that foul line post-up play. It's Year 17 on the Mavs and Year 14 of Scott Van Pelt making me laugh with the "Jack, I'm ready to shoot" joke during Dirk highlights. He's underqualified to be a crunch-time guy for a true contender, but he's supremely overqualified for that ceremonial mid-1990s Sam Perkins role (play 18-20 minutes a game for a contender, spread the floor, make a couple of 3s, that's it). Could he finish the 2010s in Dallas? Could he break the Stockton/Kobe record for most NBA seasons with one team?
3. You know how Dirk signed last summer's paltry three-year, $25 million extension that allowed Dallas to overpay Chandler Parsons? Five years from now, when Dirk retires to become the president of Magnolia Pictures for $15 million a year and/or buys 3 percent of the Mavericks for $200,000 and seven pounds of sauerkraut, how is the NBA gonna handle THAT debacle? I'm already giddy.
23. Paul George
Speaking of giddy — what about the whole "A healthy Paul George returns to the Pacers in mid-March, helps them grab the no. 8 seed and turns them into a nightmare Round 1 matchup for Atlanta" scenario? And what about George changing his number and going through with my PG-13 idea from two years ago? PG-13!!!! Let's do this! I can't believe we might have a Pacers-Hawks playoff series that isn't shown exclusively on NBA TV.
GROUP F: "Hold On, I Have to Finish Guffawing"14
22. Andrew Wiggins
Whenever I finally write The Book of Basketball 2.0: A Shameless Excuse to Regurgitate Material That You've Already Read for More Money, you know that I'm blowing out the "What If?" chapter and adding "What if new Cleveland GM LeBron James had just been patient and waited a few months to make sure Wiggins wasn't his short-term Scottie Pippen and long-term Perimeter Stud In Waiting before flipping such a monster asset for Kevin Love when that deal would have still been sitting there in January?" Only the ranking remains in question. I love Wiggins. He's a sure thing.15
Speaking of things I love, here's a life-altering quote from All-Star Weekend that you might want to incorporate into your everyday life. I'm not telling you the context, the location, or the name of the celebrity. But here's what they said …
"My wife leaves tomorrow. I'm excited for tomorrow night — I'm jumpin' off the top rope!!!"
Amazing. I feel cheated that nobody told me that phrase in college — I could have spent the past 25 years saying things like, "I might have to climb to the top rope tomorrow night," or "I didn't intend to get that drunk last night, but next thing you know, I'm doing Macho Man's flying elbow," or even, "Did you go top rope last night or am I crazy?" You can take it in 40 different directions. I love it. And now I'm passing it along to you. (If you knew who said it, you'd love it even more.) The lesson, as always: Nothing beats NBA All-Star Weekend.
21. Giannis Antetokounmpo
Nick in Atlanta wonders, "Is it safe to say the 'Greek Freak' nickname for Giannis is one of the most effective sports nicknames in recent memory? I don't even hear him called by name anymore. It's always The Greek Freak. It's basically his actual name now, right?" Great point. This occurs only in professional wrestling — when someone like Hunter Hearst Helmsley becomes Triple H, then The Game, then it improbably bounces back to "Hunter" after a few years because everyone wore out the other nicknames. I see that happening here. Three years from now, we'll be calling him "Giannis."
Speaking of wrestling, good god, it's a jail break!
THE GREEK FREAK IS ON THE LOOSE!!!!
GIANNIS IS JUMPIN' OFF THE TOP ROPE!
Seeing the Greek Freak in person is like seeing Young Scottie Pippen crossed with Young Kevin Durant crossed with an octopus. He's only 20, takes 10 yards per step, plays four positions, has Freddy Krueger arms, might pass the 7-foot mark soon and basically doesn't have a genetic parallel. There's a 20 percent chance he becomes Darius Miles 2.0 (freak talent, no position, never puts it together), a 30 percent chance he becomes a genuinely valuable two-way talent, and a 50 percent chance he makes a Westbrookian leap within the next three years. I mean, look at this. By the hymen of Olivia Newton-John! RUN FOR YOUR LIVES!!!!
GROUP E: "Well-Priced Impact Stars"16
20. Mike Conley
There are two types of basketball player and only two. The first type says to himself, "What's the best situation for my team?" You always want to play with those guys. That's everyone on the Hawks and Spurs, basically. The second type says, "What's the best situation for me?" Usually, you do NOT want to play basketball with those guys. It's extremely difficult to contend for titles with them unless they're named Michael or Kobe. And if they're running your team? In the words of James "Baby Doll" Dixon, I wish you a lot of luck.
There's an inherent safety with those old-school point guards, the ones who built their careers around the question "What's the best situation for my team?" Abrams wrote a Conley feature that included this killer quote: "I have a clock in my head for Zach. For Marc. For Courtney [Lee]. For anybody on the court. There's guys that don't need to play with the ball. Tony Allen doesn't need to have the ball to be effective. I say, 'Zach needs to get the ball. He's working very hard on the defensive end and on the offensive end.' And I can feel four minutes go by, Zach hasn't had the ball and I can see it. He's starting to get a little antsy. OK, now it's time to bang it in to him four straight trips to see if he can get something going."
THAT'S WHAT I WANT FROM MY POINT GUARD. Right there. That's how Magic thought. That's how Isiah and Stockton thought. Then again, Kyrie Irving doesn't think that way. Neither does Russell Westbrook. Does it matter? We'll tackle that question later. By the way, are you ready for an Atlanta-Memphis Finals? Can you imagine the lengths that David Stern would have gone to in order to prevent that from happening? Would we have seen this Shawshank-like moment right after Memphis beat Houston in Round 2?
(We see Conley leaving the arena late at night; nobody else is around. Stern emerges from the shadows to meet him. He's smoking a cigarette.)
Stern: Thanks for meeting me, Mike. You must be really excited about playing Golden State.
Mike: I really am, it's gonna be a great series.
Stern: They're a great team. I like the way they play. People love the Splash Brothers. That's a big market too.
Mike: It's gonna be quite a challenge for us, but we're ready.
Stern: And you're gonna do everything you can to win that series, I assume.
Mike: Absolutely. I just want a chance to make the Finals.
Stern: That's what I thought.
(Stern puts out a cigarette and nods to Dick Bavetta on the roof … )
19. Serge Ibaka
Who cares about Serge's Trade Value ranking? Who cares that he's inexplicably turning himself into an outside shooter and not spending nearly enough time in the paint? Who cares that his numbers leveled off until the All-Star Break, after which we witnessed a full-fledged Renibakassance and went back to doing Ibaka things? Who cares that Serge might become this summer's panic trade fall guy if OKC misses the playoffs or gets bounced in Round 1? Serge Ibaka is the star of Grantland's first feature documentary film, Son of the Congo, premiering at South by Southwest next month. Here's an exclusive trailer.
18. Kawhi Leonard
Six sarcastic retorts if/when a buddy says to you, "I just don't know if Kawhi is a max guy. He's putting up only 15 and 7 every night and he hasn't been healthy all season … I think he might take a discount to stay."
1. "Yeah, it's not like the league is drifting toward über-athletic forwards who can make 3s, defend both forward spots and thrive in small ball AND big ball."
2. "Great point, David Kahn."
3. "You're right, half the league's teams have enough cap space to offer him a max contract this summer — there's no way someone will bite."
4. "No way he can put up better stats — NBA players always peak statistically at 23 when they're the fourth option on a contender."
5. "Yeah, he'll take a discount to stay — he's made less than $8 million playing basketball these last four years. He's definitely ready to leave gobs of money on the table."
6. "Hold on, I'm gonna make a list of everyone who can successfully defend LeBron or Durant in a seven-game series. Kawhi Leonard, and … oh, wait, we're done."
17. Al Horford
Do we spend enough time talking about how blatantly Atlanta ripped off the Spurs? This was some Carlos Mencia–level shit. Both Danny Ferry and Coach Bud came from San Antonio. Ferry pulled off an uncanny R.C. Buford impression before the wheels came off, but Coach Bud has been unabashedly and delightfully ripping off Coach Pop for more than 130 games now. And what about Jeff Teague and German Rondo ripping off Tony Parker? Or DeMarre Carroll doing his damnedest to play like Kawhi? Or Kyle Korver somehow resembling every Spurs shooter in heat-check mode? Only Paul Millsap doesn't resemble a Spur … and by the way, the Spurs would have LOVED to get Paul Millsap.
And then there's Al Horford, Atlanta's most valuable player thanks to his spot-on post-2007 Duncan impression. If I wrote 2014's Trade Value column last February, Horford wouldn't have cracked the top 40 because of his "damaged goods" potential. In February 2015? He's back to being the NBA's most underrated big man crossed with an elite glue guy crossed with an elite dirty-work guy crossed with an efficient/easy/smooth 17 and 10 every night crossed with a world-class pick-and-pop guy crossed with a surprisingly smart defender crossed with a fantastic teammate. (Hmmmm … sounds like someone I know.) The Hawks aren't going away.
Hold on, Clairvoyant Bill wants to make a cameo in the Trade Value column …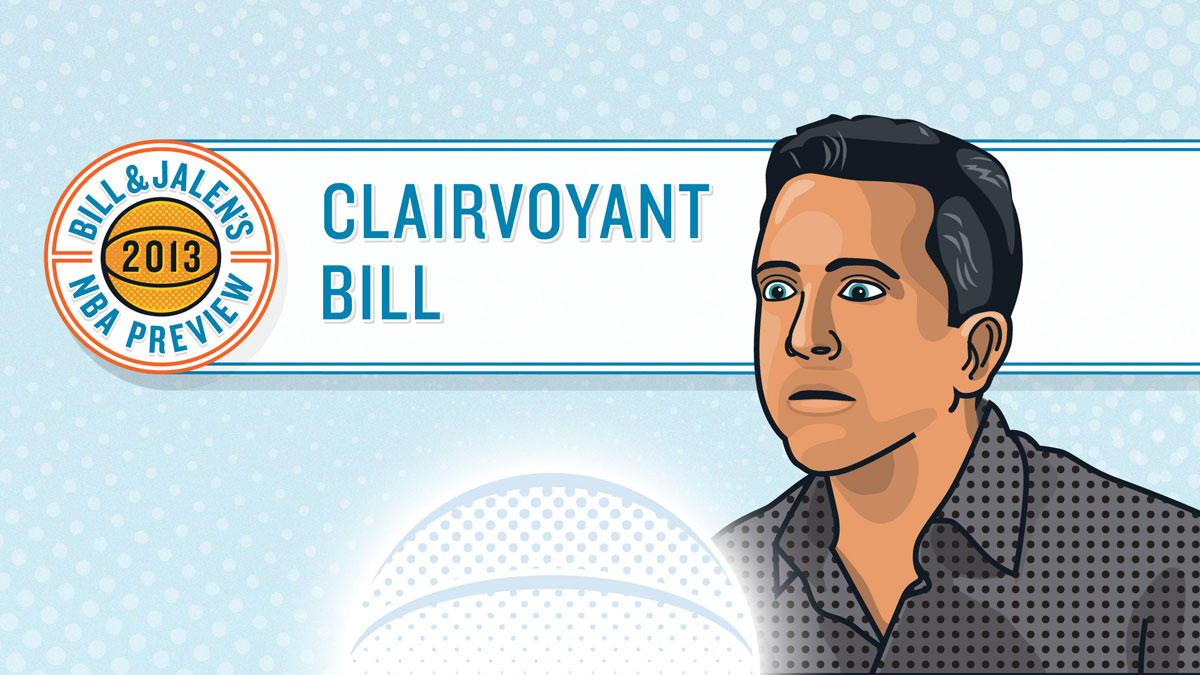 Clairvoyant Bill believes that Al Horford and Florida basketball soul mate Joakim Noah will become teammates again within the next 16 months. Almost definitely in Atlanta. Just wait.
16. Kyle Lowry
15. Damian Lillard
A fun "Which team says no faster?" Trade Value argument: Lowry for Lillard! Let's break it down:
Lowry: Turns 29 in March; bargain contract (four years, $48 million); elite defender; above-average creator and rebounder; slumping on 3s this season (32.1 percent); has a slightly higher game-to-game ceiling; the second-most intimidating on-the-court point guard after CP3; formerly moody/abrasive/brooding, now mostly cheery/supportive/intense; helping to carry the torch for the Tougher-Than-Tough Philly Basketball Legacy; beloved in T-Dot.
Lillard: Turns 25 in July; eligible for a max extension this summer; lousy defender who gets hidden away from any elite point guard; slumping on 3s this season (just 33.8 percent); a world-class heat-check guy and a world-class biggest-shot-of-the-game guy; chiller than chill; carrying the torch for the sneaky-delightful Oakland Point Guard Legacy; beloved in Rip City.
The Verdict: Both teams say no … but Toronto mulls over the deal for 0.23 seconds more only because of the four-year age difference and Lillard's remarkable freestyle with Sway. Jesus! Was this the greatest rap-related moment in NBA history? I have it ranked 134 spots higher than Kobe and Tyra Banks.
Add everything up and Lillard is slightly more untradable … but if I were trying to win a 2015 playoff series only, I think I'd rather have Kyle Lowry right now. (LINK COMING FOR THE 678-POST THREAD ON BLAZERS EDGE CALLING ME A JACKASS AND URGING ME TO SEXUALLY ASSAULT MYSELF FOR PICKING LOWRY OVER LILLARD IN A SEVEN-GAME SERIES — STAY TUNED.)
GROUP D: "The Mega Free Agents"17
14. LaMarcus Aldridge
13. Marc Gasol
Bumped from the top 10 only because of their impending free agencies. In Gasol's case, his "freedom" doesn't matter — he went to high school in Memphis, he has only played for the Grizzlies, he loves the city and he'd be crazy to ditch a contender for a what-if. Let's stop wasting print/airwaves/Internet bandwidth even mentioning it. That includes you, Knicks fans — you guys are like those drunken unmarried floozies on The Real Housewives of Beverly Hills who hit on married guys and convince themselves that "I know we only talked for three minutes at a cocktail party, but I think he's ready to leave his wife!" Just stop it. Have some dignity, for god's sake. You're not getting the NBA's best center. You'll see Jalen Rose give up a plate of lobster tempura before you see Marc Gasol stabbing Memphis in the back to sign up for that gawd-awful Knicks situation.
And look — I don't see Aldridge leaving Portland, either. But let's say the Blazers get beaten in Round 1 fairly convincingly, to the point that we say to ourselves, "Hmmmmm, that nucleus just doesn't look close to a title."
And let's say Duncan and Ginobili retire, but Popovich sticks around knowing the Spurs have only $34 million committed to 2015-16 salaries … with a chance to sign two max free agents AND keep Kawhi.
And let's say Aldridge grew up in Dallas (true), went to college at the University of Texas (true) and spends his summers in Texas (true).
And let's say Wes Matthews was born in San Antonio (true).
And let's say that July 1 rolls around … and the Spurs come after Aldridge AND Matthews. Let's say they tell Aldridge, "We want you to be our new Tim Duncan," and let's say they tell Matthews, "You've seen how much players EXACTLY LIKE YOU thrive in our system." Let's say Pop takes them out to dinner, charms the hell out of them, waves his five rings and tells them he wants five more. Let's say Duncan goes to dinner, too, and mentions that he could be talked into a comeback as a savvy bench guy, à la Bill Walton in 1986, for the New and Improved Spurs.
Again, my money would be on Aldridge and Matthews re-signing. But if you're a Blazers fan, doesn't the previous paragraph scare the living shit out of you? You know how every woman feared Sharon Stone, Angelina Jolie, Scarlett Johansson and now Jennifer Lawrence in the "I Cannot Leave My Husband Alone With This Woman For Five Minutes" sense? Only two American sports franchises have Scarlett/J-Law status with their competitors right now: Belichick's Pats and Popovich's Spurs. Players want to win. Those teams won, they win, and they will continue to win. If I were a Blazers fan, I would be VERY afraid of San Antonio this summer.
GROUP C: "No Offense, But I'm Hanging Up"18
12. John Wall
Back in Round 2 of the 2014 playoffs, an impeccably coached Pacers team exploited Wall's flaws. He couldn't explode coast-to-coast on them because of their transition defense. He couldn't play slash-and-kick because they kept funneling him right into Roy Hibbert. They wanted him to keep taking long jumpers and trying to do too much. And it worked. But in the process, they taught him how to shift gears like a Le Mans driver.19 This season, could he maintain his Westbrookian coast-to-coast freakociousness while running a half-court offense, picking his scoring spots and mastering a vicious slash-and-kick game? Actually, yes!
Wall gets "underrated franchise guy" status for two reasons: He hasn't played a single NBA game for a competent offensive coach (this piece sums it up),20 and he became polarizing for certain media members even though he's a splendid teammate and there was never anything remotely polarizing about him. (Dan Steinberg tackled that curious trend recently.) The dude deserves better. He's 24 and he gives a crap. Those Chocolate City home games should be loads of fun; instead, a passive-aggressive thought bubble lingers over the semi-comatose stands that reads, I mean, if we lose like three more games, maybe they'll fire Wittman and we could STILL get a no. 4 seed. You know what that dynamic is called? Del Negroitis. It's treatable.
11. Klay Thompson
If the Warriors make the 2015 Finals, they'll also crack the "Smartest Non-Trades of the Past 40 Years" list. A quick review:
Summer 1984: Then–Sixers owner Harold Katz claims that he offered Julius Erving to Chicago for the no. 3 overall pick (Michael Jordan) … and it nearly happened, until then–Chicago GM Rod Thorn said no. This would have been the supersize monstrosity version of Washington's disastrous Richmond-for-Webber trade, which briefly broke my brain.
Summer 1986: The Lakers bailed on a "James Worthy for Roy Tarpley and Mark Aguirre" panic trade that only saved them two titles, four Finals trips and thousands of hours of comedy on the Lakers channel. (Nothing gives me more joy than Worthy and Michael Cooper pretending the 2015 Lakers season isn't a complete catastrophe and saying things like, I'll tell you what, I think Robert Sacre is starting to come on! It's absolutely a funnier show than The Mindy Project.)
Summer 2009: Golden State backs out of a megadeal with Phoenix GM Steve Kerr (Amar'e Stoudemire for Andris Biedrins and a first-round pick swap) after Minnesota rips off its epic Rubio-Flynn pick combo and the Warriors belatedly realize, "Wait, maybe we should scrap the trade and take Steph Curry?" Kerr's heart is broken … for exactly five years.
Summer of 1992: Can you imagine if Philly would have given away Charles Barkley, in his prime, for Jeff Hornacek, Tim Perry and Andrew Lang? (Hey, wait a second … )
Fall of 1992: Houston offers an unhappy Hakeem to Miami for a then-Godfather offer (Steve Smith, Rony Seikaly AND Glen Rice). Miami counters with a lesser offer: Seikaly, Grant Long and Harold Miner. Eventually, Houston backs away … and Hakeem rips off one of the greatest three-season stretches in the history of the center position. By the way, I will never forget listening to sports radio that summer and fall and hearing Boston radio hosts wondering if the Celtics should offer Reggie Lewis straight up for Hakeem. I was going crazy. I loved Reggie, but HAKEEM WAS LEGITIMATELY ON THE TABLE! Oh my god. I can't handle it. If I had a column back then, I would have written at least 17 different "Who says no: Reggie Lewis, Joe Kleine and Ed Pinckney for Hakeem?" columns.
Fall 2007: On The Grantland Basketball Hour last Sunday, I asked Kobe Bryant if it was true that he vetoed a trade to Detroit for Tayshaun Prince, Rip Hamilton and picks. He said yes.21 #humblebrag (R.I.P., Harris Wittels.)
Summer 1994: With MJ playing baseball and the Bulls still reeling from the Scottie Pippen/Game 3/Knicks/timeout debacle, Chicago nearly pulled off a Shawn Kemp–for-Pippen swap (with other pieces) before smartly backing off and winning three more titles after MJ returned. Lemme just Google it to make sure that's what happened. Whoa, Seattle backed out!!! See, you need a little luck with these things.
Which brings us to the Warriors … a smart franchise that examined the Lee-and-Klay-for-Love deal from every angle, argued about it, argued about it some more, and ultimately backed off for three perceptive reasons. First, they were petrified of Love and Curry getting killed in high screens every April/May/June for the rest of the decade. Second, they thought Klay could develop into an elite 2-guard — doubly important since it's such a hit-or-miss position. Third and most important, they believed they had something truly transcendent in that Curry-Klay backcourt, something that could be unleashed with a better coach, better spacing and better movement. And they were right. We'll see if that non-trade ranks up there with Hakeem, Worthy, Pippen and everyone else someday.
Last email, from Danny in Austin, TX: "You have to add 'Klay is feeling it' to your list of texts that immediately get you finding the closest TV. I can't think of another backcourt, that was on a first name basis, where any of those four words causes such a response." Curry, Klay, Harden, Durant, maybe Kyrie, maybe Westbrook. That's the whole list. But Klay deserves special mention for flustering me on a triple date on a Friday night with this text exchange …
Buddy: 37 for Klay!
Me: So what?
Buddy: In one quarter!
Me: Whaaaaaaaaaaaaaaaaat?
I still can't believe it. Thirty-seven in a quarter??? The last five stages of a mega-heat check: fans tumbling forward at courtside in disbelief; the heat-check guy laughing maniacally like he should be covered in blood; the obligatory shot of his smiling teammates wandering around in disbelief like they've just been rescued from a deserted island; the crazed I-can't-believe-this buzz of the crowd; and, of course, the final stage … when the guys on the other bench start cheering.
Klay passed four of the five levels.22 But not Level 5. The Legend lives.
Part 3 of the Trade Value column (the final 10) will arrive sometime before Super Bowl 50. Stay tuned.