Who's That Draft Pick? Meet the Imports!
Miguel Medina/AFP/Getty Images
Every year there are a handful of awesome prospects who slip past the lottery in the NBA draft. These are the players you want your team to steal late in the first round or somewhere in the second. We know they're out there, only nobody's sure exactly who falls into this category. But that's why we're here. All week, we're stealing Robert Mays's "Who's That Guy?" series to look at a handful of late-round possibilities, with the disclaimer that we know pretty much nothing about these guys. Nobody does, if we're all being honest. Let's do it.
Yesterday, we mined the mid-majors. Today, we take things global.
Rudy Gobert
Who Is He? Rudy Gobert! Center from France.
Where Did He Come From? Saint-Quentin, France.
Pronunciation: "go-BEAR"
Measurables: 7-foot-2, 238 pounds, 7-9 wingspan
Age: 20
Stats: 8.4 ppg, 5.4 rpg, 22.7 mpg in France.
His Game in 40 Words or Fewer: Apparently he's a good rebounder and an average athlete, and he measured with the biggest standing reach (9-7) in the history of the draft combine. And he's not Frederic Weis. Or is he?
Scouting Tidbit: He was the subject of an article titled, "Rudy Gobert and the hazardous intrigues of potential." So hey, there's a tidbit.
Reminds You Of: French Javale McGee, if things work out. That's half-compliment, half-criticism.
Where He Will End Up: Somewhere in the 20s, probably.
Why Your Team Should Draft Him: He was projected to go much higher during the regular-season mock drafts, but his stock has fallen over the past month or so. Always a solid bet to go with guys like that. Drafting Go-Bear in the top 10 seems like a stretch, but taking a chance on a 7-2 giant if you're picking in the mid-20s? That makes sense.

Giannis Adetokunbo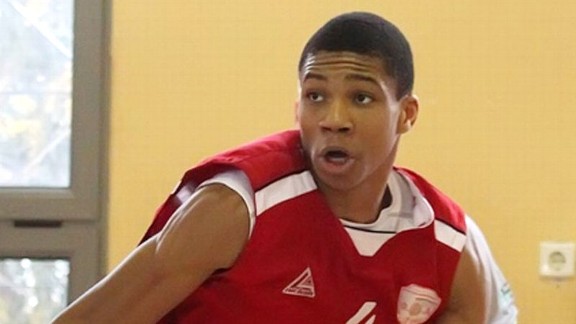 Who Is He? Giannis Adetokunbo! Small forward from Greece.
Where Did He Come From? Athens, but his family is from Nigeria.
Pronunciation: "a-det-o-KOON-bo," per the New York Times.
Nickname: "The Greek Freak"
Measurables: 6-9, 215 pounds
Age: 18
Stats: His nickname is The Greek Freak. If that's not a stat, it should be.
His Game in 40 Words or Fewer: In his own words from this draft video, "I can jump, I can shoot, I can pass the ball. I can do everything." Good enough for me.
Scouting Tidbit: On the one hand, well, look at his hands (via DraftExpress):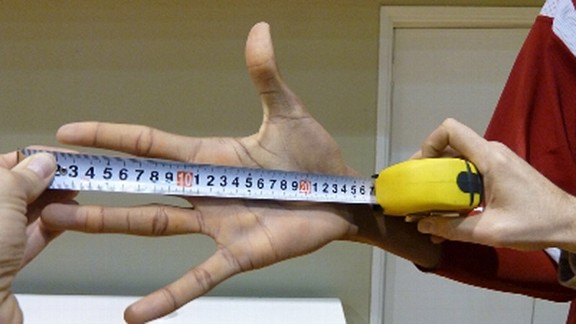 On the other hand, you have this sequence from his draft profile: "Adetokunbo is a bit of a mystery man. A long, athletic point forward playing in the fourth division in Greece." [Fast-forward four weeks.] "The mystery man from Greece finally has a passport and a correct spelling for his name. However, he didn't get his passport in time to secure a visa for the combine. I'm not sure his agent really wanted him there, however. He's probably better off as a tabula rasa — a blank slate on whom GMs can project their wildest fantasies."
Reminds You Of: Greek Josh Smith.
Bonus: Read this New York Times article detailing his family's struggles in Greece, particularly the story of him and his brothers selling watches and bags on the street so they could eat, and how his basketball career unfolded despite all that. It's all pretty incredible. Wherever he ends up, I'm rooting for Adetokunbo. (Also: Apparently Greeks spelled his name 'Antetokounmpo' on his passport, which explains why there are two completely different names you can find when you Google him. ESPN and Wikipedia have his name spelled Antetokounmpo, for instance. I'm sure this won't be confusing at all on draft night.)
Where He Will End Up: Somewhere between 10 and 20.
Why Your Team Should Draft Him: This goes back to the Tony Mitchell discussion yesterday. Once you get past the first 10 or 15 picks, why not swing for the fences? Granted, it's an even sketchier landscape with 18-year-olds in the fourth division of the Greek League, but the risk makes sense for a team that's not looking for any immediate help. I believe in The Greek Freak. Do you?
Sergey Karasev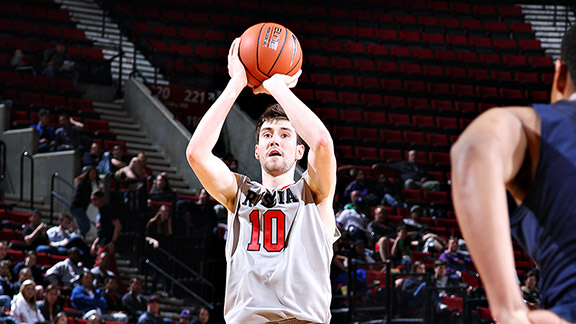 Who Is He? Sergey Karasev! Shooting guard from Russia.
Where Did He Come From? St. Petersburg, Russia.
Pronunciation: Sergey "Care-a-sev"
Measurables: 6-7, 197 pounds, 6-9 wingspan
Age: 19
Stats: 18.4 ppg, 5.3 rpg, 33.1 mpg in Russia
His Game in 40 Words or Fewer: He's a coach's son who is praised for his passing, solid shooting, and excellent hoops IQ. This could be code for not actually doing anything that well, but we'll see.
Scouting Tidbit: On June 10, "Karasev worked out in Las Vegas for a couple of hours and then shut things down before the draft. He got on a plane back to Russia and canceled his remaining workouts." OK then!
Reminds You Of: Yaroslav Korolev, who went 12th to the Clippers in 2005, and played in a total of 34 NBA games.
Where He Will End Up: His abrupt cancellation of all workouts seems to indicate he's got a promise somewhere in the first round. Chad Ford has him going no. 13 to the Mavs if they can't trade their pick, but yeah, the Mavs are actively trying to trade that pick.
Why Your Team Should Draft Him: I don't know, should they?
Lucas Nogueira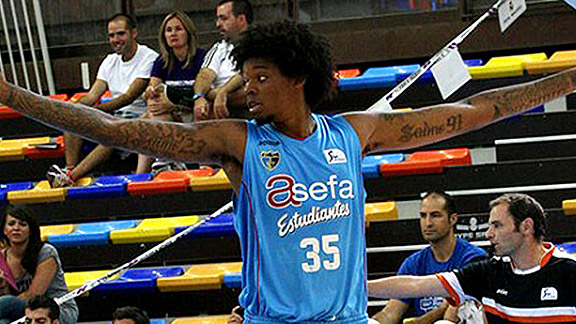 Who Is He? Lucas Nogueira! Center from Brazil.
Where Did He Come From? Sao Goncalo, Brazil.
Pronunciation: "Lucas No-guerra"
Nickname: BEBE.
Measurables: 7-foot, 220 pounds, 7-6 wingspan
Age: 20
Stats: 5.4 ppg, 3.4 rpg, 1.1 bpg, in 13 minutes a night playing in Spain (via DraftExpress). On the other hand, he had 22 points, 14 rebounds, and three blocks against USA's 18-and-under team. That was in 2010, but still.
His Game in 40 Words or Fewer: He sounds like an athletic rim protector who doesn't always play hard, and apparently got lost in Spain. But hey, he had that great game in 2010.
Scouting Tidbit: "While teams would've liked to see more, they saw enough to note that he's dramatically improved the past year and is a legit first-round prospect. Think of him as a poor man's [Nerlens] Noel." (Via ESPN Insider.)
Reminds You Of: Brazilian Larry Sanders, in the best-case scenario. And Nene, obviously.
Bonus: He has an awesome Afro, as shown here with Dwight Howard.
Where He Will End Up: A month ago he was a fringe first-round prospect, but yesterday Chad Ford had him going no. 14 to the Jazz. The draft is great.
Why Your Team Should Draft Him: Given his athletic advantages, he doesn't have to turn into Serge Ibaka to pay off. If he turns into a solid shot-blocker who can run the floor and rebound, he's starting for most of the teams in the NBA in a few years. In the teens or 20s, that's worth the gamble. Plus, who doesn't want to cheer for a giant Brazilian big man named Bebe?
Dennis Schroeder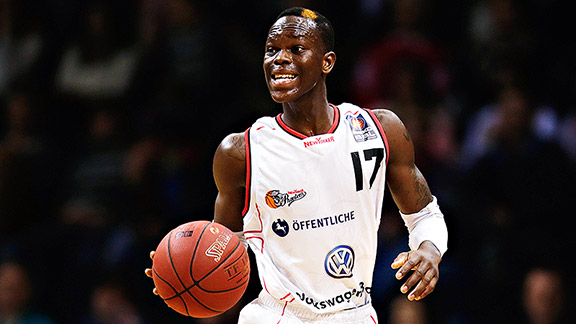 Who Is He? Dennis Schroeder! Point guard from Germany.
Where Did He Come From? Braunschweig, Germany.
Pronunciation: Dennis Schroeder. An easy one!
Measurables: 6-2, 165 pounds, 6-7 wingspan
Age: 19
Stats: 11.6 ppg, 3.1 apg, 24 mpg playing in the Bundesliga at 19 years old. Not bad.
His Game in 40 Words or Fewer: Sounds like a freak athlete, and he was the star of the World Team at Hoop Summit in Portland, where he held his own against a loaded 2014 draft class. If he can learn to shoot, he will be awesome.
Scouting Tidbit: Described by Chad Ford as "super quick" and a "lethal penetrator." LETHAL.
Reminds You Of: Darren Collison, but better.
Where He Will End Up: Anywhere from 10 to 25.
Why Your Team Should Draft Him: There's a chance Schroeder is the best foreign prospect in the draft and the best point guard in the draft. Your team should draft him because outside the top 10, he's got as much potential as anyone. He's less of a gamble than all the other guys we've profiled, and he's probably closer to realizing his potential than any of them.
Vitalis Chikoko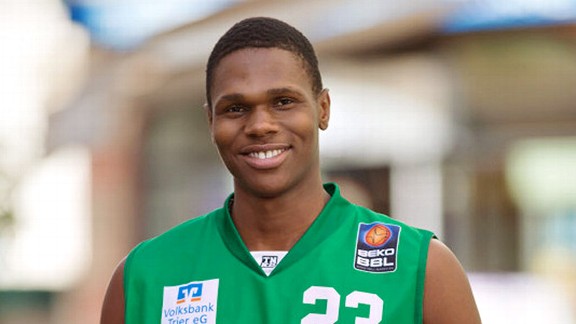 Projected as a late second-rounder, but here's to hoping he catches on somewhere. "CHIKOKOOOOOOO" is a name we need in our lives on a nightly basis.
Filed Under: NBA Draft