Who Is the Next JaVale McGee?
Garrett W. Ellwood/NBAE via Getty Images
Last season JaVale McGee delighted us with his investigative journalism, sense of direction, singing of Adele, and follow-up dunking. We will no doubt continue to cover JaVale's ups and downs, along with the exploits of his onetime partner in crime, Andray Blatche. But just for fun, we thought it would be cool if we tried to find this season's JaVale — the player with the perfect mix of on-the-court follies and social media highlights (or vice versa). Here's who the Grantland staff came up with.

Harrison Barnes
I'm pretty sure that Harrison Barnes is the reincarnation of Andy Kaufman. I don't know if he knows how funny he is. But then again he might know, and he knows that I know that he knows, and he also knows I have some doubts about whether he knows. You see what I mean? No? Does this help?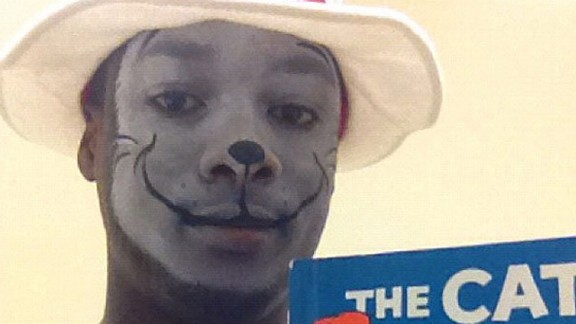 That's Harrison "Black Falcon" Barnes, dressed up as the Cat in the Hat. Here are some other things Black Falcon enjoys doing: watching the Holocaust drama The Pianist, fretting over the future of the dead-tree publishing industry, saying things like "Success breeds enemies" and "it's crazy how relevant the Wall Street Journal has become in my life," and "Cinema." The most important thing when picking out your new JaVale McGee is that you genuinely like this person. And despite being predisposed to think that this kid was kind of a joke, it turns out I find him, at least his social media persona, to be totally endearing. I even enjoy his acting …
Also, it's going to be hilarious to watch him not play defense or pass on the Warriors this year. One night, this season, Barnes will score 40 points against the Nuggets, with a plus/minus of -32 and no assists. After the game, with Klay Thompson and Stephen Curry literally in tears (and in Curry's case, on crutches), moaning, "I didn't even get a touch!!!" Harrison Barnes will retire from the NBA and start a quarterly journal about the Occupy movement or the films of Chan-wook Park. Or both.
— Chris Ryan
Jordan Crawford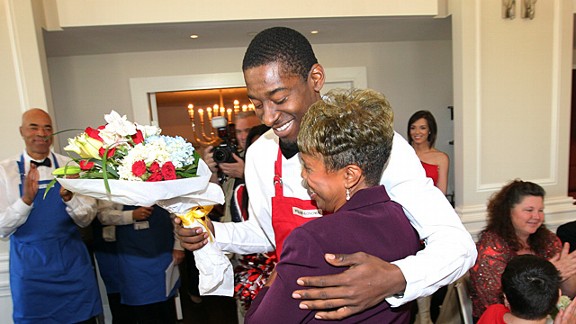 Amid a pile of worthy candidates, I'm keeping this in-house for the Wiz and nominating Jordan Crawford. His Twitter account shows the potential for some fun and/or awkward social media misadventures. He has already said he wants to be better than Michael Jordan, and his justification for taking crazy shots is the very best one possible: He thinks they're good shots. "You still gotta do you," indeed, Jordan.
— Zach Lowe
Fab Melo
Fab Melo starred in a YouTube clip that garnered more than 415,000 views this summer. You know what the title was? "Fab Melo vs. the Folding Chair."
Some of Fab Melo's recent tweets include, "Good morning to all the ladies in the world. Have a awesome day!" … "Let's play hunger games!! Bring your team." … "'Taken 2' trailer. If I was Liam Neeson's character and I had survived 'Taken', I would never say this 2 my daughter: "Welcome to Instanbul" … and "What's the name of the movie that has tires chasing people and blowing their heads off?!"
One of Fab Melo's friends tweeted a few days ago, "@Fabpmelo took me to the most bootleg movie theater ever today lol … this not even in HD lol." It was a picture of a tiny movie theater screen. What was the theater? What was the movie? We'll never know.
When the Celtics signed fellow Brazilian Leandro Barbosa, Fab Melo tweeted, "Acabei de Falar com O leadrinho pelo cel … O novo Celta ja esta cheio de gas!!" which apparently translates to "I just talked to Leandrinho on the cell … The new Celtic is already full of gas!!"
Kevin Garnett took Fab Melo under his wing during training camp and nicknamed him "Melo," explaining, "I don't really like calling a man 'Fab.'"
During the NBA's annual rookie photo shoot two months ago, 39 incoming rookies were asked questions like "Who will be the Rookie of the Year?" (Anthony Davis won the survey), "Which rookie will have the best career?" (Davis won again), and "Which rookie is being most overlooked?" (Draymond Green won that one). Who carried the crucially important category of "Which rookie is the funniest?" That's right … Fab Melo! We need a Fab Melo Watch blog and we need it now.
— Bill Simmons
Enes Kanter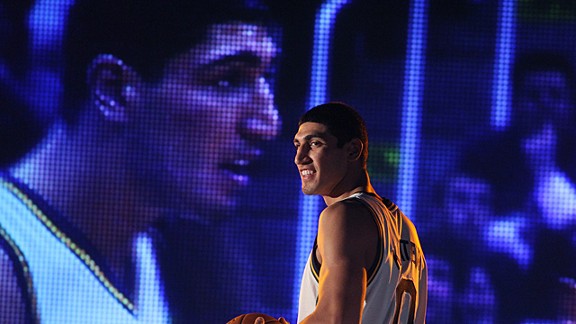 Enes Kanter is of Turkish heritage. His father is a professor at a Turkish university. His Utah Jazz teammate Al Jefferson even nicknamed him "Big Turkey." But Enes Kanter was born and raised in Switzerland. And as a man of Swiss origin, with big-hearted Swiss relatives who are always visiting America towing Toblerone and smiles, let me tell you that Kanter has the mark of a great Swiss. He is gregarious. He's prone to fits of dance. He's an inspirational speaker. ("What's up, what's up, whatsupwazzup!") He loves the ladies. He's also just looking for a (blonde) companion. But he's not that picky. If you put this guy at one of my family reunions, he'd be, well, the only 6-foot-11 man capable of thrashing in the low post. He would also fit right in.
Lately, he has been flexing a lot, a fact explained by the news that Kanter, who has been playing professional basketball since he was 15 years old, lost 50 pounds in the offseason. Fifty! He weighed in at just under three bills last season. This year, he is built like a tank. Only, he's nonviolent. He's Swiss.
— Sean Fennessey
Kendall Marshall
Here's a week in the life of @KButter5, a.k.a. Kendall Marshall, a.k.a. the Black Falconer (because he was handling Harrison Barnes), a.k.a. the Next Ed Cota.
Be you no matter what. If you're a nerd, be a nerd. If you like high school musical then like HSM. Ppl don't like it, they can kick rocks.

— Kendall Marshall (@KButter5) October 22, 2012
Black Swan was a crazy dope movie. That inner struggle with self can make or break a person.

— Kendall Marshall (@KButter5) October 23, 2012
What if this world we live in really all diagrammed, like the Truman Show.

— Kendall Marshall (@KButter5) October 23, 2012
if u assume the worst, you can never be disappointed. #KButtaWordsOfWisdom

— Kendall Marshall (@KButter5) October 18, 2012
Everybody just wants to feel apart of something.

— Kendall Marshall (@KButter5) October 16, 2012
This is a problem that's needs to be rectified. We, the people, need a solid answer. When does McDonald's breakfast end

— Kendall Marshall (@KButter5) October 21, 2012
For those keeping score, it goes: true, true, true, true, true, 10:30 a.m. in the greater Los Angeles area.
Predictions for this year: After a game against the Magic, J.J. Redick convinces @KButter5 to channel his insights into poetry. @KButter5 comes out with a battle rap song calling out Harrison Barnes titled "Black Falcon Down."
— Jay Caspian Kang
Andre Drummond
There are three reasons why you should keep an eye on Andre Drummond.
1. He's a font of advice.
Don't wife her cause she's a trophy, see thru the looks of it cause what's a trophy with out a trophy case! #SmallThingsMatterTheMost

— Andre Drummond (@DRE_DRUMMOND_) October 19, 2012
2. He believes in the power of social media to connect people.
What's good bro @hoya2apacer

— Andre Drummond (@DRE_DRUMMOND_) October 21, 2012
Note: Roy Hibbert took a minute to respond before returning to promotion of his "Gangnam Style" flash mob video.
3. He has just the right amount of self-awareness.
As I walk out of Walmart I pass this Asian family , an the youngest boy goes mom dad look its Godzilla

— Andre Drummond (@DRE_DRUMMOND_) October 20, 2012
By the end of the season, I think we'll see Andre Drummond following in his idol Roy Hibbert's footsteps. He'll have a music video of his own — maybe even a P. Diddy cover. And if not that, he'll at least be hosting myriad club nights. Get the flyer ready now!
— Juliet Litman
John Henson
So, this is a bit of a wild-card pick, because he's just a rookie, but my JaVale McGee–esque selection of the 2012-13 NBA season is Bucks rookie John Henson. I didn't know much about him until a few months ago, when I attended the NBA draft. There he was, hands-down the silliest, most talkative, chattiest of the incoming crop of talent. I think this will translate well when it comes to pranks, as well as being an easy target for getting pranked.
Also, he has that ever-important thing in common with JaVale that cannot be ignored. He's freakishly tall and lanky. This will always be a funny thing. Don't gloss over this fact.
And then there's his Twitter. It's not dripping with gems as of yet, but it has so much potential. I mean, there's this:
Benihana ! ..

— John Henson(@_John_Henson_) October 13, 2012
And then there's this:
When certainpeople text me I be like … LOL

— John Henson(@_John_Henson_) October 15, 2012
He also tweets cryptic segments of rap lyrics, almost as a way of describing his mood, which is very important to me. Also, via his Instagram, he went to a Lil Scrappy show in Milwaukee. His caption:
"Lil Scrappy in Milwaukee lol who would've thought … turn [thumbs up emoticon]."
John Henson's my man. It's obvious. I can't wait to be very right about this.
— Rembert Browne
Mick Pennisi, C, Barako Bull Energy Cola (Philippine Basketball Association)
One of the minor chapters in the saga of JaVale McGee has been his flirtation with becoming a naturalized Philippine citizen and joining the Philippine national basketball team. JaVale visited the country twice during the 2011 NBA lockout (once for a pair of exhibition games and once — this is not a joke — to conduct big-man skills camps). There's no telling if JaVale will follow through and actually become a Filipino by law, but assuming the interest is there on his part, I propose a cross-Pacific basketball exchange program: Send JaVale to the PBA for a month and bring Barako Bull center Mick Pennisi to the NBA.
Have you forgotten Mick? He earned international fame last season with one of the most egregious and poorly executed flops anyone has ever seen (yet it still worked, as the player Pennisi was guarding got ejected for throwing the ball at Mick's bald head). Well, Pennisi doesn't have NBA size or a ton of skills, but he does have a flair for the dramatic. The past seven or so years of his PBA career have largely consisted of him committing or drawing flagrant fouls and trailing fast breaks to hit really clutch 3-pointers, then taunting the crowd. Earlier this month, he converted one of the most awkward, YouTube-able circus layups in the recent history of professional basketball. The camera just loves him.
What team would Mick play for during his month in the NBA? Well, assuming he wouldn't have to replace JaVale in Denver, I can think of one team with a noted appetite for 37-year-old big men who don't care to run the floor anymore but still know how to deliver a hard foul and love to spot up from 3 — the New York Knicks! Who knows what kind of high jinks Mick would initiate in the media capital of the world. Let's just hope that when he knocks down an improbable six 3-pointers in the second half of a game at the Garden, the New York Post will come up with a better headline than "PENISSANITY!!!"
— Rafe Bartholomew
Perry Jones III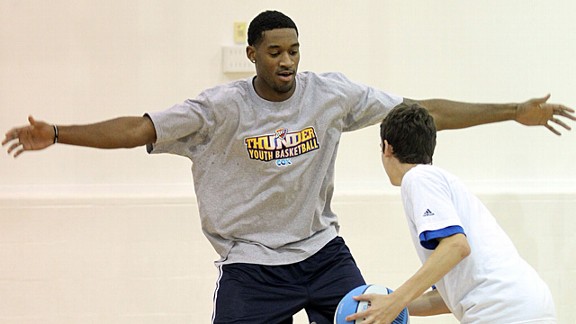 As a fan of the Washington Professional Basketball Team, I feel mildly qualified to opine on "what made JaVale JaVale." Which means I should also have some insight into "the next JaVale." (Why not more certainty on any of this? Because dude has weird-sauce running through his veins.) So let's start with the ingredients in the JaVale Jumbalaya: one part lack of self-awareness (side note, I STRONGLY reject the "misunderstood genius" meme that the recent ESPN The Magazine ventured; I consumed the McGee for three years, and NOT ONCE EVER did the word "genius" enter the equation), two parts untapped and unexplored talent, one part disorderly priorities, and one part indecipherable social-media presence. This, of course, is an off-the-beaten path concoction, one that requires a special chef with cutlery skills as likely to slice a thumb as julienne a cucumber. I have looked in the NBA pantry a number of times the past several days pondering the "next," and one name keeps jumping off the shelf: Perry Jones III. Uninvited to the draft, showed up anyway. Brilliant talent, less brilliant effort. And a flair with Twitter? Yes, a flair with Twitter. PJ III, get settled in with the young fellas in OKC, strap on an Elmo backpack, and do your thing.
— Joe House
JaVale McGee
Why look at the rest when you can stick with the best? Never stop being you, JaVale.
Because I really want McGee to commit to the Mountain West lifestyle, my expectations for this season include but are not limited to:
JaVale McGee joins an Outward Bound program
JaVale McGee tries to befriend Balloon Boy
JaVale McGee successfully convinces his teammates to join him in an old-timey Wild West photo shoot
JaVale McGee tries to hike Pikes Peak
JaVale McGee confuses a large hill in suburban Denver with Pikes Peak
JaVale McGee goes prospecting
I look forward to reading about all of this on Twitter. See you at the paintball park, guys.
— Sarah Larimer
Filed Under: Bill Simmons, Chris Ryan, Javale Mcgee, Jay Caspian Kang, Joe House, NBA, Sean Fennessey, Zach Lowe