What's Wrong With the L.A. Kings? (And Can They Fix It?)
Jamie Squire/Getty Images
The old sports cliché says that you're never really in trouble in a playoff series until you lose at home. But, with all due respect to the wisdom of old sports clichés, right now the Los Angeles Kings look like a team that's in a lot of trouble.
They've dropped the first two games of their Western Conference finals matchup with the Blackhawks, including a surprisingly easy Chicago win Sunday that saw L.A. trailing 4-0 before the midway mark. While the series has returned to Los Angeles for the next two games, the prospect of the Kings coming back to win four of five against the Presidents' Trophy winners seems slim.
Or does it? After all, the Kings are the defending Stanley Cup champions, and they've already come back from a 2-0 series deficit this postseason (against the Blues in Round 1). Counting them out after two games of a seven-game series seems like a reach.
Here are eight things that are going wrong for the Kings right now, and our best guess as to whether they'll be able to fix them in time.

1. They can't win on the road
The problem: In their 2012 Cup run, the Kings were nearly unbeatable away from Staples Center, setting an NHL record with 10 consecutive road wins. But after dropping the first two games in Chicago, this year's Kings find themselves with just one road win to go with seven losses.
This isn't exactly a recent development, by the way. During the regular season, the Kings had the league's best home record (19-4-1) but were just 8-12-4 on the road.
Can they fix it? The good news is that this is the one problem the Kings don't need to worry about for a few games, because the series has shifted back to L.A., where they're 7-0 this postseason. But they'll have to steal at least one road game to win the series, and they've already squandered two of their four chances.
2. They can't score
The problem: The Kings have only scored three goals in the series, and two of those came after the Hawks had Game 2 wrapped up. And the lack of offense isn't something new — they've scored two goals or fewer in 11 of their 15 playoff games this year.
What might be worse: Their 29 goals have come from only 10 players, and just three (Jeff Carter, Justin Williams, and Slava Voynov) have accounted for more than half the team's total.
Can they fix it? Probably not. A better question might be whether they even want to fix it, because this isn't a team that wins games with flashy offense. After all, the prototypical L.A. Kings playoff game will end with a score of 2-1 (that was the final in five of their playoff games in 2012, and an amazing eight so far this year).
The reality is that when it comes to the Kings, low-scoring games are a feature, not a bug. They're a team that's happy to score just enough goals to win while Jonathan Quick slams the door at the other end. And that's been a problem so far, because …
3. Jonathan Quick hasn't been great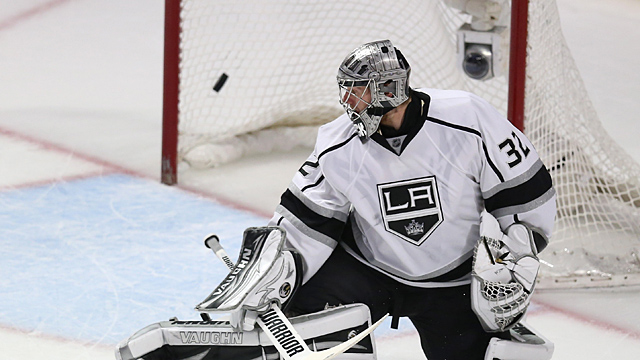 The problem: Coming into the series, Quick seemed to be on track to capture his second straight Conn Smythe Trophy as playoff MVP. His numbers (1.50 GAA and .948 save percentage, to go with three shutouts) were arguably even more impressive than those he'd put up in 2012. But he's looked shaky through the first two games against Chicago, recording a 4.02 GAA and .887 save percentage at United Center. He didn't even make it out of Game 2, getting pulled in the second period after allowing four goals on just 17 shots.
Can they fix it? You'd have to think so. Quick has been fantastic this postseason, but every goalie eventually has a bad game or two. Even his numbers for the first two games of the series are deceiving, because he actually played well in Game 1. And while he certainly wasn't good in Game 2, his removal was at least as much a mercy pulling as an indictment of his performance.
At this point there's nothing to indicate the Hawks have suddenly figured out some flaw in Quick's style that they're exploiting. He just had a bad game. It's hard to say how he'll respond because there's really no recent precedent (Sunday was the first time Quick had given up more than three goals in a playoff game in two years), but it seems like a good bet that he'll be just fine.
4. They need their captain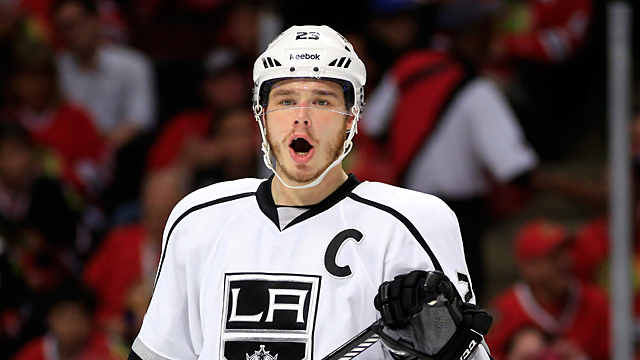 The problem: Dustin Brown has just four points in the postseason, and only two in his last 11 games (yay, arbitrary cutoffs!). That's well off his typical scoring pace, and miles away from his production last spring, when he tied for the league lead in playoff goals, assists, and points, and would have won the Conn Smythe if not for Quick's brilliance.
Brown's not alone here. The Kings' entire first line needs to be better for L.A. to have a chance at a comeback.
Can they fix it? It's worth remembering that Brown contributes more than just scoring, and the other areas of his game have been decent — he had a team-high eight hits in Game 1. He wasn't quite as physical in Game 2, though this early face-plant may have had something to do with that.
In any case, the Kings need offense and Brown and his linemates will be counted on to provide it. On the bright side, having home ice and last change should help them get some better matchups.
5. They're losing their fancy stats edge
The problem: The Kings' stunning 2012 run wasn't so stunning to proponents of advanced stats. They knew L.A. was one of the best possession teams in the league, despite their lackluster record, based on team Corsi (which measures their share of even-strength shot attempts compared to their opponents). This year the Kings were even better, ranking first overall.
But the numbers haven't been flattering against Chicago. In fact, the Blackhawks had a significant edge in Game 1 (they lead 49-31 in shot attempts), which suggests the game wasn't even as close as the 2-1 final score indicated.
Can they fix it? The Kings have already started to. In their Game 2 loss, they actually held a 37-33 Corsi edge. Some of that can be chalked up to score effects (they were down 4-0 early, and trailing teams tend to take more shots, especially when they're well behind), but it's still a more encouraging result than Game 1.
Of course, possession metrics aren't something you directly set out to "fix" so much as an indicator of how well a team is playing overall. The Kings have been hovering below the 50 percent mark for the postseason, which is uncharacteristic of them. They need to spend more time with the puck, and less time chasing the Blackhawks around.
6. Injuries are starting to take a toll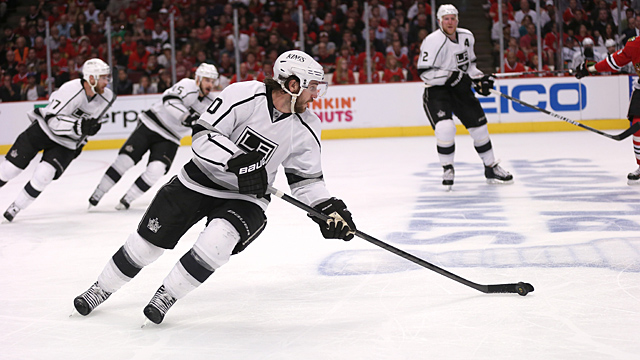 The problem: The Kings have been relatively injury-free during the postseason. They lost Jarret Stoll to a Raffi Torres headshot, and Kyle Clifford missed a few games. But for the most part, their stars have been able to stay healthy.
That changed before Game 2, with the news that Mike Richards would be scratched because of an upper body injury (presumably suffered on a big hit by Dave Bolland in Game 1). And Drew Doughty appeared to hurt his leg on a collision with Bryan Bickell, though he hasn't missed any time yet. Add in an injury to Jake Muzzin and whatever other health issues the Kings may be dealing with but aren't telling us about, and the trainer's room is starting to get crowded.
Can they fix it? They won't get any healthier, because nobody gets healthy in the playoffs. All any team can hope for is that their injuries will pile up slightly slower than the other side's, and that often boils down to plain old good luck. But the Kings are a team with good depth, so they're in a decent position to weather the injury storm that most teams face at some point during a playoff run.
7. They're playing too many games
The problem: The Kings are traveling a much tougher road than in 2012, which on the surface sounds ridiculous. Last year, they won the Cup as the West's eighth seed, and their path to the finals took them through the conference's 1-, 2-, and 3-seeds. In theory, that should have been as tough a road as there could be. But they plowed through with little resistance, racking up a 12-2 record on their way.
This year's path has already been much tougher. Their first-round matchup with the St. Louis Blues featured six of the most physically intense games in recent memory, and that was followed with a seven-game battle against the San Jose Sharks. The Stanley Cup playoffs are as much a test of endurance as anything else, and a big part of that is playing as few games as possible. The Kings may just be wearing down.
Can they fix it? It's possible that it's already too late. Consider this: In the history of the NHL, no team has ever won the Stanley Cup while playing more than 18 games en route to the finals. That allows for a maximum of six losses. The Kings already have seven.
8. The Chicago Blackhawks are just really good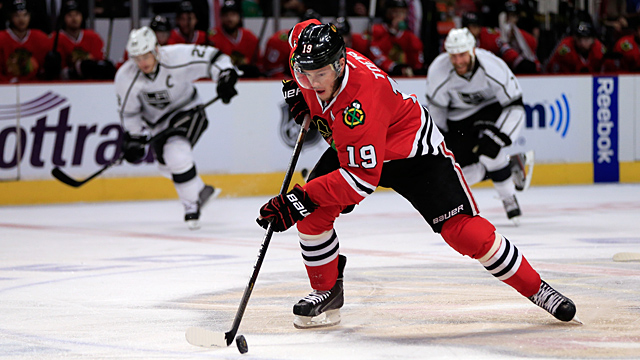 The problem: We can pick apart the Kings to look for flaws, but let's not lose sight of the bigger picture: The Chicago Blackhawks may well be the best team in the NHL. They had the best regular-season record. They had the best goals differential. They gave up the fewest goals, and scored the second-most. And they did all of that despite having their conference's top seed all but clinched at midseason thanks to their record 24-game point streak to start the year.
Their 15-7-2 record over the season's second half offered some hope that they could be vulnerable, as did a shaky opening-round win over the Minnesota Wild and their near-miss against the Detroit Red Wings. But maybe they were just in cruise control, and falling behind 3-1 to Detroit was the wake-up call they needed. They've won five in a row and are starting to look like that team everyone was ready to concede the Cup to in February.
Can they fix it? There's nothing the Kings can do to bring the Blackhawks back to the pack. What they can do is raise their own game to match Chicago's. They haven't looked capable of that through the series' first two games. They have, at most, five games left to prove the doubters wrong now.
Filed Under: Chicago Blackhawks, Los Angeles Kings, NHL, NHL Playoffs, Stanley Cup