We Went There: The Capitals Fall
Chuck Myers/MCT via Getty Images
Well, what can I tell you? Some nights, you just show up in the wrong arena. Up in Boston, the Bruins came roaring back to win a Game 7 on Monday night because the Toronto Maple Leafs picked the wrong night to stop sniffing glue or something. Meanwhile, here in Washington, his team already trailing 3-0 and with all of 13 seconds elapsed in the third period, John Erskine of the Capitals surrendered a chocolate éclair of a turnover along the left boards. Ryan Callahan of the New York Rangers accepted the gratuity and went sailing in to lift a backhand past Caps goalie Braden Holtby. At which point, Verizon Center became the quietest hockey arena in America. I am not kidding about this. There was more energy in the former Hartford Civic Center at ten o'clock Monday night than there was in this joint, and Pucky the Whale was livelier than the entire Washington bench. Meanwhile, on the TV, the Capitals broadcast crew ominously began using the phrase "played their hearts out this season" a lot, and opined that the Capitals defensive corps would be even stronger next year with a full training camp under their belts. All that was missing from the wake were weeping old ladies and a spray of flowers from the local Elks.
The juice went out of the place long before the 5-0 final closed the book on the first-round series and sent the Rangers along to an Original Six–a-palooza against the Bruins. Both Washington and New York looked tight and jittery at the beginning of the game, and no player more so than Holtby, who had the devil's own time controlling rebounds and, at one point, completely lost control of the puck behind his own net. The comparison between the two goalies was striking, as we shall see. But whereas the Rangers managed to get beyond the early shakes, the Capitals never seemed to get fully organized, or entirely into the game.

"We wanted to come out in the first five minutes and really dictate instead of letting them dictate to us with them being at home," said New York forward Rick Nash, "so it was a huge start to get that lead."
Alex Ovechkin, for example, skated all over the ice, hitting everything except the net. (Ovechkin finished the series with one goal, but he was credited with 13 hits Monday night, and 13 hits is great if you happen to be the Supremes, but not so hot if you're one of the most gifted offensive hockey players on the planet.) Holtby never recovered from his luckless start — the first Ranger goal went in off a Washington skate — and he got absolutely no help. (The fifth New York goal, by Mats Zuccarello, was disgraceful. The Capitals' defense simply stopped skating and watched Zuccarello turn their goaltender into a pretzel. It's a wonder Holtby didn't brain them all with his stick.) When the Caps went down 1-0, they played like they were down 5-0, and when they went down 5-0, they played like it was already the middle of July. Now the Capitals are 3-9 in Game 7s, 2-7 at home, and people are going to begin to … talk.
"Quite honestly," said Washington coach Adam Oates, "it's tough to explain. It's funny how, over the years, the seventh game turns into some sort of a blowout. I wish I had an answer for that. Obviously, we pushed pretty hard in the first period, even made a lot of great saves. They got a lucky one, and every bounce seemed to go their way after that." This is, of course, all my arse. You lose 2-1 on "bounces." You lose 1-0 on "bounces." You don't lose the seventh game of a Stanley Cup playoff series in your own rink on "bounces." This reminds me of all those losing NASCAR drivers whose favorite explanation is that they had a "bad setup." They could drive the damn car out of the speedway and into the ocean and they'd still blame a "bad setup." The worst bounce that the Capitals got Monday night was when they bounced into the arena. The worst bounce they got was when they bounced out of the locker room and saw who was standing in front of the other net.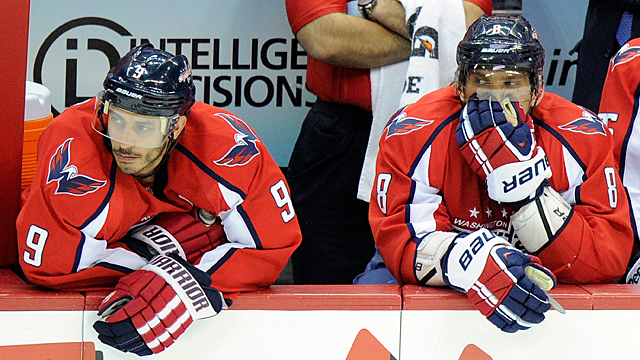 This is how you know a goalie is having a great series: He makes his best save with 8:39 left in the game and his team ahead by five goals. For one of the few times all evening, the Capitals seemed enthusiastic about their work and they put together a flurry in front of New York goalie Henrik Lundqvist. The puck popped loose to Washington center Jay Beagle not far from the right goalpost. Lundqvist, who appeared to be tangled up with a number of players from both teams on the other side of the crease, somehow worked himself free and did some sort of Inspector Gadget number with his left pad, taking the corner away from Beagle and preserving his second consecutive shutout.
"We set the tone in the first period and the way we wanted to play," Lundqvist said. "The first two games, I felt like this was going to be a challenge. They go across a lot. They have great shooters. But the more played, the better we played as a team and the more confident we got. As a goalie, when you feel that confidence from the group, it is a lot easier to play."
He may be, quite simply, the best goaltender in the world right now. More to the point, he was the reason the Rangers were able to come back from two games down in this series, and to win so easily Monday night. He now has not surrendered a goal in 120 minutes of play. Monday night, in the first period, he weathered with ease the only real offensive push the Capitals had in them. He saw every shot that came at him. He was never so far out of position that his reflexes couldn't bring him back. To watch him coolly anticipate the unfolding accelerated geometry of the game in front of him is to see in Lundqvist a great calming influence. Like a great closer in baseball, he takes the pressure off of everyone else.
"Anything is possible with Henrik back there," said New York defenseman Ryan McDonagh. "He stands tall, and he competes so hard, and it's great to see guys willing to block shots and he really respects that and honors that, and recognizes that. For everybody, that's just a real good feeling."
"Henrik, he's just unbelievable," said Ovechkin, whom Lundqvist stifled over the last six games of the series. "Right now, he's the best goalie in the league."
Lundqvist is more than a goalie. Gump Worsley never showed up at Fashion Week in New York, and whatever was the 1950s equivalent of the Style Awards never handed one to Glenn Hall, and Vogue, which actually was around back then, never put Jacques Plante in a photo spread, even after he started wearing the mask. Terry Sawchuk never had his own clothing line. Lundqvist is a New Yorker in full, throwing himself into charity work, playing guitar in a band with John McEnroe, and generally turning up in many of the places New York celebrities can turn up. There are considerably more of them than there are in Åre, the skiing village in Jämtland County in the middle of Sweden where Lundqvist grew up. But, for all of that, he has not become beloved around 33rd Street because he can work a runway. He has become beloved because he can work a crease.
"It's a lot about confidence, a game like tonight and yesterday," he said. "You have to believe you can do it. You can't question anything. You can't think too much about things you can't control. The last couple of years, I started to focus more and more on my own game, and not so much on the team game, because I can't really control what we're doing out there, and it's been helping me the last few years. In big games, if I can break it down to just what I need to do, it's going to help me. I mean, you're definitely nervous and feeling the pressure, but as long as I am focused on what I have to do, it's going to help me. But the way we've been playing, especially the last two or three games, as a goalie it is a great feeling. You feel the confidence from them, and hopefully, they feel my confidence as well.
"There are moments when you enjoy it, when you say, 'Wow, this is fun.' But there are moments when you don't feel great. You feel the pressure and you just want to get it done so badly so you try to control your emotions, and that's so much the key for me. I'm an emotional guy, and I'm going to try to stay calm, good or bad, but it's hard when you want to win so badly. It felt like they had a few chances, here and there, but obviously when we scored, especially the second and third goal. It felt really important to keep it at 3-0 going into the third."
He moves on now, into a series shadowed heavily by history. The Bruins and the Rangers haven't been together in the playoffs for 40 years. Back then, it was Gerry Cheevers and Eddie Giacomin, and nobody played the guitar or designed suits on the side. (Well, maybe Derek Sanderson did. It was the 1970s, after all.) Now Henrik Lundqvist, the very model of a modern major goaltender, gets to calm things down around him again, to see the play before it happens, and to control what happens after it does. Nothing is supposed to bounce when he's around.
Filed Under: Boston Bruins, Hockey, New York Rangers, NHL, NHL Playoffs, Washington Capitals, We Went there